I'll be honest, when Southwest Idaho Travel Association (SWITA) reached out a few months ago about spending a few days in Southwest Idaho I wasn't sure what to think. I'd been hearing a lot of buzz around Boise and the surrounding areas and how it's an up and coming destination but I can't say it was at the top of my bucket list. All of that changed after 4 days exploring Boise Idaho and beyond!
Boise, and just Idaho in general is so much more than anyone expects it to be. I think that's what makes it so great. It feels like this undiscovered paradise. An underdog of sorts. Of course, most people know that if you a) like adventure or b) like potatoes than Idaho is your place. But it truly is more than just an adventure-junkie, potato-growing mecca. If you love wine, Southwest Idaho is for you. If you like farm-to-table food, Southwest Idaho is for you. If you like live music or theater, Southwest Idaho is for you. The list goes on…
Boise Idaho Travel Vlog
I honestly never thought I'd see "What To Do In Boise, Idaho" and "Why You Need To Visit ASAP" in the same title, but here we are! Boise and Southwest Idaho truly blew me away. Here's why…
Where To Stay In Boise Idaho
Without question you MUST stay at the Inn at 500 Capitol. Besides the accommodations being top-notch, the location can't be beat. It's right in downtown but a block or two away so you're not directly in the madness. If you're not planning to rent a car and want to exclusively explore Boise than I recommend staying here as you can walk all of downtown.
Our room had a double balcony with a gorgeous view of the capitol building and the foothills to the right of it. Though my one complaint is that there wasn't a bath (#bathjunkie) they made up for it with free snacks and a glass a wine upon check-in. Also they're dog-friendly so you better bet we're coming back with Bodhi!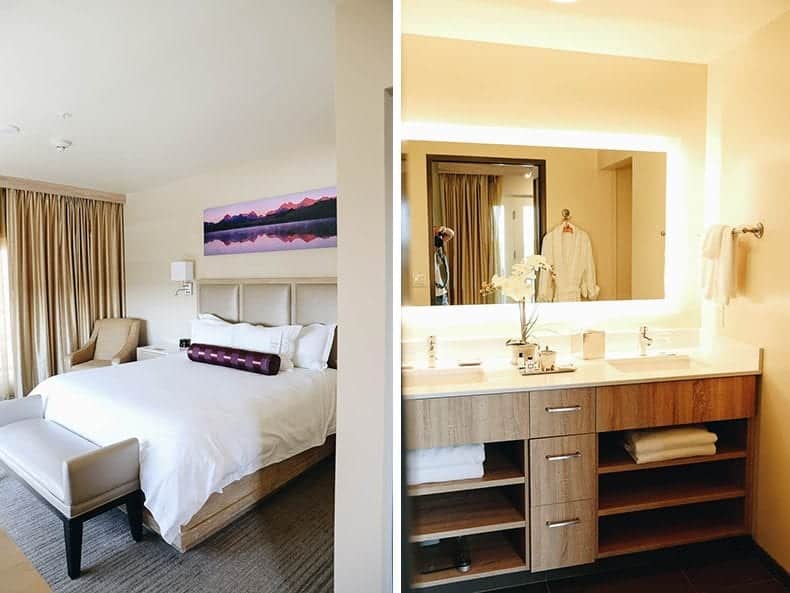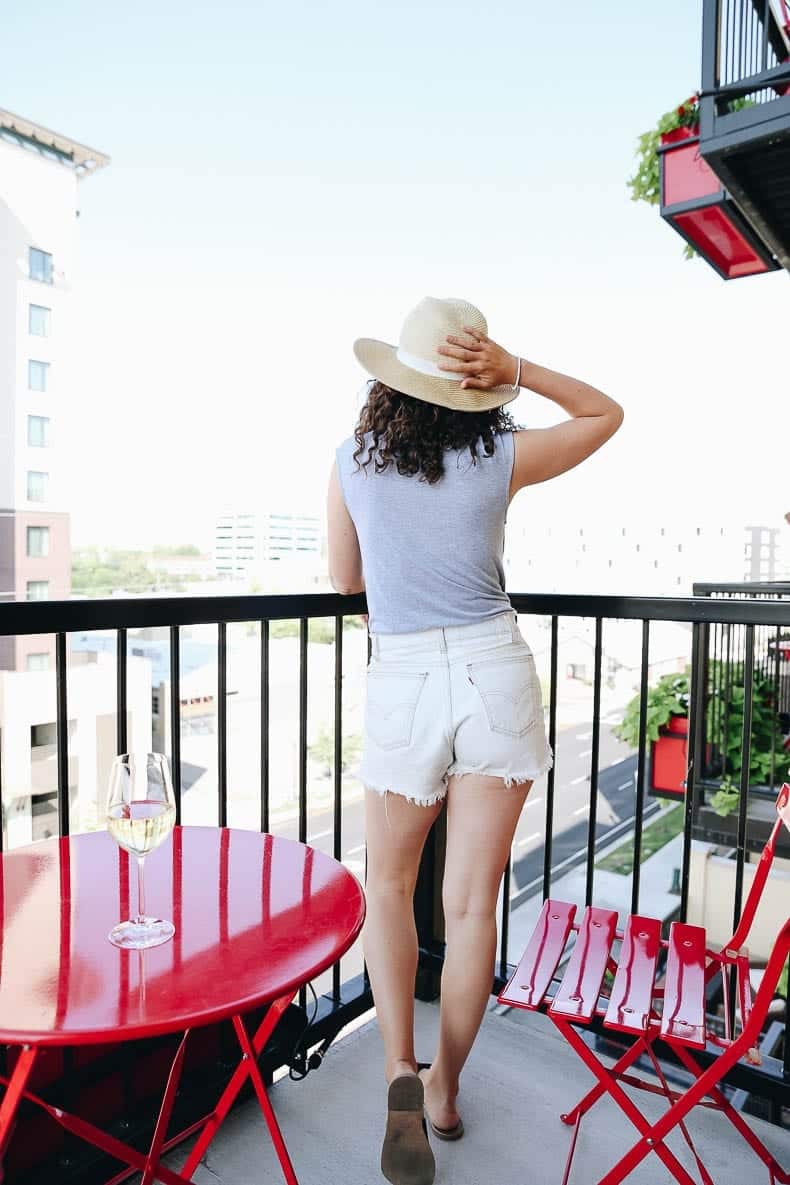 What To Do In Boise Idaho
Where do I even begin with this? There is so much to do. Some activities are right in Boise but others definitely require a car. If you want to get outside the city and explore the rapids, the foothills and local vineyards, I highly recommend renting a car. It was worth it!
1. Explore Downtown Boise
There are so many cute little shops and corners to explore. Stop in the Capitol building if you're an architecture nerd like C or the art that is placed throughout the city. If you like records definitely stop in at Record World where C and I got a few great finds!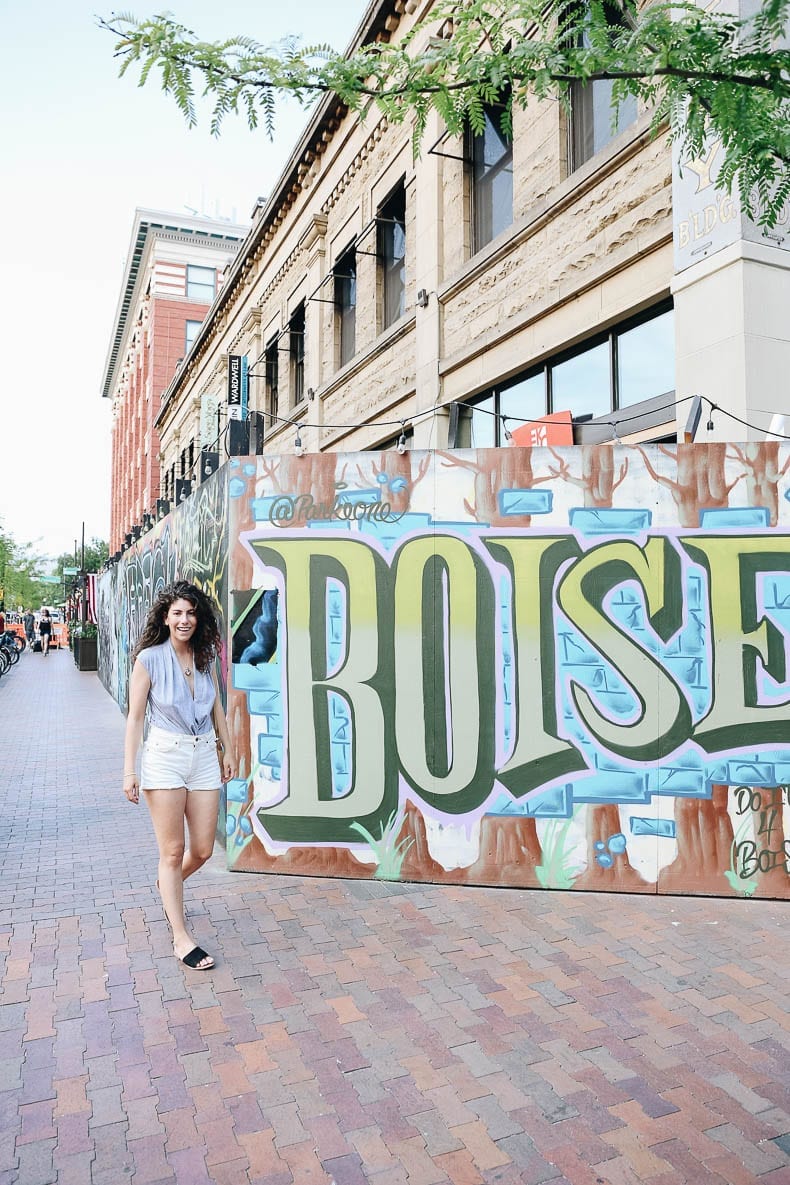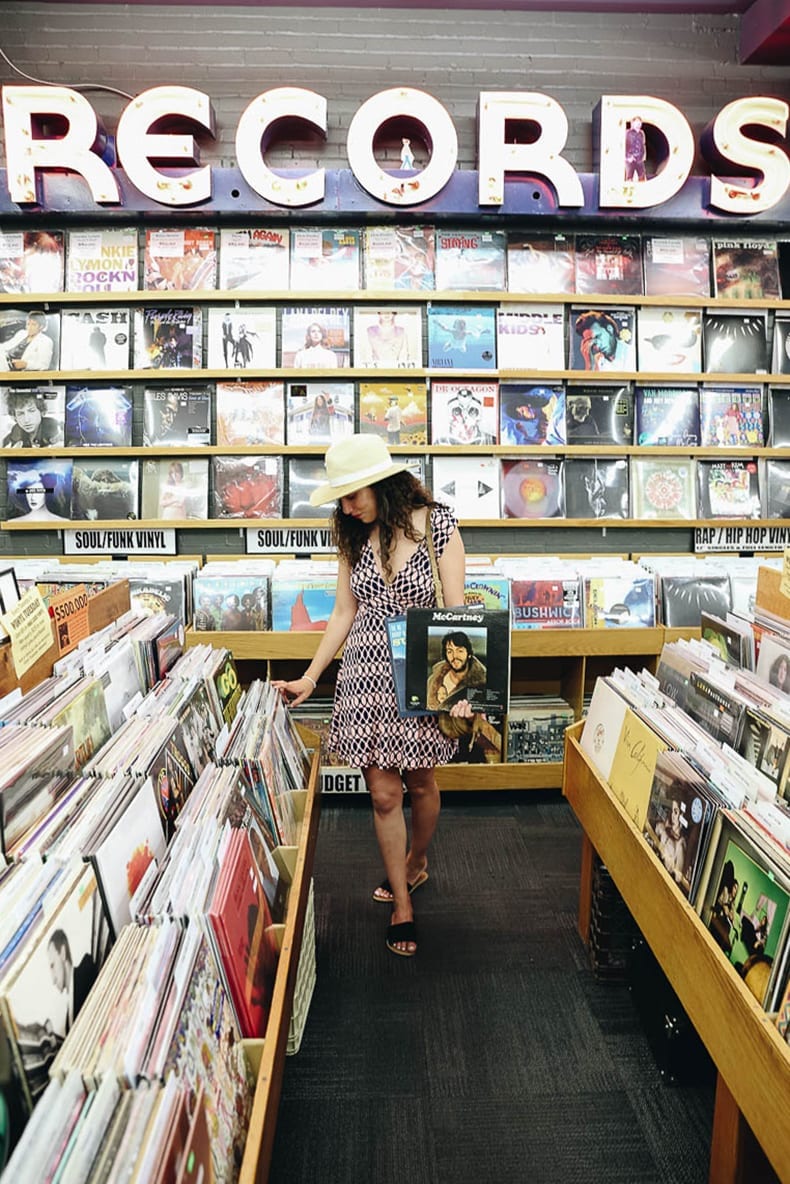 2. Go Rafting at Cascade Raft and Kayak
If you're up for a short ride outside the city (just under an hour) than definitely go rafting at Cascade Raft and Kayak! Be smarter than I was and bring some water shoes but despite my poor footwear, I had the best time! Our guide, Tango was so much fun and totally made us feel safe as we sped over class 2 and 3 rapids. A great activity for families too!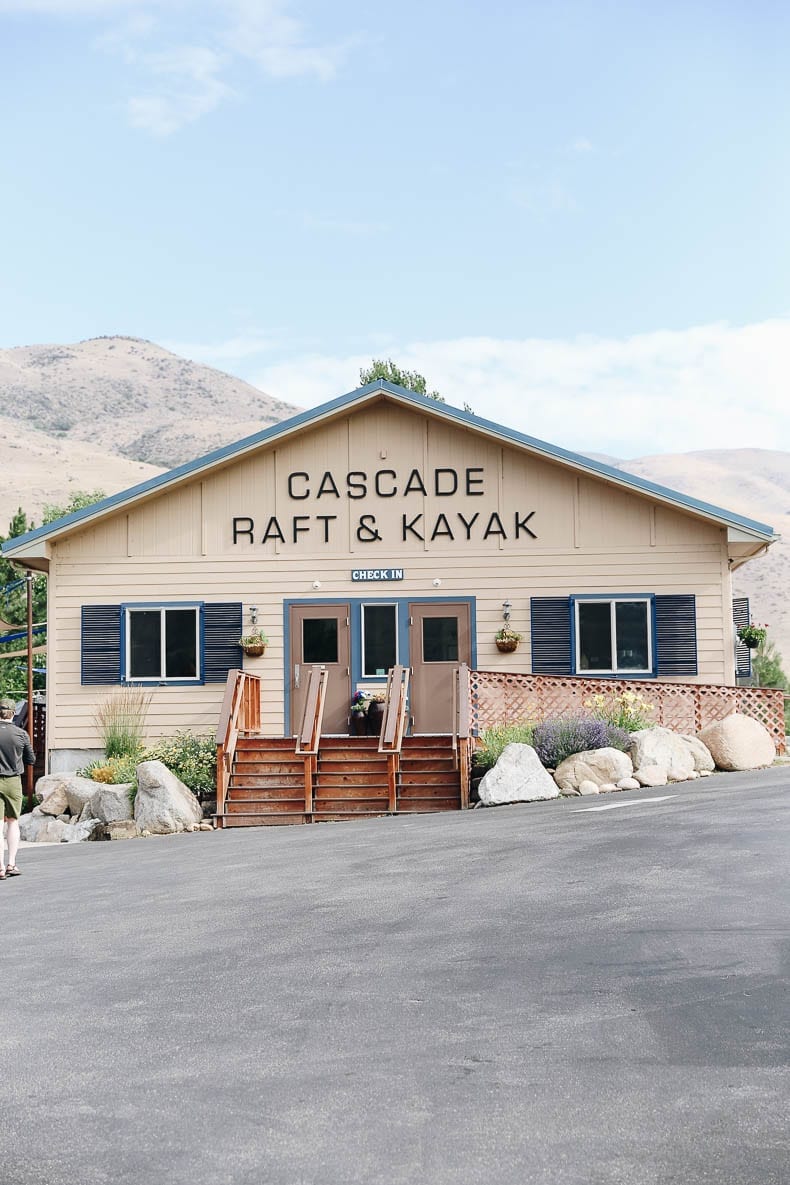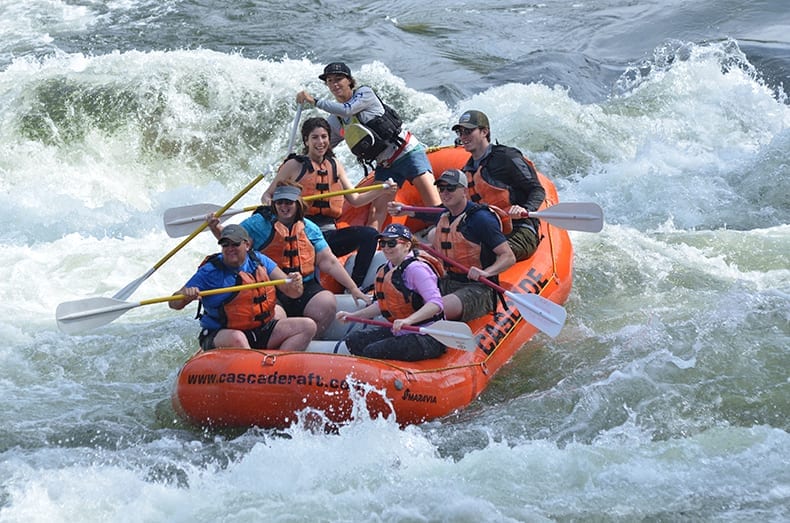 3. Stop by the Farmer's Market
By now you all know I'm incapable of visiting a city and not checking out their farmer's market. I'll be honest, I didn't have high expectations of the Boise Farmer's Market before our trip. I was wrong. It became clear immediately upon arriving that the farm-to-table scene is BIG in Boise. Naturally their Farmer's Market was a reflection of this. They had everything all from local area farmers and it honestly put my local area Farmer's Market to shame. It happens every Saturday morning so be sure to stop by!
4. Go Wine Tasting
Idaho and wine tasting?! No, I'm not kidding! This is perhaps the part that most surprised me and just about everyone I have told to visit Idaho. The wine scene outside Boise or more accurately, the Snake River AVA is about to explode in a big way. The wines coming out of this region will blow your mind and the landscape holds up to some of the nicest wineries and vineyards in Napa and Sonoma. Head out to Caldwell, Idaho (about 40 minutes outside Boise) for some wine tasting including must-make stops at Koenig Winery, Sawtooth Winery and Fujishin Family Cellars. All show-off different sides of the region but I especially recommend grabbing a to-go lunch from The Orchard House and driving around the corner to Koenig Winery to enjoy lunch on one of the terraces. It's spectacular!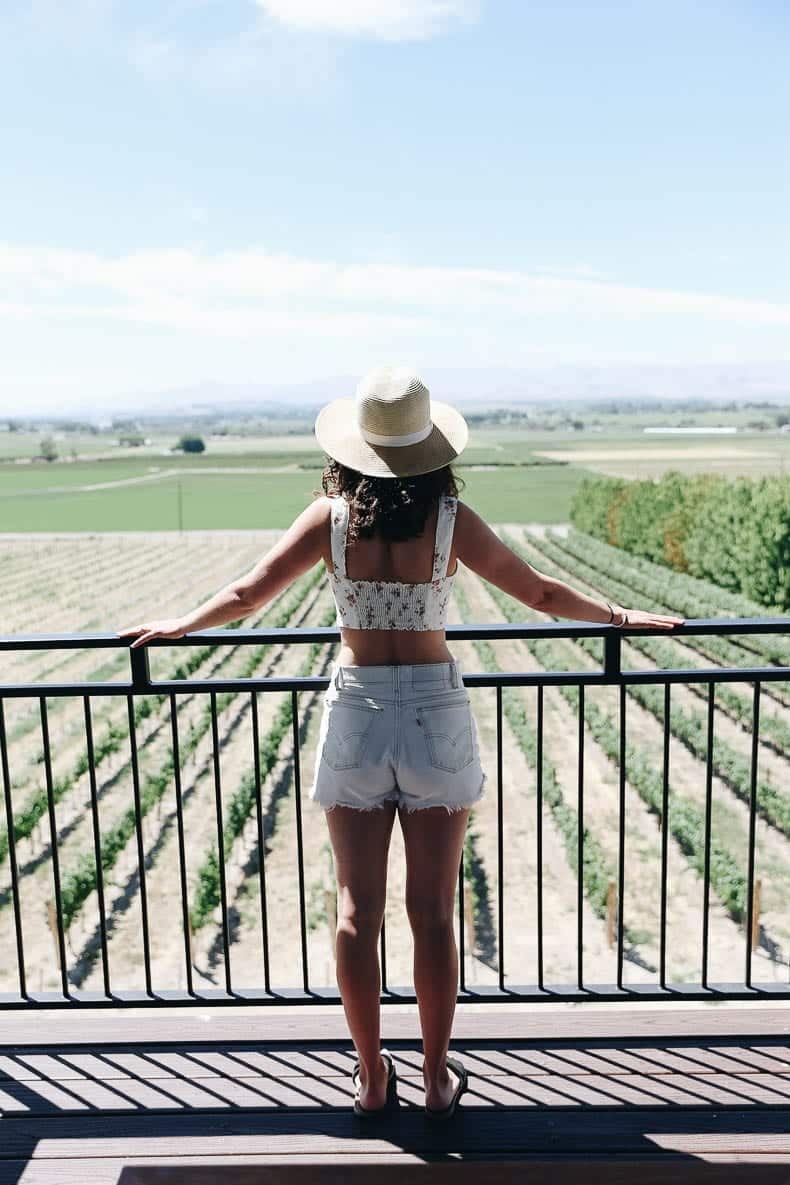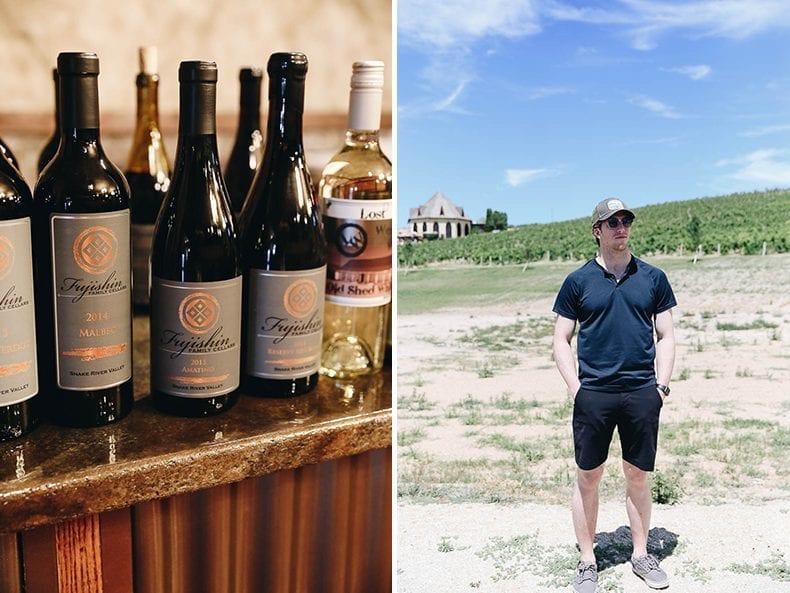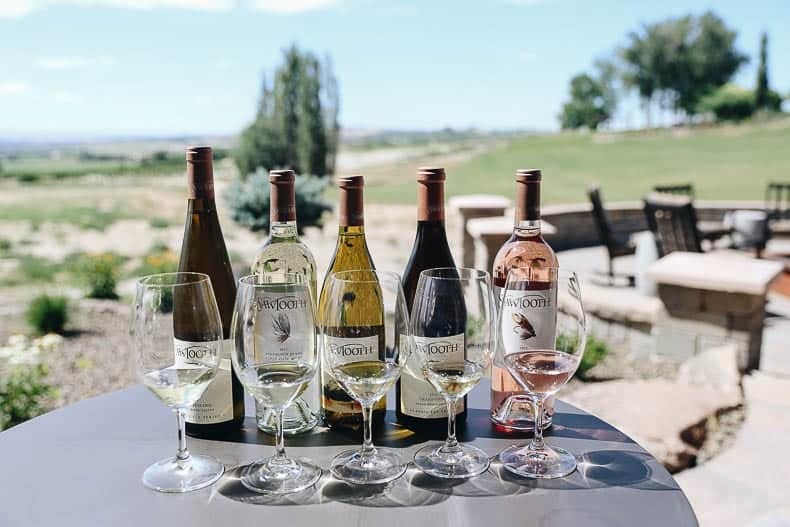 5. See a Play at The Idaho Shakespeare Festival
We had such a cool experience at The Idaho Shakespeare Festival! If we'd known better we would have brought a picnic dinner with us and eaten it at the venue, but we made do with beer and wine! They run plays all throughout the summer season which include Shakespeare but also plays and musicals. The venue is beautiful so be sure to walk around. We saw deer just 10 meters away from us drinking from the Barber Pond right behind the venue.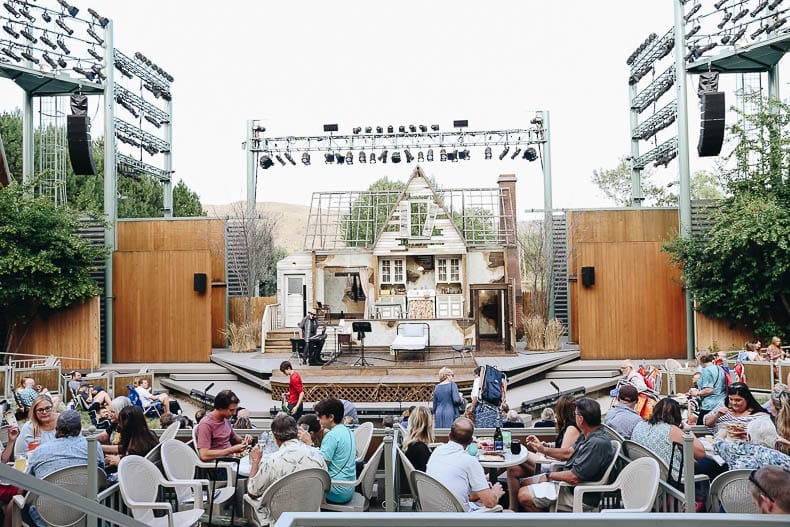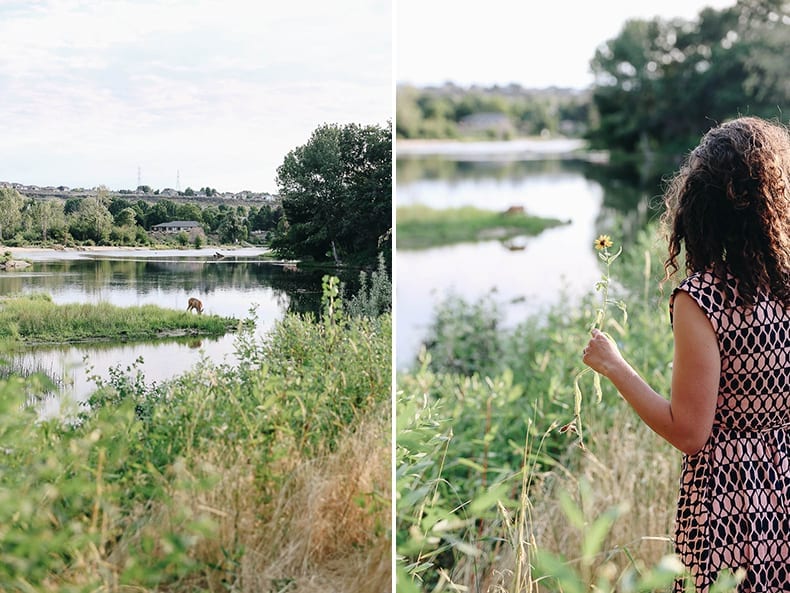 6. Try Some Local Brews
You MUST stop by Payette Brewing Company for some locally made and sourced beers. Their new facility is in an old gymnasium with the old pool as the tap room and the brewery in the former gymnastics studio. You can take yourself on a self-guided tour with the open track to view how the beer is made. Or if you just want to rest your feet after a long day post up in their taproom or hangout in the huge outdoor garden area.
Where To Eat In Boise, Idaho
If you're not out doing some kind of activity in Boise, then you are most definitely eating some great food. I asked you guys on Instagram to give your best Boise food recommendations and they did not disappoint. We loved every single meal we ate and in addition to the wine tasting, would say that the food was a highlight for us!
a Boise classic and one of the most recommended restaurants. We loved our meal at Fork but especially the apps! Don't miss the asparagus fries and the brussels sprouts. Accidentally filled up on both but we both still loved our Idaho trout and Short Ribs. They emphasize locally sourced ingredients and local Boise vendors.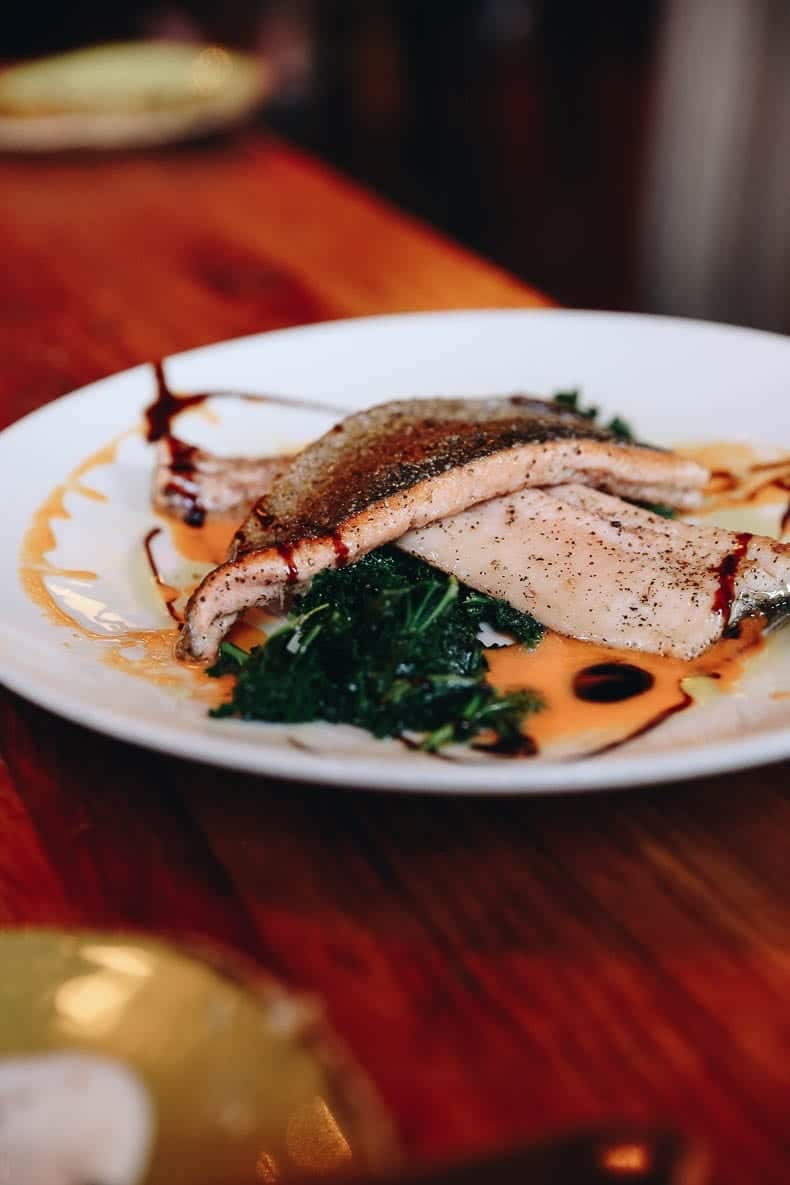 2. The Modern
We loved our meal here. It's located at The Modern Hotel so be sure to snag a seat in their courtyard if you can. Another farm-to-table restaurant using interesting flavor combinations and ingredients. The cocktails are supposed to be amazing but we had just come from the brewery so we were tapped out.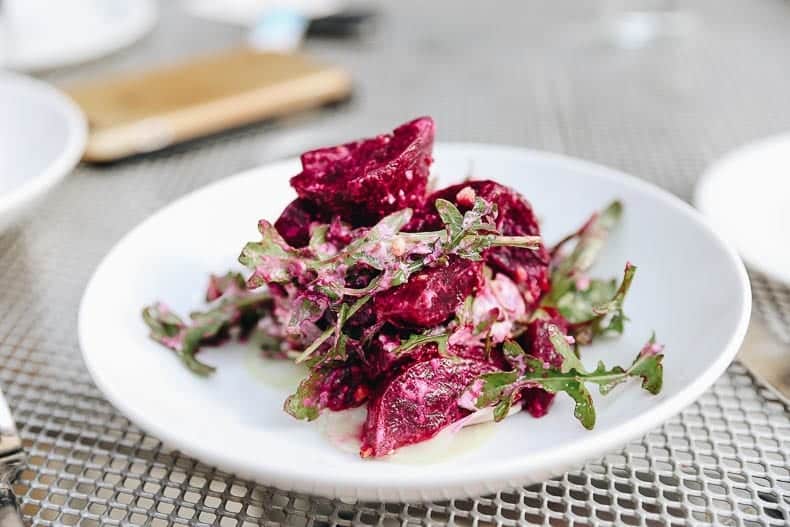 We ended up going here twice! It's a fast-casual restaurant right downtown cooking up healthy bowls, local ingredients and can accommodate pretty much every diet. We had breakfast here one morning that was amazing and then ended up going back for dinner that evening because yo' girl needed some vegetables after a day of wine tasting!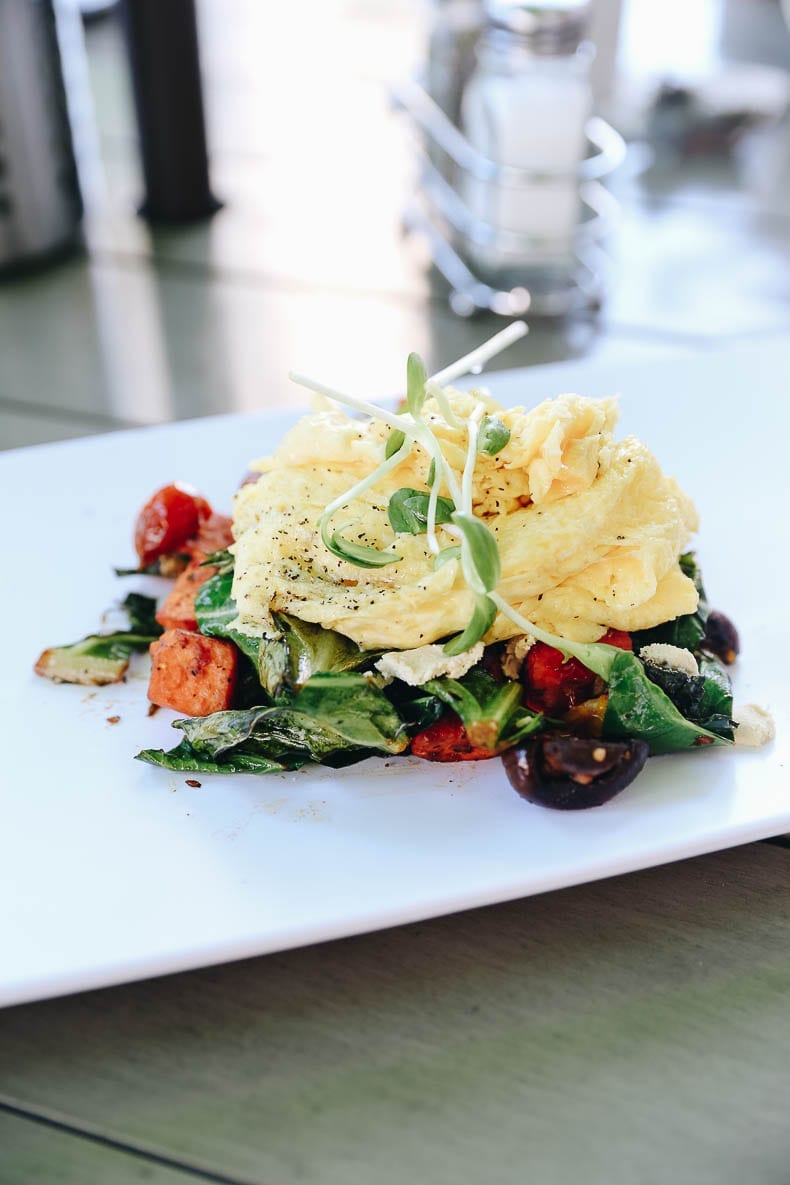 If you're not able to escape the city to check out the local vineyards, be sure to stop by Coiled Wine Bar to try some locally produced Idaho wines. Or you know…if you want a wine slushie! The wines are great and the atmosphere is awesome for a little happy hour wind down.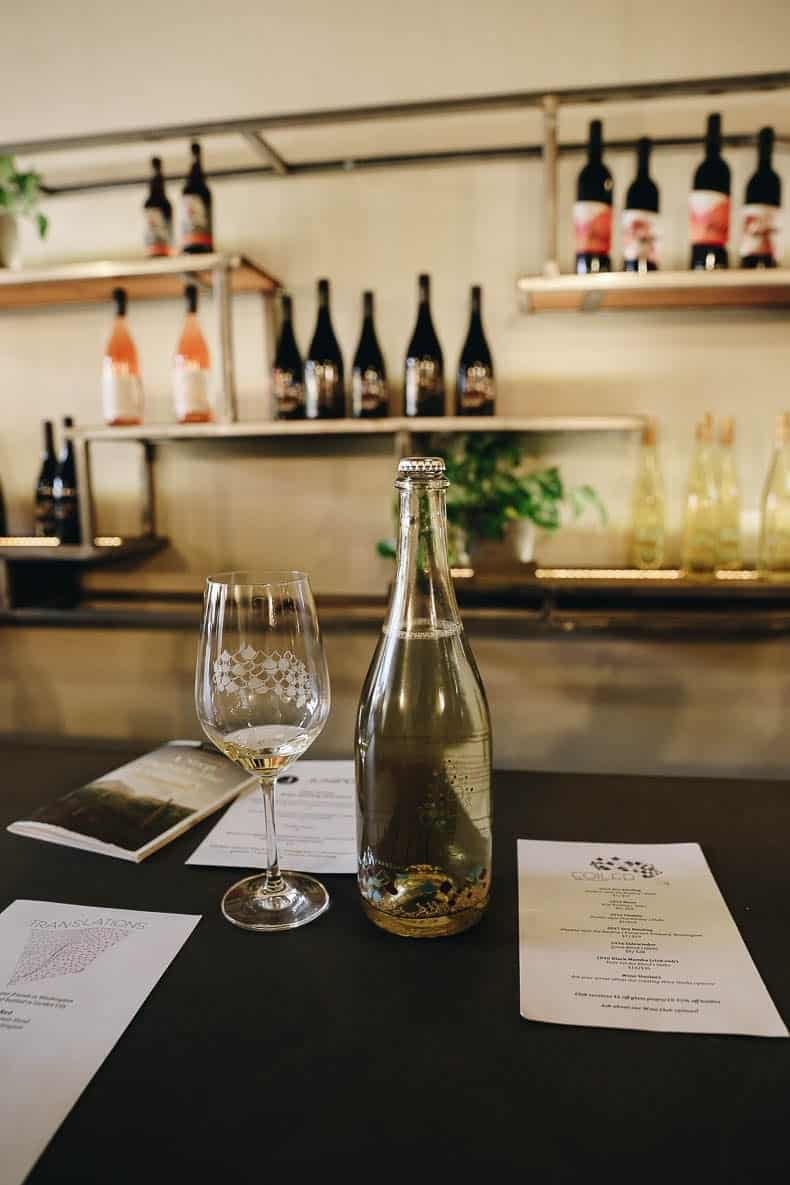 We went here every single morning because the coffee could not be topped. I'm told there's a lot of great coffee shops in Boise but this one stole our heart on the first day and we couldn't help but go back! Also their cherry croissants were unreal. Definitely grab one!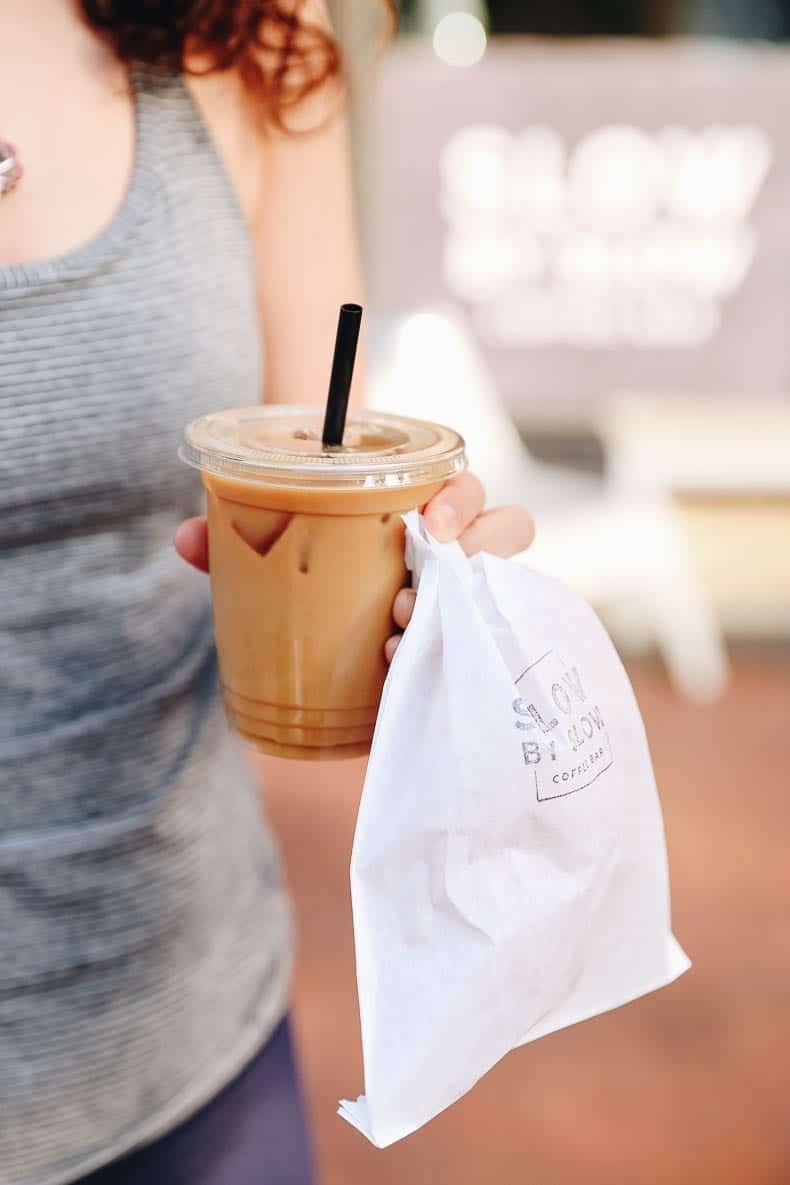 THINGS TO DO IN BOISE – That We Didn't get To!
Places we didn't get to but were highly recommended:
Bar Gernika
Red Feather Lounge
Juniper
Big City Coffee
All in all we were both surprised and amazed by Boise. Beyond the incredible food and local adventures, the people were so nice. Everyone was so welcoming and helpful and we loved the feeling of community we felt there.
It may not have been on our bucket list before but it's officially on our "must revisit" list now. Idaho, we'll be back!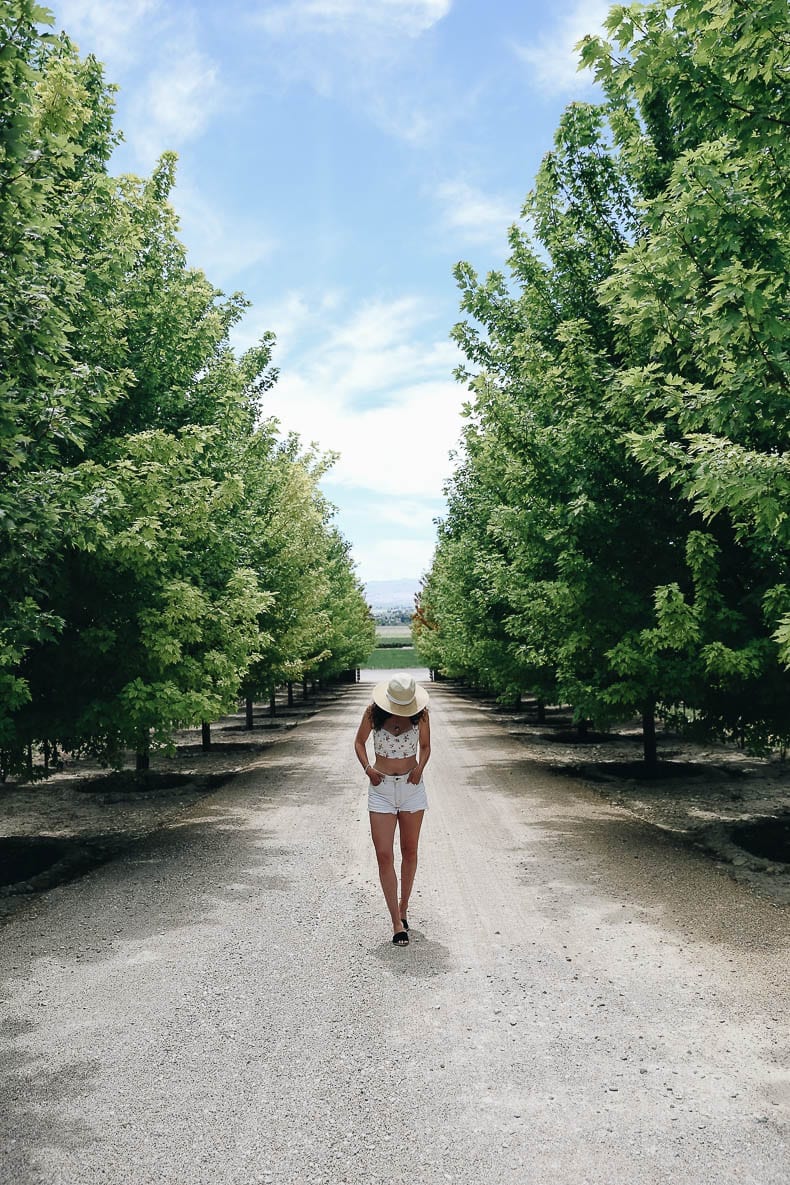 Disclaimer: This post was sponsored by SWITA, however all opinions expressed are 100% my own.
JOIN THE THM NEWSLETTER
Join 20,000+ members of the THM Community to get access to exclusive recipes, healthy lifestyle tips and behind-the-scenes news from our team!