I was just looking through the Travel Archives and discovered that the last travel post I shared was almost a year ago from our trip to Boise, Idaho. Our life certainly hasn't been short on travel with trips to Hawaii, New York, Phoenix, Toronto, Minneapolis and many weekend trips around California but for some reason I've found myself wanting to keep a lot of these moments private. Part of this is wanting to really experience these moments and not feel obligated to capture every single detail, and part is just growing up and finding my values have shifted. I am immensely grateful for my friends and family and it's important that I give them my full attention without them feeling like I'm exposing their lives, even if they're a part of mine.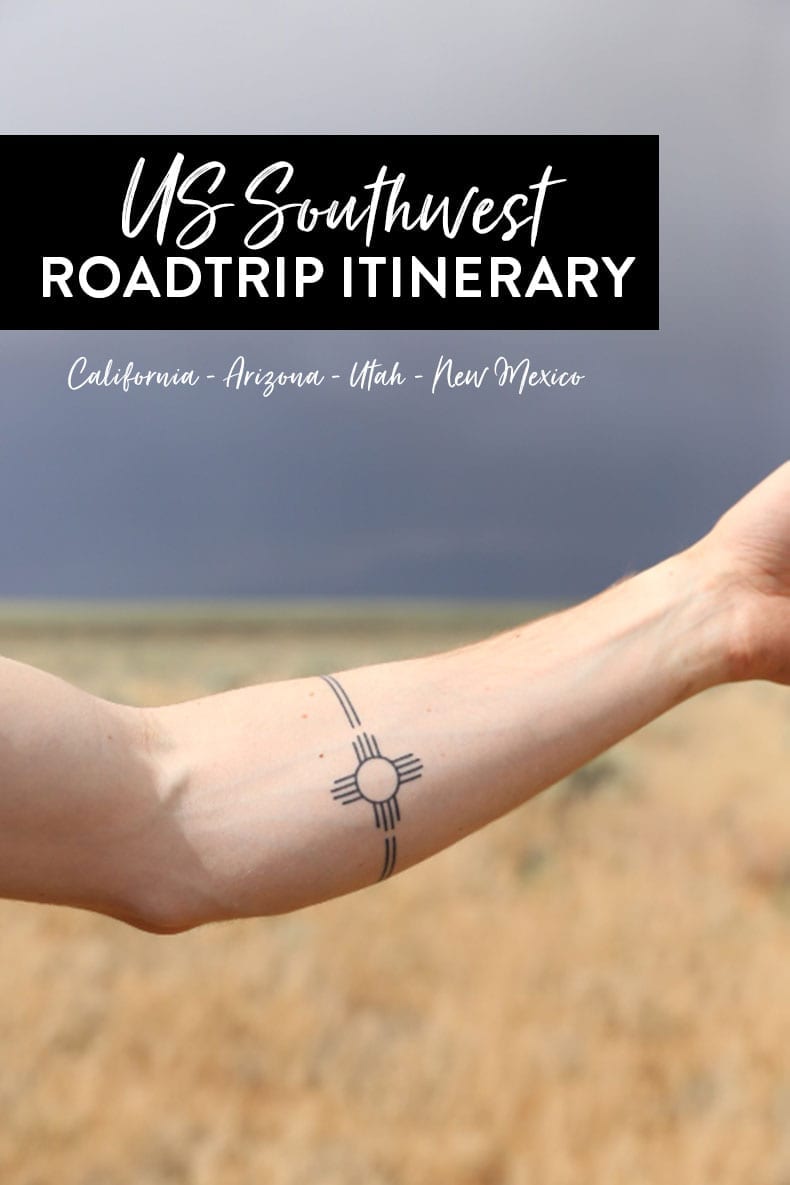 It's also an interesting conundrum that you run into when you quite literally grow up on the internet. I started THM when I was 23. I'm turning 30 in a few months. I'm not the person I was when I first started this place and while I don't regret a single thing I have shared, I find myself wanting to share different parts of myself now. It's still important to me that this be a space of transparency and provide helpful resources for you, but what I ate for breakfast this morning and going out to dinner with my friends doesn't need to be a part of that. And that's okay…
Same goes for travel. I don't need to document every place I visit and take you along with me all day long. My job title may be "content creator" but it's a fine line between living my life and generating content. In the last few months I've found myself seeing moments of my life through the lens of someone else instead of seeing it through my eyes first. So I've had to find a way to continue sharing resources with you while also protecting the integrity of my experiences and well, my life. This Southwest US road trip helped me to do just that.
I went into the trip knowing that I wanted to experience things first and share later. This meant going completely offline during the two weeks we were away. I brought my vlogging camera with me incase I wanted to do video (I ended up not wanting to) and my camera to capture moments that felt special and important. BUT I didn't share every single moment of my trip on Instagram and Instagram stories. Back in the day, it was so much easier to just do a write up on the blog about a trip. Now there's an expectation that people come along with you for every moment. This trip helped me to realize that I don't need to do this if it isn't in line with my values. Other people may feel differently but this is my truth and enough hours on the road without technology made me feel completely assured in this decision.
So here I am, a few weeks out and feeling ready to share this adventure with you. Of course, this recap won't capture the intimate moments like walking through the desert with C talking about our hopes and dreams or laughing our butts off as Bodhi face planted into a ditch with his poodle cousins. It won't include sitting by the fire while C and I read our vows to one another on our one year wedding anniversary or the pure terror in my eyes as I watched one too many people take selfies over the Grand Canyon. But what it will do is leave space for you to make your own memories.  I'm sharing my favorite places to stay, eat and visit in the US Southwest but leaving room for the moments in between; the ones that you can keep quiet and precious and years from now look back on fondly, just as I am doing right now.
LEAVING SAN FRANCISCO
The ultimate goal was to make our way over to New Mexico to visit some of C's family and family friends who live there. 30+ years ago C's Dad purchased land outside of Albuquerque that we wanted to go and see for ourselves. That left a lot of different routes to get there. Because we don't go anywhere without our dog, we were somewhat confined to what we could do with Bodhi so that did limit things and ultimately determined the path that we took. Keep this in mind as you examine our route and pick your own.
SAN FRANCISCO –> JOSHUA TREE (8 hours)
Where we stayed: The Rock Yacht Airbnb (you can save $30 off your first airbnb using this link)
The more direct route would have been to drive through Death Valley National Park, however 100 degree weather + a dog is a terrible idea so we went a little further south to Joshua Tree. We've been to Joshua Tree before so we didn't venture into the park this time and instead stayed in a cute little airstream in TwentyNine Palms. You could climb the rocks in their backyard and the patio was amazing. TBH the inside felt a little stale but it was a nice, cheap, dog-friendly option.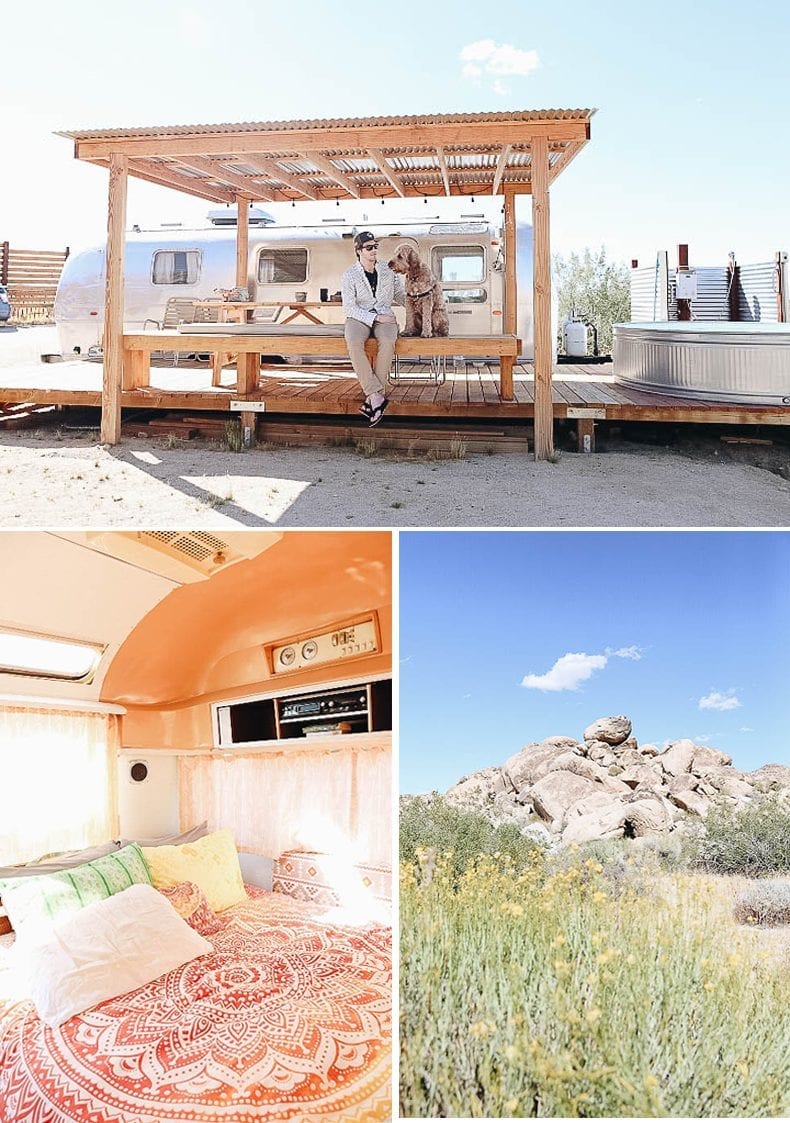 Where we ate:
Lunch at Natural Sisters Cafe (head next door to Grateful Desert for herbs + crystal shopping!)
Coffee from Joshua Tree Coffee Co
Dinner from Pie for the People!
ZION NATIONAL PARK
JOSHUA TREE –> ZION NATIONAL PARK (6 hours)
Where we stayed: "glamping" airbnb in Hildale, Utah
We were glamping about 45 mins outside of Zion so we made sure to stop in Las Vegas (which is on route) to pick up some food for the night. There's very little in the area besides the town next to Zion which is expensive so stock up!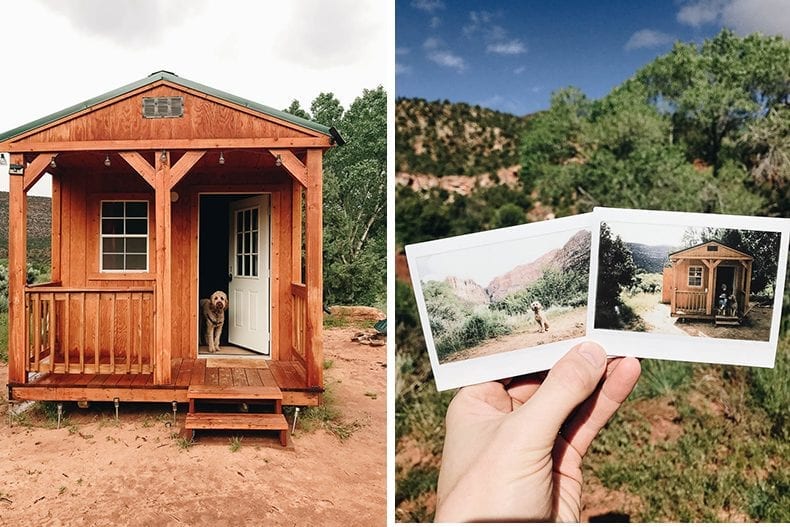 What we did:
Hike the Pa'rus Trail in Zion – Dogs aren't allowed on hiking paths in Zion with the exception of this one. It's paved but it's beautiful and gives you a nice perspective of the park.
Coral Sand Dunes State Park – Pink sand dunes! Go here. It's awesome.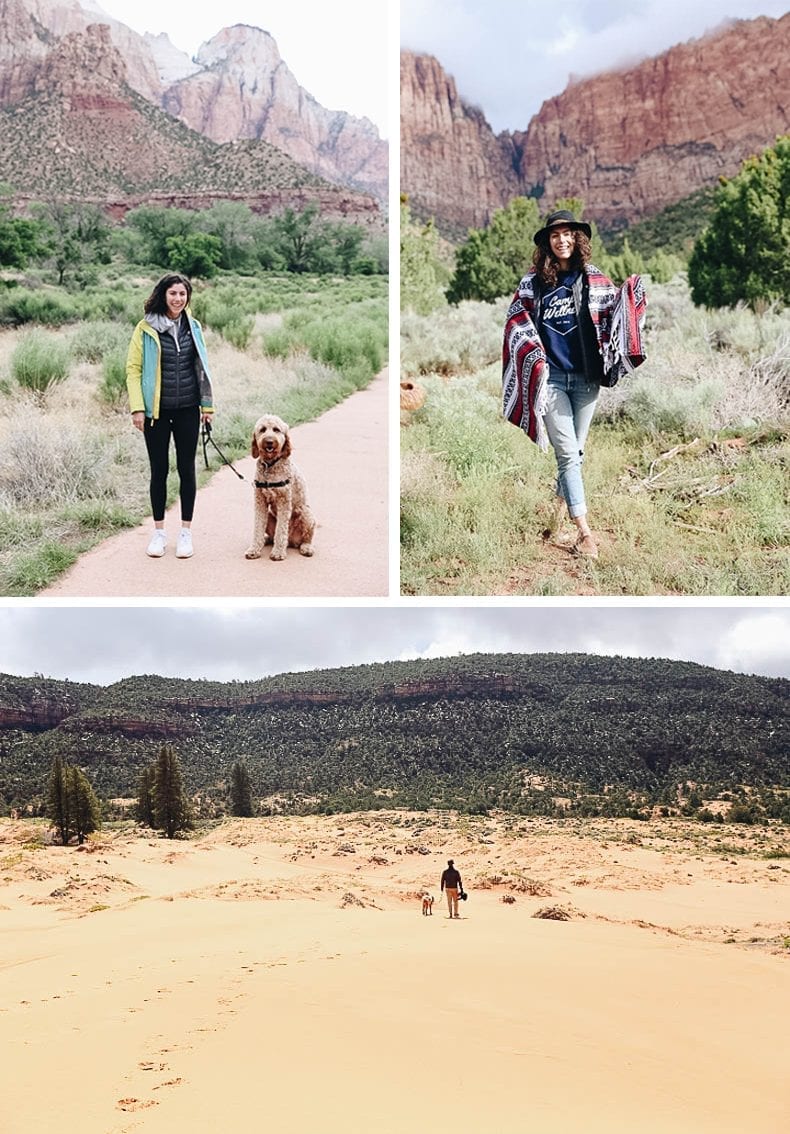 FOUR CORNERS
HILDALE, UTAH –> CORTEZ, CO (5.5 hours)
Where we stayed: Kelly's Place – We camped but they also have a bed and breakfast you can stay at.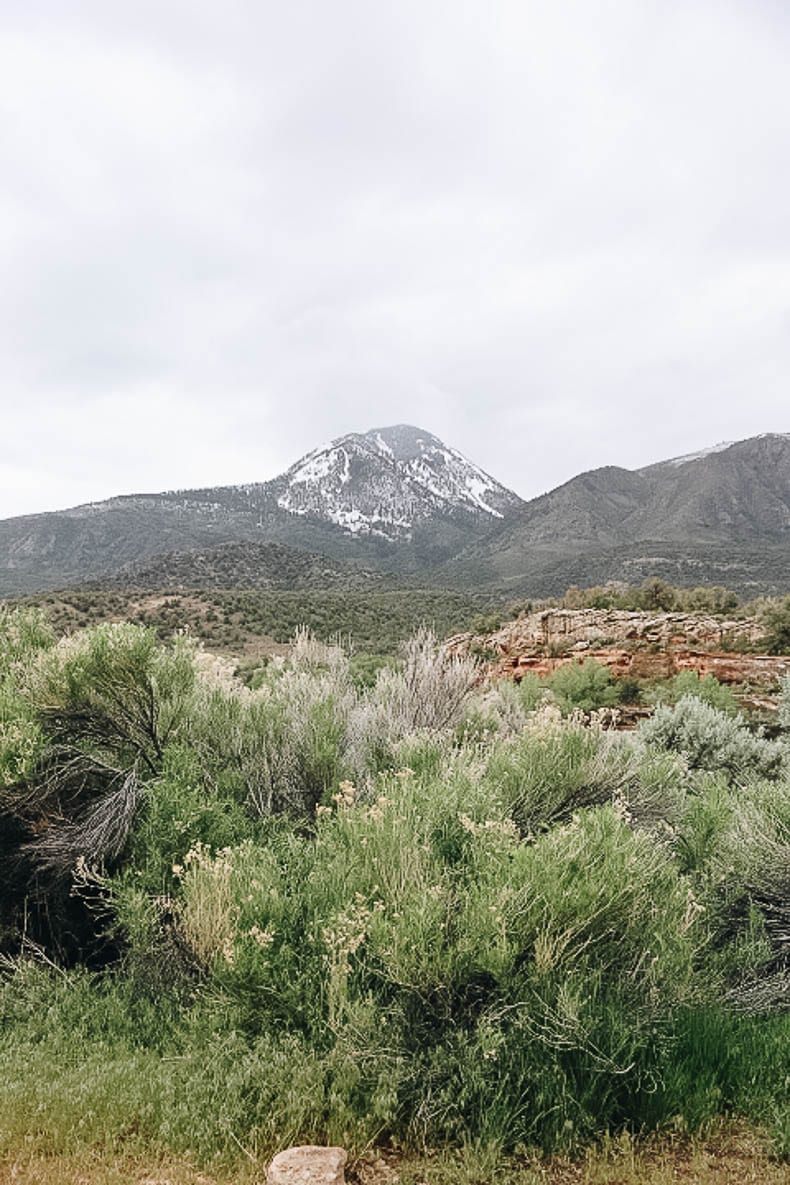 What we did: 
Horseshoe Bend – a little chaotic but a short hike to a beautiful vista in Page, Arizona
*note: we would have loved to have done Antelope Canyon (also in Page) but you cannot bring a dog!
Explore Kelly's Place – there's historic ruins on the property that have been excavated and you can hike directly into Canyon of the Ancients National Monument (it was raining so we didn't go in). Kelly's place also had a presentation by a leader of the Ute Tribe and it was amazing and so educational.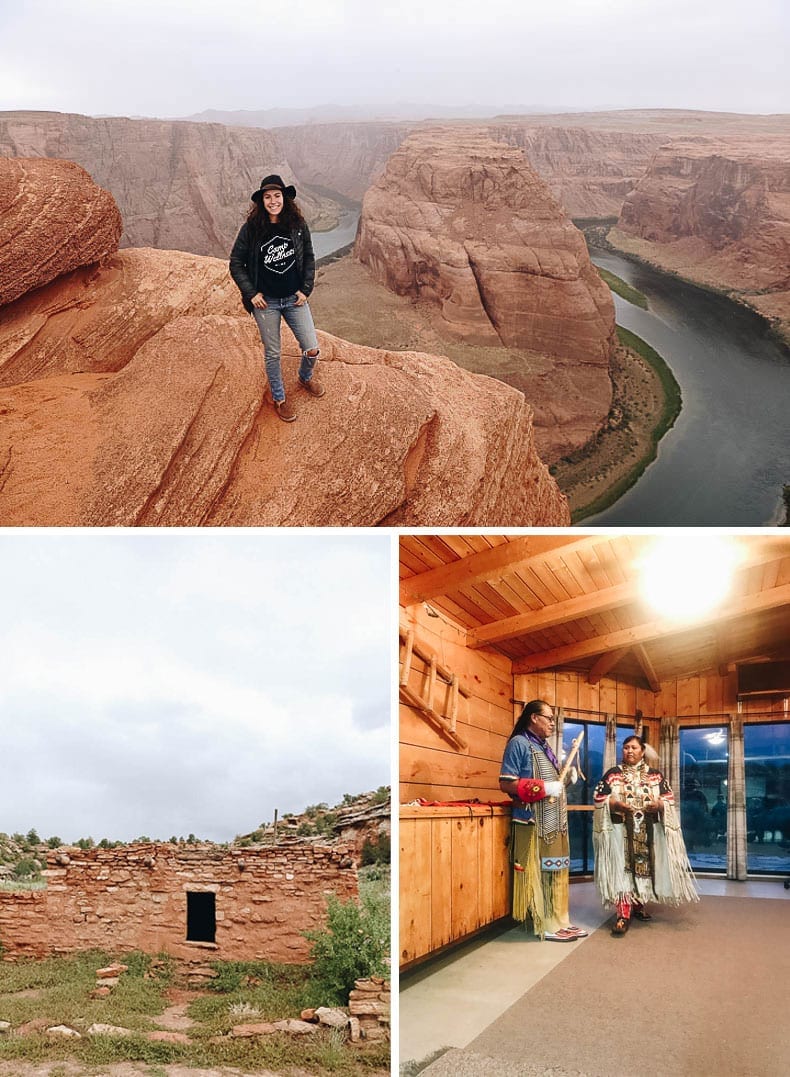 Where we ate: 
Birdhouse – fried chicken and beer in Page, AZ. Not a whole lot of options in Page but this was damn good!
Kelly's Place – we cooked our own food for dinner on our camping stove and breakfast is included here
SANTA FE, NEW MEXICO (2 nights)
CORTEZ, CO –> SANTA FE, NM (4.5 hours)
Where we stayed: An adorable airbnb casita just oustide Santa Fe (night 1) + El Rey Court Hotel in Santa Fe (night 2)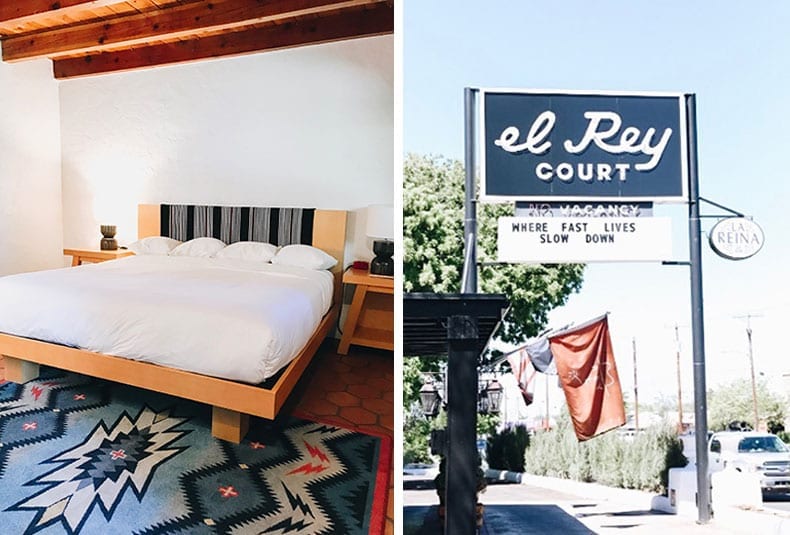 What we did:
Ghost Ranch (Abiquiu, NM)- Made famous by Georgia O'keeffe, this is an education and retreat center showing the best of Northern New Mexico. It's on the drive into to Santa Fe if coming from the north. You can take one of many hikes around the property.
Frank Ortiz Dog Park – even if you don't have a dog, this is a beautiful and easy walk that gives you epic views of Santa Fe and is especially nice at sunset.
Ojo Caliente – A gorgeous spa + natural hot springs an hour north of Santa Fe. We rented a private tub and got massages but if you have the day I recommend spending it there!
Santa Fe State Park (Dale Ball Trails) – A beautiful network of trails in the Santa Fe mountains that is very accessible (no snow pack) and dog-friendly
Explore Downtown – There are so many cute stores and nooks and crannies to explore in SF. The Palace of Governors has an awesome Native American Market outside and if you're there on a weekend there's tons of pop-up art markets too.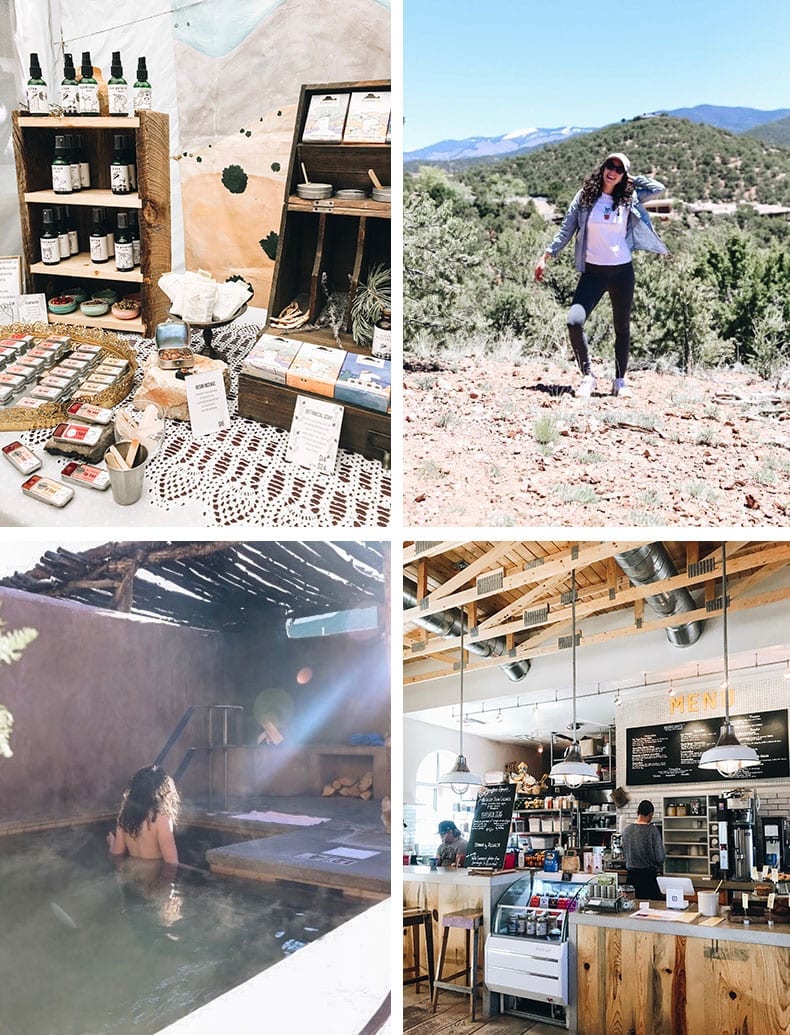 *note: we didn't make it to Meow Wolf but hopefully next time!
Where we ate:
Santa Fe has THE BEST FOOD. We are going back here just to eat. These were some highlights:
Modern General – Great coffee, vibes and healthy food. They source locally too + dog-friendly.
Radish & Rye – This was our anniversary splurge meal and it was sooooo worth it. The food is delicious and the bourbon cocktails even better.
Fire & Hops – a funky gastropub with lots of local beer choices and solid food. Get the brussels sprouts!
La Casa Sena – a perfect lunch or dinner spot for outdoor dining right on the square. The nooner cocktail was amazing and don't miss the cornbread muffins they serve to kickstart the meal.
Rowley Farmhouse Ales – if you like beer this is your place. We did a flight and loved trying out some of their interesting varieties including a smoked beer and lots of different sours.
Coffee: Iconik Coffee + 35 Degrees North – both great options though Iconik was our favorite!
ALBUQUERQUE, NEW MEXICO (2 nights)
SANTA FE, NM –> ALBUQUERQUE, NM (1 hour)
Where we stayed: with family and friends!
What we did:
Los Poblanos Lavender Farm – TBH this was a bit of a let down. It was way too bougie and over the top fancy. Also no dogs. Wouldn't recommend unless you're planning to ball out at the hotel.
Spur Line Supply Co – a huge and eclectic shop in the sawmill district of Albuqurque. We loved it here and spent hours browsing! They have everything from skincare, to hippie crystal books to records. A total gem of a spot.
Old Town – we actually didn't go to Old Town on this visit but have been there before. It's fun to walk around and get a taste of NM.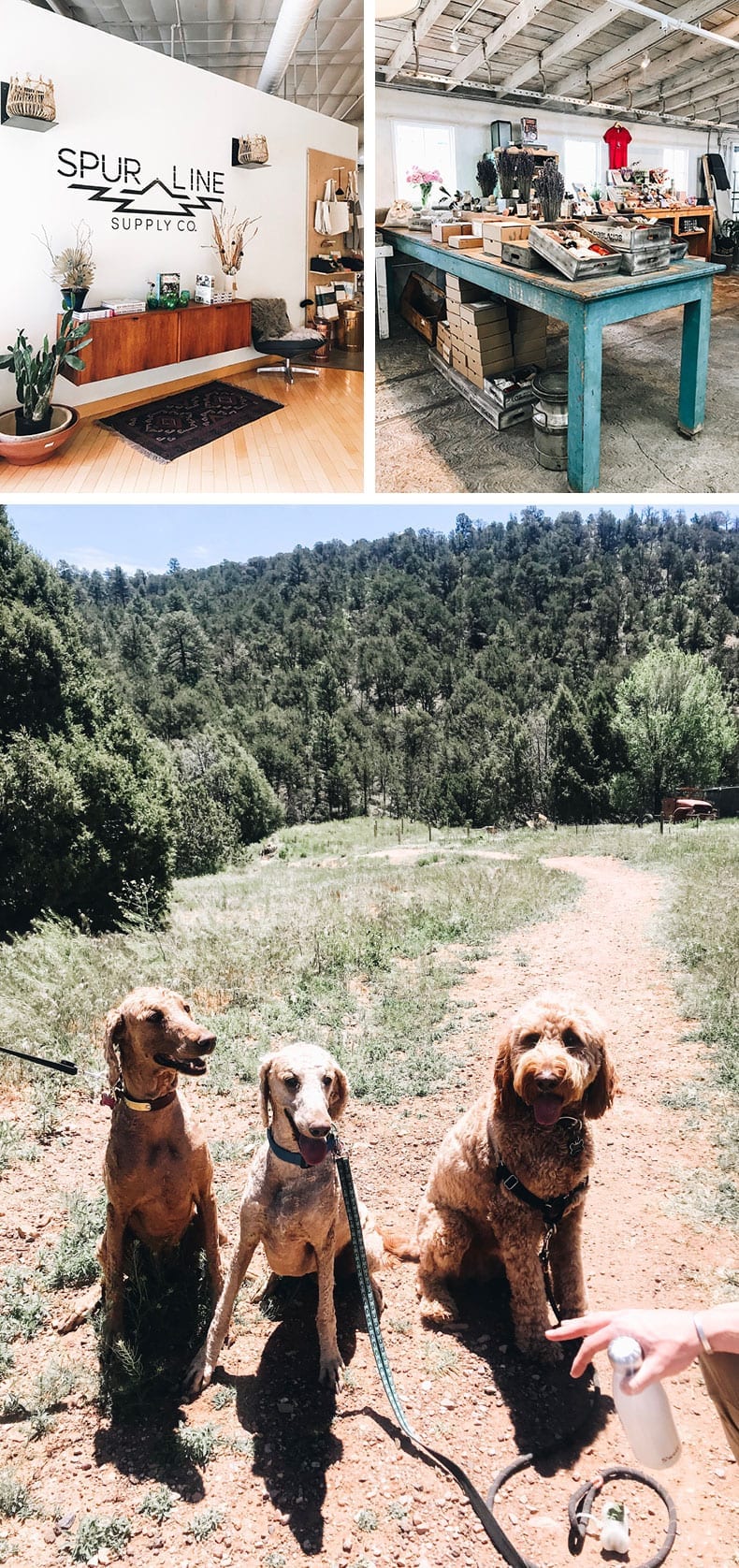 *note: we spent most of our time here with family and friends just hanging out and enjoying their company. C's aunt and uncle live on a horse ranch and one of our trip highlights we exploring their property and playing with all of the animals. I wish everyone could have this experience! Also thank you to our fam + friends for all of the delicious meals and hospitality.
SEDONA, ARIZONA (2 Nights)
ALBUQUERQUE, NM –> SEDONA, ARIZONA (5.5 Hours)
Where we stayed: An Airbnb – a small little guest house that's perfect for a couple (forgot to take pics!)
What we did:
Petrified Forest National Park – along the way to Sedona, be sure to stop here to see million year old petrified trees, thousand year old petroglyphs and try to not get blown over by the wind. Must do: Crystal Trail.
Winslow, Arizona – Big fan of The Eagles? Stop here! Trip highlight was standing on the corner of Winslow, Arizona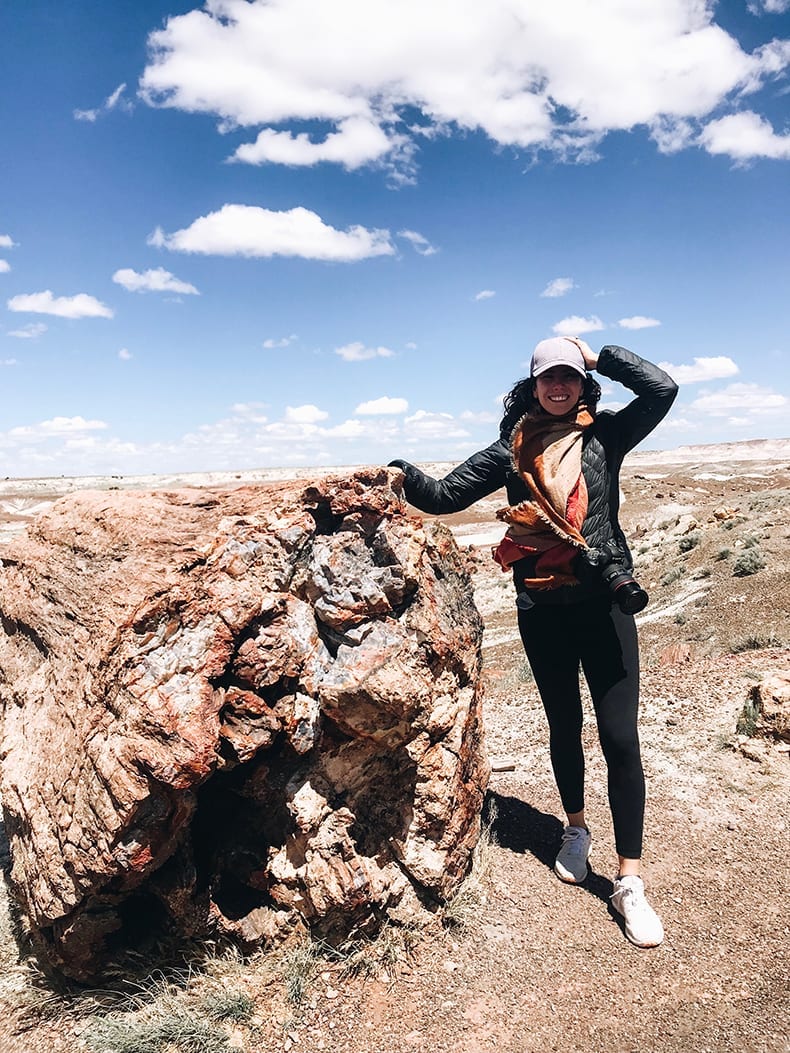 In Sedona:
Cathedral Rock Trail – This is not for the faint of heart and while C and I probably would have made it to the top, we had the Bodhi man and it was simply too tricky getting a 70 lb pup all the way up. We got up about 3/4 of the way and it was spectacular
Cathedral Rock Vortex – Sedona is famous for it's vortexes (more here) and we knew we wanted to experience one while we were there. We veered off the trail a little bit and found ourselves close to the center of the vortex but then drove around to the other side of Cathedral Rock to get a different perspective. We did a short hike along the Baldwin Trail and dipped our toes in Oak Creek and meditated. It was so calm and peaceful.
Sugarloaf Trail – we could access this trail right off our airbnb so we actually hiked it a couple of times. It's a short loop and gives you a nice perspective of Sedona
Tlaquepaque Shopping Village – a combination of expensive local art and kitchy crystal and psychic shops. It was a little over the top for me but it's a nice area to walk around.
See a Medium – I REALLY wanted to see a medium in Sedona but wanted it to happen naturally. On every other corner there's an advertisement for a medium but thanks to a divine intervention I was connected to Christina Wooten and I'm so so happy I went to see her.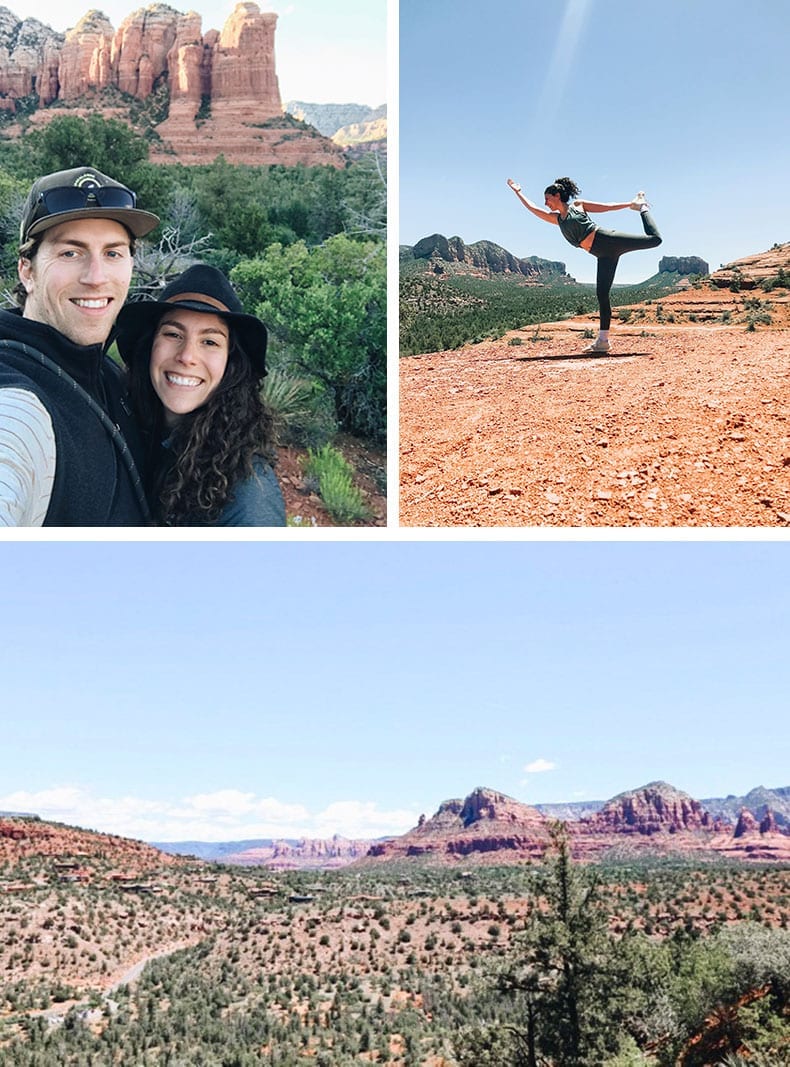 Where we ate:
SaltRock Southwest Kitchen – The view and the craft cocktails are better than the food but both still make it worth a visit!
ChocolaTree – Went for breakfast and while the food may have tasted better to us if we were vegan and gluten-free, the mocha latte was insanely good
Local Juicery – Every single person told us to go here and I'm glad they did. After eating pretty indulgently it was nice to get in a healthy and nutritious meal. The acai bowl is SO good.
Secret Garden Cafe– This place was quite a surprise! We were hungry when we got to Tlaquepaque and this restaurant sits right at the entrance. The food was awesome and we appreciated the casual ambiance on the patio.
Thai Spices – We wanted something a little different after a lot of southwestern food and we were excited to find an awesome thai place in Sedona.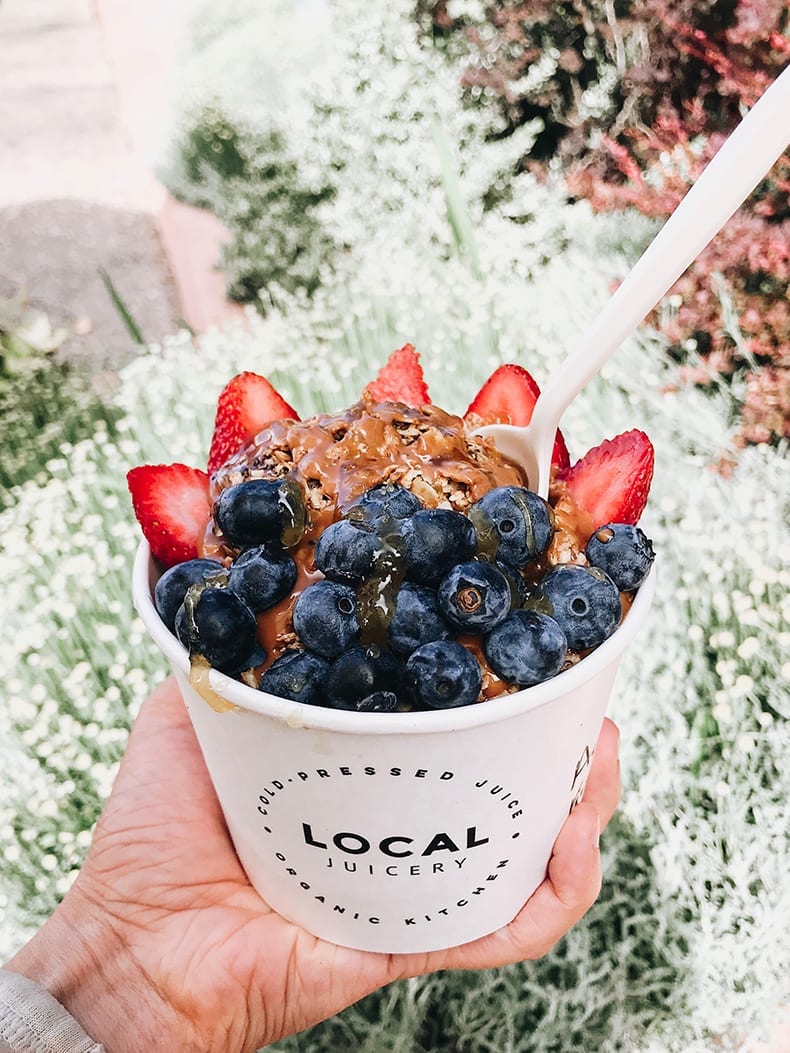 *note: we wanted to make it to Elote Cafe but we didn't end up having time – hopefully next time!
GRAND CANYON NATIONAL PARK
SEDONA, AZ –> GRAND CANYON NP (2 hours)
Where we stayed: Mather Campground
What we did: Hiked the South Rim Trail. The South Rim Trail is dog-friendly. You cannot hike into the canyon with a dog so this is your only real option but gives you a great perspective on the canyon. Very crowded – just a heads up! Pro tip: wake up early to watch the sunrise on the canyon.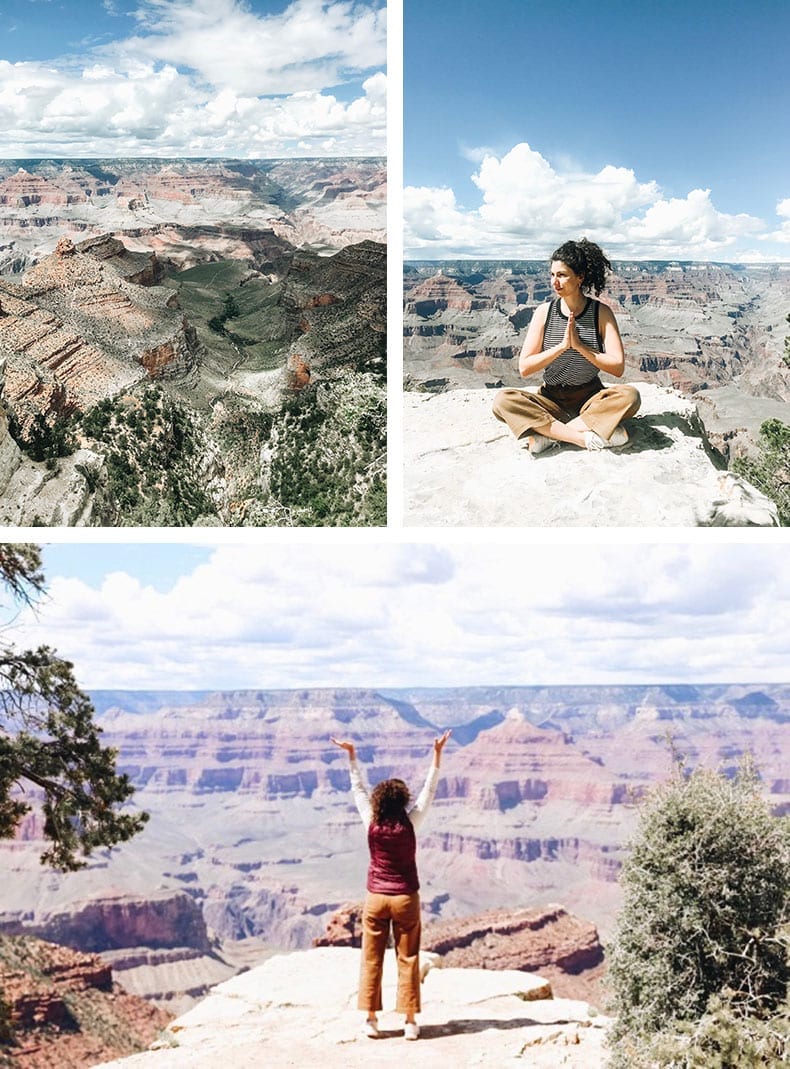 Where we ate: We were camping so we ate dinner and breakfast at our campsite
JOSHUA TREE NATIONAL PARK
GRAND CANYON NP –> JOSHUA TREE NP (6 hours)
Where we stayed: Another airbnb (HIGHLY recommend)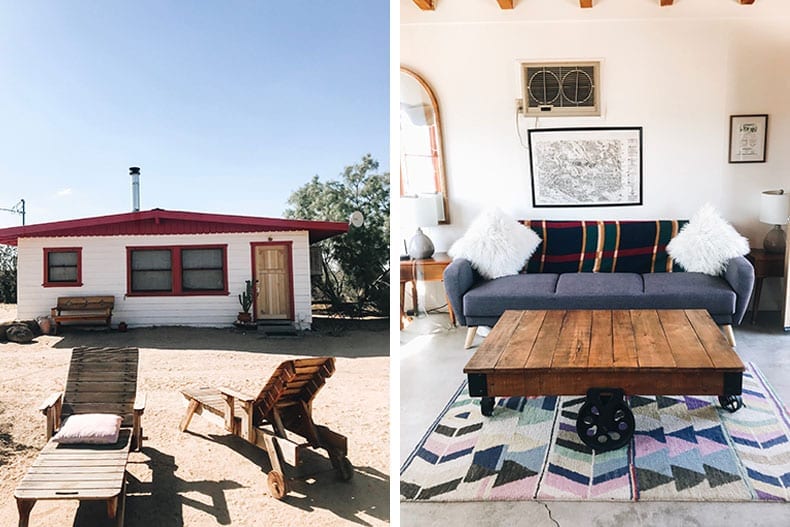 What we did: Nothing! Just hung out at the property. It was beautiful and so relaxing.
Where we ate: Our airbnb was a little far from town so we stopped in TwentyNine Palms for grocery store provisions and cooked at our airbnb.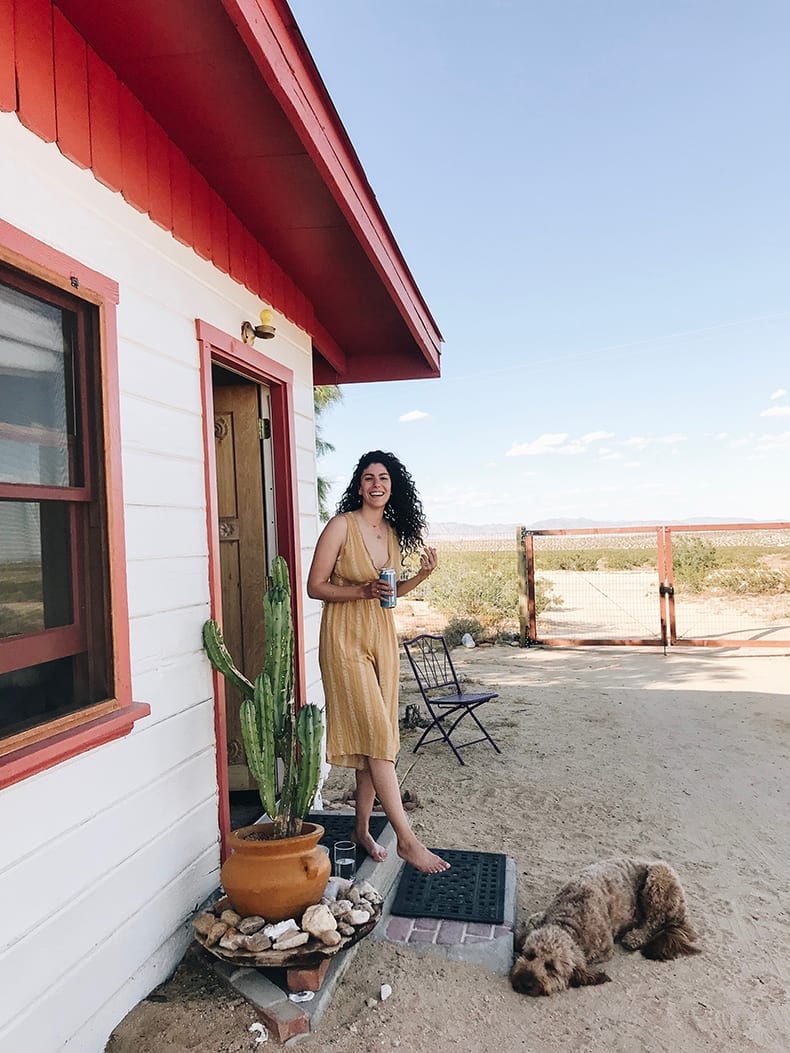 PASO ROBLES, CALIFORNIA
JOSHUA TREE NP –> PASO ROBLES, CA (5 hours)
I have been wanting to go to Paso Robles since moving to San Francisco but besides stopping through one time for lunch we've never spent any time there. We considered driving the coast but we knew that after 13 days we probably wanted to get home a little faster so Paso made for the perfect stop. We loved it!
Where we stayed: Dunning Vineyards – they have the cutest little guest suite that overlooks the vineyards. Highly recommend!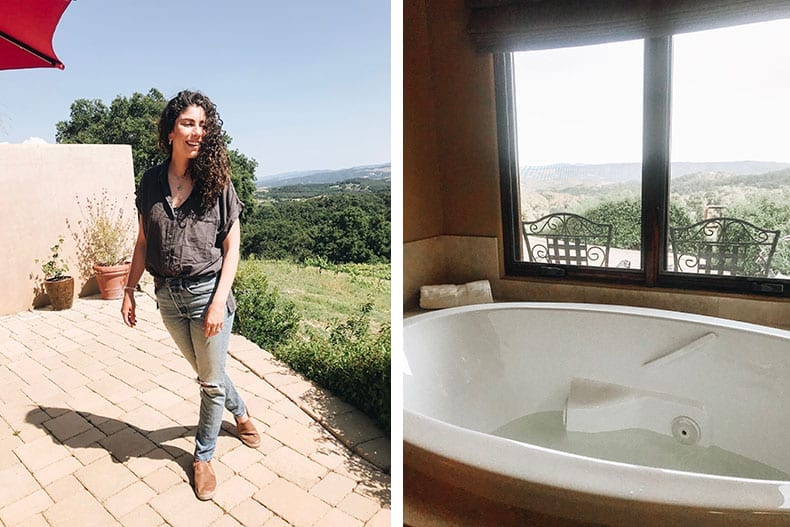 What we did: When in Paso Robles, you wine taste!
Grey Wolf + Barton Family Vineyards – awesome sister wineries with a cool vibe and delicious food
Dunning Vineyards – this was included in our stay and we loved getting to know Bob Dunning and learn how he started his winery
Tablas Creek Vineyard – one of the first vineyards in Paso Robles and a sister winery to a French vineyard in the Rhone region. Organic + Biodynamic too.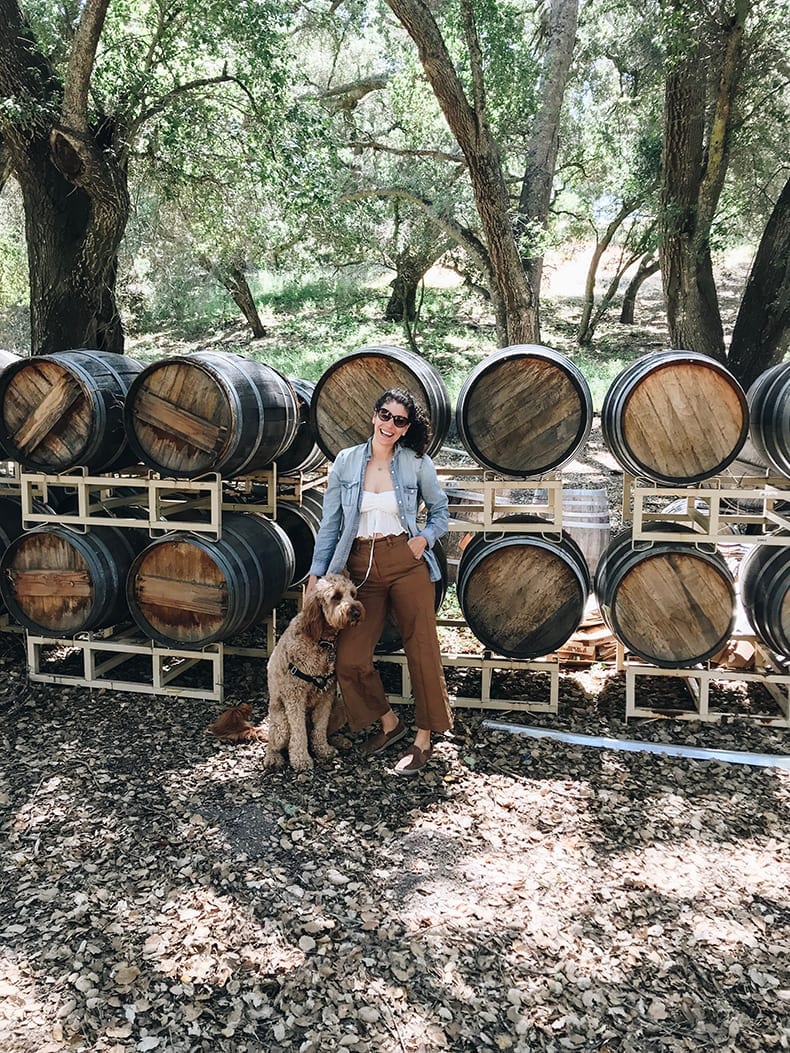 Where we ate:
Fish Gaucho – GO HERE! Delicious California – Mexican food
Thomas Hill Organics – Awesome lunch and relaxing patio. Everything is organic and locally sourced
Spearhead Coffee – stop in for a latte – so good!
* * * * *
From Paso Robles we had a 3.5 hour drive home to San Francisco at which point we were so ready to settle in and C was ready to be done driving. And that was that! There were many places we didn't get to either because we've been more recently or didn't have time but it was a pretty packed two weeks nonetheless. My hope is that this post can either a) inspire you to visit the US Southwest or b) find some inspiration for your already planned trip. We also plan to revisit some of these areas so please do drop some of your favorites in the comments below. I'd love to hear from you. Happy travels!
DON'T WANT TO MISS THE NEXT ADVENTURE? Join the THM Community!
Join 10,000+ members of the THM Community to get access to exclusive info about travel, places I've visited and how to stick to your healthy lifestyle on the road.