This Glacier Bay National Park was written in partnership with Lorissa's Kitchen's as their 2017 Travel Expert. I was compensated for my time. Check out my previous post on Yosemite National Park and stay tuned for more posts this coming year!
When we last left off, we were in Juneau, Alaska about to head out to Glacier Bay National Park. When I told people I was visiting Glacier Bay, they assumed I was going to Glacier National Park in Montana. Nope! Never been there. We were visiting Glacier BAY National Park in southeast Alaska to see some of Alaska's amazing glaciers, explore the rainforest and hopefully see some wildlife! Luckily we pulled through on all 3.
The real highlight of the trip to Glacier Bay is taking the boat cruise to see the glaciers. The park is huge so unless you're camping, the only place to stay is in Bartlett Cove. While, you're certainly surrounded by plenty of beauty on Bartlett Cove, you are not looking out onto glaciers. That requires a 65 mile boat trip into the bay, which is an all-day attraction. But more on that later.
Glacier Bay is quite isolated, so I thought I'd cover how to get there as well as what to do, where to stay and where to eat when you're there. I've heard from some of you that you really appreciate the personal element added to these travel guides. As I do my own research on travel, I realize how important it is to have this personal perspective since most other guides are written by huge sites by people who I'm guessing have never been to any of the places they mention. Not to knock every travel site, but sometimes I wonder if they're all just copying and pasting each other's content…ahhhh I digress.
As with my last post on Juneau, my recommendations remain the same: lots of layers and prepare for rain! If you've got those two down, you'll be totally prepared.
And don't forget to check out my Alaska Travel Diary video showcasing more from our trip to Juneau and Glacier Bay!
But back to this all-t00-personal Glacier Bay National Park Travel Guide. Here are my tips:
HOW TO GET TO GLACIER BAY NATIONAL PARK
There are two ways to get to Glacier Bay:
1) By Ferry– This is the cheaper, but more limited option (it only goes on Mondays and Wednesdays). It takes about 4 hours and leaves from Auke Bay (about 10 minutes outside Juneau) and takes you to Gustavus, which is the main town on Bartlett Cove. From there if you're staying at the lodge, a shuttle will pick you up and drive you back to the lodge. A great option if you're flexible with your days.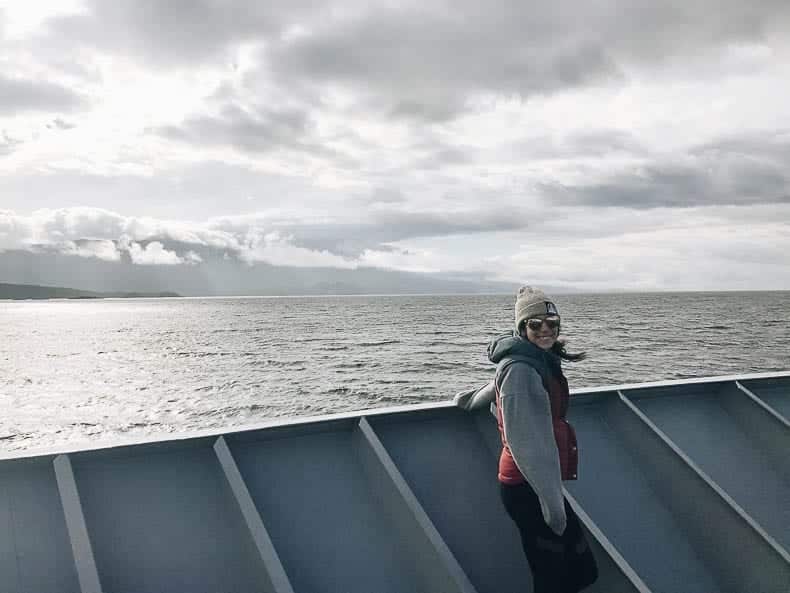 2) By Plane – Both Alaska Airlines and Alaska Sea Planes fly from Gustavus to Juneau (and other places depending on where you're going to next). The plane ride to Juneau is only 25 minutes and makes for a beautiful ride. Definitely a better option if you're tight on time or budget isn't an issue.
WHERE TO STAY IN GLACIER BAY NATIONAL PARK
There are only a couple of places to stay, with the exclusion of campsites. From what I know there is a lodge in Gustavus, but most people stay at Glacier Bay Lodge, which is conveniently located next to the boat launch and right below the visitor's center. I'd recommend staying there if you can.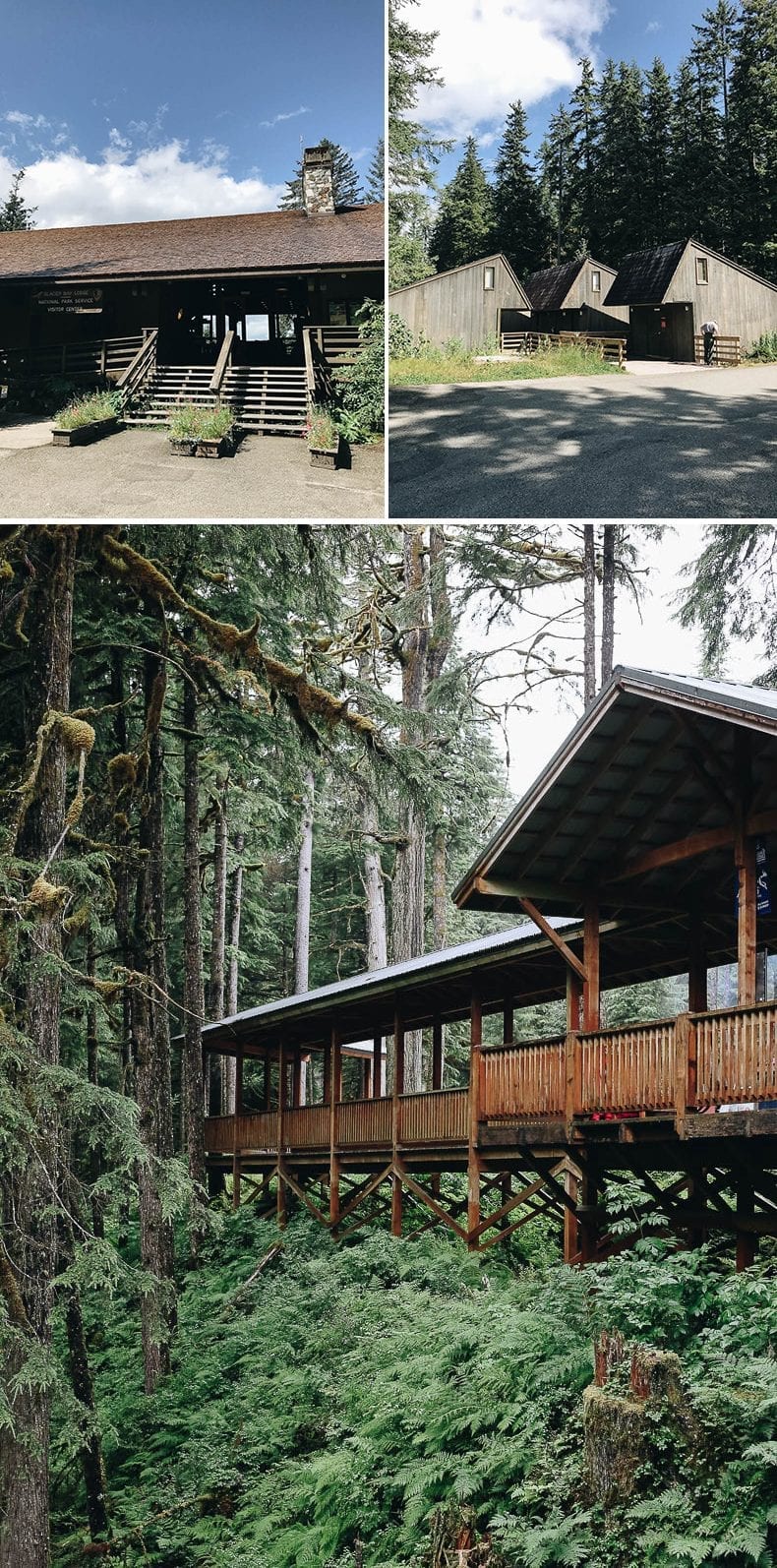 WHAT TO DO IN GLACIER BAY
Take a boat trip to the glaciers – This is THE thing to do when you're in Glacier Bay. It's pretty much the main attraction. The boat ride is about 7-8 hours and takes you along the scenic route through the bay to the glaciers. Along the way you'll see many types of wildlife (we saw whales, a bear and mountain goats) and most of the trip is narrated by a Park Ranger. Seeing orca whales was an insanely cool experience and the glaciers do not disappoint!

Hike to Bartlett River/Lake – Admittedly we only made it to the river and not all the way up to the lake, but this is a gorgeous, albeit mentally strenuous hike. Because you're hiking through the rainforest, be prepared for slippery shoes and lots of wet tree roots. It definitely took more mental power than physical power, but it was worth it!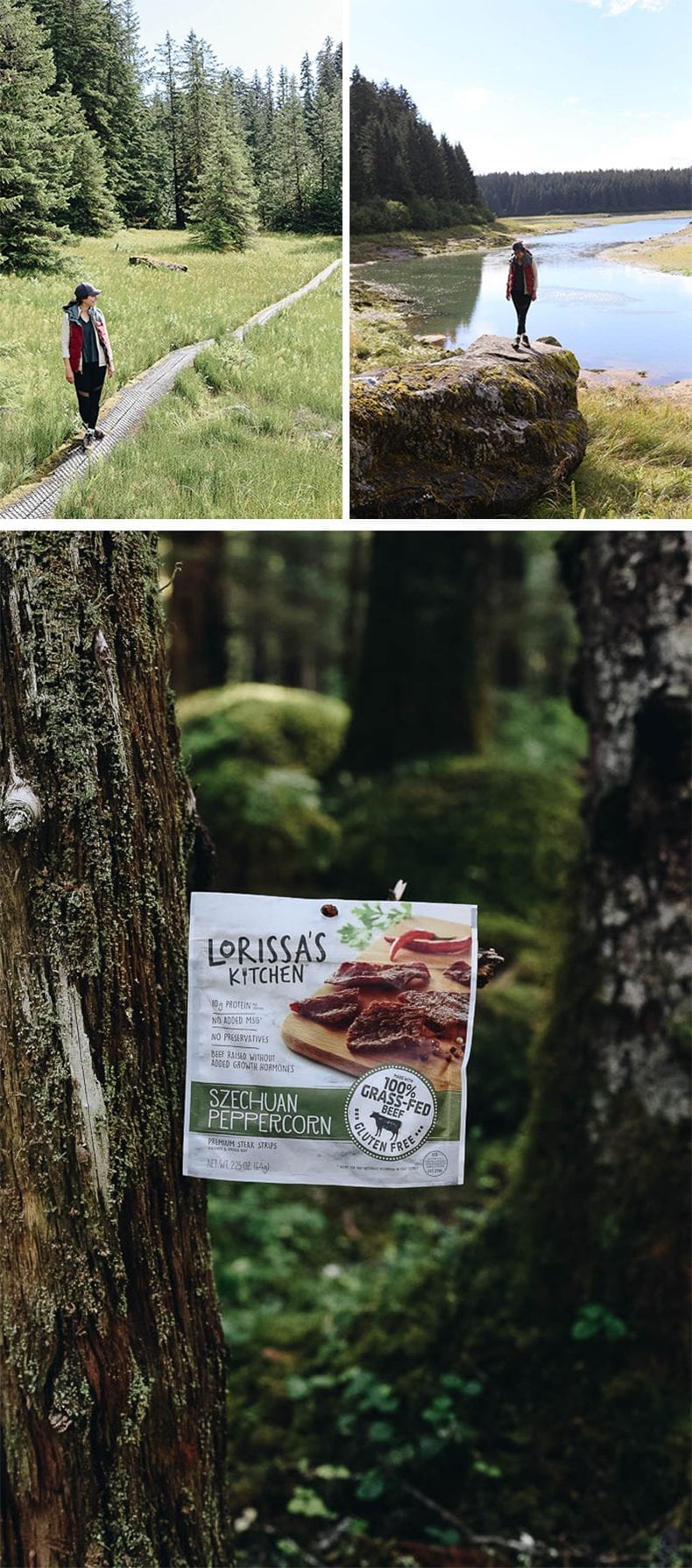 Hike the Forest Loop Trail – This is a short 1-mile trail right off the property of the lodge that also takes you through the rainforest but then back along the beach. It's a nice leisurely walk if you aren't looking for something strenuous. Go during low tide and see if you can spot any Bald Eagles.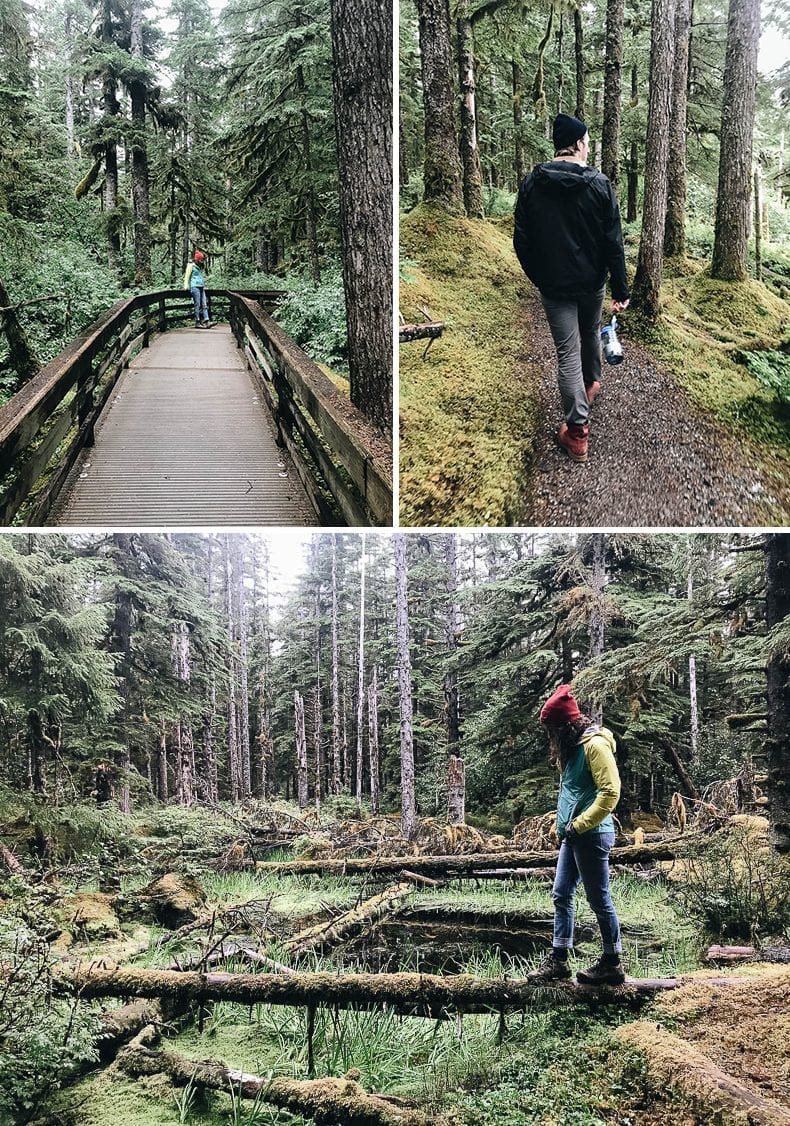 Visit the Huna Tribal House – Do not miss this quick stop along the beach trail close to the lodge. The tribal house was just built in 2016 and is absolutely beautiful inside. If you can, speak with one of the tribe members about the history of the Tlingit Huna tribe and their community in Glacier Bay.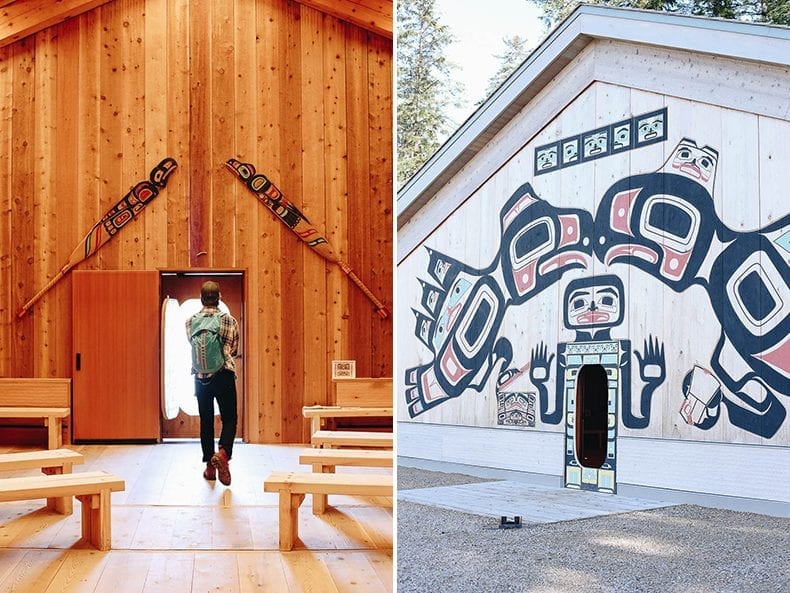 Hang out in the Lodge – Behind the boat tour, this was probably my favorite part of the trip. It's so rare to be out in nature, disconnected and really allow yourself to relax. We spent a full day just sitting by the fire reading and napping and it felt like a dream!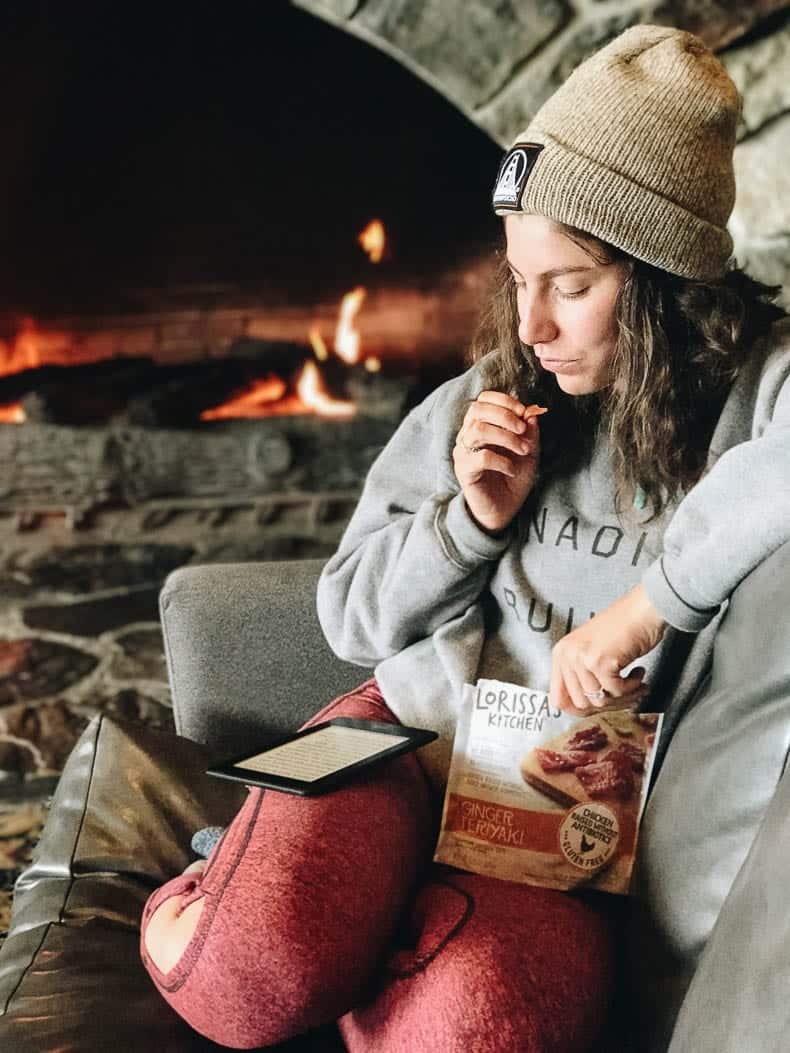 Kayak in Bartlett Cove – Truthfully, I didn't participate in this activity (It was raining and I was feeling lazy), but C's fam said it was awesome. You rent the kayaks through the lodge and they send you off to explore. It's sea kayaking so definitely more strenuous, and don't forget your binoculars since you're bound to see wildlife.
WHERE TO EAT IN GLACIER BAY
There are basically 3 places to eat on the island and without a car to travel around, we were pretty much confined to the restaurant at the lodge. The food there was decent (for National Park lodge food if you know what I mean), but by our 3rd day there I was pretty sick of the meals.
My biggest piece of advice? Bring snacks…and lots of them! I'm so grateful I came with a backpack full of Lorissa's Kitchen since I didn't find myself craving a lot of the lodge food. They're the perfect protein-filled snack when you're spending your days being active and they're also super portable for travel.
What I found myself doing was ordering soups or salads from the lodge and then snacking on LK for a protein boost, since I tend to skip the meat option when I'm eating out. I love that I know their meat comes from good quality sources without added preservatives or hormones. I'm still going strong with my favorite Korean Barbecue, but the Chicken Ginger Teriyaki came in a close second on this trip!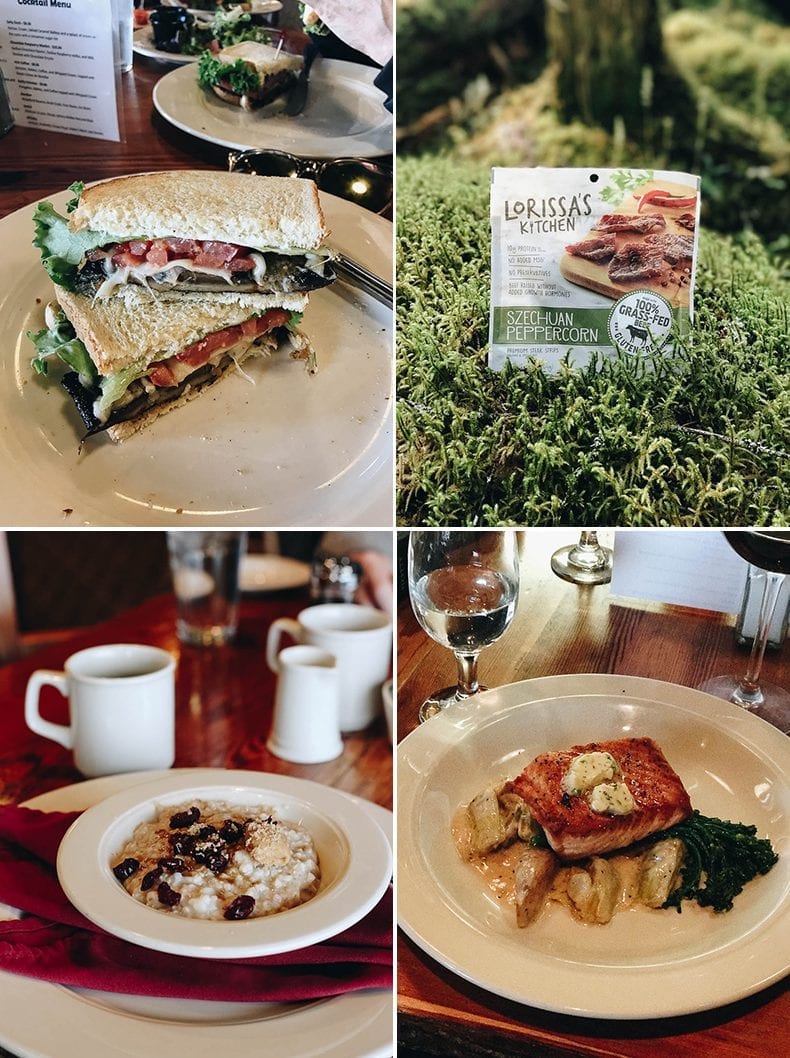 This wraps up my Alaska Travel Guide series, but stay tuned for more travel posts coming soon!
Like this post? Here are a few more travel guides you might enjoy:
Juneau, Alaska Travel Guide
Cariboo Chilcotin Trail British Columbia
Yosemite National Park Travel Guide
Banff National Park Travel Guide
DON'T WANT TO MISS THE NEXT ADVENTURE? Join the THM Community!
Join 10,000+ members of the THM Community to get access to exclusive info about travel, places I've visited and how to stick to your healthy lifestyle on the road.