Visiting Banff National Park this summer? Here are the best places to stay, go and eat on your next visit to one of Canada's most beautiful national parks! P.S. Visiting Banff in the fall? Check out this post!
I always struggle with writing my travel recap posts. Partially because writing them brings back memories that make me want to turn back time, and partially because trying to narrow down pictures and words into a coherent and helpful post is a serious challenge.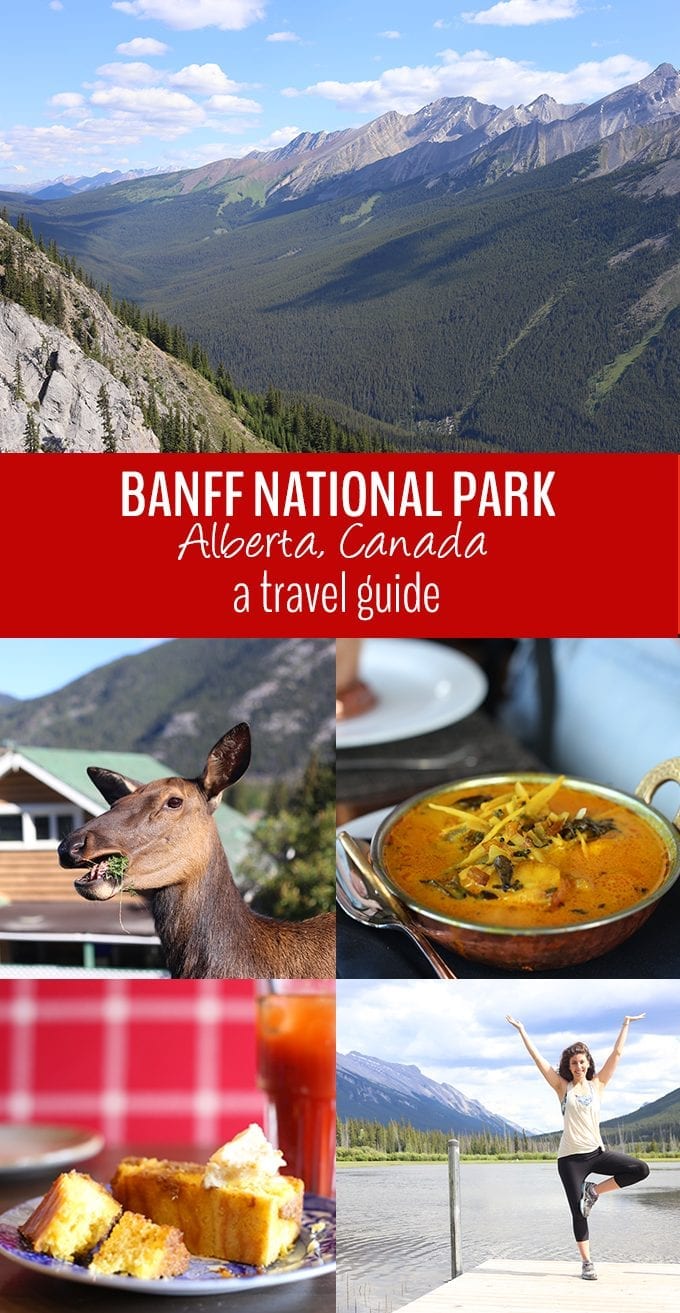 I go back and forth on whether I should just photo dump or provide a more cohesive outline for future travellers and today the latter won over. I've also heard from lots of you guys that my guides to Yellowstone and Grand Teton National Parks were helpful for you so today you're getting the Canadian version aka Where To Stay, Go and Eat in Banff National Park.
It still kind of feels like a dream that I was even afforded the opportunity to go on this trip. I was invited by Banff Lake Louise Tourism and Food Bloggers of Canada to explore the beautiful Canadian Rockies for 4 glorious days. We were asked to share our experiences on social media, but the trip was so spectacular that I knew I had to post about it on the blog. There were 5 other bloggers there, but I swear the trip felt like it was tailored to me. It was full of adventure, relaxation and naturally, incredible (and healthy!) food. The list of places where I might potentially want to live in life has officially expanded to Alberta. Let's jump in…
WHAT TO DO IN BANFF NATIONAL PARK
We kicked off our trip with what we thought would be a nice easy stroll in the woods. The trail is in fact easy to navigate but after a slight run-in with a BEAR we ended up scaling a mountain to avoid getting mauled. The scenery was spectacular and despite our minor incident it isn't all that challenging. Perfect for families and beginner hikers.

2. Kayak/Canoe at the Banff Canoe Club
Hands down the most beautiful place I have ever kayaked. Clear, turquoise water beneath you with cascading mountains surrounding you. We were short on time but I could have spent the entire day out there. So calm and peaceful.

3. Walk around Downtown Banff
If you aren't the adventurous type, there's still plenty for you to do in Downtown Banff. Shop till you drop, enjoy insanely delicious food (more on that below) or sit in the gardens to take in the view. Foodies like us couldn't resist a stop at the Banff Farmer's Market.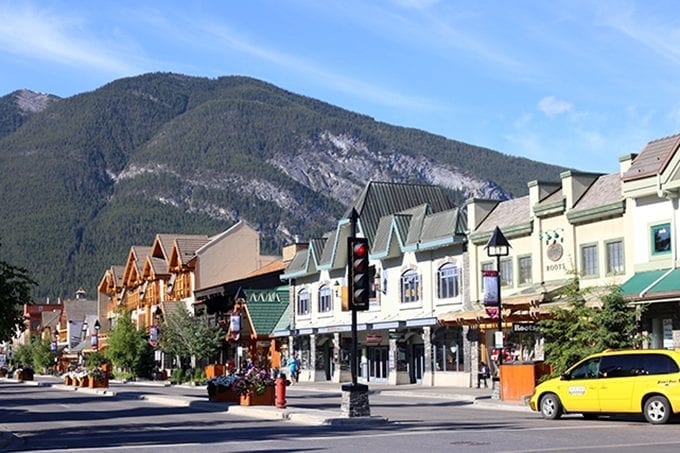 Stop by Banff Adventures and rent yourself a cruiser townie bike. Banff and its surrounding areas are covered in bike trails (and not so townie-friendly bike trails – ahem Jonny) and explore the beautiful Canadian Rockies on a two-wheeler. We biked along the Bow River, stopped by Bow River Falls, before making our way over to Vermillion Lakes. Loved this whole adventure!

By faaaaaar my absolute favourite activity of the trip. This activity is not for the faint of heart. This is like a gateway drug to mountain climbing. *Moderately* safer but you're still pretty much hanging off a mountain by a carabiner. The adrenaline junkie in me loved every second of it.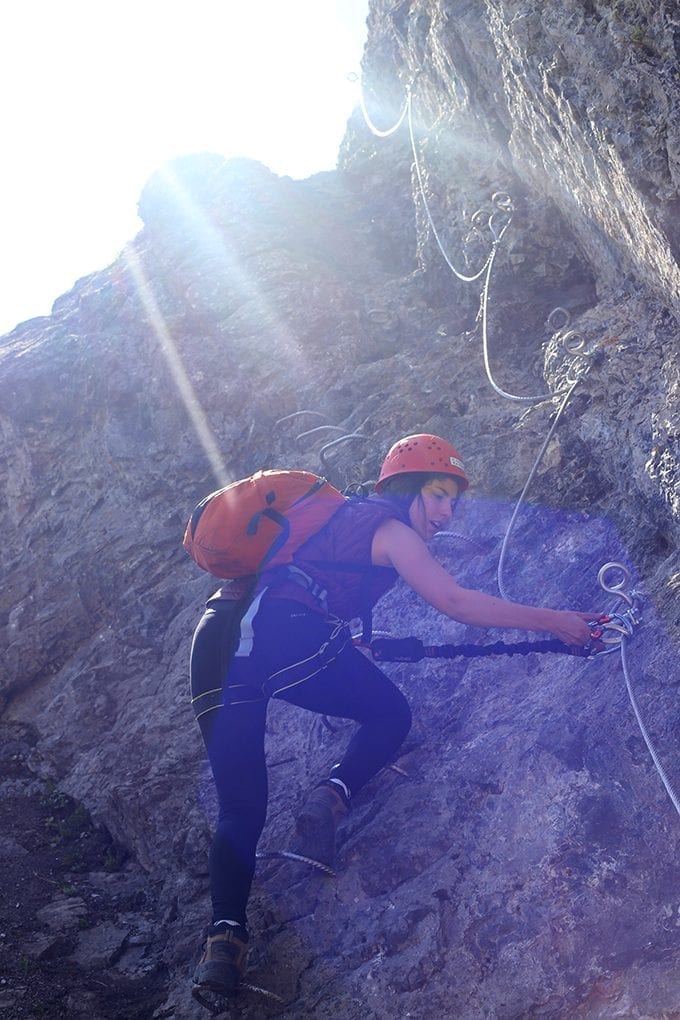 Now that we're sufficiently famished, here's where to eat…
* * * * *

WHERE TO EAT IN BANFF NATIONAL PARK
This was actually the main dining lounge at our hotel but besides its convenience, the food was also amazing. The breakfast there had plenty of options from locally sourced bacon and sausage to healthier alternatives like fruit and yogurt. Our first dinner in Banff was at Sleeping Buffalo and they completely blew my socks off. Let's start with the perfect wine pairings (they knew the way to my heart…) to the elk tenderloin and the QUINOA CHOCOLATE CAKE!!! Be still my heart.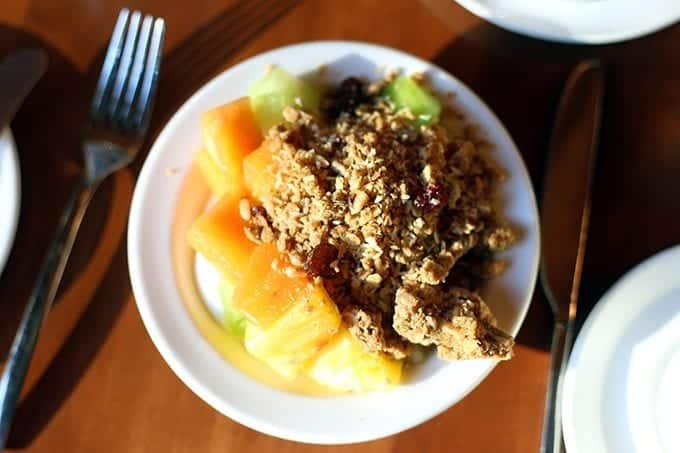 This place is the first distillery of its kind to open in Banff. The food is all campfire inspired (think rustic-comfort), which actually turned out to have a lot of healthy options. I opted for the Hikers Bowl (Kale, arugula, pears, blueberries, trail mix, yogurt vinaigrette) and then quickly unhealthified it with a midday caesar and cornbread. YOLO.

It was love at first sight at Juniper. The decor made me feel like a scene out of mad men but the view from the patio straight up blew me away. They could have fed me dirt and I'd have been happy but instead they matched the scenery by serving one of the best meals I ate in Banff. I had the Sablefish and the chocolate tart for dessert. I wish I could have eaten the whole menu.

We had some munchies after our Via Ferrata excursion at the restaurant at the top of Mt. Norquay. Pretty cool set-up and the charcuterie board was delicious. Admittedly I was ravenous after scaling a mountain so there wasn't quite enough food but I ate my weight in chips to make up for it. Not sorry.

We stopped in here for a tour de bouche (I think I made that up?) during our townie bike experience. To be honest, I was way too stuffed from Park Distillery to eat anything but my bite of the lettuce wrap was tasty. Cute vibe, solid food (I think) and right in the middle of the action.
It's a castle in the middle of the Rockies so SHOCKER it was kind of amazing. The hotel has 16 restaurants and we ate at their Indian Summer inspired location. The food was outrageously good, the scenery was breathtaking and the service was kind of subpar. I'm not one to give bad reviews but it was the longest dinner ever.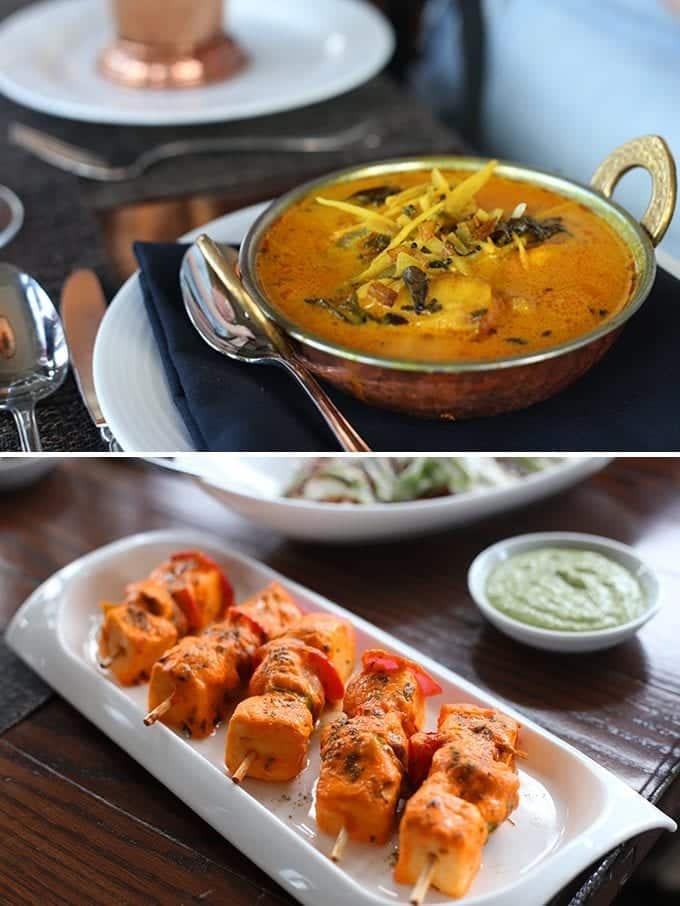 …and that view!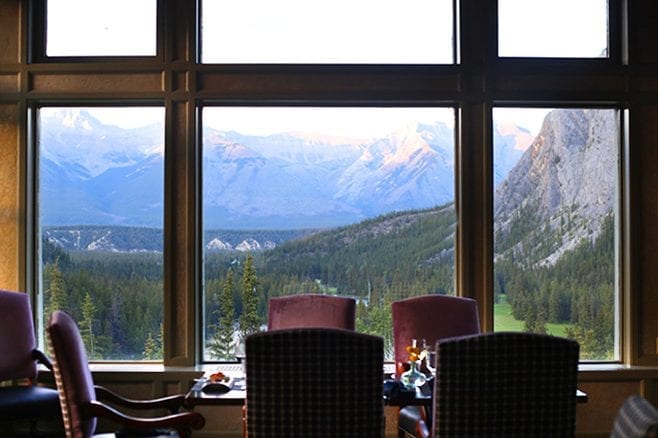 For more restaurant recommendations for Banff check out my Banff Foodie Guide.
* * * * *
WHERE TO STAY IN BANFF NATIONAL PARK
Banff Lake Louise Tourism put us up at The Buffalo Mountain Lodge for 4 days and from the second we stepped in there they were so accommodating. From the claw foot tub, to the bear spray on loan (so key!) to the endless directions, I was blow away by the staff and accommodations.
We stayed in the Premier Rooms and they were so cozy, each with their own fireplaces and balconies but the bathroom was the ultimate. I soaked in the tub every single night and nearly cried when my man James set aside bath salts for us next to each of our tubs.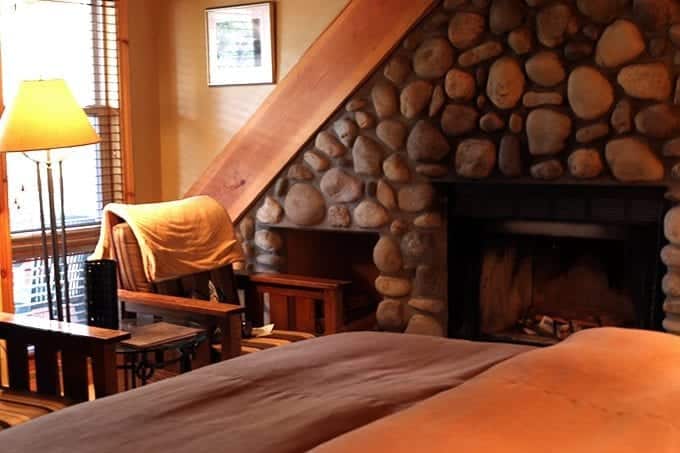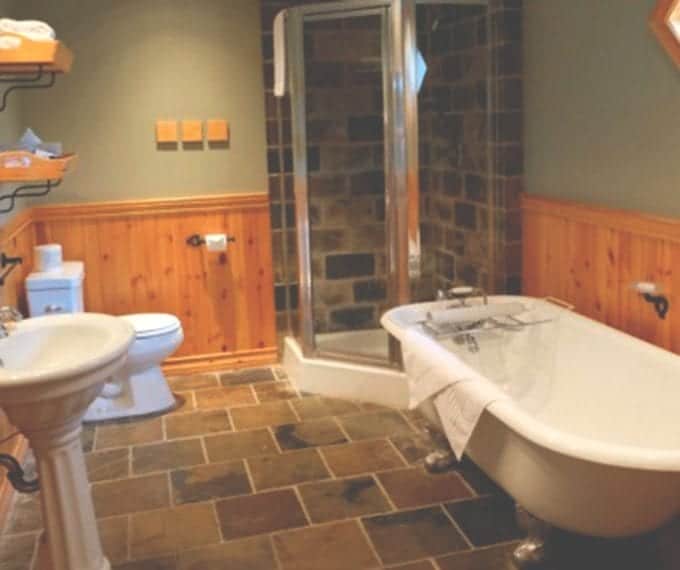 Each room felt like its own cabin and was just a short walk from the main lodge where we ate our meals. From there you could walk to Hoodoos trail or a 15 minute walk into Downtown Banff. Nothing felt too far away. I would highly highly recommend!
Now we all know I can't resist myself and since this is already the longest post ever so I may as well go full-force and photobomb you like mad. Banff really is the most beautiful place on earth!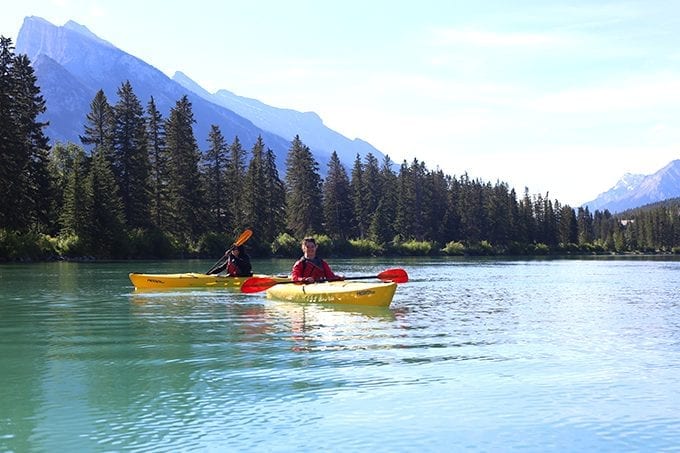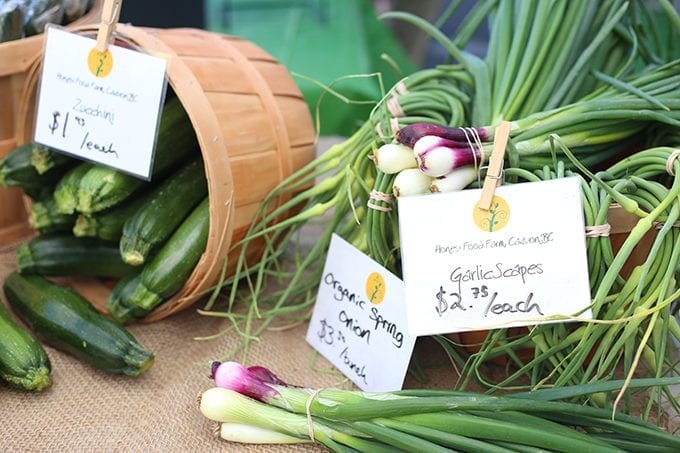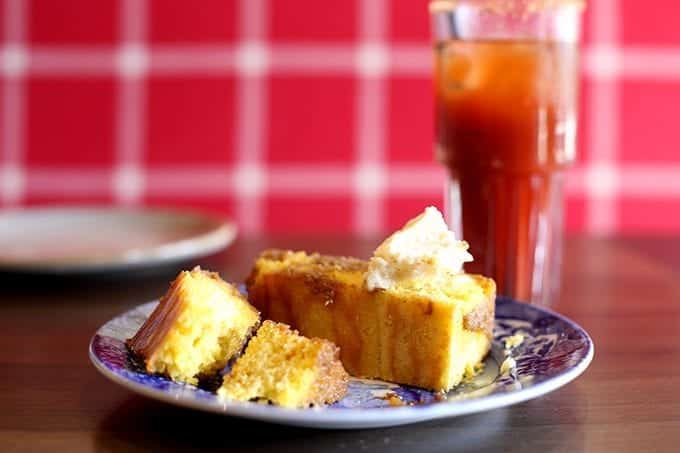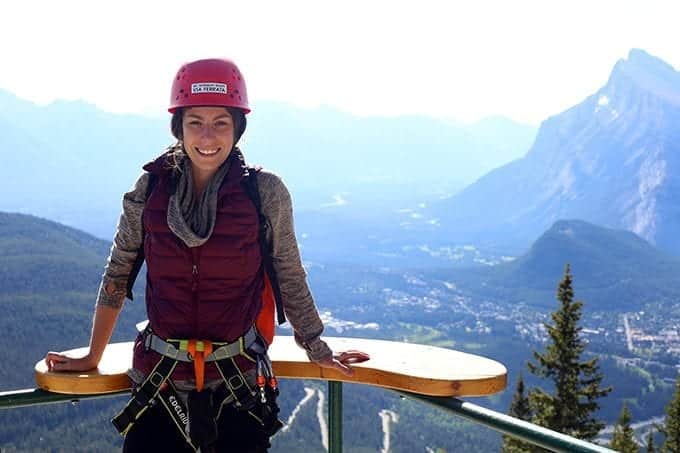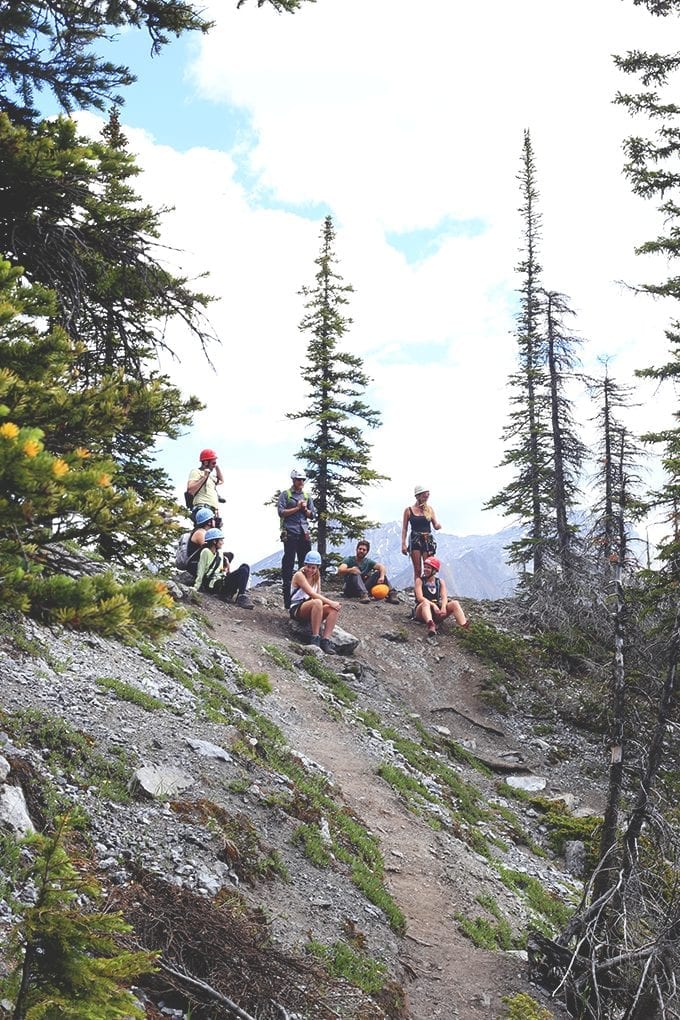 As I'm sure you can tell, this was a trip of a lifetime! Thank you to everyone who made this trip so special; you know who you are.
If you are looking for a spectacular trip that is full of adventure and activity, amazing food and some of the most beautiful sights you will ever see, do yourself a favour and visit Banff National Park.
FYI*** All pictures were shot on my Canon 6D and 50mm lens. It's my go-to for travel photography!
Disclosure: I was a guest of Banff Lake Louise Tourism and my transportation, accommodation, excursions and all meals were covered. I am not being further compensated for writing about my experiences and all opinions are 100% my own.
JOIN THE THM NEWSLETTER
Join 20,000+ members of the THM Community to get access to exclusive recipes, healthy lifestyle tips and behind-the-scenes news from our team!