As I shared bits and pieces of my trip to British Columbia last week on Instagram, the most common question I got was "where ARE you?". Great question and to be honest, up until last week I would not have been able to tell you where I was. In fact when I landed in Vancouver I was convinced we were going to Eastern British Columbia (we weren't) so needless-to-say this trip was certainly off the beaten path.
So how exactly did I end up spending a week on the Cariboo Gold Rush Trail in Central British Columbia? Let's discuss…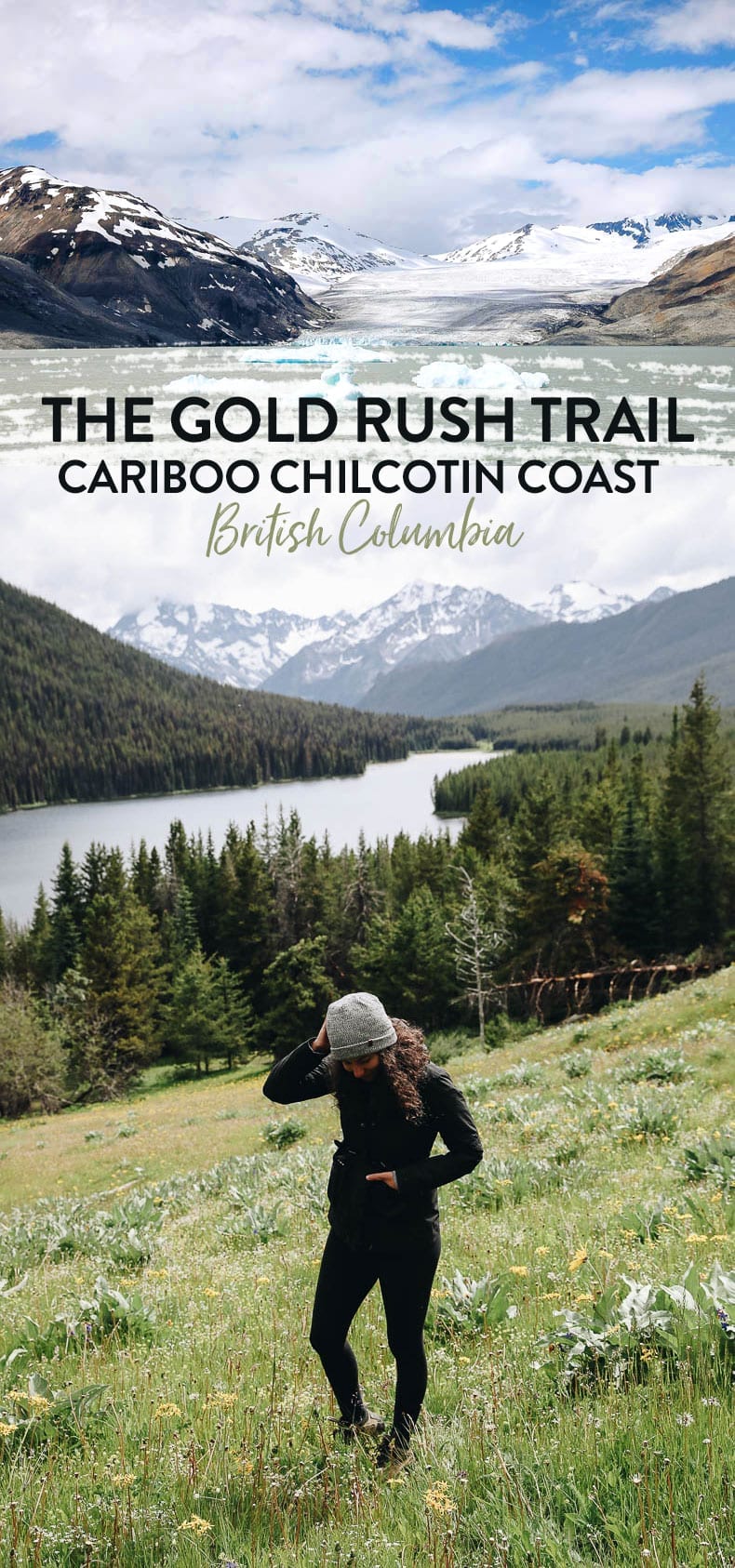 A few months ago I received a text from my friend Jonny asking if I was interested in going on a trip with him in BC. Jonny and I met a few years ago when we worked together on a trip to Banff. We totally hit it off and I went back to Banff a few years later. He now runs his own business (check out Eco Escape Travel) out of Vancouver and has clients that he works with on content creation and social media. One of his clients in the Cariboo Chilcotin Coast Travel Association (CCCTA).
They had a content trip planned for June and I figured "hey! why not? I'm always down for adventure"! And adventure we did. I'll be honest, this trip was both the highest of highs and lowest of lows. The days were exceptionally long but also packed full of activities that were truly once-in-a-lifetime. I learned a lot about this region of British Columbia and my hope is that I can inspire you to get off the beaten path and explore the Cariboo Chilcotin Coast yourself.
Where is Chilcotin BC?
Let's first discuss where I was. Anyone who is from or has visited Canada knows how big it is. Each province is HUGE with many different landscapes and areas to explore. British Columbia is no exception. From Vancouver to Whistler to Victoria and Kelowna, British Columbia has no shortage of destinations. However, the Chilcotin (as it's called) is worth adding to the bucket list. The Chilcotin encompasses the central region of the province just on the eastern side of the Coast Mountains (where Whistler is located). The Chilcotin itself has a mountain range full of provincial parks, glaciers and wildlife yet is surprisingly accessible from Vancouver – roughly 5 hours away by car.
What is the Cariboo Chilcotin Coast?
The name is kind of confusing, right? The Cariboo Chilcotin Coast actually refers to THREE mountainous areas including the Cariboo range to the north, the chilcotin range below that and the eastern side of the coast mountains. It isn't in fact along the coast but instead covers hundreds of miles from southern to northern British Columbia. It is a region of central BC.
What is the Gold Rush Trail BC?
Now just to add to the confusion, this area is also sometimes referred to as The Gold Rush Trail. Why? Because this was the path miners took when searching for gold in BC. Yes, there was a gold rush in British Columbia and many remnants of it remain along the path starting in Lillooet all the way up to Barkerville. The trail actually begins before Lillooet but technically mile zero begins there. You can follow the whole path all the way up stopping at many historic inns and locations that still preserve many of the remnants from the 1800s gold rush.
Some stops worth making along the trail: Kilby Historic Site, The Town of Lillooet, Historic Hat Creek and Barkerville.
Why Visit the Cariboo Gold Rush Trail?
There are a couple reasons why one might explore the Cariboo Gold Rush Trail but I'm going to narrow it down to three: adventure, historical and indigenous travel. If you are an off-the-beaten path adventure junkie, this place is for you. This is especially true for mountain bikers who consider this some of the best mountain biking in the world.
If you're a history buff who loves learning about the gold rush and historical travel, this area is also for you. As I mentioned above, you can literally follow the path all the way up stopping at important locations along the gold rush trail.
If you love learning about native cultures and experiencing them first hand, you will also love this region. There are so many indigenous first nations in this area to learn from. One of my favorite parts!
Some Highlights…
Most of the time when I write these travel guides I try to give an exact route or itinerary you can follow. However, because we were on a content trip, a lot of the sites we visited either a) aren't accessible to the public or b) weren't necessarily places I would have chosen to visit (just being honest!). So instead I'm going to share my highlights from the Chilcotin Gold Rush Trail and places I think are worth visiting. Let's do this!
REO Yoga + Rafting Resort [Boston Bar, British Columbia]
Go HERE! If I could have spent all week here I would have. I'm biased because I love yoga but even if yoga isn't your jam, this place is for you. The accommodations are luxury glamping with fully outfitted tents that are cozy, warm yet still feel like you're in nature. Stay in the river tents and you'll hear the river rushing all night – it's the perfect white noise.
Included in your stay are 2-3 yoga classes a day (mixture of hatha, vinyasa and yin), 3 meals, accommodations and a rafting trip down the river. Rafting isn't my cup of tea but I'm glad I did it and this area of British Columbia is absolutely beautiful. It's considered the very southern end of the gold rush trail and is only about 3 hours from Vancouver. This place is an absolute steal and perfect for a weekend getaway or yoga retreat.
On your way from Vancouver stop for a hike in the Othello Tunnels and beautiful views at the Alexandra Bridge Provincial Park.
Lillooet, British Columbia
This is technically mile zero of the Gold Rush Trail however this area offers more than meets the eye. It's also only about 2 hours from Whistler so could definitely be a day excursion from there. Here were some favorites:
This is one of the best indigenous tourism experiences I have had. Stop in at Xwisten Experiences to experience how the Bridge River First Nations have been fishing in this region for 10,000 years as well as a demonstration of their wind dried salmon. They also take you up to where the pit houses are located and I don't consider it a coincidence a beautiful eagle was flying over us. This experience is so special. Make sure you sign-up for a tour!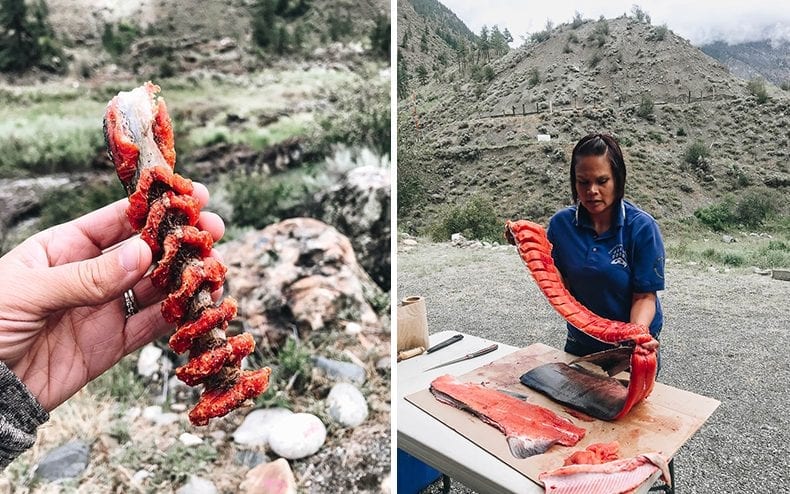 I was not expecting there to be great wine in Lillooet but boy was I wrong. BC is known for their Okanagan wines but Lillooet is soon to be on the map. Stop in for a tasting and go home with a bottle (or three!) of their delicious varieties. The setting is easy on the eyes too.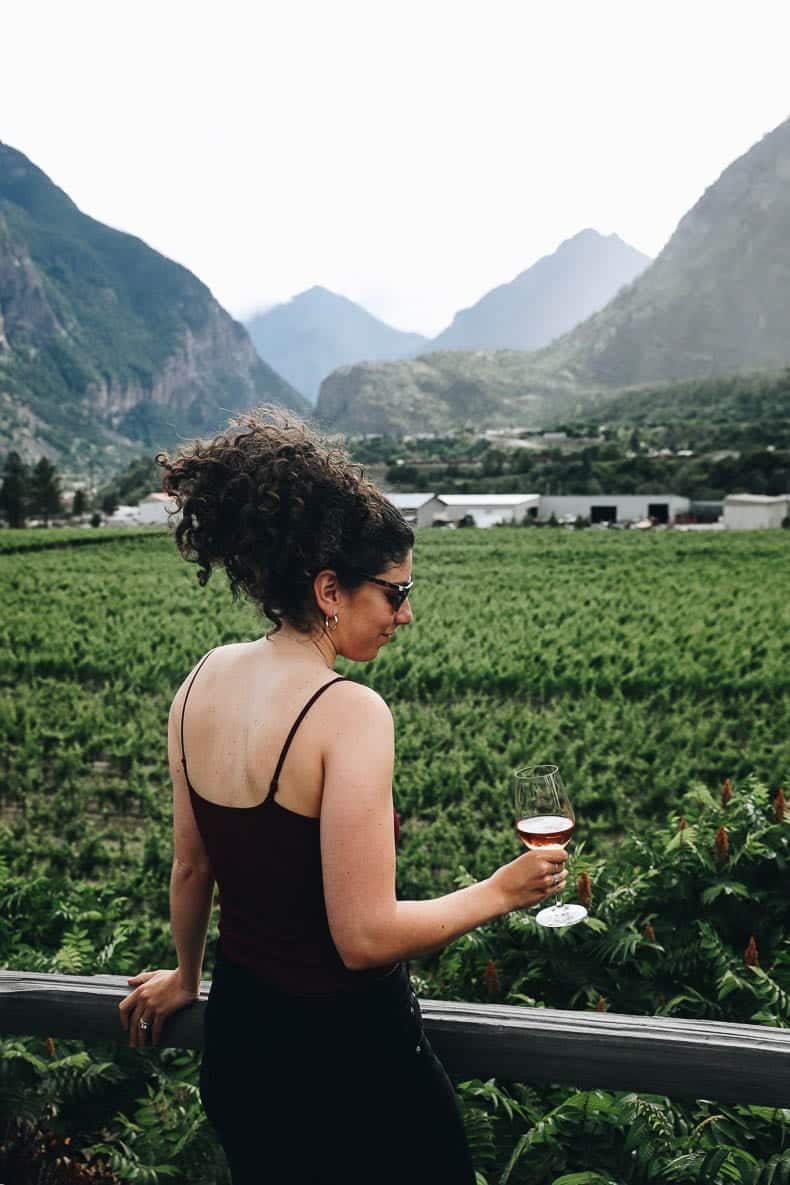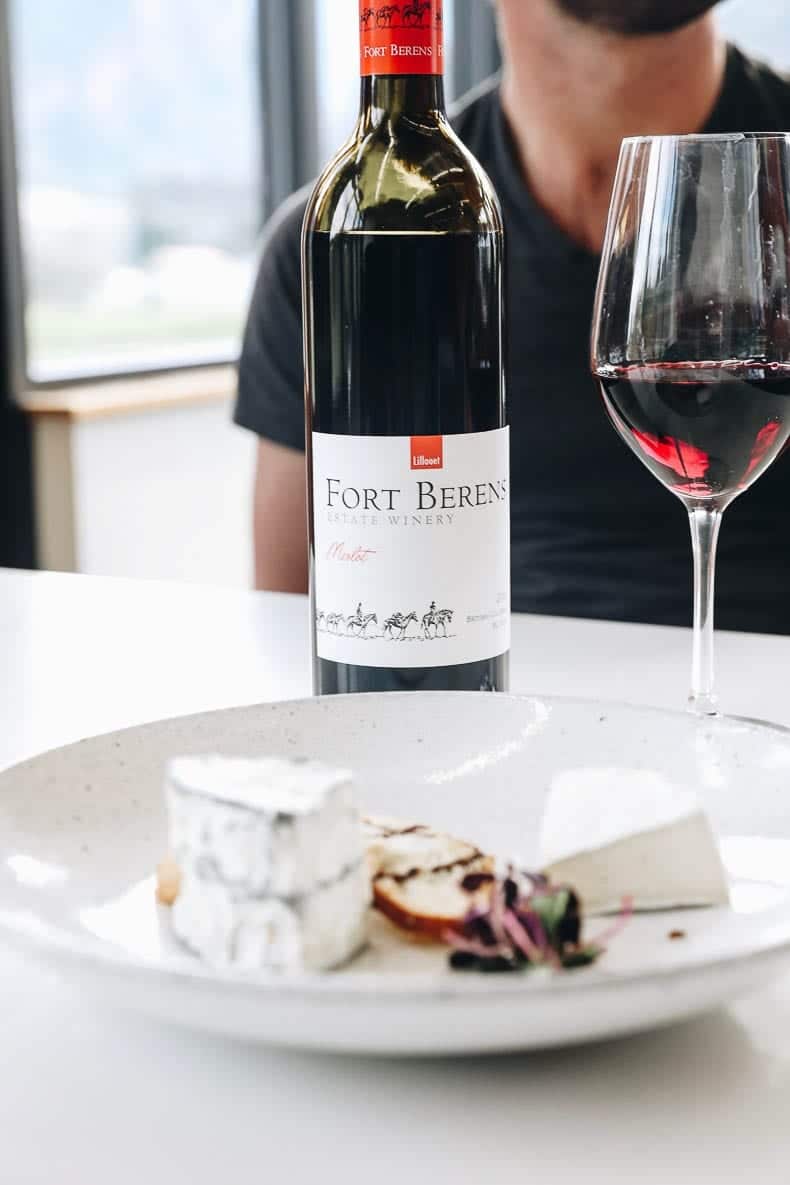 I'm a botanical geek so I loved stopping in at Split Rock to learn about the native flora and fauna is the region as well as try out (and buy!) some of their homemade bath and beauty products. You can also hike around their property and check out the man-made salmon run that was built to help preserve the salmon that come through the area.
TBH the accommodations in this area are slim pickins' so I don't have a specific place to recommend, however it's only about 1.5 hours from Gold Bridge and Tyax Lodge (more on this below) so it's a perfect place to stop in and out of that area.
Gold Bridge, British Columbia
This location is definitely the furthest from Vancouver, however it also offers the quietest and least trafficked area we visited. So if you're really looking to get away from it all, Gold Bridge is for you.
I highly recommend staying here during your trip. The accommodations are really nice (not super high end but not super rustic either) with beautiful views of the mountains. What I loved most about this place was the list of activities available. You can canoe, paddle board, go on a float plane ride to a local glacier, go to the spa and the list goes on. There are an abundance of activities at your disposal that allow you to explore the area.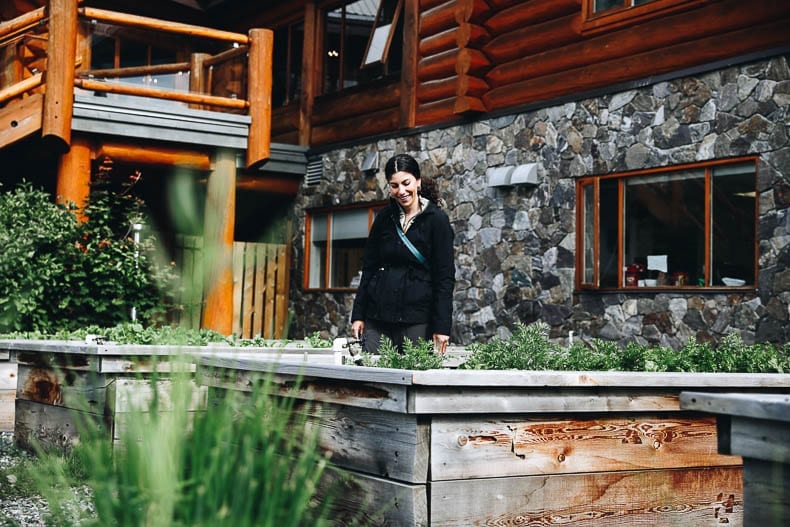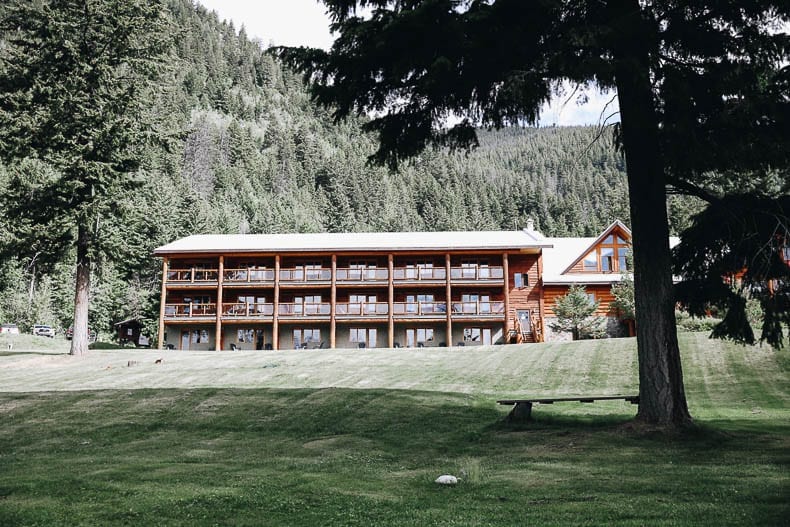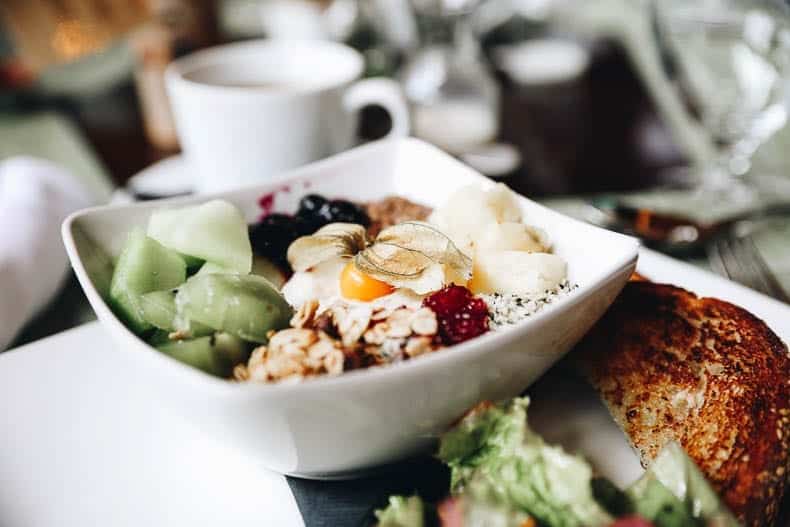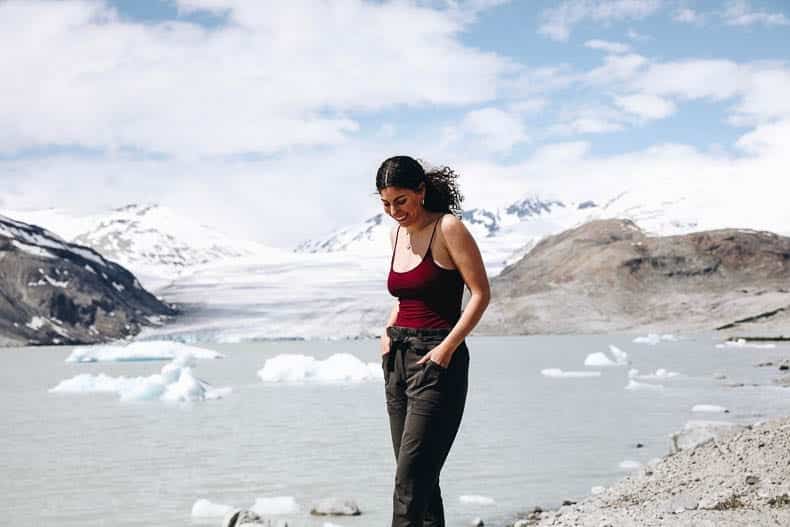 Not to be confused with Tyax Lodge, Tyax Adventures is a separate company that offers tours and lodging within the Gold Bridge area. Their tours are definitely more of the rugged variety and designed for people who love adventure. Since this post is all about honesty, I really was not a fan of their camping accommodations. Your girl can camp but this was REALLY rustic. Though I'm sure the rain and freezing temps didn't help.
If I had planned it I would have just done one of their float plane day trips to hike in the Spruce Lake area but if you're big into mountain biking or want something really off the beaten path their tent camps are always an option (though don't believe their website – this isn't "glamping").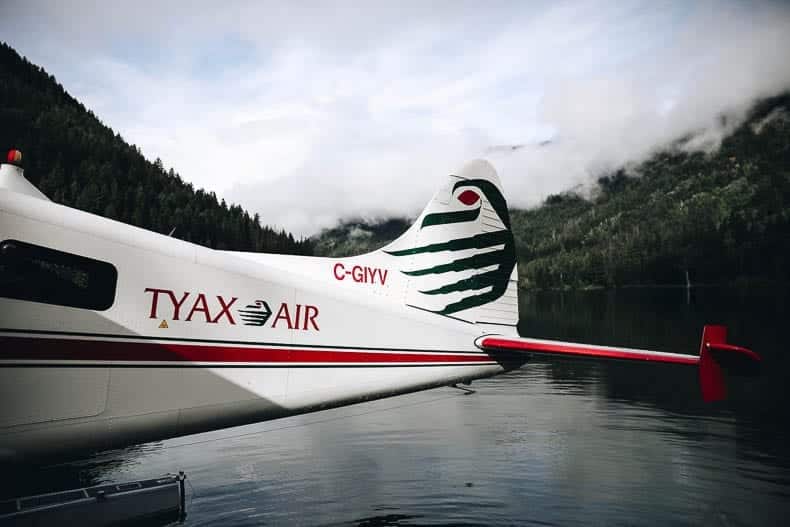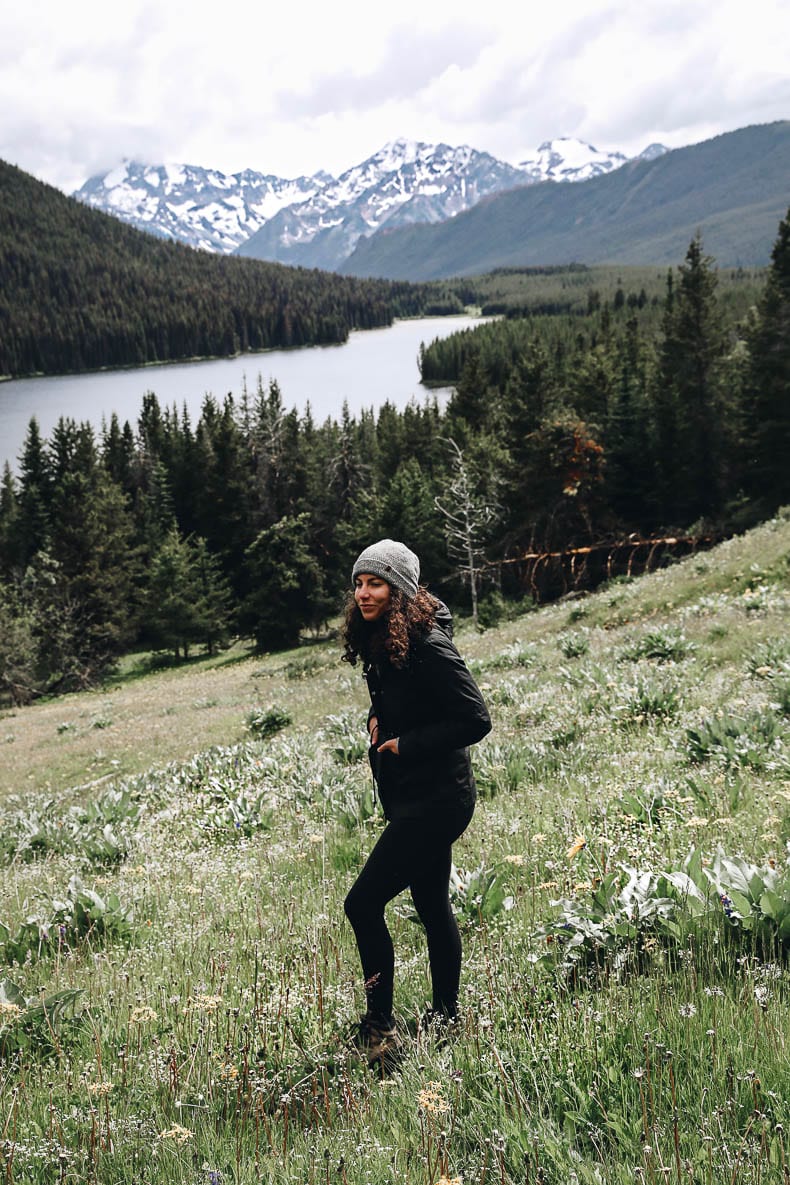 Saved the best for last! If you love horses or have wanted to do a horseback riding adventure, you HAVE to go to Chilcotin Holidays. We did an afternoon ride through the mountains though they offer multi-day and week pack trips in addition to their day rides. We finished up the day with a harvest meal featuring locally foraged foods like wild onions and potatoes, soopolalie berries and even wild elk and bear! The team here is kind and patient and I truly loved this experience.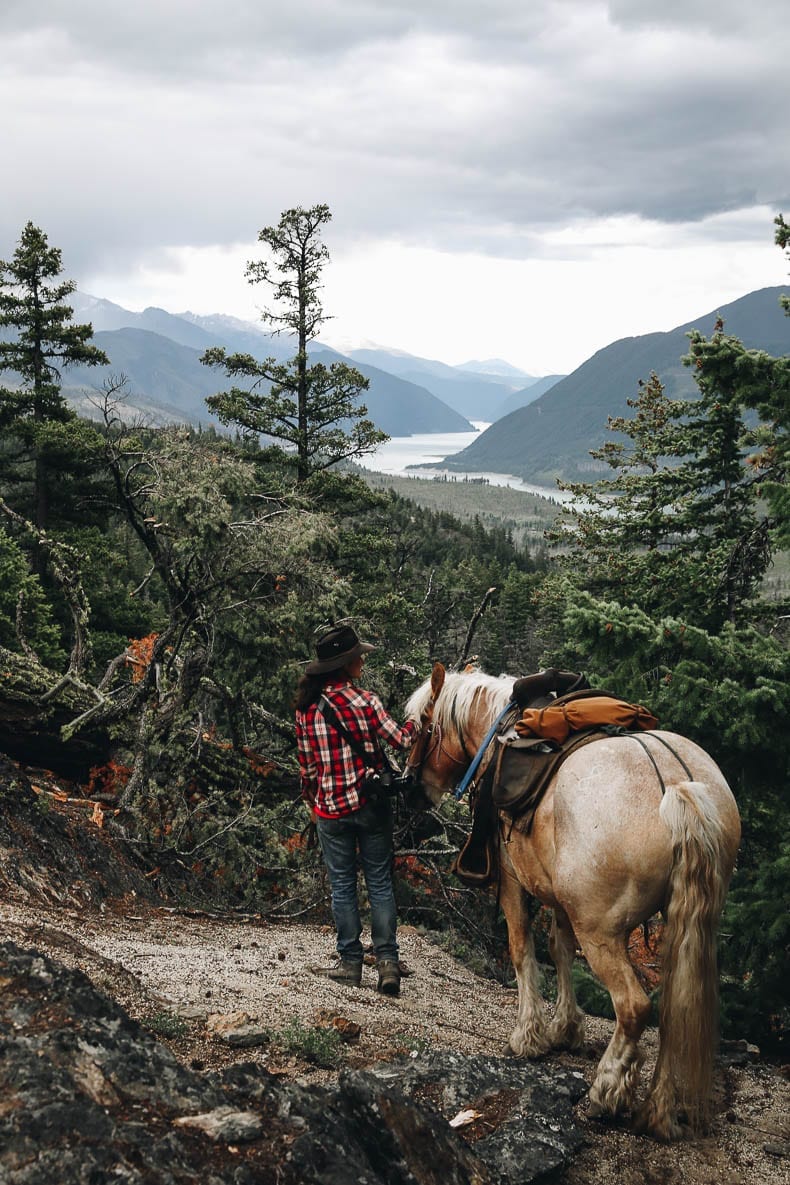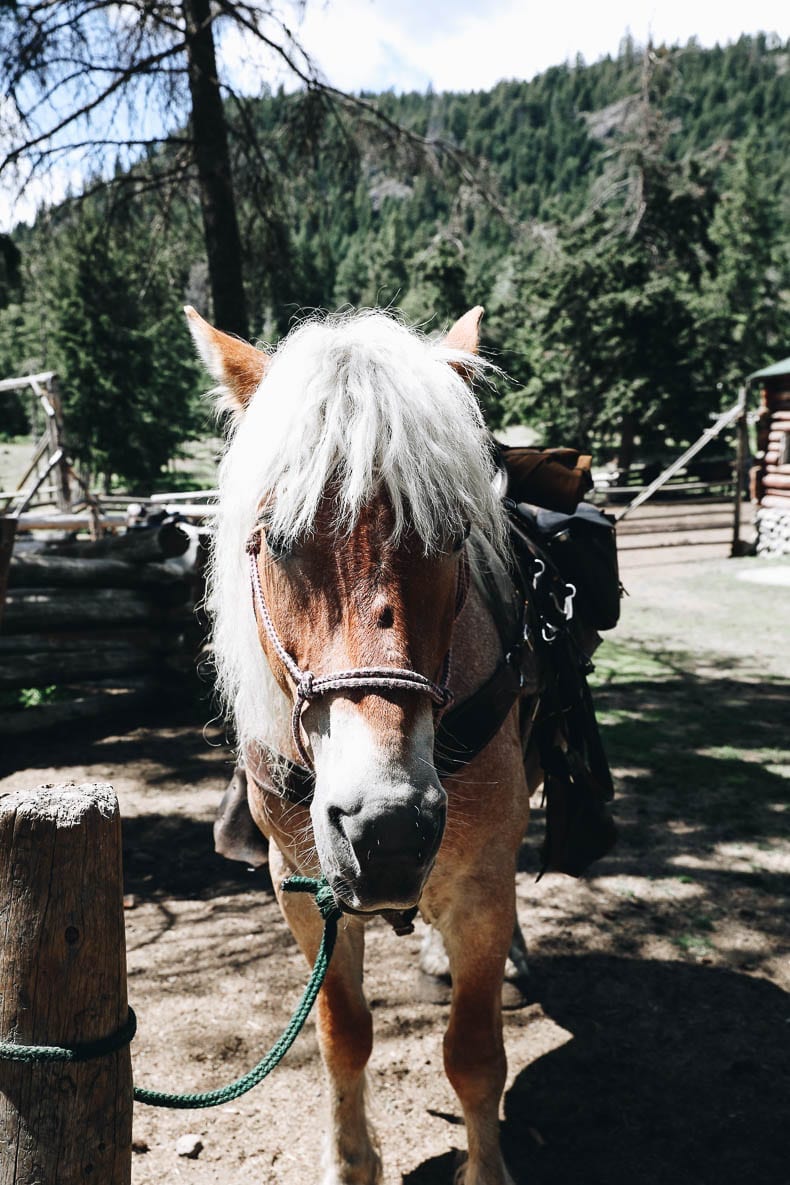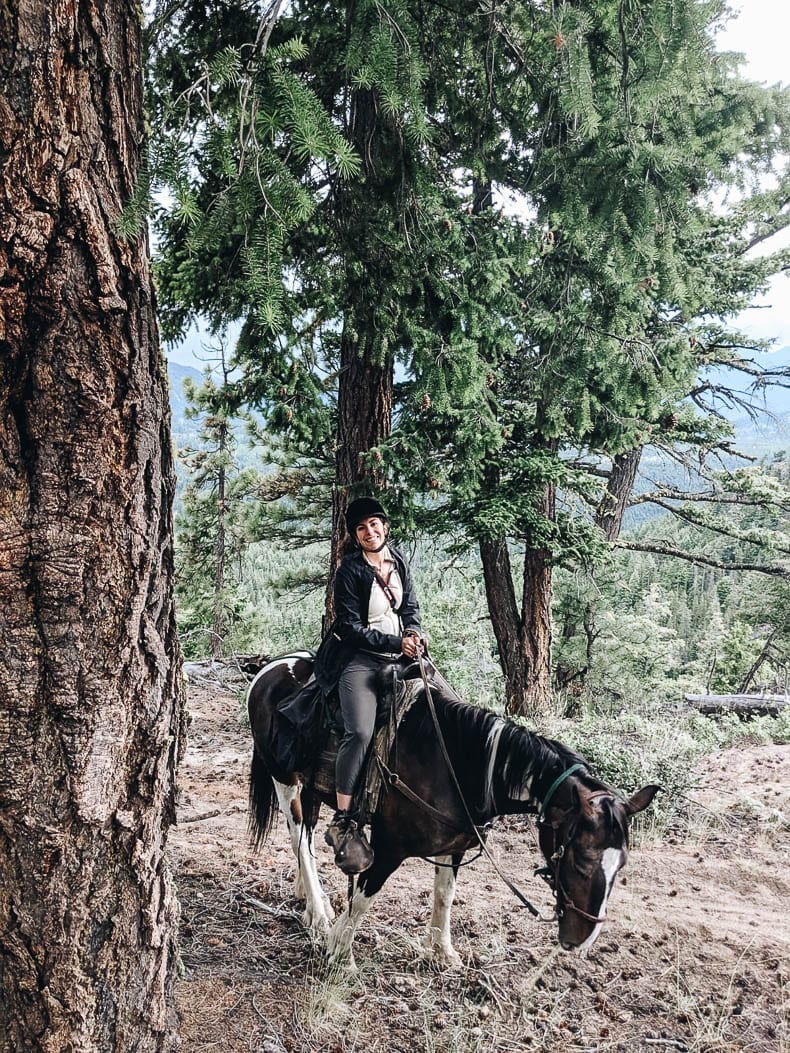 From flying over a glacier in a float plane to crawling into a grizzly bear den, this trip wasn't short on adventure. I'm somewhat biased but I really do think the Chilcotin Gold Rush Trail is a worthwhile visit if you're coming through British Columbia or are looking to explore more of your province. This trip really gave me a lot of perspective on how much Western Canada truly has to offer and how little of it I have actually seen. I need a solid nap after 17-18 hour days but I'm already scheming ways to get back.
So tell me: Have you heard of the Cariboo Chilcotin Coast + Gold Rush Trail? I'm excited for more of you to discover it!
DON'T WANT TO MISS THE NEXT ADVENTURE? Join the THM Community!
Join 10,000+ members of the THM Community to get access to exclusive info about travel, places I've visited and how to stick to your healthy lifestyle on the road.