If you're looking for a way to spice up your standard summer corn, look no further than this chimichurri grilled corn recipe! It's simple to make, made with fresh herbs and corn on the cob and the perfect side for your next barbecue!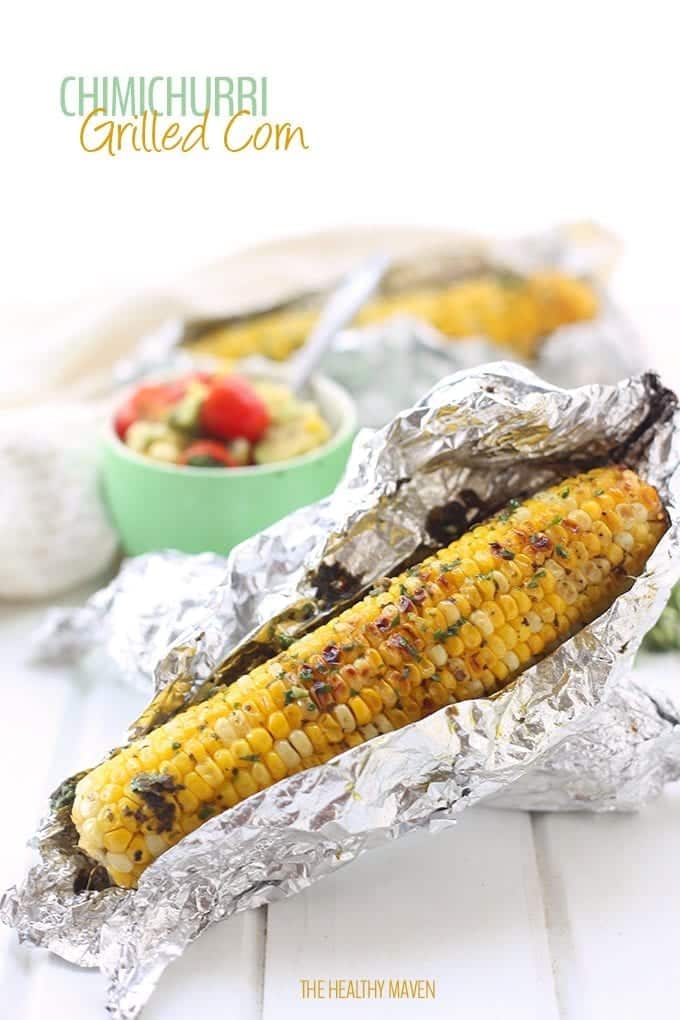 I am fortunate to be the spawn of a foodie. When it comes to my love of cooking, I definitely got it from my mama. I also apparently inherited an incessant need to grocery shop at least 4 times a week.
Despite having 0 out of her 4 children living in the house, she still shops at Costco several times a week. That being said, we do treat our parent's house like a grocery store and more often than we'd like to admit just grab stuff from her pantry instead of going to the store. My mother also loves a good Farmer's Market.
The other day we were up at their house for a BBQ. This makes it sound like they live in another city when in fact we both live in Toronto, I just make a fuss over going anywhere beyond the 4 block radius of our apartment. My parents had been away for the weekend, and yet my mother still managed to whip up like a 7 course meal for 5 of us. Her ability to organize and multitask are skills I unfortunately did not inherit.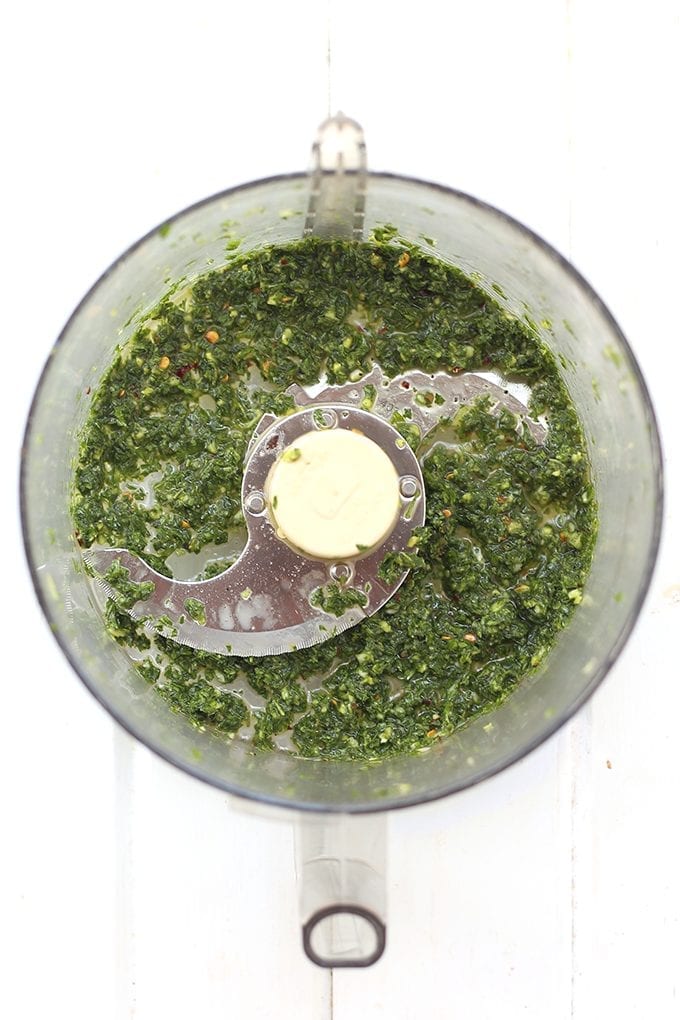 When it comes to cooking for her kids or spontaneously dropping off enough soup to last through the entire winter season at my doorstep, my mom is on point. If she actually knew how to use a computer (sorry Mom…), I have no doubts that her blog would be at least 1000x bigger than THM. She's also responsible for my sass…so you could imagine how amazing the original maven's blog would be.
Back to the BBQ.
My Mom informs us that the grilled corn we're eating was literally picked that day from a farm outside Toronto. Obviously this made me go weak at the knees. She grilled it in her classic herb and butter sauce and I proceeded to eat two cobs because I can't control myself around Ontario corn and well #YOLO.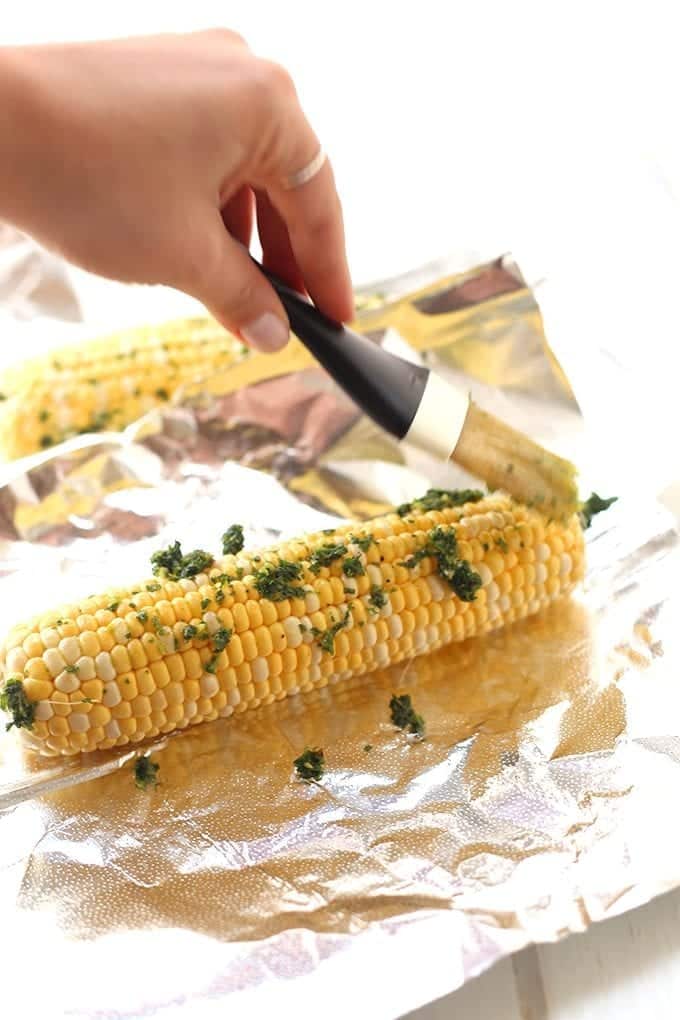 The problem with my Mother's generosity when it comes to food is that I've also come to expect that she will always bring and buy extra for me. (yes I'm aware that this makes me an ungrateful spoiled brat…working on that). So when she informed me that she'd only purchased enough of the delicious Ontario corn that I'd just shoved into my face for her and none extra for me, I may have shed an internal tear.
She said she wasn't sure if I'd eat it, to which I responded: "IF IT'S FROM A FARM…I'LL EAT IT!".
It was a great learning lesson for both of us. My Mom learned that when in doubt, buy extra for Davida and I learned that I need to be on top of my Mother's whereabouts at all times to ensure she never comes home cornless. Fortunately, my grocery store had stocked up on Ontario corn (albeit probably grown god knows where and jacked up in price) so I healed my wounds with this Chimichurri Grilled Corn recipe. I'm just starting to feel like I'm recovering…
Print
Chimichurri Grilled Corn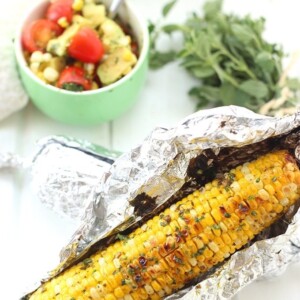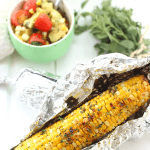 Total Time:

30 minutes

Yield:

4

pieces of corn

1

x
Scale
Ingredients
4

corn on the cobs, shucked

1 cup

flat-leaf parsley leaves

1/4 cup

Fresh Oregano leaves

2

garlic cloves

1

T apple cider vinegar

3/4 tsp

sea salt

1/4 tsp

freshly ground black pepper

1/4 tsp

dried red pepper flakes

1/4 cup

extra-virgin olive oil
Other: tinfoil for grilling
Instructions
For the chimichurri sauce:
Add parsley, oregano and garlic to a food processor and pulse several times (alternatively you can chop everything very finely if you don't have a food processor)
Add in apple cider vinegar, salt, pepper, chili flakes and extra virgin olive oil.
For the corn:
Ensure corn is fully shucked and place each cob in a sheet of tinfoil.
Brush corn with 2/3 of chimichurri sauce, making sure to coat all sides.
Wrap up corn in tinfoil so sealed shut.
Preheat grill to medium-high heat.
Place corn directly on grill and cook for 20 minutes, being sure to turn the corn every 5 minutes.
Remove corn from grill and carefully open tinfoil.
Brush each piece with remaining chimichurri sauce and serve.
 Are you similar to your parents? What's in season near you?
JOIN THE THM NEWSLETTER
Join 10,000+ members of the THM Community to get access to exclusive recipes, healthy lifestyle tips and behind-the-scenes news from our team!