Coconut Waffles – Vegan and Gluten-free. Made with coconut flour and chia seeds this waffle recipe makes the ultimate healthy breakfast recipe everyone can enjoy. No dairy or eggs required!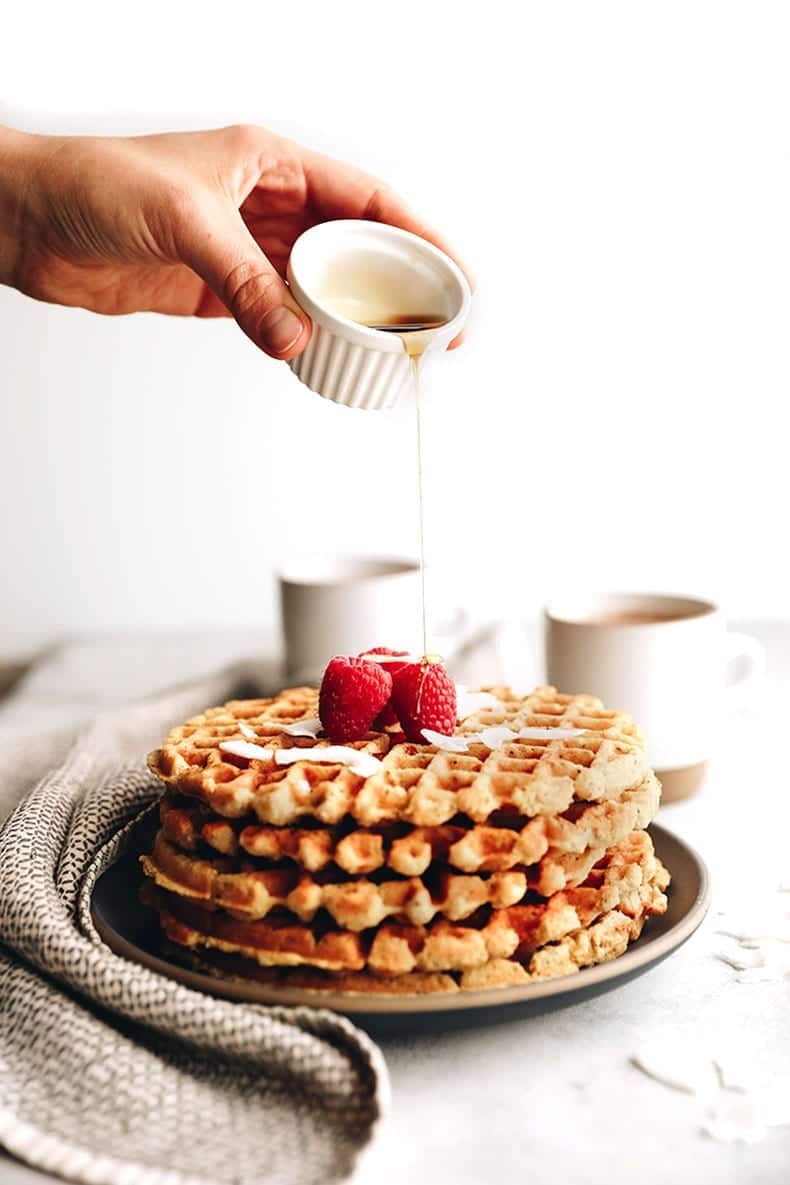 I have a truly unhealthy obsession with all things Trader Joe's. Unfortunately Canada has yet to figure out that they NEED TJs. Anytime I am in The States I load up on my favourite products. When I was in Minnesota in December I brought home an entire suitcase of food. Normal right?
Well Trader Joe's has just released a new product that I am desperate to get my hands on. Coconut Oil Spray! I know, I know they are not the first to come out with this product but they are definitely the only ones selling it for $2.99 ($3.04 CDN). I absolutely love coconut oil and this spray version would be super handy! I always find myself diverting back to spray olive oil or canola (gasp!) oil when i'm roasting my veggies because the idea of melting the coconut oil and drizzling it on seems too effortful…yes I am that lazy.
You want to know when it would be the most handy? When making waffles! My waffle-iron is just begging for some coconut lovin'.
But alas I will have to wait until the next time I am in the U.S. of A to purchase several cans of this goodness. In the meantime I will suck it up and melt my coconut oil and brush it onto the waffle-iron. Life is tough eh? Since we are on the topic of coconut it made complete sense that I post my recipe for Coconut Waffles.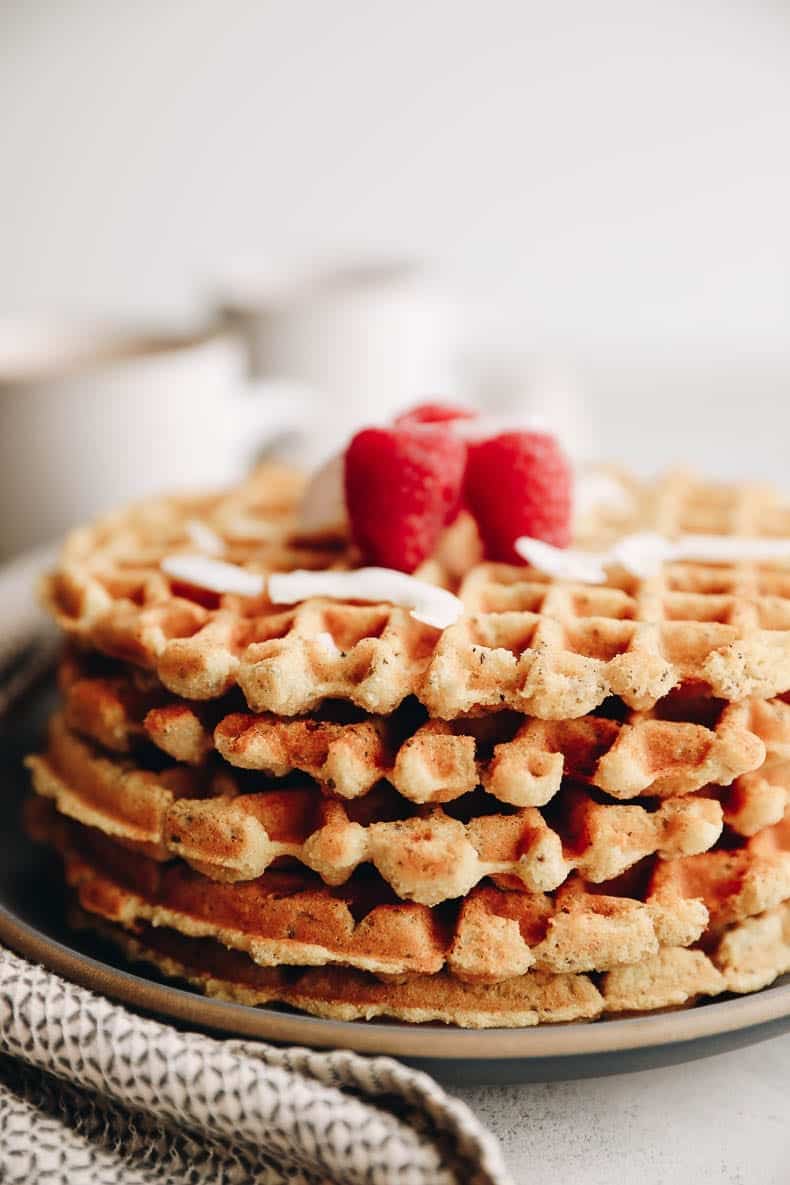 These coconut waffles came together quite seamlessly. C was visiting this weekend and I promised I would make him breakfast Sunday morning. I owed him big time for building me a light box (aka why my pictures suddenly look so much better). This is how the conversation went Sunday morning. "Sweet or savoury?"…"Sweet" …"pancakes or waffles?"…."waffles" …"chocolate, coconut or carrot?"…"coconut". It was that simple. The challenge was making them gluten-free (and vegan just for good measure) so that I could enjoy them as well.
These are SERIOUSLY good. Topped with banana, almond coconut butter and coconut flakes. This breakfast reminded me of my family trip to Hawaii last summer. If you are also a big coconut fan or are just in need of a taste of the tropics then you should absolutely make these Coconut Waffles – Vegan and Gluten-Free!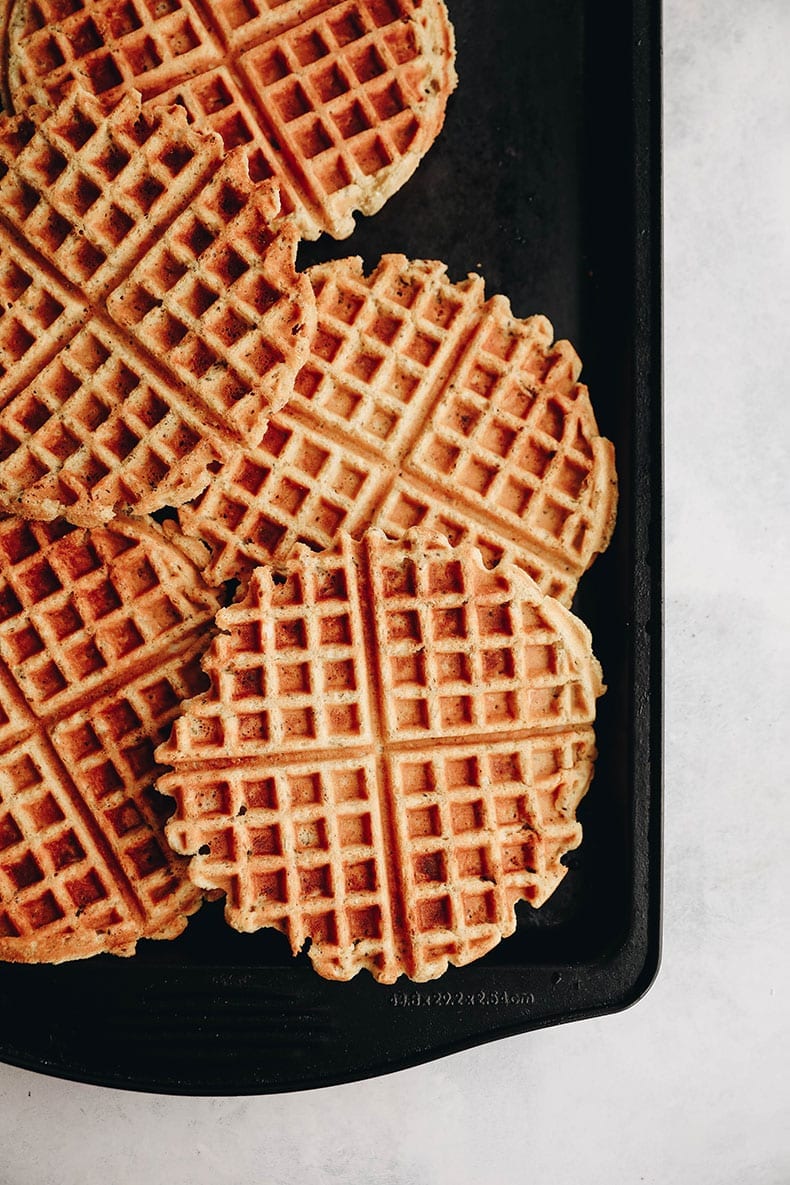 How to Make a Chia Egg
In order to keep this recipe vegan, we used chia seeds in place of eggs. Chia seeds can make a great vegan binding agent because they create a gel-like consistency when mixed with water. This helps to bind the vegan coconut waffles together so that they keep their shape and get the same crispiness that regular waffles do. Here's how to make a chia egg:
Combine 1 part chia seed to 3 parts warm water. In the case of this recipe, we'll use 2 tbsp of chia seeds and 6 tbsp of warm water. You need to let the chia egg side in a small bowl for 5-10 minutes to allow the chia eggs to absorb the water. Once they are gel like and hold together you know the chia egg is ready to be mixed in.
Print
Coconut Waffles – Vegan and Gluten-Free
Author: Davida Lederle
Prep Time:

15

Total Time:

30

Yield:

5

large waffles

1

x
2 tbsp

chia seeds (mixed with

6 tbsp

warm water)-to make chia egg

1/4 cup

+

1 tbsp

of coconut flour

1 cup

of oat flour (ground oats) – gluten-free flour works here too

1/2 cup

of unsweetened coconut flakes

1 1/2 tsp

baking powder

1/2 tsp

cinnamon

1 tsp

vanilla

2 tbsp

maple syrup

1/4 cup

coconut oil, melted (plus more for greasing waffle-iron)

1 1/2 cups

lite coconut milk
pinch of salt
Instructions
Turn on waffle-iron and let heat up.
Whisk together chia egg and let sit.
In a large bowl combine dry ingredients.
Melt coconut oil and combine with vanilla, maple syrup, and coconut milk. Add in chia egg.
Add wet ingredients to dry ingredients and mix thoroughly. Waffle batter will be thick.
Spray waffle iron with non-stick spray or grease using melted coconut oil.
Add batter to iron and follow waffle iron instructions to tell you when the waffle is done.
Top with mixings of choice. I like bananas and almond butter but maple syrup is also delicious!

Like this recipe? Here are a few others you might enjoy:
Healthy Carrot Cake Waffles
Sweet Potato Blueberry Waffles
Oatmeal Chocolate Chip Waffles
Note: This recipe was originally published in 2013. It has since been updated with helpful tips and new pictures however the recipe remains unchanged. Enjoy!
JOIN THE THM NEWSLETTER
Join 20,000+ members of the THM Community to get access to exclusive recipes, healthy lifestyle tips and behind-the-scenes news from our team!