This Cold Sesame Ginger Soba Noodle Salad with Shrimp is packed-full of veggies and protein to make a delicious and satisfying meal. It's perfect for BBQs, picnics of even lunch on the run! It's also gluten-free!
You know what drives me bonkers?! False advertising. I get the concept of needing to sell a product, but marketing your jelly beans as fat-free isn't cool. You know what turns into fat? Sugar. You know what the main ingredient in jelly beans is? Sugar. I apologize in advance for this post becoming a full-on rant.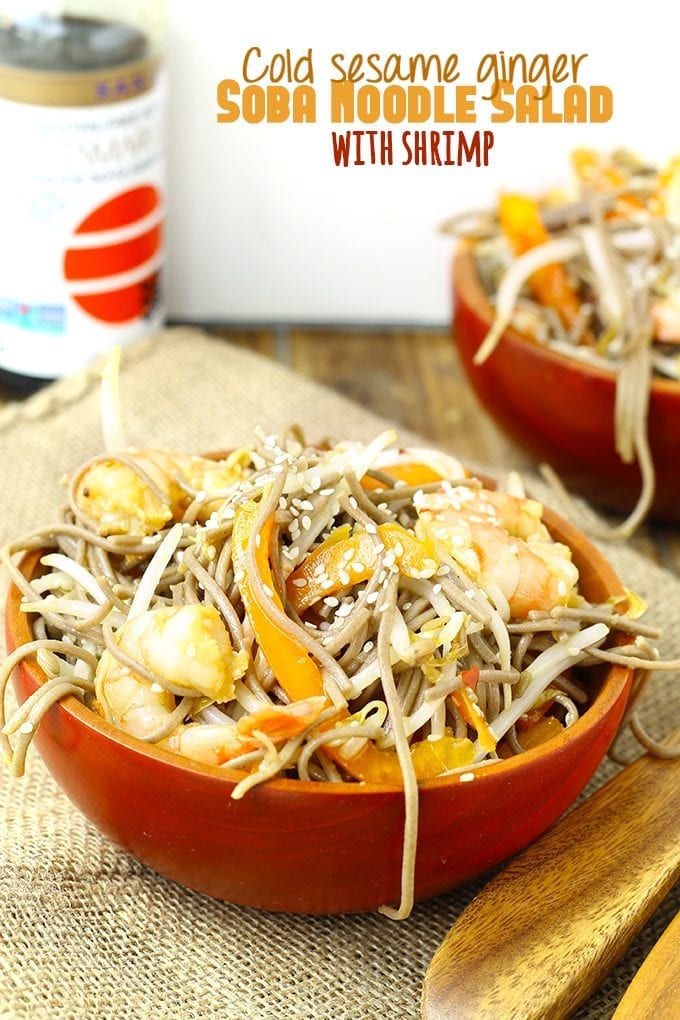 Let's rewind for a minute here. It's a beautiful day and I decide to get my grocery shop on. I put together my list, grab my bundle buggy and head to the store. Sometimes I get inspired when I'm there and as I was looking for tamari, my eyes glazed over a pack of soba noodles. Hmmmm cold soba noodle salad sounded good so I made an impulse buy and headed home.
When I got home from the store it was lunchtime so I decided to put together the salad. As I was pulling out all of the ingredients I think I want to use for the salad, I glanced across the soba noodle packaging only to notice that the first ingredient in them was enriched wheat flour <–SAY WHAT? I was livid. Not only was I a) hangry and b) experiencing an intense craving which needed to be fulfilled immediately, but I truly felt deceived. The front of the package says "Buckwheat Soba Noodles" so naturally you would expect them to be made from buckwheat? Okay fine buckwheat was the second and only other ingredient but still…
Instead I had to put aside my craving until I could make it to a health food store to pick up some legit buckwheat noodles. The people at Vibrant Lifestyle (I love it there!) were not only nice enough to listen to my rant but also taught me to always look for 100% buckwheat noodles. Nonetheless, I still have some pent up anger.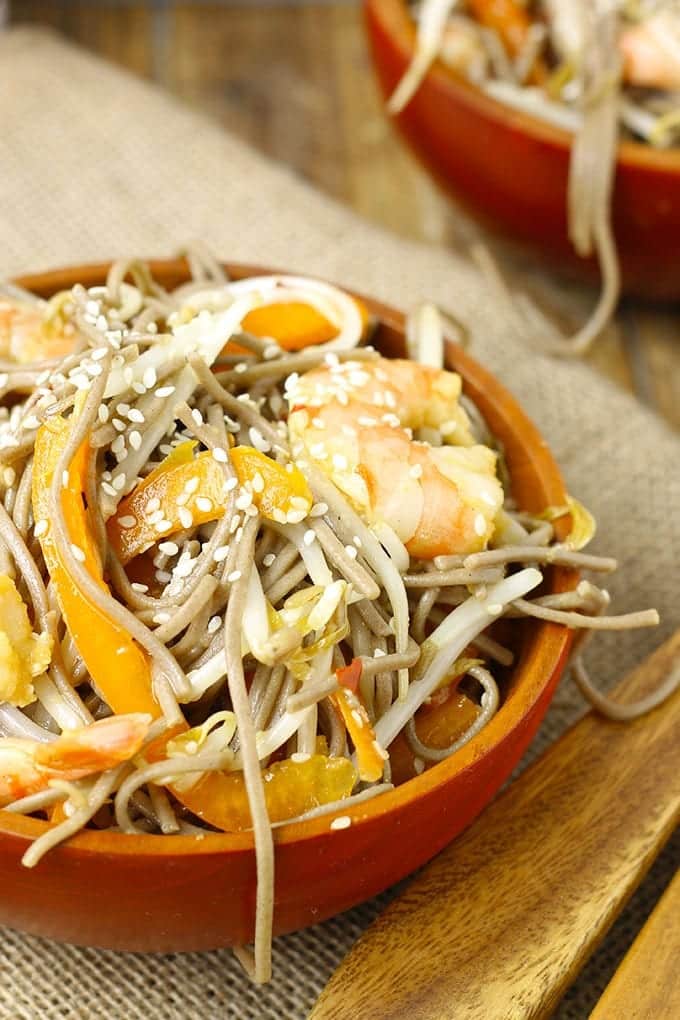 Other types of false advertising that drives me nuts: When multigrain is just a combo of white and whole-wheat, "made with corn!" aka high-fructose corn syrup, or when companies fool consumers into thinking their product is healthy because it is labeled as gluten-free. I could go on and on but in my attempts to keep this space a positive place, I'll stop. For now, I urge you to read more into the products you buy. I'm not talking calories, but look at the ingredients! And try not to come home with enriched wheat flour soba noodles…
Print
Cold Sesame Ginger Soba Noodle Salad with Shrimp
1

package of 100% buckwheat soba noodles (

8 oz

)

1

bell pepper, sliced

2 cups

bean sprouts

½

pound cooked shrimp, deveined and peeled
For The Sesame Ginger Dressing:
1

T finely minced ginger root

1

T sesame oil

1

garlic clove

1 1/2

T honey

2

T rice wine vinegar

2

T tamari

½ tsp

red pepper flakes (optional)

2

T sesame seeds (for topping)
Instructions
Cook buckwheat noodles according to package instructions.
Run noodles under cold water until completely cool.
In a large bowl add noodles, bell pepper, bean sprouts and shrimp.
In a separate bowl combine all ingredients for the sesame ginger dressing.
Pour onto noodle mixture and top with sesame seeds.
Serve cold.
Will keep for several days in the refrigerator.
What kind of false advertising have you encountered? Does it drive you as crazy as it does me?
JOIN THE THM NEWSLETTER
Join 20,000+ members of the THM Community to get access to exclusive recipes, healthy lifestyle tips and behind-the-scenes news from our team!