Change up your typical potato side with these Crispy Baked Yuca Fries! They're crispy on the outside, soft on the inside with a kick of spice. No frying and just a tablespoon of olive oil in the whole recipe!
Dear potato, I love you. But sometimes I just need a break. They say absence makes the heart grow fonder, so this separation will only bring us closer together. Please forgive me for cheating on you with yuca.
It all started in Costa Rica when our chefs got me absolutely hooked on yuca. Yuca (sometimes called Cassava) is a root vegetable similar to the potato with a waxy outer skin and a starchy center. It is native to South and Central America and used quite widely in Latin cooking.
Before Costa Rica, my only experience with yuca was either in Latin restaurants or in tapioca flour (which comes from the cassava/yuca plant) but I had never attempted to cook it at home. If I'm being totally honest, the waxy skin kind of freaked me out.
But variety is the spice of life and I'm pretty sure I was developing some kind of vitamin deficiency from my potato addiction so I made sure to not leave Costa Rica until I learned how to prepare yuca.
It was a bit tricky for me to understand what was happening thanks to the fact that I was the only person out of 17 of us who didn't speak spanish but I took in what I could with my eyes.
The most important observations were that a) that creepy outer skin is easily discarded with a vegetable peeler and b) unlike potato it must be boiled before it can be fried or baked.
Other observations included:
"Holy cow! Yuca is the ultimate gift from the vegetable gods!"
"Potatoes? Who eats potatoes?"
"Why you gotta go dunking that beauty of a vegetable in canola oil? Must recreate at home!" 
So immediately upon arriving home I ran to the grocery store, dug through the potato section to find some yuca, spent 10 minutes trying to convince the cashier at the grocery store that I didn't just find this strange root on the ground and that they did in fact sell it in their stores. Then I hit the kitchen and this is how these Crispy Baked Yuca Fries were born.
Dear potato, I don't know how I feel about being exclusive. I would rather be in an open relationship with you and yuca. You can be sister wives and we can be one big happy family. I hope you can find it in your heart to understand.
Print
Crispy Baked Yuca Fries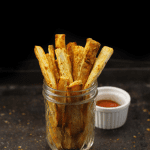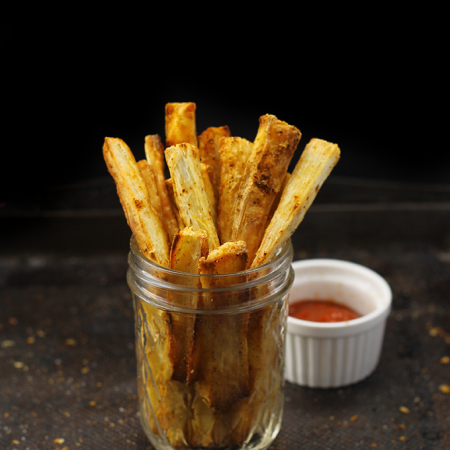 Cook Time:

45 mins

Total Time:

45 mins
Ingredients
2 large yucas
1 T olive oil
1/2 tsp chili powder
1 tsp sea salt
freshly ground black pepper, to taste
Instructions
Preheat oven to 450 degrees F.
Peel yucas with a vegetable peeler to remove waxy skin.*
Chop in half and then slice each half into fry-shapes.
Place sliced yucca into a large pot and fill with water.
Heat on stovetop until water comes to a boil. Let cook in boiling water for 8-10 minutes.
Strain yucca from water and rinse with cold water.
Place yucca in a large bowl and top with olive oil.
Sprinkle with chili powder, salt and pepper and lightly toss to coat.
Line onto a baking sheet (do not overcrowd) and bake for 15 minutes.
Remove from oven and flip.
Place back into oven and cook for another 15 minutes.
Serve warm.
Notes
*The inside of the yuca should be stark white. If there are black lines, discard and use another yuca.
Have you ever tried yuca? What's your current food rut?
JOIN THE THM NEWSLETTER
Join 8000+ members of the THM Community to get access to exclusive recipes, healthy lifestyle tips and behind-the-scenes news from our team!