Add a little crunch to your energy balls with these Peanut Butter Chocolate Energy Balls. Made with just 4 Ingredients, this healthy snack recipe will become a weekly staple!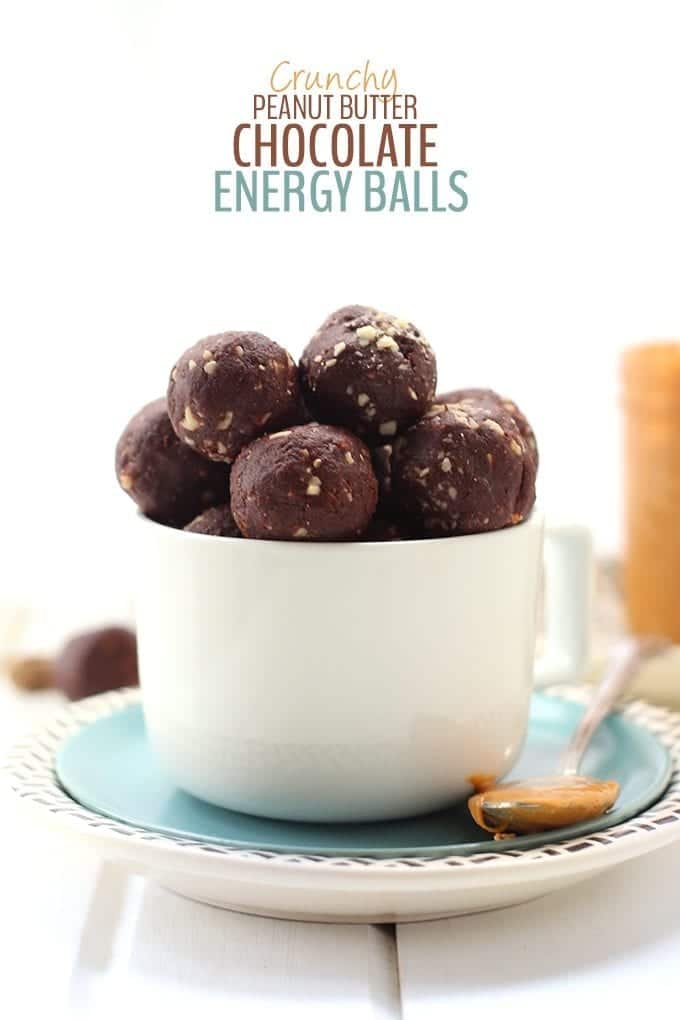 You didn't think you were going to make it through Energy Ball Week without a Peanut Butter Chocolate recipe, did you? That would be shameful…
The only thing that might give my love for energy balls a run for its money is peanut butter + chocolate. This is especially true when it's a double-whammy peanut butter chocolate energy ball and you just so happen to be climbing a mountain, fully proving that they are in fact energy providers.
Watch Sahar and I make these delicious Crunchy Peanut Butter Energy Balls over on YouTube!
Just by chance, energy ball week happened to fall at the same time as my crazy travel schedule began. This meant that before and between trips I was whipping up balls like crazy and snacking on them throughout our trips. Between hiking mountains in Yosemite and surfing in San Diego, energy ball week could not have fallen at a better time.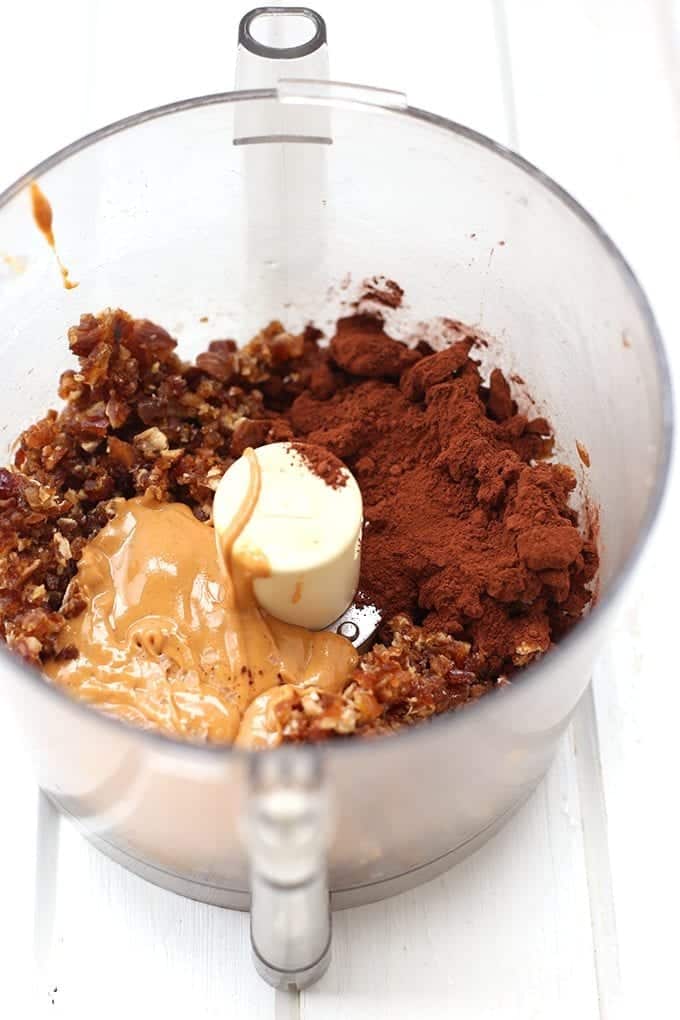 One of the main complaints I get from people (besides that they don't have a food processor…get one) is that the sugar content of energy balls is too high. I can totally and completely appreciate this but for me that is a key component of their success.
I am someone who needs a good amount of carbs, and yes sometimes that's in the form of sugar. Am I gorging on refined table sugar? Absolutely not. Just like how I won't even come close to any type of sugar alcohol or fake sugar.
I'm not a nutritionist, so I'm going to avoid getting too preachy, but a little bit of sugar is not going to kill you. Quality of sugar is important, as is the amount. For me, having one or two energy balls a day is not an excessive amount of sugar.  I love sweets, but just like anything they must be consumed in moderation. And moderation must be consumed in moderation too!
RELATED: No-Bake Peanut Butter Protein Bars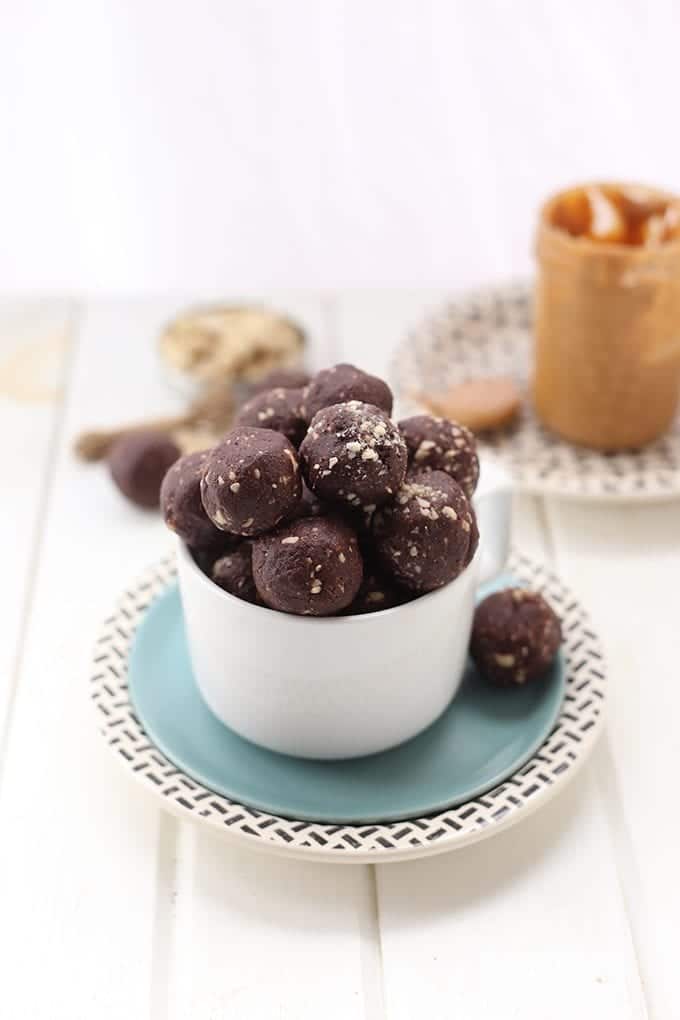 But the reality is that when I'm being highly active (which is a lot of the time), my body is burning a lot of glucose and in order to restore it and avoid entering the HANGRY state, sometimes I need energy, fast. Sugar (in the form of dates) + fat (in the form of nuts) is the ultimate satiator for me. If I were to make my energy balls with stevia and those fake fat-free nut butters (I'm being kind here..) I could guarantee you that I'd be hungry about 10 minutes later.
I 100% empathize and care for those people who need to follow a low-sugar diet and manage their glucose levels closely, but I'm not one of those people. For me, energy requires carbs and fat and protein and dates, peanuts and cocoa powder help me achieve all three.
Are my methods accurate? Maybe not, but when I'm standing at the top of a mountain having hiked 15 miles, it's the energy balls that I reach for and I have to admit, they always do the trick.
How To Make Peanut Butter Chocolate Energy Balls
You'll need a food processor for this recipe – I like this this 14-cup food processor from Cuisinart
Ingredients: Dates, peanut butter and cocoa powder with the option of adding peanuts for added crunch
Storage: Be sure to store in the fridge – these are portable out of the fridge for a few hours but to ensure they keep make sure you keep them stored in the fridge
As always, if you make this recipe be sure to tag @thehealthymaven or use the hashtag #thehealthymaven so I can share the love!
Print
Peanut Butter Chocolate Energy Balls
Author: Davida Lederle
Prep Time:

5 minutes

Total Time:

20 minutes

Yield:

14

-

16

balls

1

x
Instructions
If peanuts have are not already crushed, add a 1/4 cup to a food processor and process several times until broken down into bits. Remove from processor.
Add dates and process until broken up into pea-sized bits.
Add in peanut butter and process to combine.
Add in cocoa power until mixture comes together.
Add crushed peanuts back into bowl and pulse several times to bring mixture back together.
Roll mixture into 14-16 balls (depends on how big you roll them) and the place in freezer for 15 mins.
Store in fridge for up to one month.
*Make sure your dates are sticky. If not, soak them in hot water for 15 minutes to soften and then drain.

JOIN THE THM NEWSLETTER
Join 20,000+ members of the THM Community to get access to exclusive recipes, healthy lifestyle tips and behind-the-scenes news from our team!