All you need is 5 ingredients, one bowl and 25 minutes to make these No-Bake Peanut Butter Cup Protein Bars. They're simple, delicious and packed-full of protein with 12 grams in each bar!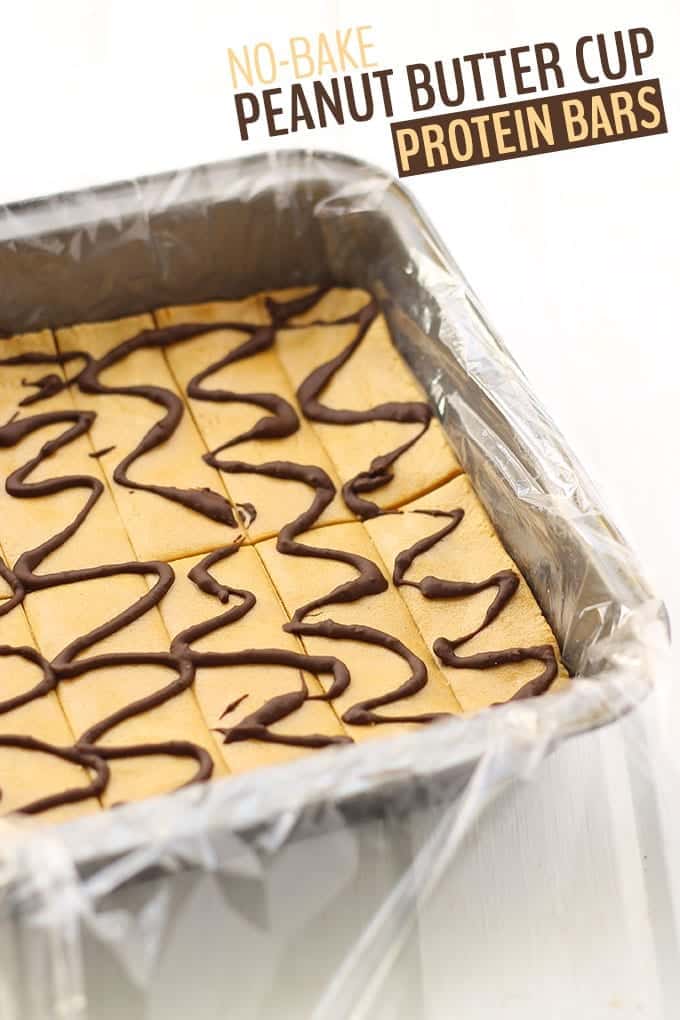 I'm convinced that if food blogging doesn't work out for me, I have a future career at BuzzFeed. I am both amazing at coming up with click-bait and being that person who clicks through every single click-bait article that appears in their newsfeed. Basically, my life is one long stream of dramatic yet completely enticing headlines.
I don't discriminate either. I will click anything from Bruce Jenner, to superhero news (#priorities) to ebola. If there was anything in my life that completely undermines my efficiency, it's stupid and useless articles or any "21 ways you didn't know you could use shoelaces"-style posts from BuzzFeed.
In addition to a long list of recipe ideas, I keep a file with catchy blog post or article titles in my phone. I almost never use the ideas I come up with, but should BuzzFeed ever come calling, I'm ready.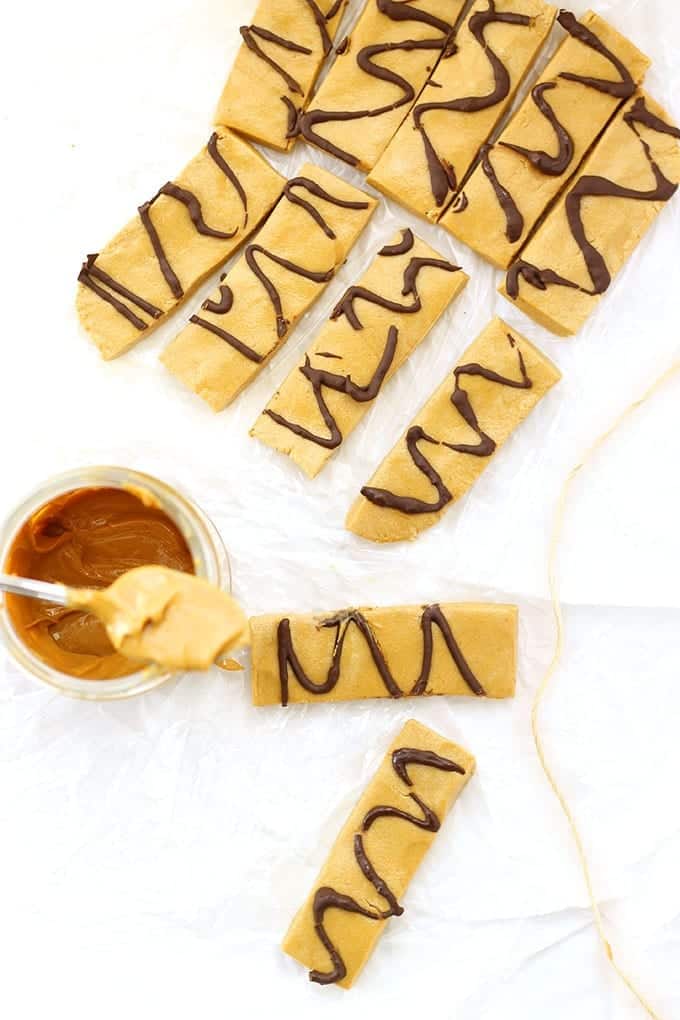 Last week I came up with a great one, which I genuinely debated using as the title of this post instead of "No-Bake Peanut Butter Cup Protein Bars". I cannot believe I am legitimately sharing this with the interwebs but I ALMOST named this post "How One Girl Met Multiple Soulmates on Facebook".
I should probably explain…
Last week I asked my friends on Facebook what their one food they couldn't live without would be. 90% of you said Peanut Butter. That is how I discovered that there's basically an entire subculture of humanity that I would like to marry. For clarity's sake, I said "nuts" in all forms and despite the fact that peanuts technically aren't a nut (they're a legume), I totally was eating a spoonful of peanut butter as I posted the question on Facebook. So by nuts I meant peanuts and to everyone who responded with peanut butter, I LOVE YOU.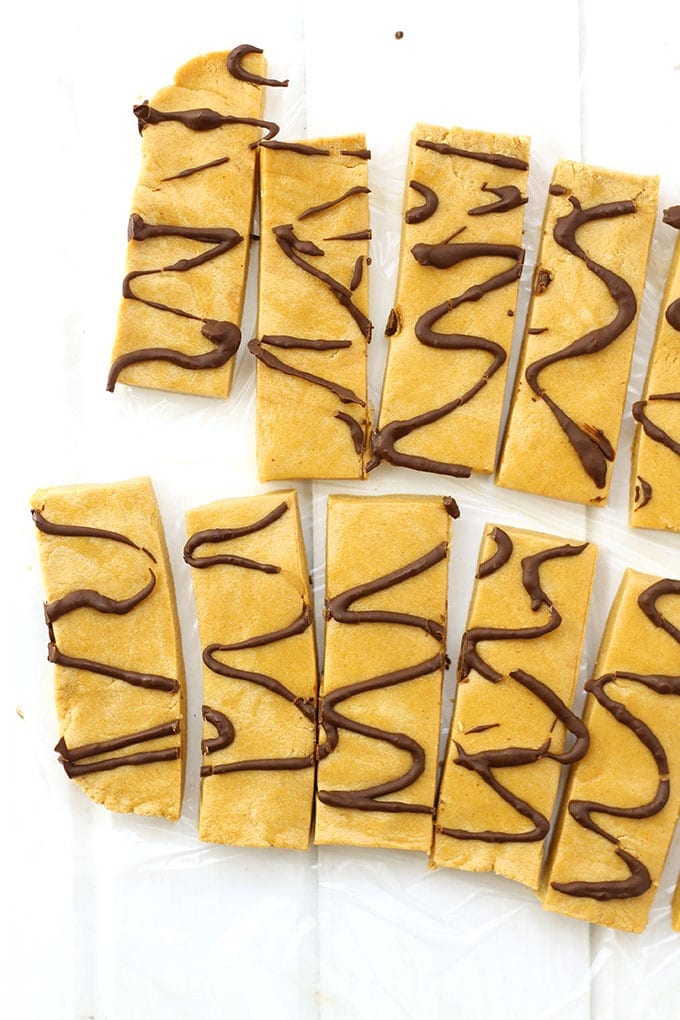 These No-Bake Peanut Butter Cup Protein Bars are for my peanut butter loving soulmates of the world. And now that I know there are so many of you out there, I should warn you that they are completely addictive. We're talking 12 bars down in 2 days kind of addictive.
But it's okay. You are not alone. We can have a peanut butter themed potluck and a PBAA (peanut butter addicts anonymous) meeting all in one. Who wants in?
How To Make No-Bake Peanut Butter Protein Bars
These bars don't require any baking and are ready in under 30 minutes! Just be sure to follow specific directions as listed below including: use smooth, natural peanut butter, oat flour and eat directly from the fridge or freezer.
While these no-bake peanut butter cup protein bars are always delicious, they hold their shape best when cold. If you'd like to eat these on the go, I suggest rolling them into 24 small balls as they hold the shape best when in ball-form. But if you're only eating them at home, leave them as bars!
Otherwise enjoy and be sure to share the love using the hashtag #thehealthymaven
Print
No-Bake Peanut Butter Protein Bars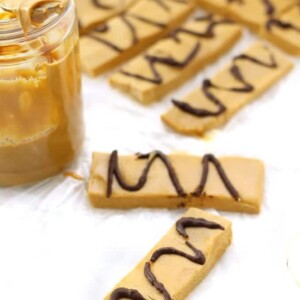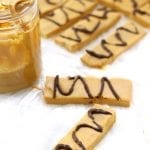 Author: Davida Lederle
Prep Time:

5 minutes

Total Time:

25 minutes

Yield:

12

Bars

1

x
1 cup

natural smooth peanut butter*

1/4 cup

honey

3

scoops vanilla whey protein powder

1/2 cup

oat flour**

1/4 cup

dairy-free chocolate chips (I use Enjoy Life)
Instructions
In a large bowl combine peanut butter and honey.
Add in protein powder and oat flour. It should come together into a ball. Batter will be slightly dry.
Place a large piece of plastic wrap over an 8 x 8 inch baking pan so that it hangs over the sides.
Put batter into pan and flatten with hands so it fills the entire pan. Make sure it's flat and even.
Place in freezer for 20 minutes.
While bars are in freezer, melt chocolate chips in the microwave. I heat in 20 second increments until smooth.
Remove bars from the freezer and lift out of the pan using the plastic wrap.
Cut into 12 bars.
Using a knife spread chocolate onto bars. OR place in a ziploc bag and cut off a corner and drizzle over bars.
Allow chocolate to cool completely.
Store in an airtight container in the fridge or freezer.***
*Make sure your peanut butter is the natural variety, meaning the only ingredient should be peanuts!
**You can grind the oats yourself or buy packaged oat flour. This may work with other flours but I haven't tried.
***NOTE: The texture of these is best straight from the fridge or freezer. If you are eating them on the go, I recommend rolling the dough into 24 balls instead of 12 bars as they keep their shape better.

Like this recipe? Here are some No-Bake recipes that I think you'll enjoy:
Raw Nutella Bars
No-Bake Cinnamon Roll Protein Bars
No-Bake Gingerbread Cookies
JOIN THE THM NEWSLETTER
Join 20,000+ members of the THM Community to get access to exclusive recipes, healthy lifestyle tips and behind-the-scenes news from our team!