Ever find yourself tempted by that huge batch of cookies? No need to worry with these Healthy Chocolate Chip Cookies for Two! Each batch makes two cookies made from wholesome ingredients that are vegan and gluten-free.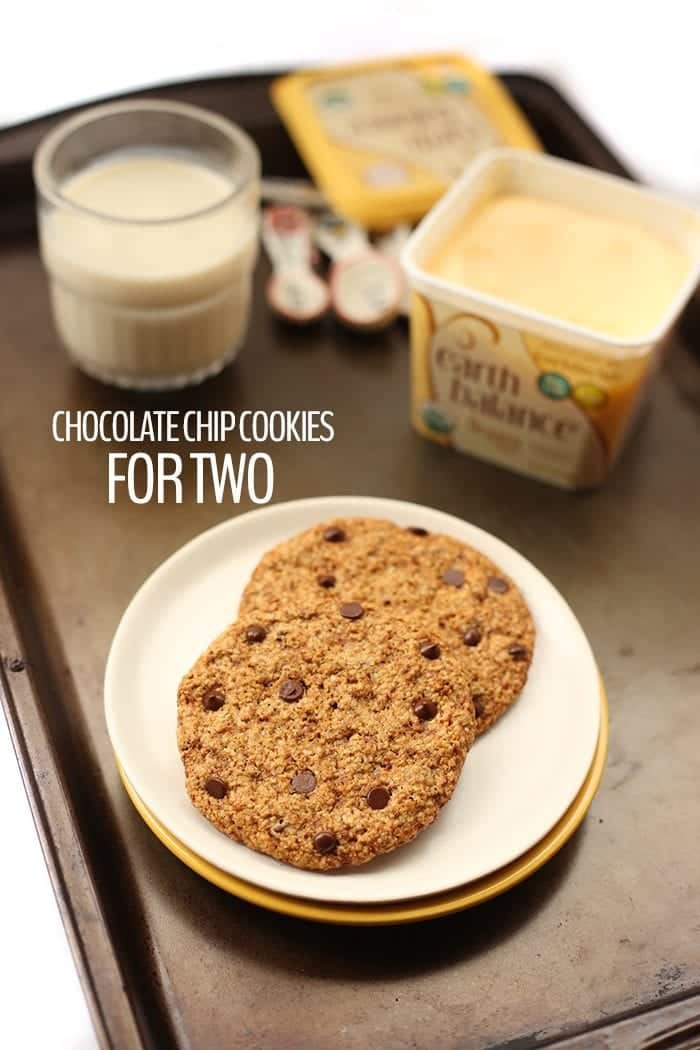 If you have or currently live with a boy then you know that leftovers are a thing of the past when you share your space with a man. Having spent many years living on my own I got used to having leftovers laying around. It meant a guaranteed lunch for the next day and rarely was takeout necessary. I'd just whip up a meal that called for 4 servings and have meals for days.
Then I moved in with C and I said sayonara to leftovers and hello to cooking for the entire Duggar family (and then some…). The thing I've noticed about most men is that they're pretty much a bottomless pit. If C knows there's another serving of food, he'll eat it. This has subsequently turned into me doubling and sometimes tripling a recipe and hiding a portion or two for leftovers.
But there are some perks to living with a man (besides getting to live with my best friend!). When I feel like baking, I am not longer tempted to eat the entire tray or dish…mainly because he takes care of that for me.
Is it weird that I find his ability to polish off a tray of freshly baked cookies in a single night overwhelmingly attractive?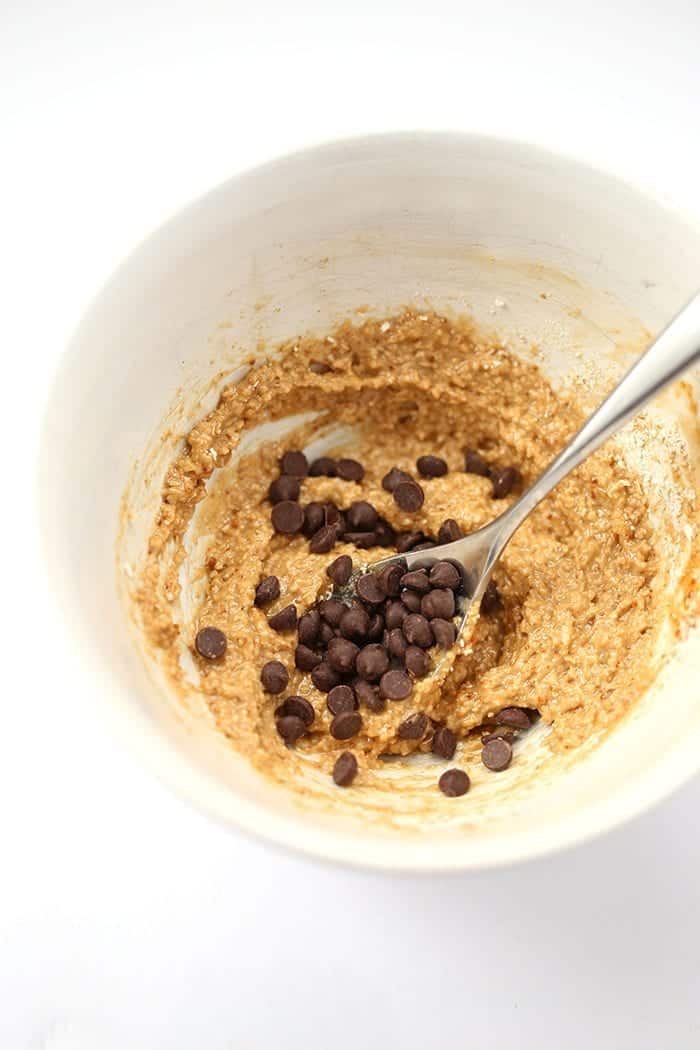 But I also happen to have picked a man who travels A LOT for work. Of course I am sad when he's gone, but the true struggle comes when I find myself stress-baking and my coping mechanism to avoid eating the whole batch isn't around to polish it off for me.
The struggle is real, my friends.
So when Earth Balance reached out about sharing my thoughts for their Make Me Mindful campaign, I had no doubts what I wanted to talk about.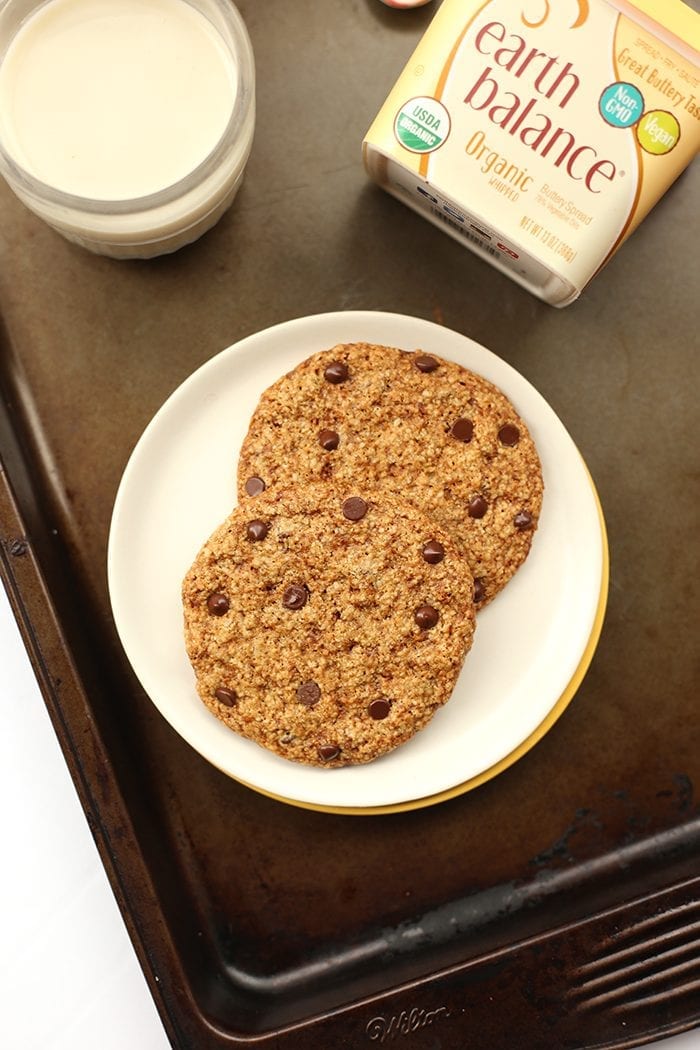 Lately, the late-night snacking has gotten a bit out of control. Not because I'm hungry, but because it's there. I've been depending on C and his impressive sweet tooth to take care of this for me, but that solution a) isn't sustainable and b) isn't a solution when he's travelling.
I'm trying to be more aware of this habit and find more effective solutions to prevent going to town on a full batch of cookies. But no amount of late night face masks can distract me from the sweets.
In an ideal world I'd realize there is absolutely no function to my late-night snacking, but let's be realistic here and acknowledge the fact that sometimes you just need the darn cookie.
So my Make Me Mindful solution was to develop a Healthy Chocolate Chip Cookie recipe FOR TWO! One for me and one for C. Or more likely, one for me and the other for me too. But hey, two is better than twelve! I'm making strides here people…
Print
Healthy Chocolate Chip Cookies for Two
Prep Time:

5 minutes

Cook Time:

12 minutes

Total Time:

17 minutes
1 tbsp

organic earth balance spread

3 tbsp

oat flour*

1/8 tsp

baking soda

1 tbsp

coconut palm sugar (or brown sugar)

1/8 tsp

vanilla extract

2 tsp

dairy-free chocolate chips (I like Enjoy Life)
Instructions
Preheat oven to 350 degrees F.
In a bowl soften earth balance with the back of a spoon.
Add in oat flour, baking soda and coconut palm sugar.
Add in vanilla and stir.
Add in chocolate chips and keep stirring until mixture comes together into a sticky ball.
Divide dough into two balls and place directly onto a baking sheet.
Flatten slightly with your palm.
Bake for 12-15 mins depending on your oven and level of crispiness. Watch closely.
Let cool for 10 mins on the tray before enjoying!
Notes
You can substitute with whole wheat flour but you may need to add 1-2 tsp of non-dairy milk to thin out as ww flour absorbs more liquid.

This is a sponsored conversation written by me on behalf of Earth Balance. The opinions and text are all mine.
JOIN THE THM NEWSLETTER
Join 20,000+ members of the THM Community to get access to exclusive recipes, healthy lifestyle tips and behind-the-scenes news from our team!