Ever wondered how to make homemade nut flours? From almond meal to almond flour, hazelnut meal and even cashew meal, this step-by-step tutorial will teach you how! Stop paying for overpriced almond meal, almond flour and other nut flours make make cheap almond flour and the likes at home!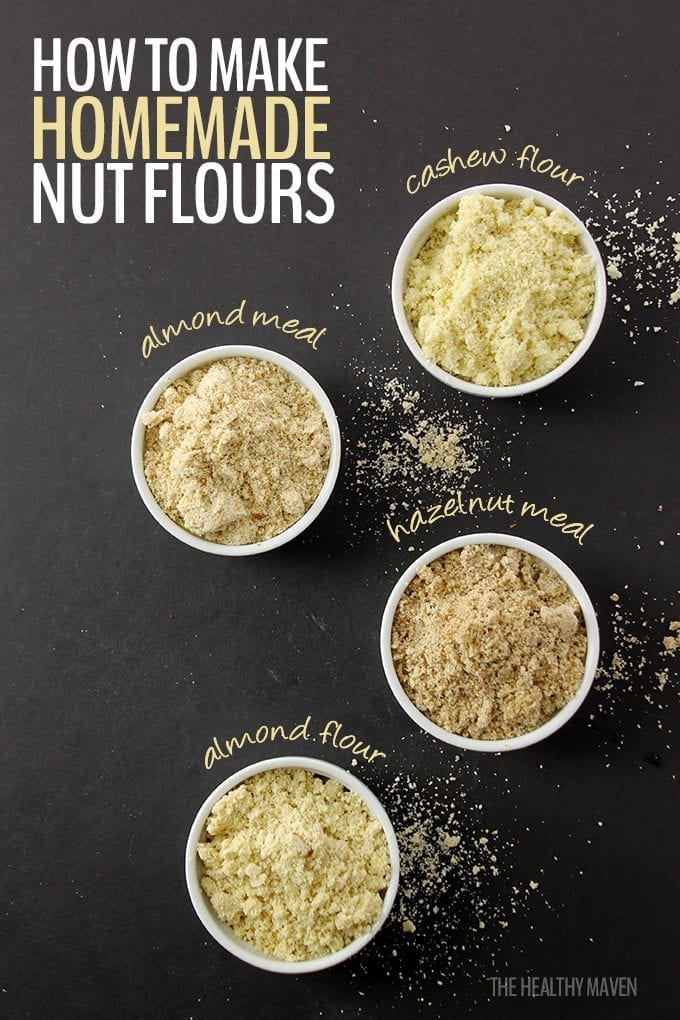 If you're a THM regular then you know how much I love my nut flours. And apparently you love them too! When I asked you guys what type of tutorial you wanted to see here, it was a resounding request for diy nut flours. My guess is because nut flours can be insanely expensive to buy.
So today I'm walking you through the process on how to make nut flours at home using your blender. It literally takes 10 seconds and while the nuts themselves certainly aren't cheap, it's substantially cheaper than the jacked-up prices you often see for nut flours in stores. But first, let's chat about nut flour…
What is nut flour?
Nut flour is essentially ground up nuts that can be used in place of wheat or types of gluten-free flours. Sometimes it is a 1-to-1 replacement ratio but oftentimes less nut flour is needed since it tends to be more dense.
Technically if the skin is still on the nut it is considered a "meal" rather than flour, but a huge kitchen hack to make almond flour (rather than almond meal) is to just buy slivered or sliced blanched almonds and grind those! So much easier and cheaper than buying almond flour or blanching the almonds yourself.
Nut flour isn't just almond meal or almond flour. It can include any nut. Today I'm also showing you how to make cashew meal and hazelnut meal both of which make an awesome low-carb and grain-free alternative to standard grain flours.

How to Make Nut Flour
The process is actually fairly simple. All you need are two ingredients:
Nuts (almonds, hazelnuts, cashews)
High speed blender (a food processor works too though not as well)
The biggest thing you want to lookout for is not over-processing the nuts. If you blend for too long they will become creamy and turn into almond/hazelnut/cashew butter. You're likely only going to need to blend for 10-15 seconds maximum unless your blender is not the greatest. Just pulse a few extra times if your flour is almost there but not quite.
How long do nut flours last? Store them in the fridge in an airtight container or glass jars to last for several months.
Here are the directions with some delicious recipes below! Enjoy.
Print
How To Make Homemade Nut Flours

Wondering what to do with all this flour? Here are some delicious recipes from The Healthy Maven:
Grain-Free Chocolate Zucchini Muffins  (almond meal)
Cashew Crusted Chicken Fingers (cashew meal)
Blueberry Hazelnut Crumb Bars (hazelnut flour)
The Best Grain-Free Chocolate Chip Cookies  (almond meal)
JOIN THE THM NEWSLETTER
Join 20,000+ members of the THM Community to get access to exclusive recipes, healthy lifestyle tips and behind-the-scenes news from our team!