Quick and easy Lentil and Mushroom Veggie Burgers for a delicious recipe packed full of veggies and protein. It also makes a tasty vegetarian dinner for the whole family!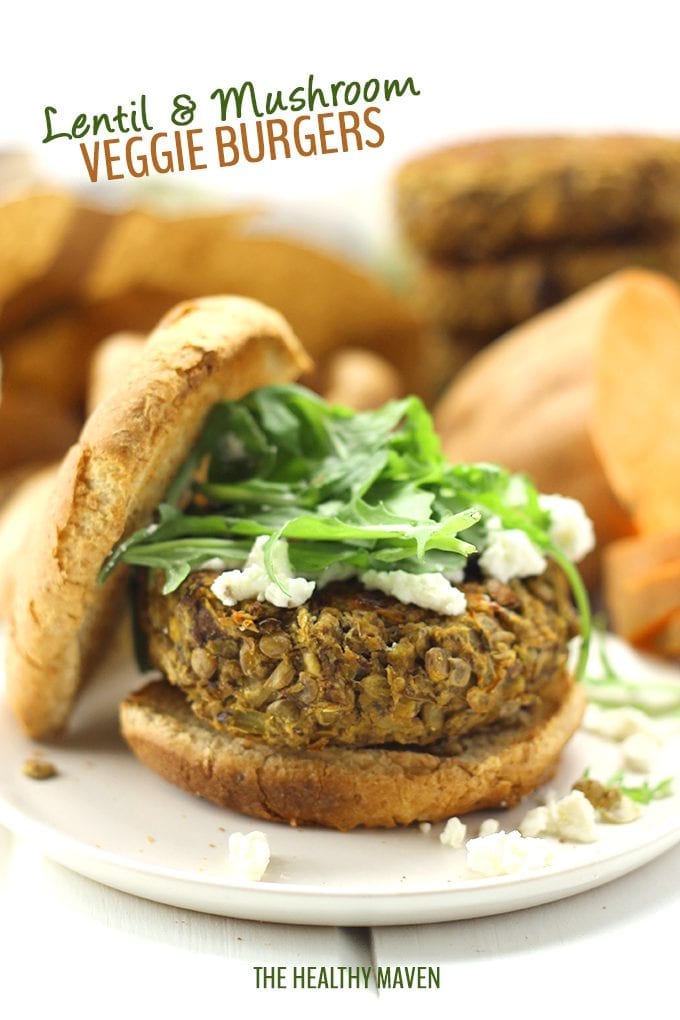 One of the main things Lee and I have learned in running The Blogger Project is the value in having a "niche" blog. The more specific your blog, the faster you'll grow an audience. It's been proven time and time again and in being a blogger I can say with certainty that it is the truth.
Whenever I'm explaining to someone what it means to be a "niche blog", people often assume that The Healthy Maven is considered one because it is a health-specific food blog. This actually isn't the case.
In the blog world, which is constantly evolving and narrowing all at the same time, being a healthy food blog would not be considered a niche blog at all.
If I were paleo, or vegan or the spiralizing queen, then maybe but unfortunately (or fortunately…) I don't quite fit into any of these categories.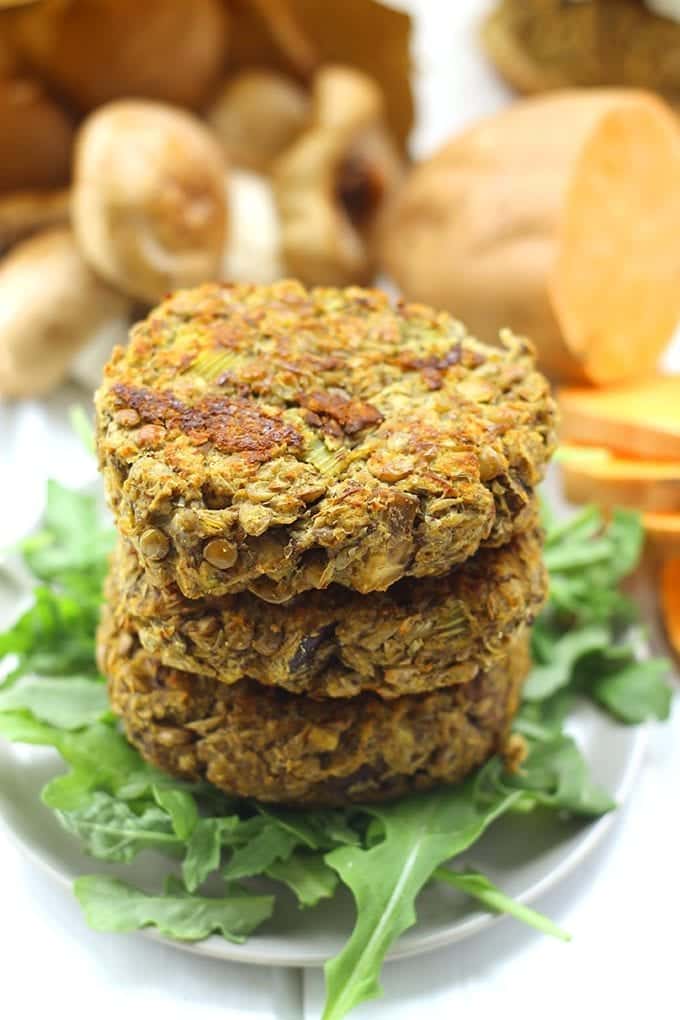 It would make my life a lot easier and would certainly have a benefit on my business if I had a label for my diet. I could be your go-to paleo superstar or vegetarian goddess, but based on my day-to-day diet I think I would struggle if I was forced into one niche.
I want to post short-ribs on Tuesday and veggie burgers on Friday. I want to eat grains and grain-free and ALL THE POTATOES. I want the occasional cheese and bacon but I also love me a good flax egg. I want my label-free cake and I want to eat it too.
It's hard being in a position where you preach to others about the importance of running a niche site, while you yourself don't feel comfortable limiting yourself to one box.
As it turns out, rules are meant to be broken.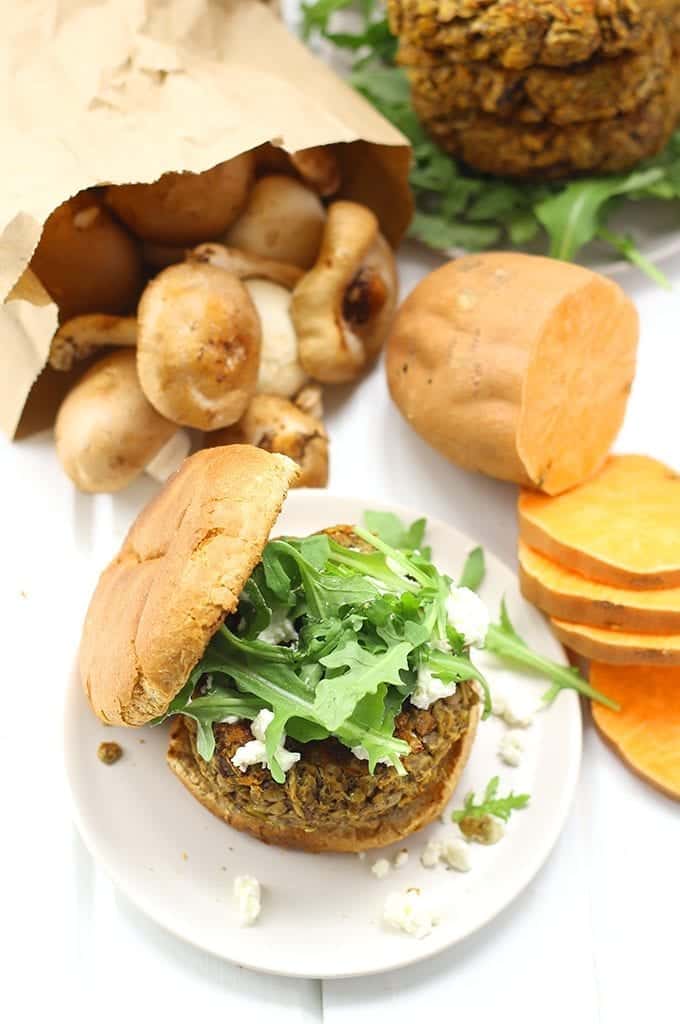 While I do think there's a certain trajectory you can follow that leads to success. I think success can be defined in so many different ways. Do I have opportunities being thrown at me all of the time? Absolutely not. But I love every recipe I share on this blog and they are whole-heartedly a representation of what I eat in my everyday life. This is something that I am proud of and I consider that a success.
Sometimes authenticity trumps opportunities.
You may not be able to depend on me for vegan recipes or paleo goodness. But you sure as hell can bank on me for delicious tasting recipes made from WHOLE FOODS. Maybe I won't be the next Oh She Glows, and I'm okay with that.
Print
Lentil and Mushroom Veggie Burgers
Cook Time:

30 minutes

Total Time:

40 minutes

Yield:

5

burgers

1

x
1 cup

dry lentils (I used green but red lentils work too)

1

T olive oil

1 cup

finely chopped onion (I pulse mine several times in the food processor)

2

stalks of celery, finely chopped

2

garlic cloves, minced

4 cups

of mixed mushrooms, chopped

1

T Dijon mustard

1 tsp

balsamic vinegar

1 1/2 tsp

dried thyme

1

T of flax meal mixed with 3 T water (or replace with

1

egg if not vegan)

1/4 tsp

freshly ground black pepper

3/4 tsp

sea salt
optional: 2 T sunflower seeds
Instructions
Cook lentils in 2 cups of water (I use this tutorial).
Once cooked, add to a large bowl and mash up using a potato masher or the back of a fork.
Preheat oven to 350 degrees F.
Make flax egg by combining flax meal with water. Set aside.
Heat up olive oil in a large skillet over medium heat.
Add in onions and sauté for 3 minutes or until translucent.
Add in celery, garlic cloves and mushrooms.
Cook for about 5 minutes or until mushrooms have wilted.
Add veggie mixture to lentils and stir in dijon, balsamic, and thyme. Mix until combined.
Add in flax egg, salt and pepper and sunflower seeds if using.
Using your hands, form into 5 large balls.
Place on a silicone or parchment lined baking sheet and flatten slightly (do not flatten too thin).
Bake for 20 minutes.
Remove from oven and carefully flip. It's okay if they come apart slightly. Use your hands to mash them back together.
Bake for another 20 minutes.
Let cool on baking sheet for at least 10 minutes before serving.
I like crumbling goat cheese on top, but this is entirely optional.
Will keep for several days in the fridge.
Thoughts on niche blogs? Can you tell when a blogger is being authentic or inauthentic?
JOIN THE THM NEWSLETTER
Join 20,000+ members of the THM Community to get access to exclusive recipes, healthy lifestyle tips and behind-the-scenes news from our team!