If I've come to learn anything about the blog world it's that we LOVE seeing what each other eats. Food bloggers can post all the recipes in the world, but we still wonder what a typical day of meals looks like for them. I know curiosity certainly gets the best of me and I also get my fair share of "what  do you actually eat" questions.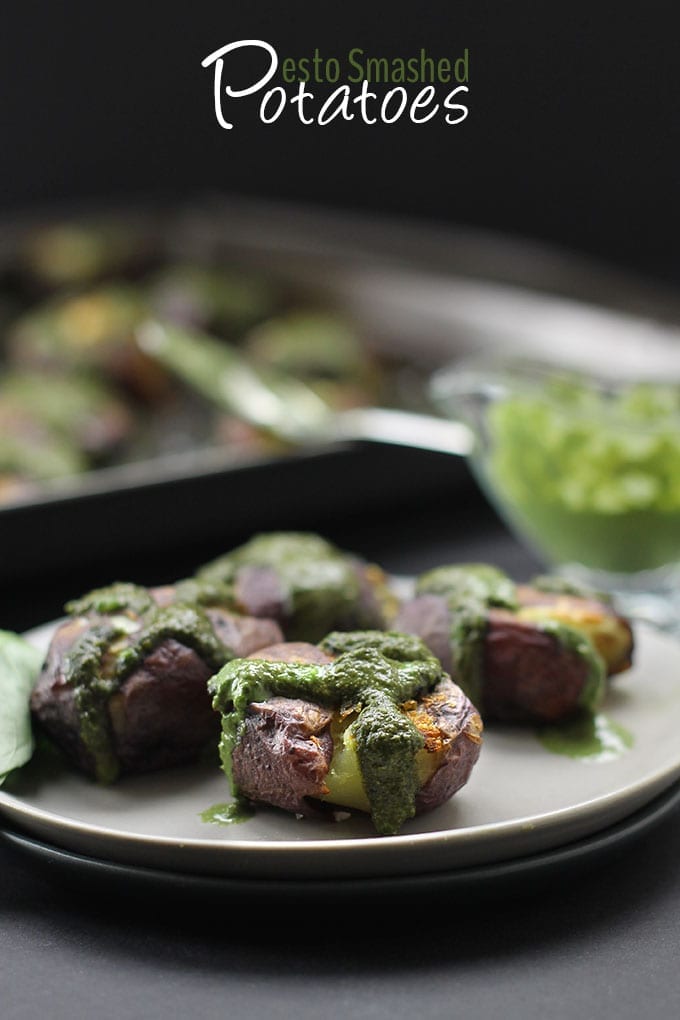 I actually eat everything I post but when you consider the fact that I post 3 recipes a week and there are far more than 3 meals a week, I obviously fill in quite a few holes in between.
Today I am filling you in on what a typical dinner would look like for me and spoiler alert…it's not as fancy as you might think.
Now I know fancy can be interpreted in many different ways, but for me an "unfancy" dinner includes the following: wholesome, made from real food, includes a protein, a carb and a vegetable and doesn't require an entire day to cook (unless it's in the slow cooker). My simple dinners don't mean I'm going for the least amount of time or ingredients. It must be flavourful and while I wish I could pull off a flavourful dish in 5 minutes, this just isn't reality.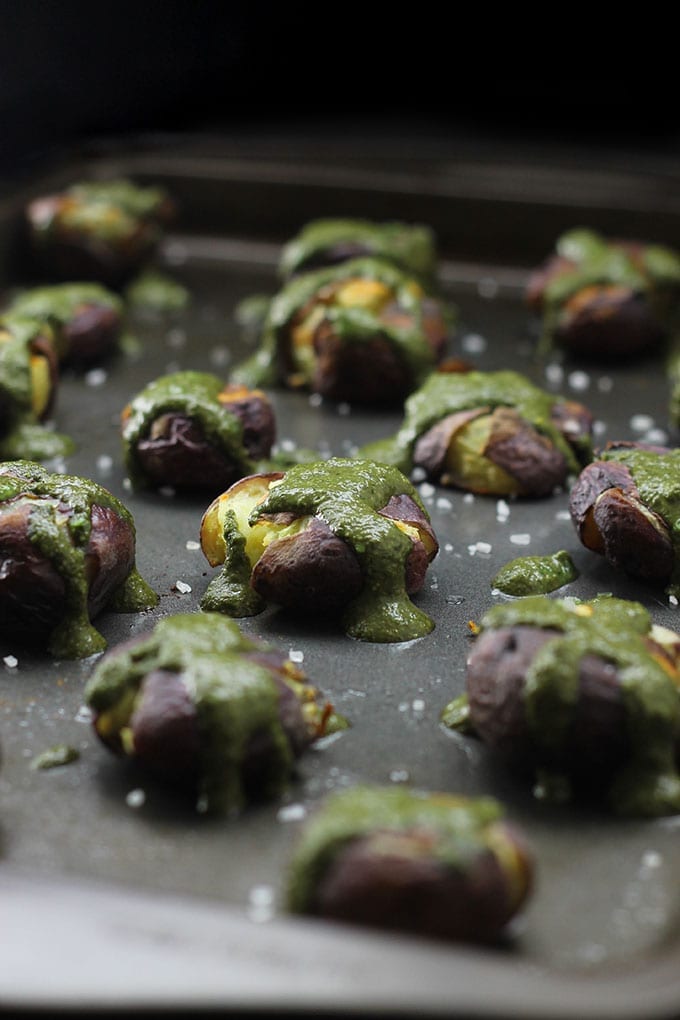 If I have it my way, I would choose potatoes as my carb every single night of the week. I'm a sucker for a good roasted potato. Crispy on the outside, soft on the inside, budget friendly and not terribly time-intensive. You can dress em' up however you want and they're almost guaranteed to taste amazing, but even if you keep it simple they're still delicious.
As you know, I can become a tad obsessive with certain foods and go wayyyy overboard to a point where I can no longer look at it. In my 25 years this has yet to happen with potatoes. Why? Because I am constantly changing it up. Sometimes I go classic roasted, or curly fries or throw em' in a potato salad. Lately I've been all about the Pesto Smashed variety. And by "all about" I mean everyday thanks to my friends over at The Little Potato Company who sent me an excessive amount of creamer potatoes (that are UNREAL!). This has only fuelled my addiction. I'm kind of in heaven.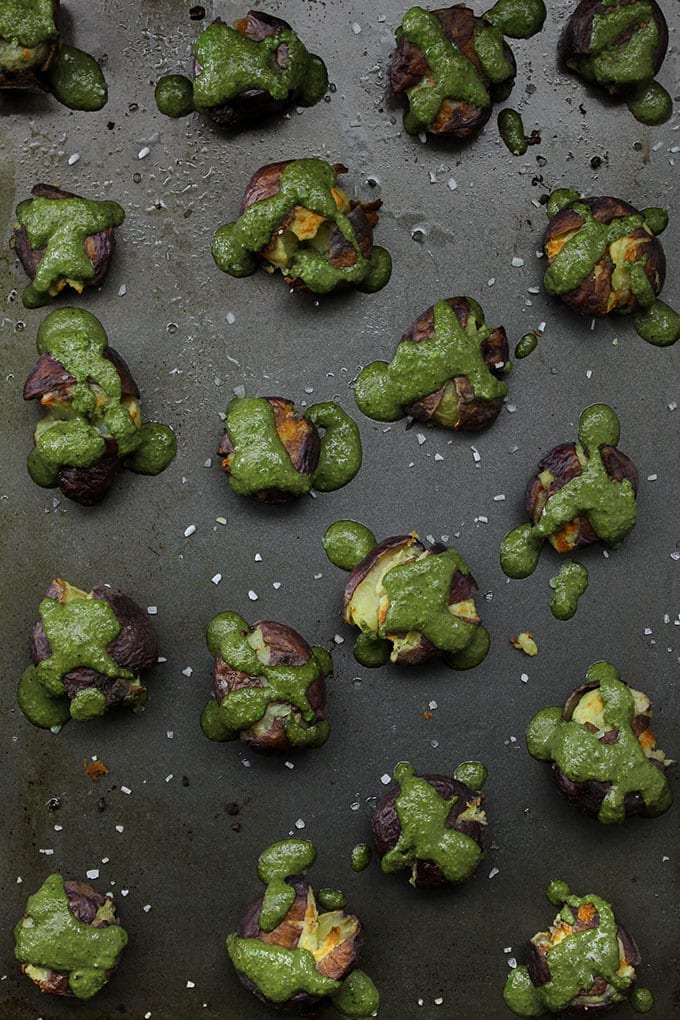 So what accompanied these to complete my dinner trifecta? I threw some drumsticks in the slow cooker for this honey mustard variety and had a side salad that included spinach, cucumbers walnuts, apples, and a teensy bit of goat's cheese. Which I then proceeded to eat for dinner for the next 3 nights since I had no shortage of these adorable Something Blue potatoes and C was not in town to respectfully request that I feed him something besides potatoes.
No, I'm not making up eating the same thing for dinner 3 nights in a row and I'm definitely not exaggerating my love of potatoes. This is my life, baked, broiled and topped with pesto perfection.
Print
Pesto Smashed Potatoes
1.5

lbs of creamer potatoes (I Used The Little Potato Company Purple Potatoes)

1 tbsp

olive oil

1/2 tsp

sea salt
For the Pesto:
1 cup

of basil, packed

3 tbsp

olive oil

2 tbsp

nutritional yeast (or parmesan if not dairy-free)

2 tbsp

walnuts

2

garlic cloves, minced

1/2 tsp

sea salt

3 tbsp

water
Instructions
Bring a large pot of water to a boil.
Add potatoes and cook for 12-15 minutes or until tender when pierced with a fork.
Strain and let sit for 10 mins.
Preheat oven to broil.
Place potatoes on a baking sheet and flatten with a fork and the palm of your hand.
Drizzle potatoes with 1 tablespoon of olive oil and sprinkle with 1/2 tsp of sea salt.
Bake for 5 minutes on the top rack.
Remove from oven and carefully flip.
Bake for another 3 minutes.
For the Pesto:
Combine all ingredients in a blender or food processor and process until well combined. Add water if you want a thinner consistency.
Drizzle pesto over potatoes and serve.
Will keep for several days in the refrigerator.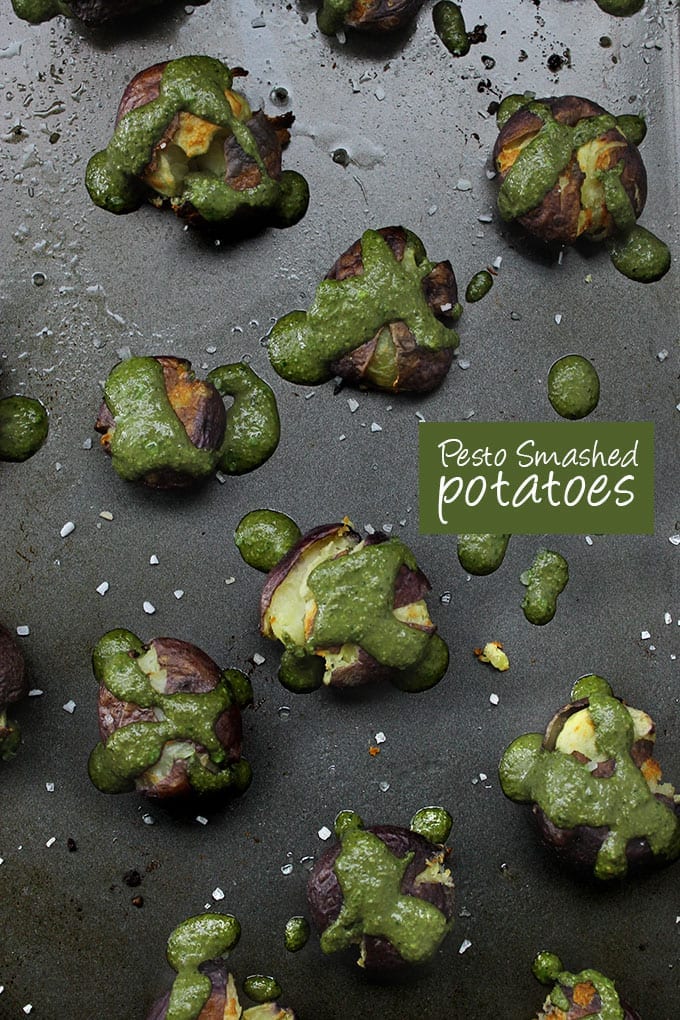 Disclaimer: I was provided with free samples of The Little Potato Company's creamer potatoes. However, I was not compensated and all opinions are my own. I just really love potatoes!
What do your typical dinners look like? Do you love potatoes as much as I do? Not possible.
JOIN THE THM NEWSLETTER
Join 20,000+ members of the THM Community to get access to exclusive recipes, healthy lifestyle tips and behind-the-scenes news from our team!