Swap the pasta for a low-carb alternative in this Pesto Spaghetti Squash with Spicy Roasted Chickpeas recipe!  This vegetarian dinner is high in fibre, protein and certainly not lacking on flavor!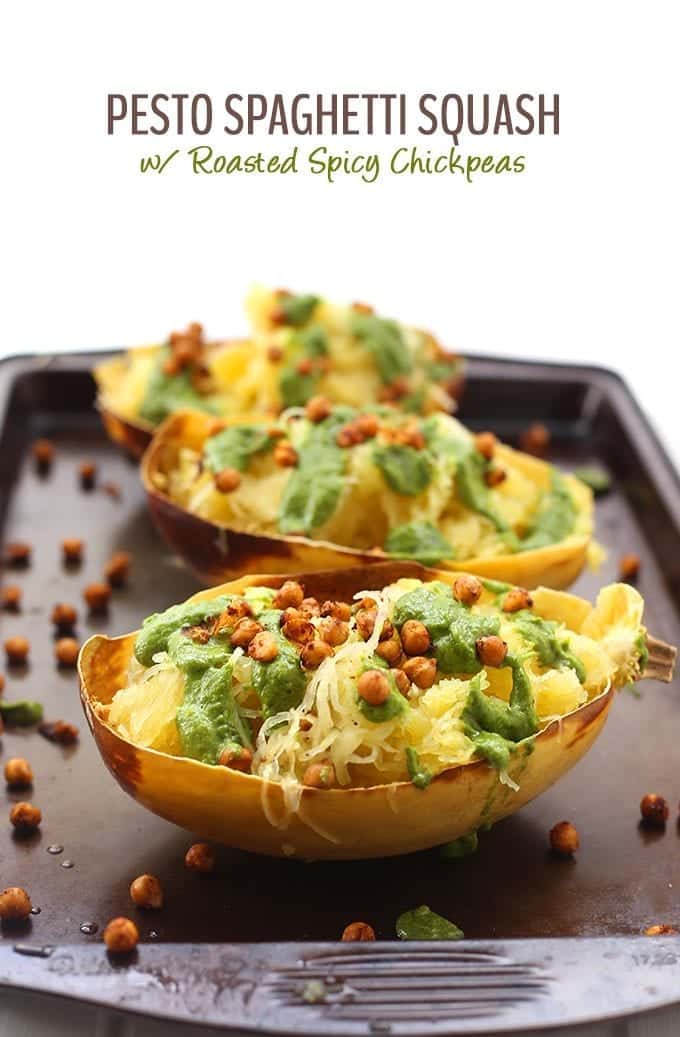 I've always been fascinated by the concept that the only true constant in our life is change. I know, what an esoteric thought for a Tuesday.
It's been something that's been on my mind a lot lately. Mainly the idea that we spend so much of our lives trying to control time, either slow it down or speed it up, when the reality is that the only thing permanent in life is impermanence.
As I get older I am aware of this concept more and more and subsequently have learned to never rule anything out in the realm of possibility (or impossibility)
This recipe for Pesto Spaghetti Squash with Spicy Roasted Chickpeas is the prime example of this.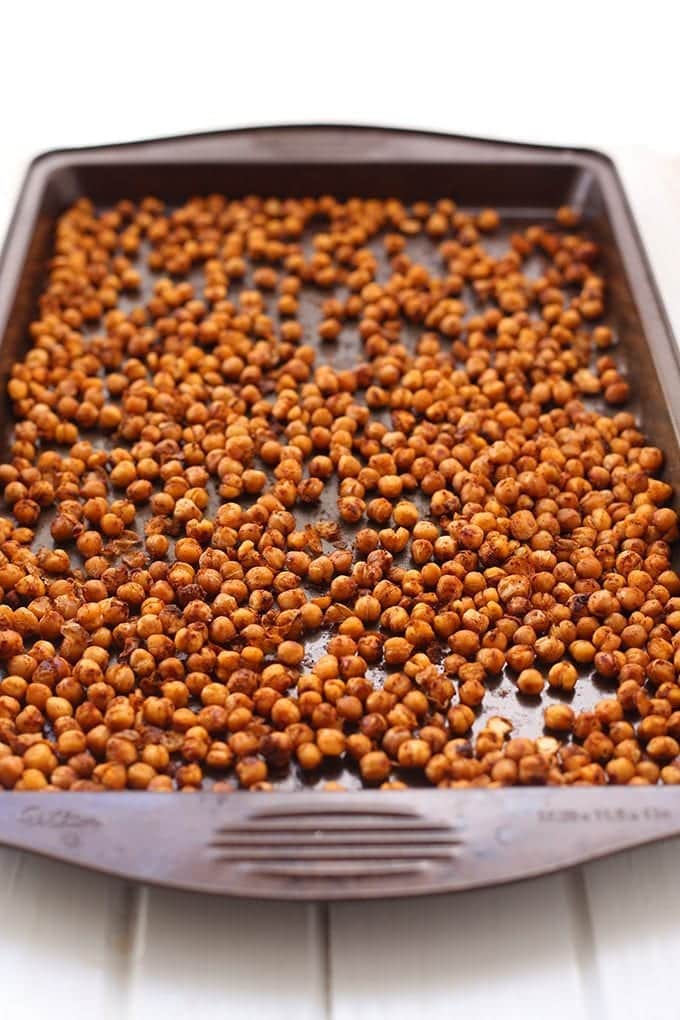 I used to H-A-T-E spaghetti squash. I really can't explain my distaste for it because truthfully it doesn't really taste like anything except whatever you top it with and I'm also pretty indifferent about its texture. It came down to how it made me feel, which for one of the healthier foods on the planet this doesn't make a whole lot of sense.
As much as I love vegetables (and I really really love vegetables), too many of them results in serious digestive pain. Veggies are super high in fibre so eating too many of them can result in some major issues for certain people. I used to be one of those people.
My reaction to spaghetti squash used to be pretty miserable for myself and anyone who came across me in the hours after eating (TMI? sorry). But in true form, my body one day woke up and had completely changed.
I can now eat unlimited amounts of spaghetti squash without an issue. Though once again I'm never ruling out the possibility that this may change.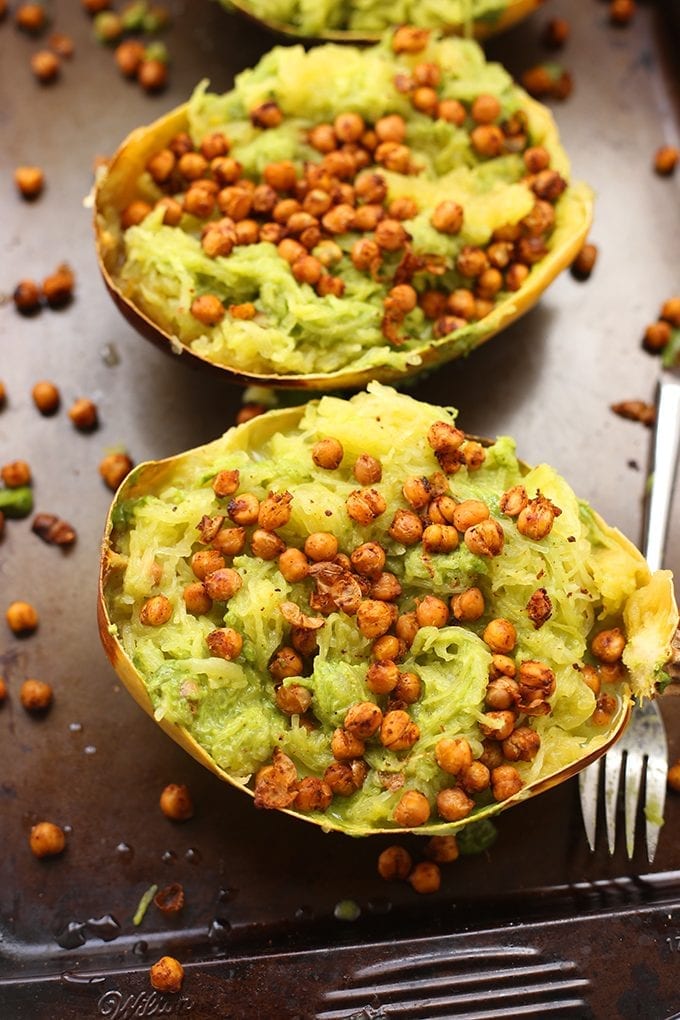 I also used to always say that I could never be a vegetarian. I love meat too much. But lately I just haven't been craving it at all. Besides the occasional seafood and eggs, I've pretty much been veggo for a month now and it hasn't been difficult or painful at all. And truly, not an ounce of me is missing chicken or beef in the slightest.
Does this mean I'm a vegetarian? Vegan? Vegan-Paleo-Raw-Fruititarian? Maybe. That's the funny thing about life. In my lifetime I may be every single one of these. The reality is that we can't predict the future or what it will look like for us. All we can do is be open-minded to it and know that no matter what, it will arrive.
For now I'm enjoying vegetarian, spaghatti-squash filled meals like these. Who know's what I'll be eating tomorrow!
Print
Pesto Spaghetti Squash with Spicy Roasted Chickpeas
Scale
Ingredients
2

2.5-3 lb spaghetti squashes*
For the Chickpeas:
2

cans of chickpeas, rinsed and drained

1

T olive oil

1

T chili powder

1 tsp

paprika

1/2 tsp

cumin

1/2 tsp

sea salt

1/4 tsp

pepper
optional: 1-2 tsp sriracha for added spice
For the Pesto:
1 cup

kale, packed

1 cup

basil, packed

2

garlic cloves, minced

1/4 cup

walnuts (or pine nuts)

1/4 cup

olive oil

1/2 tsp

sea salt

1/4 cup

water, to thin out
Instructions
Preheat oven to 400 degrees F.*
Pierce your spaghetti squashes several times with a fork.
Place on a baking sheet and bake for 1.25-1.5 hours.
Cut open and let cool on baking sheet.
Scoop out seeds once cooled down and then run a fork through each half to create noodles.
For the Chickpeas:
In a large bowl combine all ingredients until chickpeas are well coated.
Spread out on a baking sheet and bake for 20-25 mins (at 400) or until chickpeas are browned and crispy.
For the Pesto:
Combine all pesto ingredients in a blender or food processor. Thin out with additional water if necessary.
To Serve:
Top each spaghetti squash with pesto and chickpeas.
Serve warm.
Notes
*This is how I cook my spaghetti squash. There are many methods to do it but I prefer mine because it doesn't require me to have to cut through/man-handle the squash when it's raw.
Have you ever done a a full 180 on something? What's changed most about you recently?
JOIN THE THM NEWSLETTER
Join 10,000+ members of the THM Community to get access to exclusive recipes, healthy lifestyle tips and behind-the-scenes news from our team!