Watermelon meets lemonade in this Refreshing Mint Watermelonade. It's a healthy and delicious drink recipe on a hot summer day. Sweetened naturally with fruit and a touch of honey!
How's THAT for a name?! Screw SEO, I just couldn't come up with watermelonade and not use it! In other news, today's post is dedicated to the most glorious invention since indoor plumbing, the iPhone.
I seriously have no idea how I lived before the existence of a smart phone. I must have been very dumb. While it's nice to get a break from it every now and then, when we are apart it feels like I have a phantom limb. It should be there, but it's not.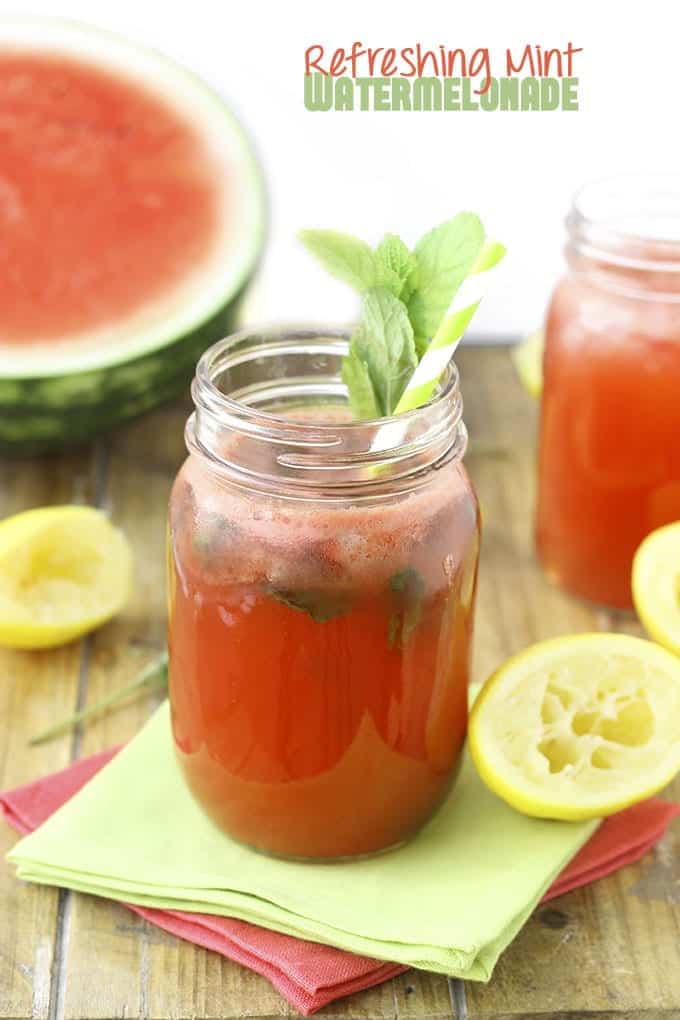 Besides it's obvious uses for email, phone, text, I also depend entirely on it for answering the 132497987324 questions that pop into my head every day. Google is also something I wonder how I lived without.
Here is a prime example of why I need an iPhone with me at all times. So I'm in the grocery store picking up a watermelon. There's 3 other ladies around me knocking on all of the watermelons trying to pick the perfect one. Of course I do the same and begin knocking away on some melons (lol). But here's the thing, I have no idea why.
It seemed like the logical thing to do but I had no clue what I should be listening or feeling for. After knocking on about 5 of them, I decided it was time I google what the heck I was doing. Thankfully I had my trusty iPhone to answer all of life's questions including "why should you knock on watermelons?"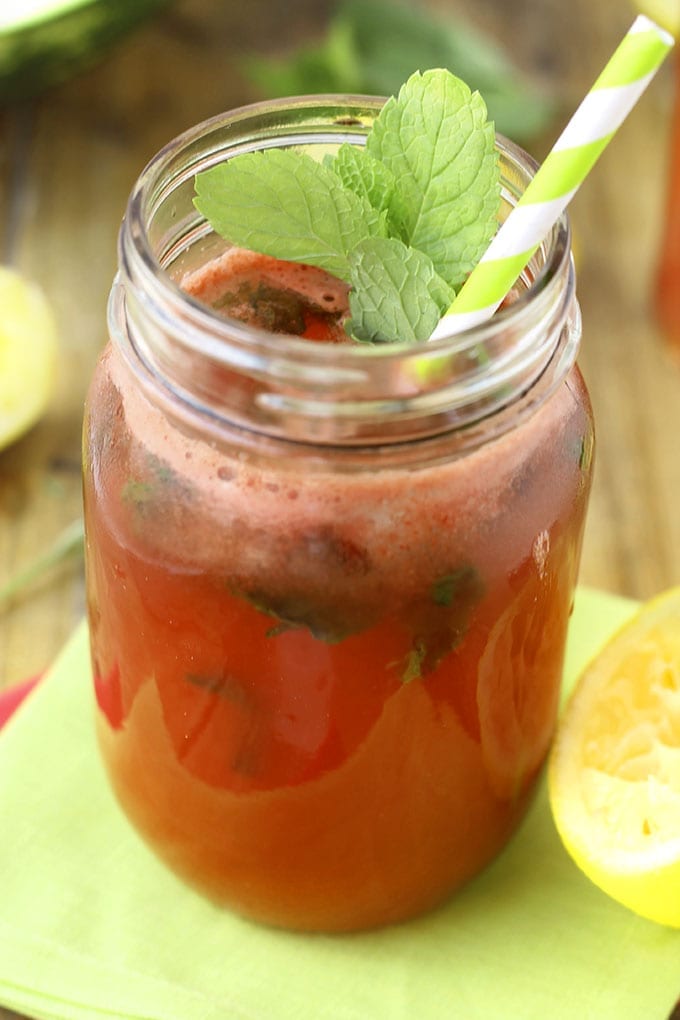 As it turns out, to pick the perfect watermelon it should feel/sound hollow when you knock on it. You learn something new everyday! So I joined back in with my new club of melon knockers until I found the best watermelon in the bunch!
I actually live in fear of what someone might find if my phone got stolen or lost and a stranger looked up my search history. I suspect they will be somewhat astounded by the number of medical conditions I look up, A LOT of random facts about Montana (I was there 2 weeks ago and apparently very curious) and articles about English bulldogs (don't ask…).
Now that I've bared some of my shameful googling habits, I'm sort of feeling like I should go hide in the corner with this Refreshing Mint Watermelonade. At least I'll have my iPhone to keep me company.
Print
Refreshing Mint Watermelonade
Prep Time:

10 minutes

Total Time:

10 minutes

Yield:

12 cups

1

x
6

–

7

lemons, juiced (or about

1 1/2 cups

of lemon juice)

2 cups

watermelon, seeded and chopped

1/2 cup

mint leaves

12 cups

water

2

–

4

tbsp honey (more or less, to taste)
Instructions
In a blender combine lemon juice, watermelon and mint leaves.
Add to a large jug and dilute with water.
Add in honey, to taste.
Store in refrigerator.

Are you attached to your smartphone? Tell me a random thing you've googled! I swear I won't judge…
JOIN THE THM NEWSLETTER
Join 20,000+ members of the THM Community to get access to exclusive recipes, healthy lifestyle tips and behind-the-scenes news from our team!