This Spicy Walnut Butter is an easy DIY nut butter recipe made with toasted walnuts and spices you'll find in your cupboard! If you've never tried walnut butter before, you are definitely missing out!
I have an obsessive personality. I get obsessive over certain foods, TV shows, music and the 9-week old English bulldog named Petunia who I met last week. I'll talk about my "obsession-du-jour" incessantly to a point where I actually overdose on it. Nut butter is no exception to this rule.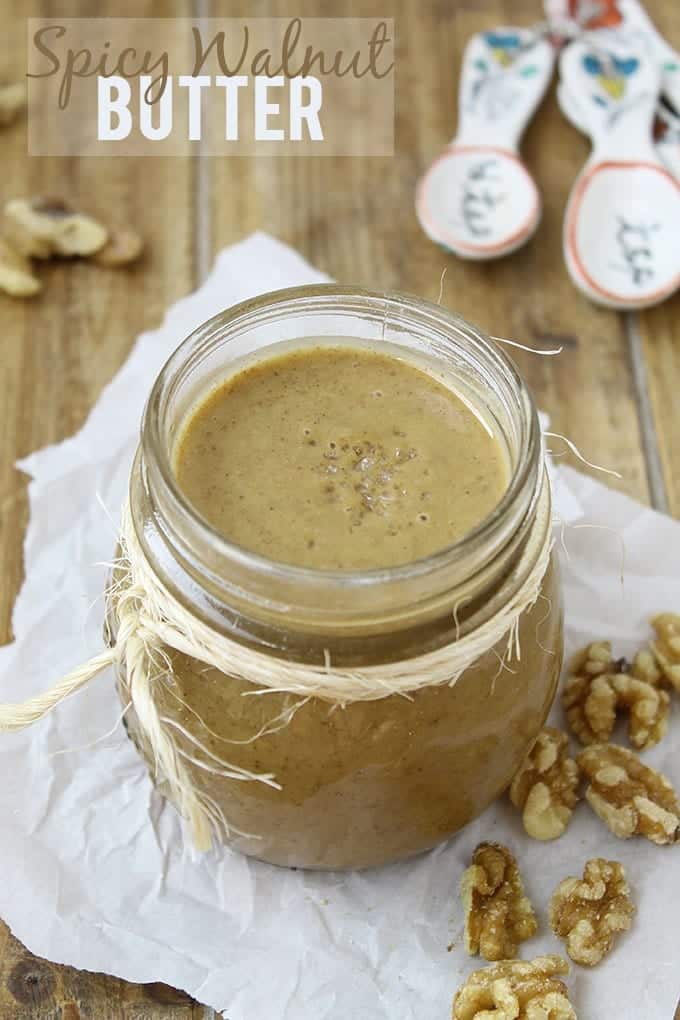 If you're unaware of my obsession with nut butter, then you are either a) new to the blog or b) a skimmer. I love me some nut butter of all kinds. Peanut, almond, pistachio, you name it, I've made it! I rarely buy nut butters for this reason. Unless someone decides to pay me for my nut butter consumption, it is cheaper for me to make them than buy it in stores.
But more than anything, I need to keep making new nut butters because my obsessive personality causes me to go overkill on whichever one I have on hand. I've figured out the only way for me to not get turned off by nut butters is to keep at least 5 open jars in my house at all times. This means that currently I have 1 jar of almond butter, 1 jar of peanut butter, 1 jar of coconut butter, 1 jar of pumpkin seed butter and 1 jar of this delightful spicy walnut butter open.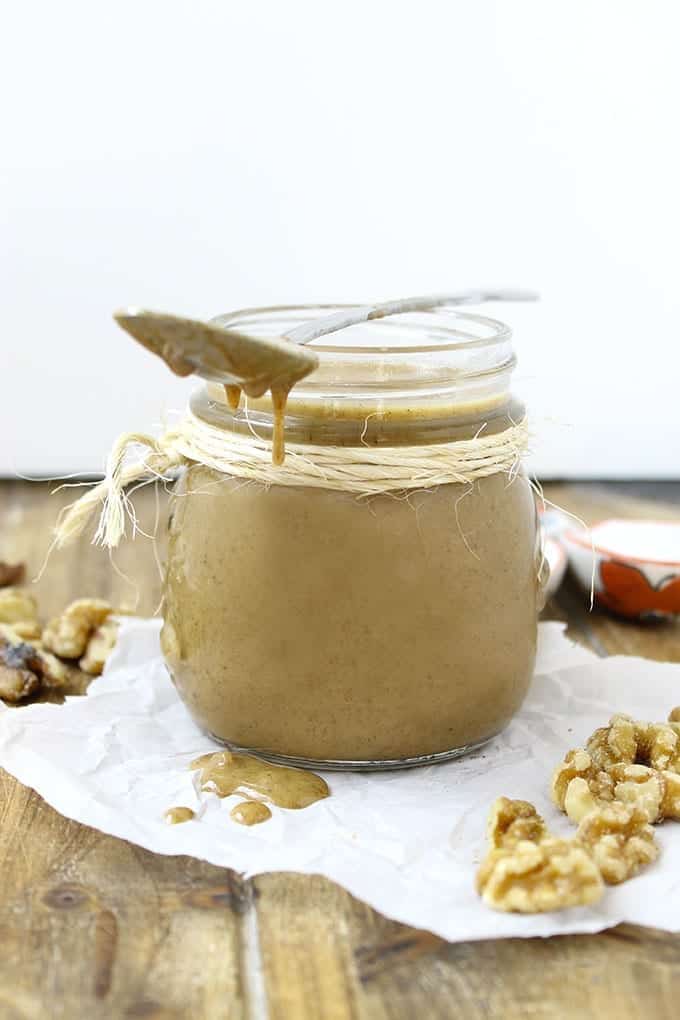 I cycle through each. A little almond butter with my waffles, some peanut butter with an apple, coconut butter straight from the jar and my new favourite snack, a banana with walnut butter and chocolate chips. I've officially eaten this for dessert 6 nights in a row. This means that 1 month from now, after I've eaten it for 30 days straight, the thought of banana + walnut butter + chocolate chips will make me nauseous. Whyyyyyyyyy?!?!
As delicious as this walnut nut butter is, one day it will be added to the "things I've ODed on" list which also includes All Bran Bars, Grey's Anatomy, anything by Avicii and sadly, creamsicles. One day I will learn moderation…I hope.
Print
Spicy Walnut Butter
Total Time:

25 minutes

Yield: about

2 cups

1

x
3 cups

walnuts

1/2 tsp

cinnamon

1/4 tsp

nutmeg

1/8 tsp

cloves
pinch of cayenne
Instructions
Preheat oven to 350 degrees F.
Spread walnuts out on a baking sheet.
Bake for 10 mins.
Remove from oven and let cool for 10 mins.
Add walnuts to food processor and process until it reaches "butter" consistency.
Add in spices and continue processing until well combined.
Store in an airtight container or jar in the refrigerator.


Do you have an obsessive personality? Have you ever "ODed" on something?
JOIN THE THM NEWSLETTER
Join 20,000+ members of the THM Community to get access to exclusive recipes, healthy lifestyle tips and behind-the-scenes news from our team!