No cheese necessary to make these Strawberry Cheesecake Swirl Energy Balls! Just dried strawberries, nuts and nutritional yeast for a yummy vegan and gluten-free snack recipe.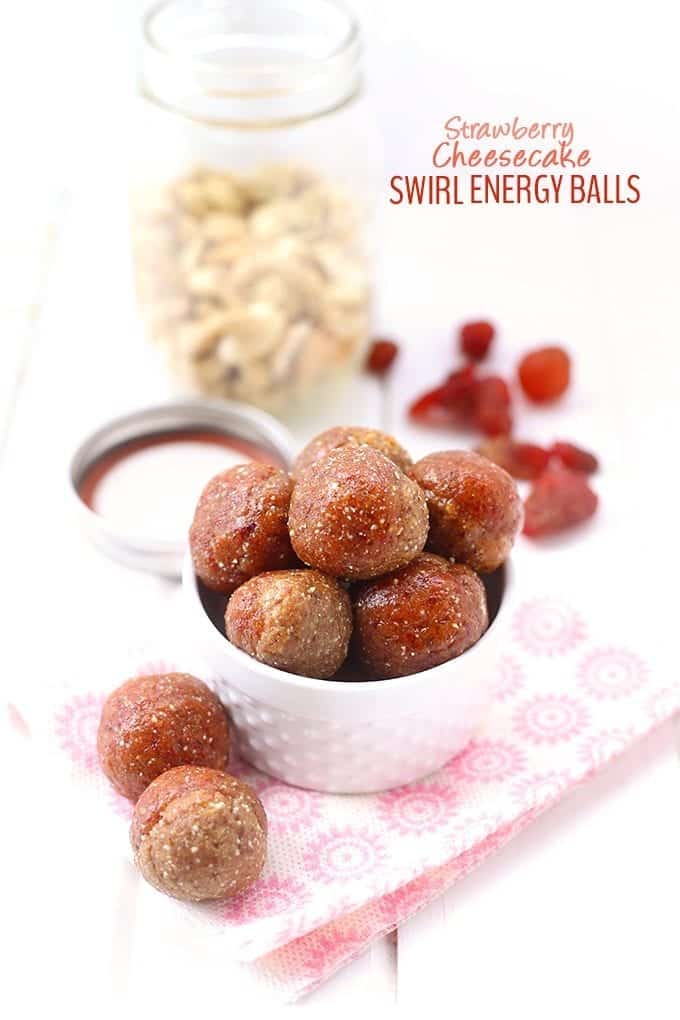 For the first time in the history of THM I am sharing a post on a Saturday! Since Energy Ball Week couldn't possibly skip a day, we opted to continue the recipes through the weekend so SURPRISE, I'm posting on a Saturday!
It's crazy to think that NOT ONCE in the 2 years, 8 months that I've been writing on THM have I posted on a Saturday. The funny thing is that I have absolutely no idea why.
In theory, most of my posts are scheduled in advance. I'm usually cooking and testing about two weeks ahead and writing a few days before but today I'm writing to you on a Friday evening. Maybe once or twice have I ever actually written the post on the day it went live, but since my posts typically go live at 5:00 AM, the odds of me waking up in any state to write at that ungodly hour is pretty much slim to none.
But today you're getting about 12 hours before, which is close to being a record.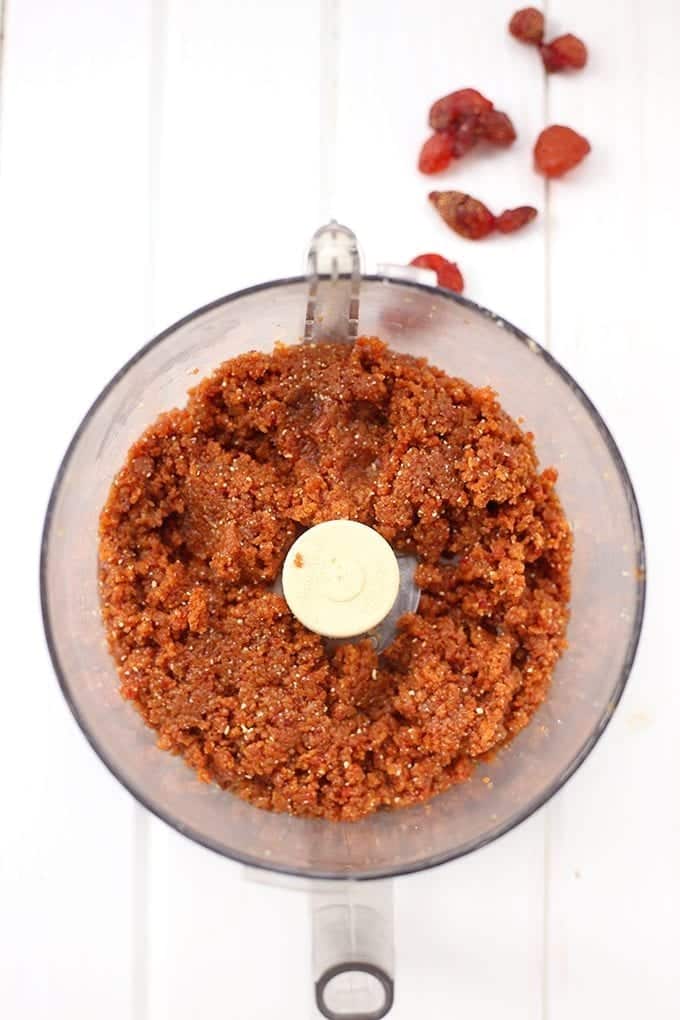 If I had to stipulate as to why I've never posted on the blog on a Saturday, it would be one (or both) of two reasons.
I suspect that there aren't that many of you reading blogs on a Saturday. Granted, when I was more of a blog reader than blog writer I had a blog-reading marathon every Saturday morning so I could be totally off about this point.
I need at least one day off a week. Nowadays I typically post 3 and sometimes 4 days a week so this doesn't really apply but when THM was just a baby and I was a lot crazier I would post SIX days a week, so taking Saturday off was completely necessary.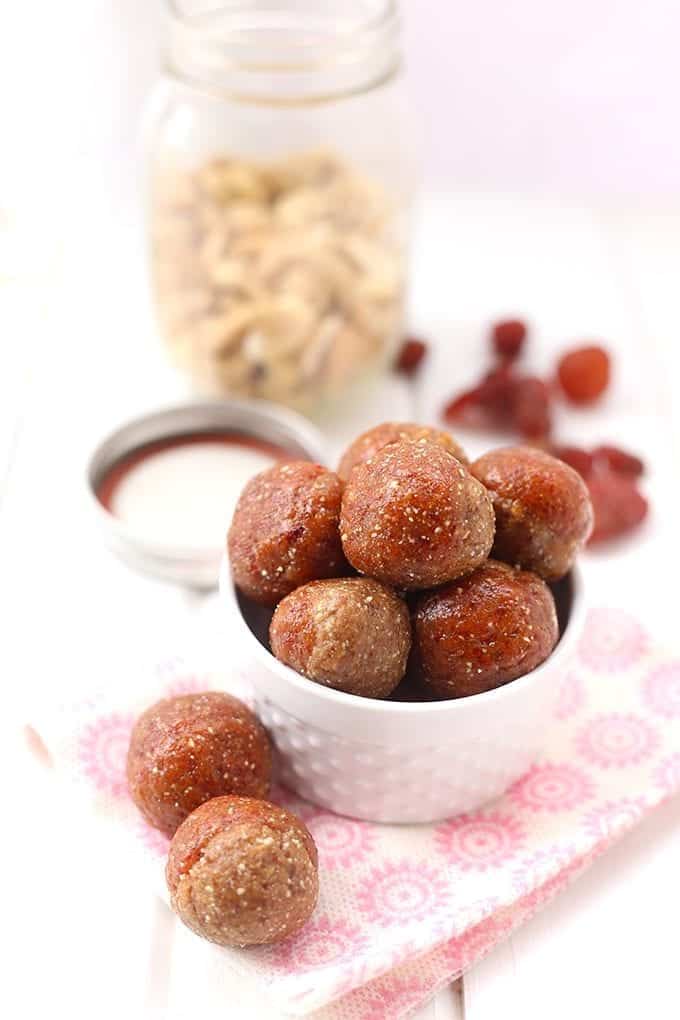 But here I am posting on a Saturday, and you know what? It feels kind of liberating. Sort of like all the people at the nude beach I was at in San Diego…but that's a story for another day.
In the blogging world, there's a lot of talk about consistency and ensuring your readers know your posting schedule. By now most of you know my usual Sun-Tues-Fri schedule, but it's been kind of fun to change it up this week so maybe it's time I say f*ck it to the rules and just play by my own.
Look at me, I'm even swearing now! Man, posting on a Saturday will do crazy things to you…
Print
Strawberry Cheesecake Swirl Energy Balls
Author: Davida Lederle
Prep Time:

25 minutes

Cook Time:

0 minutes

Total Time:

25 minutes

Yield:

18

Balls

1

x
Category:

Snack

Method:

Raw
Instructions
Add dates to food processor and process until broken up into pea-sized bits.
Add cashews, nutritional yeast, vanilla and sea salt.
Process until well-combined. Mixture should come together into a large ball.
Remove just over 1/2 of mixture (a little under 2/3) and set aside.
Add in dried strawberries and process until strawberries are well combined with remaining mixture.
Roll both the strawberry and plain mixture into 18 teaspoon sized balls.
Squish one of each flavor ball together and roll until they come together into one swirl ball.
Continue the process until all balls have been squished.
Place in the freezer for 15 mins before storing in the refrigerator for up to one month.
*Make sure your dates are sticky. If not, soak them in hot water for 15 minutes to soften and then drain. ** Nutritional yeast is what gives it a cheesy taste. Feel free to omit but it won't taste as "cheesecakey"

When do you like to read blogs? Is consistency in a blogger important to you?
JOIN THE THM NEWSLETTER
Join 20,000+ members of the THM Community to get access to exclusive recipes, healthy lifestyle tips and behind-the-scenes news from our team!