The original Sweet Potato Egg Boats with Avocado Crema and Bacon. A simple and healthy baked breakfast or lunch packed full of flavor and nutrition. It will be love at first bite.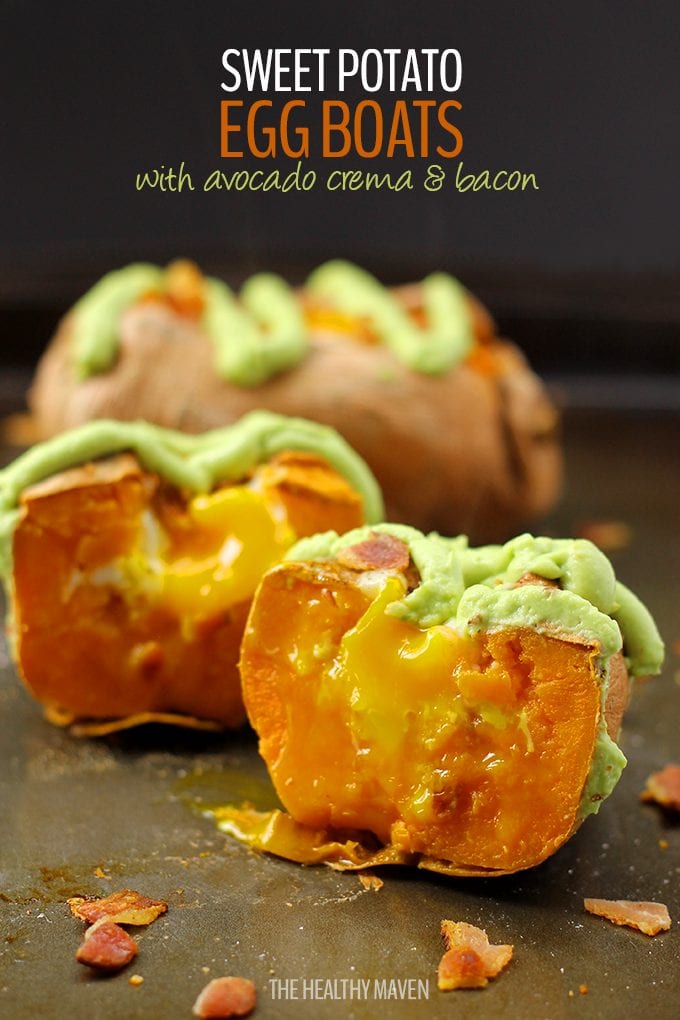 People have an infatuation with failure. I think on some level, seeing other people fail gives us comfort that we are not alone. Or perhaps it inflates our own self-confidence? Let's go with the former..
I fail all the time. I fail at not spilling on any of my clothes, remembering to water the flowers and yes, I totally fail in the kitchen. Admittedly, it isn't all that often but I have racked up my fair-share of #kitchenfails.
Exhibit a) When Jess was over the other week she was helping me blast through 3 recipes in a day. We made those lovely Blueberry Hazelnut Crumb Bars, Mint Chocolate Chip Avocado Popsicles and a very sad attempt at Red Canadian Flag Pancakes.
Not to self, do not attempt Red Canadian Flag Pancakes.
It stemmed from the insane amount of Canadian guilt I felt over creating those Red, White and Blueberry Pancakes for the 4th last summer.
RELATED: How To Make Shakshuka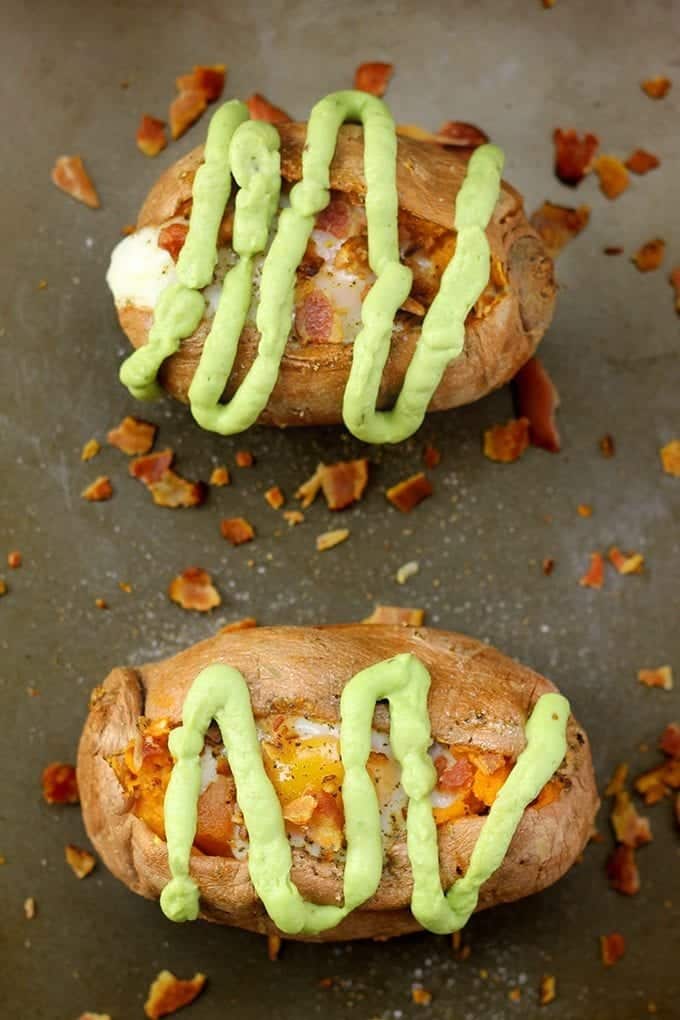 Anywho, it was an epic flop and totally busted my cover to Jess about my perfect culinary skillz. Kidding, the girl is a culinary school graduate so she totally owns me.
Back to the drawing board we went AKA I signed onto skype and did a quick brainstorm sesh with Lee. It went somewhere along the lines of this:
Me: "I have eggs, sweet potatoes, avocado and bacon in my house…what should I make?"
Lee: "Obviously. When do you not have eggs, sweet potatoes, avocado and bacon in your house?"
Me: "Fair. Now what should I make?"
Lee: "Just bake the eggs in the sweet potatoes, top it with avocado and sprinkle it with bacon. Sweet Potato Egg Boats…BOOM."
Me: "You're so genius I could cry."
Lee: "You better give me credit".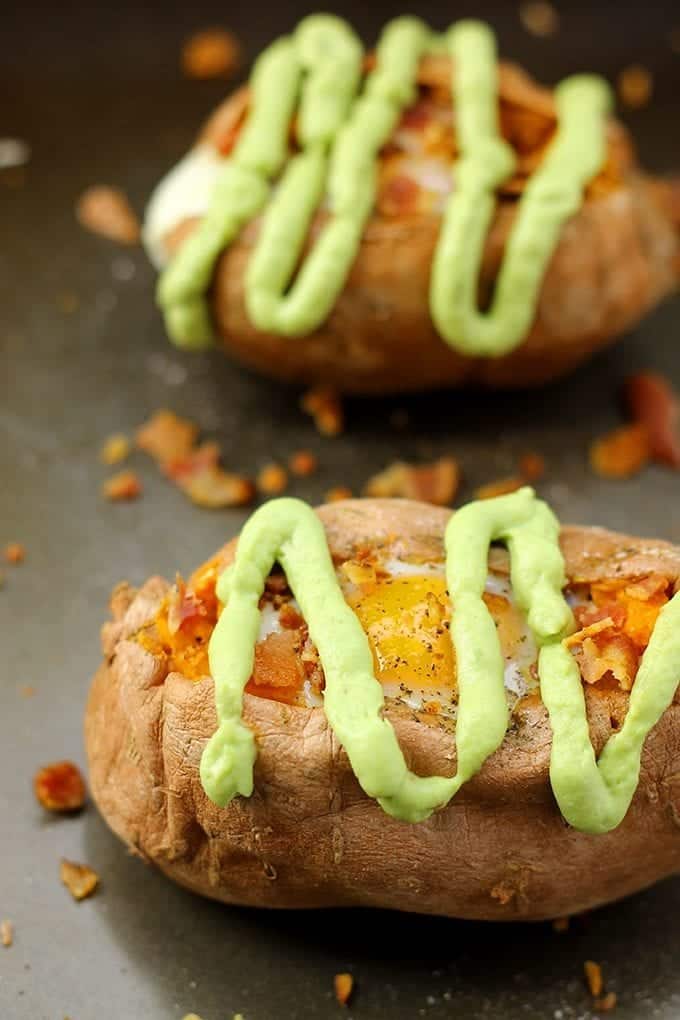 So all credit for these sweet potato egg boats goes to Lee. She is the magician behind this recipe, which stemmed from failed pancakes. They've also subsequently become my go-to lunch recipe since they are the 4 ingredients I always have on hand.
Let's all just take a moment to be thankful for the Canadian Flag Pancakes that never were. RIP.
Print
Sweet Potato Egg Boats with Avocado Crema and Bacon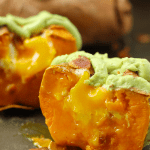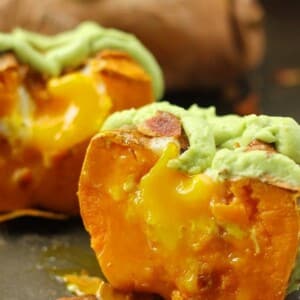 Prep Time:

10 minutes

Total Time:

1 hour

Yield:

2

sweet potato egg boats

1

x
Scale
Ingredients
2

large sweet potatoes, washed, scrubbed and dried

2

large organic eggs

4

pieces of organic bacon

1/2

avocado
juice, 1 lime

1

scallion, chopped (whites only)

1

garlic clove, minced

1/8 tsp

cumin

1/8 tsp

sea salt
Instructions
For the Sweet Potatoes + Eggs:
Preheat oven to 400 degrees F.
Place sweet potatoes in tin foil and bake in oven for 50-60 minutes.*
Remove from oven and cut lengthwise.
Using a fork, gently fluff inside of sweet potatoes.
Carefully crack 1 egg into each and place on a baking sheet.
Bake for 12 minutes for over-easy or slightly longer for more well done.
For the bacon:
Place 4 strips of bacon on a large skillet and cook on medium-high for 3 minutes on each side or until done to level of crispiness desired.
Place on a paper towel lined plate to soak up grease.
Cut into small bits.
For the avocado crema:
Combine avocado, lime juice, scallion, garlic, cumin and sea salt in a blender or food processor and process until well-combined and a "cream" consistency has been reached.
Drizzle over sweet potatoes and sprinkle with bacon bits.
Serve immediately.
*If you're short on time you can pierce the sweet potatoes with a fork several times and cook in the microwave for 4-6 minutes. Then continue process by baking eggs inside in the oven.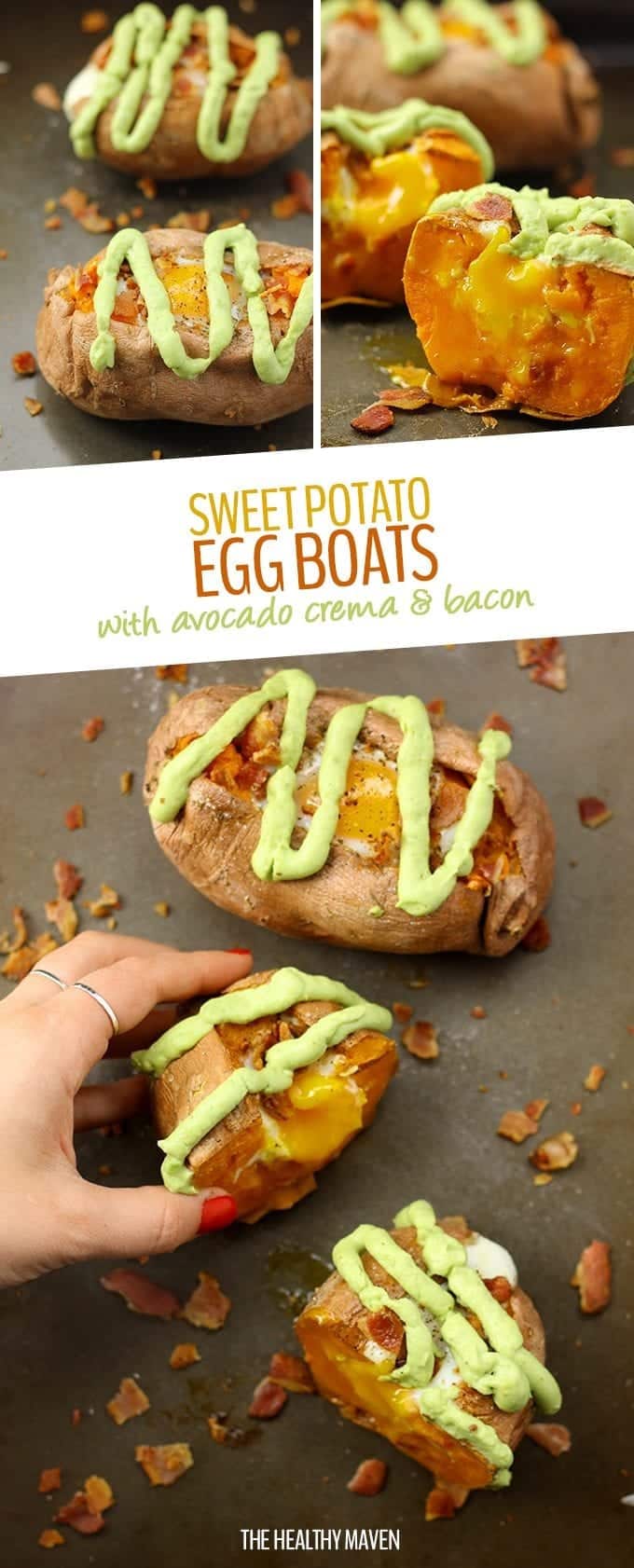 Like this recipe? Here are a few others you might enjoy:
The Best Ever Vegetarian Chili Recipe
Sweet Potato Cornbread
How To Make Bone Broth
JOIN THE THM NEWSLETTER
Join 20,000+ members of the THM Community to get access to exclusive recipes, healthy lifestyle tips and behind-the-scenes news from our team!