Your dessert just got a serious upgrade with these sweet potato peanut butter swirl brownies! Naturally sweetened with sweet potato and perfectly paired with peanut butter, this sweet treat will up your dessert game ASAP.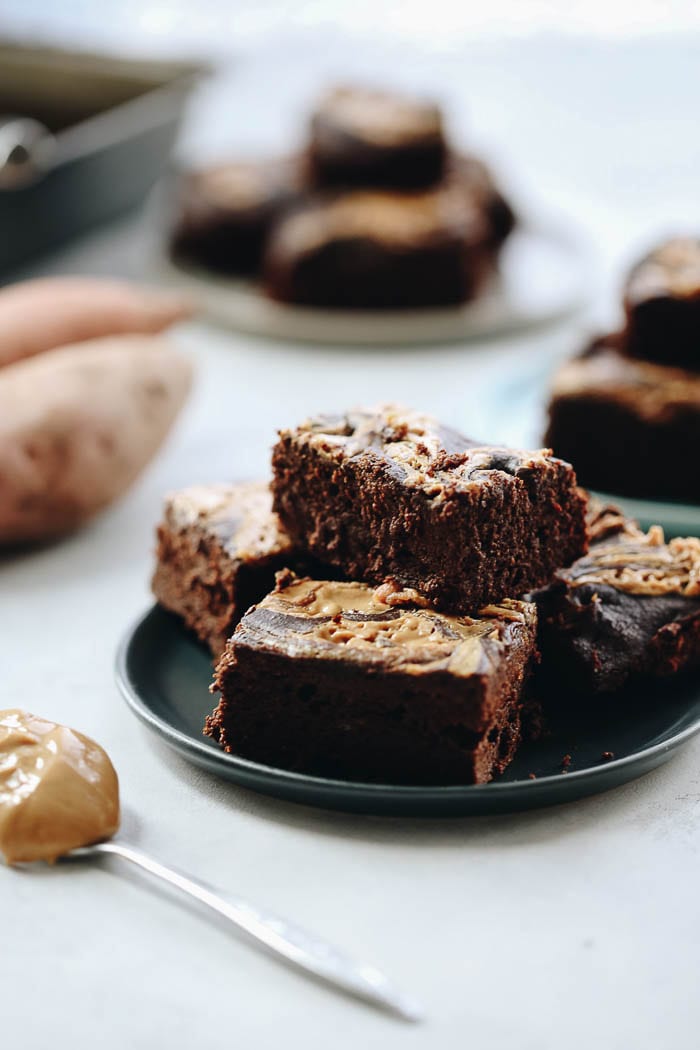 I think most people would be surprised to discover that the contents of my kitchen are pretty hack. While, I'm certainly not complaining, most of my kitchen equipment, utensils and flatware are hand-me-downs. From people's grandmother's, other family members or when my Mom was finally ready to depart with her back-ups of everything.
The only things that are actually new are my stand mixer (which was a birthday gift from C), a blender (which was given to me by a brand) and an immersion blender (given to me by C's Mom). For someone who loves cooking, I am incredibly cheap when it comes to spending money on kitchen gear.
C nudges me about this all the time, because I'll complain that I hate our dishes, that my food processor is 25 years old and that I don't have a knife that actually cuts. Every time he urges me to go out and invest in good quality kitchen equipment, I have the same argument. And please don't judge me for this…I remind him that one day we'll probably get married and register to our hearts content.
Omg I can't believe I just wrote that publicly on the internet.
RELATED: Healthy Avocado Brownies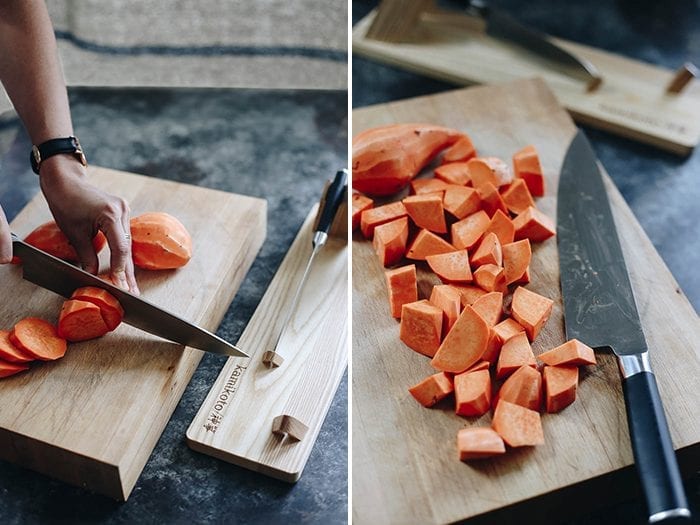 For as shameless as that might make me, it's true. Even though our dish towels are ratty and my food processor smokes when I use it (yeah I know – no bueno), I'm convinced I can survive just one more year or so with them. But there's one thing that I reached my limit on, my knives. At this point I'm using an old knife I bought from a dollar store when I was in college and a set my Mom bought me from Costco. They can barely cut a strawberry, let alone a potato. I've let out many a scream over the poor quality of my knives.
So when Kamikoto reached out about their Japanese steel knife set, let's just say I was pretty stoked. I read Anthony Bourdain's memoir a while ago and actually bookmarked his recommendation to only buy Japanese steel knives. I had planned to put that on my future registry (lol).
But here's the thing, when the knife set arrived, it was like the clouds opened up and I looked into the eyes of the knife god himself! All those years of complaining went out the window. I could cut a butternut squash without having to microwave it first. And didn't have to ask C to cut my potatoes because they needed superhuman strength.
I finally discovered what it meant to have a knife that works!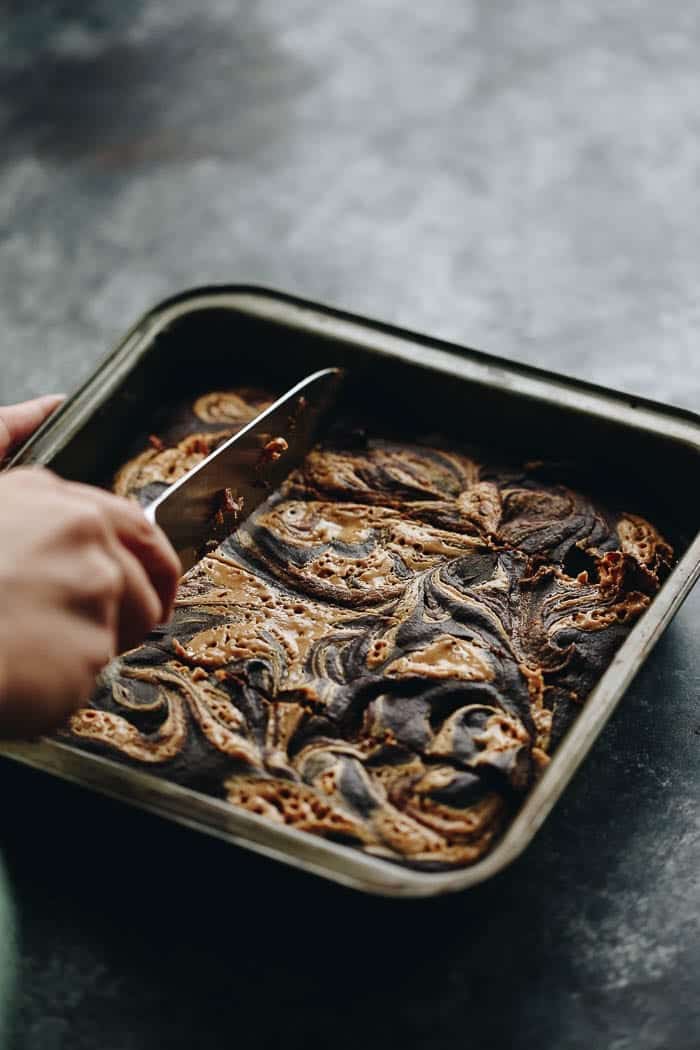 Now there are certainly a lot of things in my kitchen that I can learn to live with. I may hate our hand-me-down plates, but they work. As for the stuff that didn't, like our knives, I really wish I had invested in a nice knife set years ago. It honestly has improved the quality of my experience in the kitchen and made chopping a breeze.
I also now know exactly what to get people as a wedding gift, because this set legit changed my life.
So if there's one thing to invest in, in your kitchen, let it be your knife set…and maybe a food processor that doesn't appear like it is going to blow.
Print
Sweet Potato Peanut Butter Swirl Brownies
Prep Time:

20 minutes

Cook Time:

25 minutes

Total Time:

45 minutes

Yield:

12

brownies

1

x
1/4 cup

unsweetened cocoa powder or raw cacao

1/2 cup

brown rice flour (any flour will work)

1 tsp

baking powder
pinch sea salt

150 grams

of good quality dark chocolate or chocolate chips (about

¾ cup

)

1/4 cup

coconut oil, melted (plus more for greasing)

1 cup

mashed sweet potato*

3

large eggs, room temperature
For swirl:
Instructions
Preheat oven to 350 degrees F.
Grease and 8 x 8 baking pan with coconut oil.
In a large bowl combine cocoa powder, brown rice flour, baking powder and salt. Set aside
Melt chocolate in a double-boiler or in microwave.
Stir in coconut oil until fully melted.
Add chocolate mix and sweet potato to dry ingredients and stir until well-combined.
Add in eggs and mix well.
Add batter to pan and spread smooth.
For Swirl:
Add 9 dollops of peanut butter to batter. Using a knife, cut through peanut butter and zig zag your way across the pan until peanut butter has been incorporated into batter.
Bake for 25 mins or until a toothpick comes out clean after being poked in the center.
Let cool for at least 20 mins before cutting into 12 brownies and then remove and allow to cool completely on a wire rack.
Will keep for up to 3 days in an airtight container.
*To make my mashed sweet potato I peel and chop 1 large or 2 medium sweet potatoes, before adding to boiling water and cooking on high for 12 mins. Strain and mash by hands or in a blender.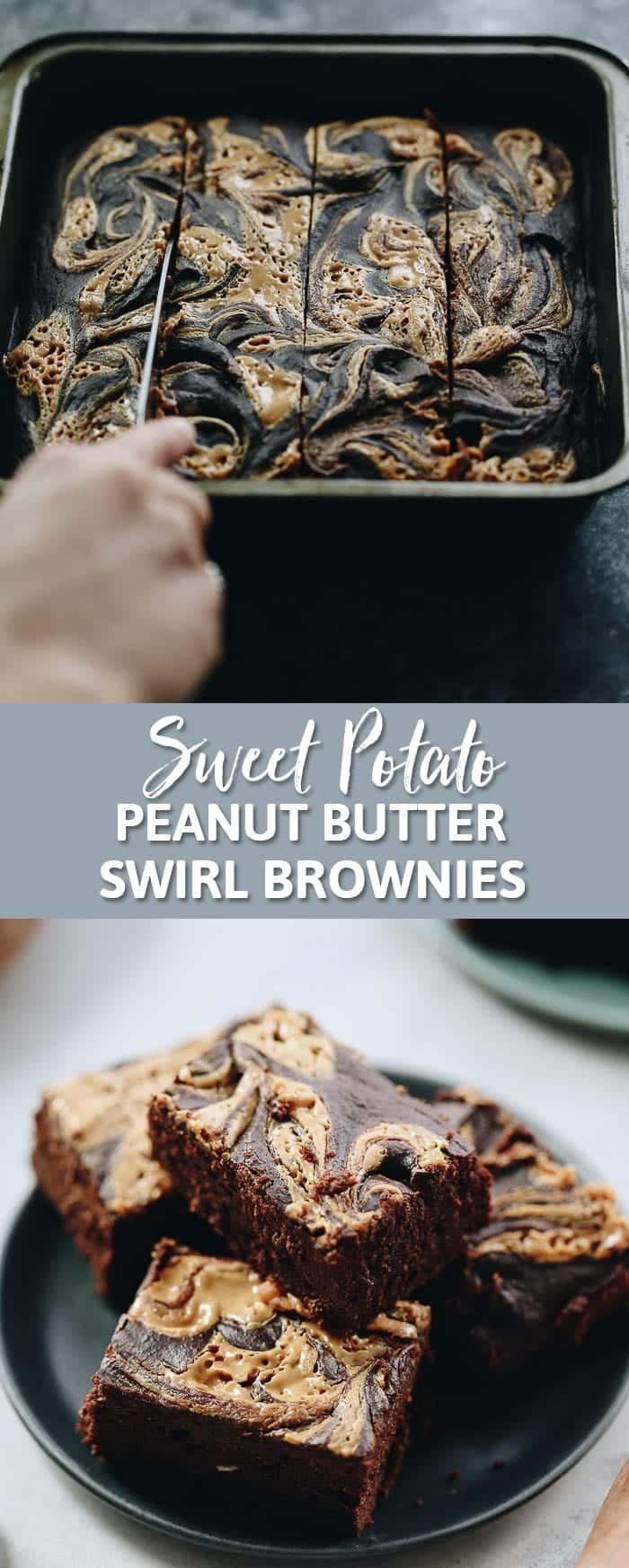 Disclaimer: This post is sponsored by Kamikoto. I was compensated for my time, however all opinions expressed are 100% my own. Thank you for supporting the brands that help make THM possible!
JOIN THE THM NEWSLETTER
Join 20,000+ members of the THM Community to get access to exclusive recipes, healthy lifestyle tips and behind-the-scenes news from our team!