Sorry for taking so long to post this! My plan had been to take pictures on Monday morning but I slept in past my alarm and was late for work. I don't think squeezing a food photog sesh in there would have flown with my boss. So the post got delayed and you got all things pumpkin instead.
You all saved your turkey carcasses right? I don't know why, but I feel like Dexter saying things like that. Putting all carcasses aside, this Turkey and Wild Rice Soup is all kinds of amazing. It also makes enough to cure world hunger. I wish I could take credit for the recipe or at least for making the soup, but all that goes to my Mom. She's awesome. We (she) make this soup almost every year but there's no actual recipe for it so each year it turns out differently. But that's how it rolls in my Mom's kitchen. Though sometimes she follows recipes, she also has the ability to just throw things together and they always work.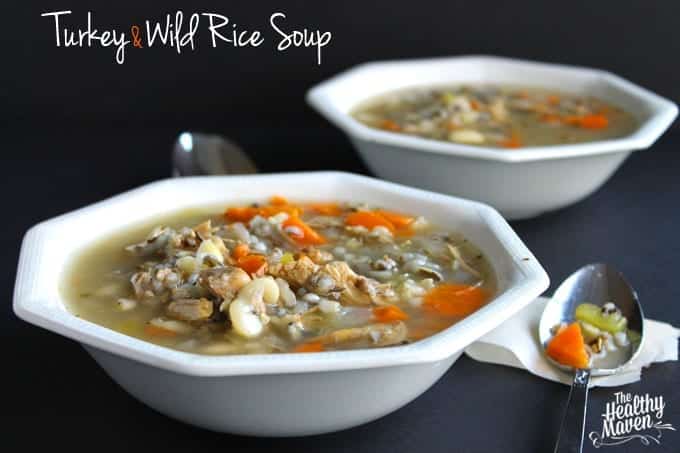 I unfortunately do not have the same kind of confidence when it comes to cooking. Baking is a different story. Part of what comes with baking is accepting that your recipes will fail. It's also far more of a science so too much or too little of something can ruin a recipe. But I understand baking. I know the ratios, how different ingredients react, baking times, pan sizes etc…so I'm not so apprehensive when it comes to recipe creations.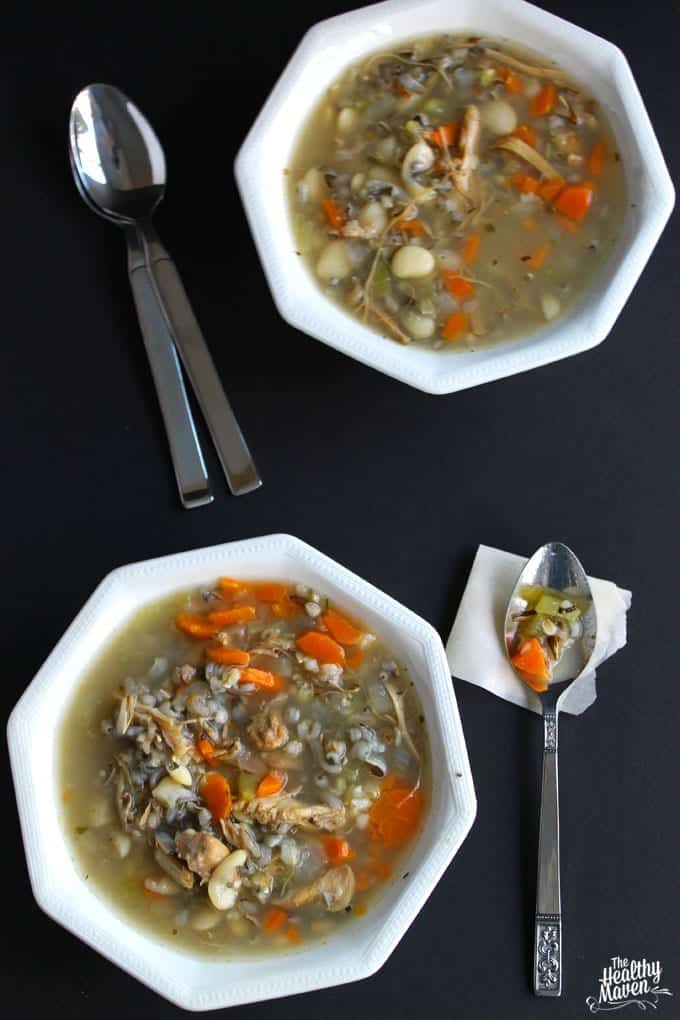 This is probably the opposite of most people. I have a very scientific brain and do much better with "exacts" rather than just adding things and seeing what happens. I can identify a sweet spice with my eyes closed but savoury herbs and spices? I may as well have my nose plugged because I don't know the difference. I legitimately spent 30 minutes over the weekend smelling different spices and testing myself. You gotta start somewhere!
Anyway, here is THIS year's recipe for Turkey soup. Next year's may be entirely different, but I have faith it will be equally as delicious!
Turkey & Wild Rice Soup
Prep Time: 40 mins
Cook Time: 4 hours
Keywords: cook appetizer soup/stew gluten-free turkey
Ingredients (Yields: about 16 cups)
1 turkey carcass
1 cup lima beans
1 cup wild rice
1 T olive oil
1 large yellow onion, chopped
4 carrots, peeled and chopped
4 celery stalks, chopped
1 garlic clove, minced
1 T dried sage
1 T poultry seasoning
1 T dried thyme
1 T marjoram
2 splashes of white wine
salt and pepper, to taste
*cheesecloth for straining
Instructions
1. Soak lima beans for at least 1 hour.
2. In a very large pot add turkey carcass and cover with water.
3. Bring stock to a boil and then reduce heat to a simmer for 2 hours. Every once and a while skim the top for fat.
4. Let cool and then strain through cheese cloth. Set stock aside OR place in refrigerator overnight and skim the fat off the top in the morning. Save contents of cheesecloth until cool.
5. Once cooled completely sort through cheesecloth to remove the bones and pick out the turkey pieces.
6. Shred turkey pieces into bite size.
7. In a large pot, saute onion, carrots, celery and garlic in olive oil over medium heat for about 5 minutes.
8. Add turkey stock, turkey pieces, lima beans, wild rice and spices to the veggies and bring to a boil.
9. Reduce heat to a simmer and add in wine.
10. Cook for 2 hours.
*Because each carcass will be different you may have to adjust the spices and/or add water. If you find your soup needs more flavour add a bit more of each spice. If you find your soup is too thick add in more water.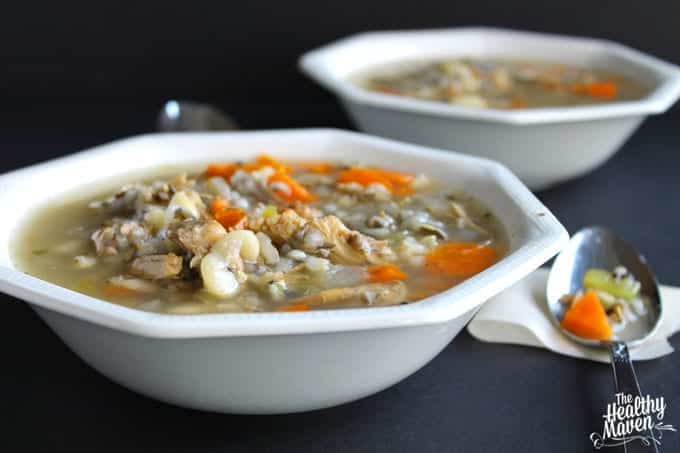 Do you have a family dish that doesn't have a recipe? What do you find easier, cooking or baking?
JOIN THE THM NEWSLETTER
Join 20,000+ members of the THM Community to get access to exclusive recipes, healthy lifestyle tips and behind-the-scenes news from our team!