Warm the soul with this Warm Lentil and Sweet Potato Salad with sautéed kale and a delicious balsamic dressing. A perfect midday lunch or soothing dinner recipe for any night of the week.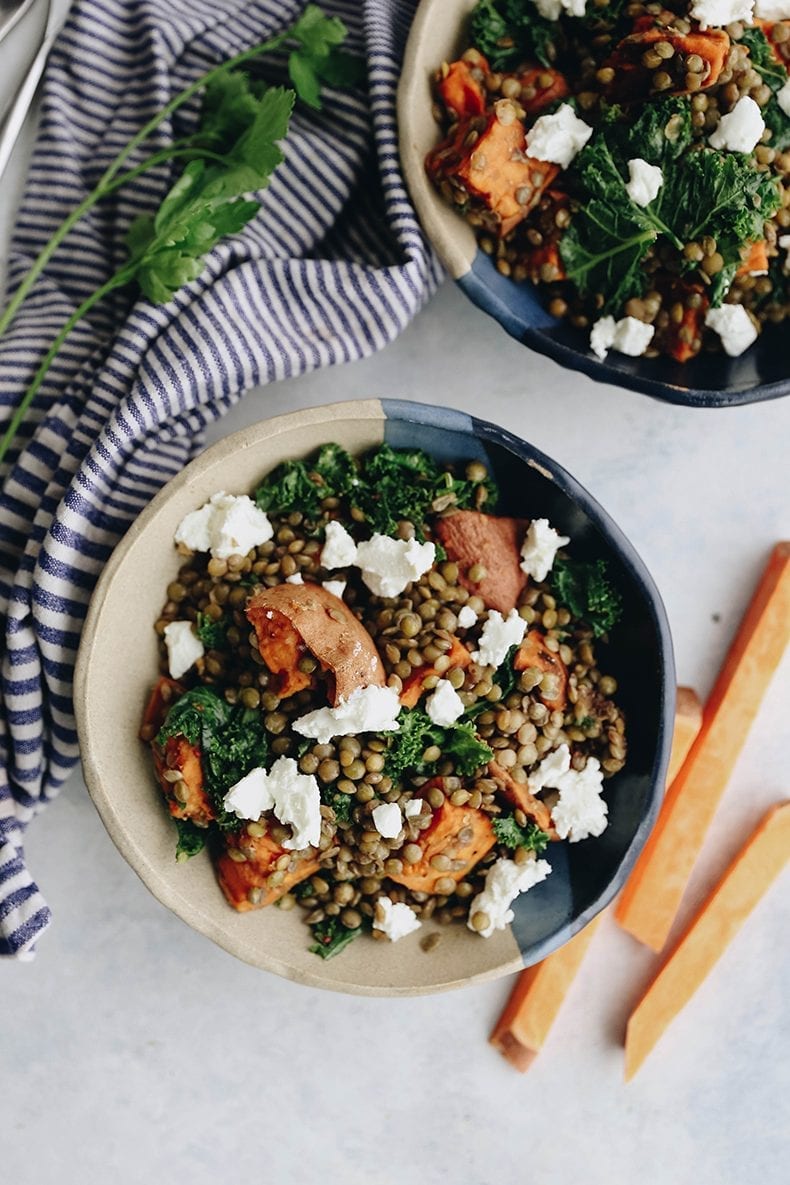 Note: This post was originally published in 2013. It has since been updated with new copy and photos, however the recipe remains the same and equally as delicious!
Lately we've been working really hard in the THM kitchen to spruce up older recipes. When I started THM I never expected to still be working on this little space of mine 6 years later. I certainly never expected it to be a job. THM has and always will be a creative outlet for me, but as with any type of creativity, it evolves and changes and grows into something new.
The same goes for this Warm Lentil and Sweet Potato Salad.
SIMILAR: Harvest Farro Salad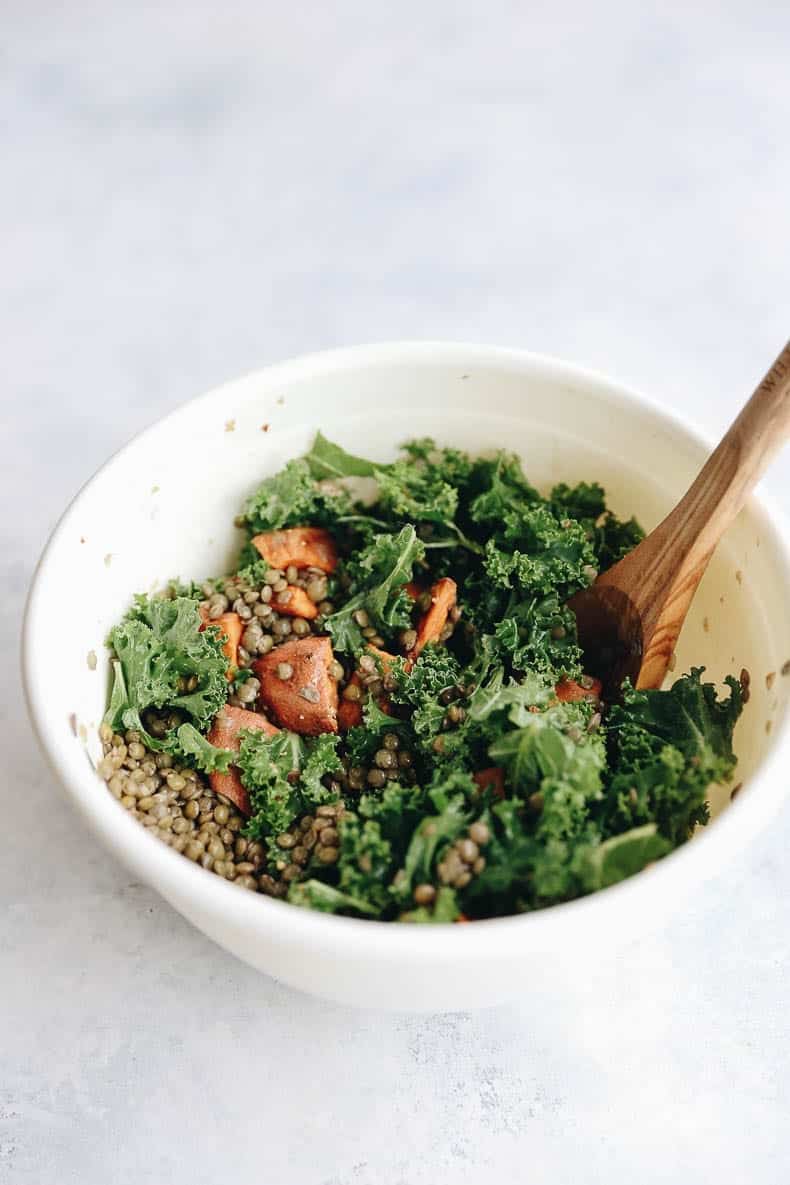 I originally made this recipe years before I started the blog. It was a classic that C and I would eat for lunch (the goat cheese was his addition!) and I knew that it would be one of the first recipes I would share in my future blog. Little did I think I would actually start said blog and thousands of people would one day make the same recipe in their homes. Had I known, I might have thought twice before dumping an entire bag of uncooked lentils on my parent's kitchen table as a "backdrop" for the photos LOL.
But now here we are 6 years later and while the recipe remains delicious, the photos need a little sprucing up. So Jess and I have been going through old content and deciding what needs to be reshot, retested and updated to make THM in 2019 the best it can be. This Warm Lentil and Sweet Potato Salad was one of the firsts to make the list.
For those of you who have stuck around on this crazy journey of mine – thank you! And take this as a reminder to dream big, take the leap and know that you will ALWAYS cringe at the things you said on the internet years earlier 😉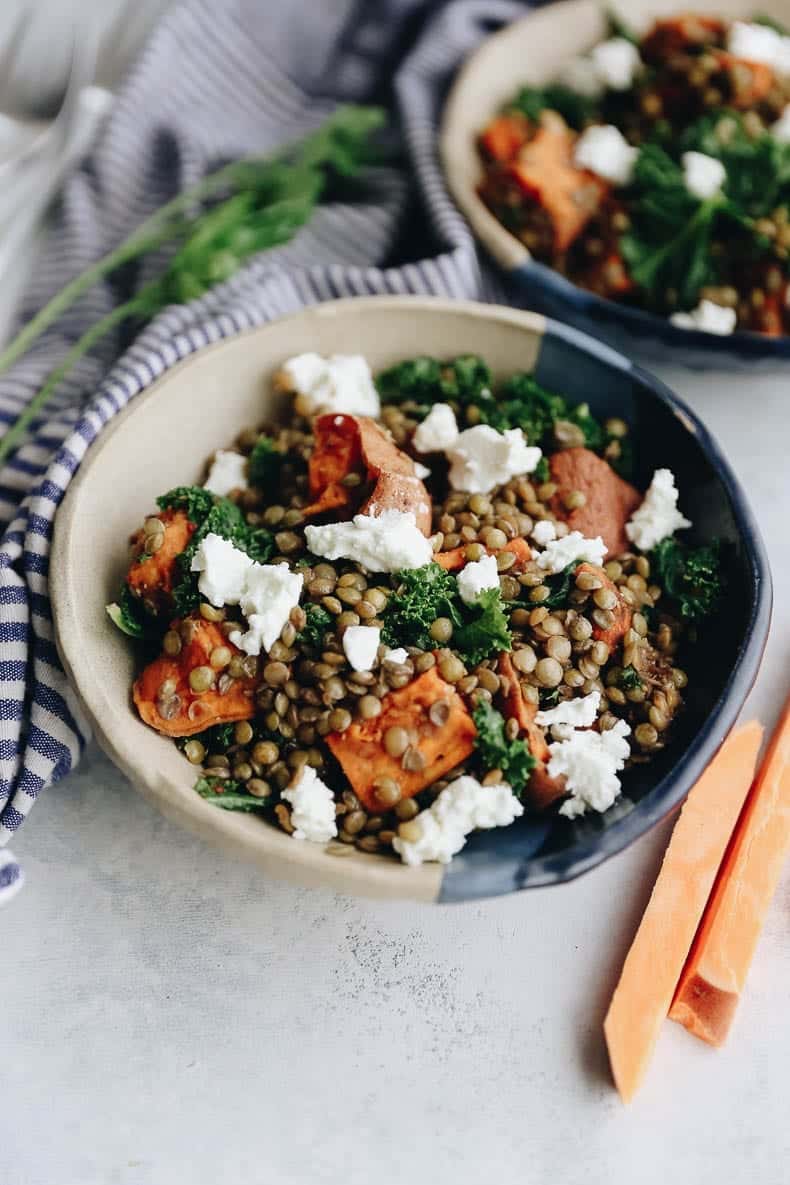 Tips To Make This Warm Lentil Salad
You can use dry or cooked lentils – we prefer dry but if you're in a rush feel free to use canned!
Add raw kale to cooked lentils over low heat to cook the kale slightly – kale can be hard on digestion so we recommend cooking it slightly to help you digest it better
Goat cheese is optional but adds a nice tangy flavor so we recommend
If you cannot find fresh thyme, feel free to use dried thyme (halve the amount)
If you have pomegranate vinegar on hand it is a really nice substitute for balsamic vinegar
Print
Warm Lentil and Sweet Potato Salad
1 cup

 of dry green lentils (or

1

 

19oz

 can of cooked lentils)

2 cup

s of water

1

 sweet potato

3 cup

s kale, chopped

3 tbsp

balsamic vinegar

1 tbsp

 maple syrup

2 tbsp

fresh thyme, chopped

1/2 tsp

 dijon mustard
salt and pepper, to taste

1/4 cup

goat cheese, crumbled
Instructions
Soak lentils in water for at least 30 mins. *Skip this step and steps 5-7 if using canned lentils.
Preheat oven to 400 degrees F.
Chop up sweet potato into bite-sized pieces. Spray or drizzle lightly with olive oil.
Bake for 30-35 mins.
Rinse lentils and then add to a medium-sized pot and cover with water.
Bring lentils to a boil over medium-high heat and then reduce heat to medium-low and cook uncovered for 20 mins.
Lentils are done when all of the water has been absorbed.
Add 1 teaspoon of olive oil and the kale to lentils and cook over low heat until kale has wilted.
Stir in sweet potatoes, balsamic vinegar, maple syrup, thyme, dijon mustard and salt and pepper.
Let cool slightly before adding goat cheese (unless you want it melted in).
Keeps in refrigerator for up to 5 days.
Like this salad? Here are a few others you might enjoy:
JOIN THE THM NEWSLETTER
Join 20,000+ members of the THM Community to get access to exclusive recipes, healthy lifestyle tips and behind-the-scenes news from our team!