A recipe for Gluten-Free and Vegan Banana Bread that tastes equally as delicious as your traditional banana bread. No one will know it is gluten and dairy-free!
I often get asked why my recipes use certain flours/starches and why some are vegan while others are not. My recipes are almost always gluten-free because I eat gluten-free (most of the time), but as I'm sure you've discovered I am certainly not vegan or paleo or follow any real diet for that matter. Honestly, there is no rhyme or reason to it, my recipes come out the way they do entirely based on what I have on hand.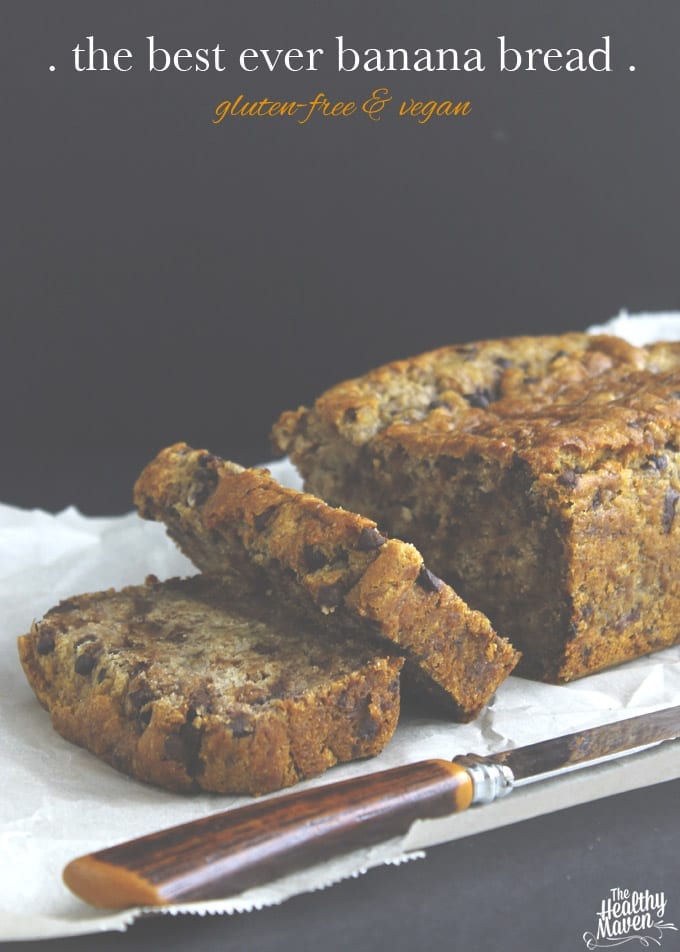 Sure I make the occasional grocery shop, but especially when it comes to baking there's always different combinations that can yield the same result. I'm not about to go running out to the store to buy cornstarch and buckwheat if I already have tapioca flour and brown rice flour on hand. Same goes for eggs. If I'm out but have some flaxseed in the fridge, flax egg here we come. When there's a will there's a way!
Of course I'm also a sucker for a good science experiment. A while ago I read that mixing applesauce and baking powder can act as a binder instead of eggs. Obviously I forgot to write down where I read it or how to do it, but I gave it a shot and the baking gods must have been on my side because it actually worked out in this recipe.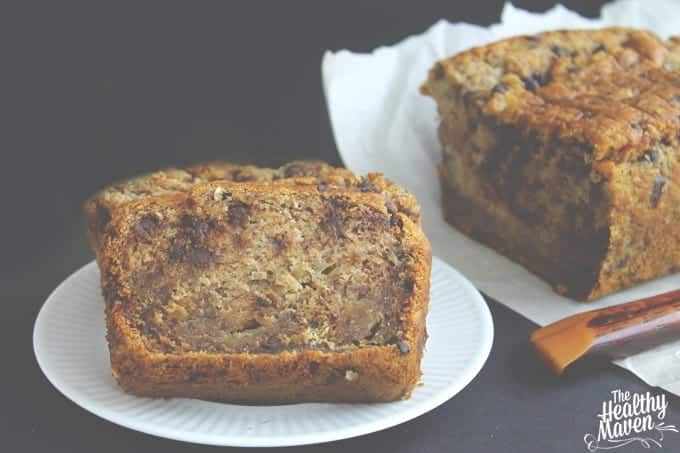 I really had no intention of posting this recipe when I was baking it because I made it last-minute for C when I visited Montreal a few weeks ago. I sneakily made it gluten-free so I could eat it too. He was shocked at how good it was despite its "healthiness" (healthy food can taste good people!!!) that I knew I had to recreate and photograph it. I then made them into muffins when I catered and fooled everyone there too. I declare myself the banana bread queen because damnnnnn this.is.good.
Ingredients
Dry
3/4

cup brown rice flour*

1/2

cup + 2 T gluten-free oat flour (ground rolled oats)*

3/4

cup potato starch*

1/4

cup tapioca starch*

1

tsp xanthan gum**

1

tsp cinnamon

1

tsp baking soda

1

tsp baking powder

1/2

tsp salt
Wet
1/2

cup applesauce, warmed up and then mixed with 1/2 tsp baking powder

1/4

cup coconut oil, melted

1/2

cup maple syrup

1/2

cup unsweetened almond milk

4

ripe bananas

1

tsp vanilla extract

Optional: 1 cup chocolate chips or nuts (or a combination)
Instructions
Preheat oven to 350 degrees F.
Spray a 9 x 5 inch loaf pan with coconut oil or non-stick spray (bread is big so don't use a smaller sized pan)
Combine all dry ingredients and set aside.
In a separate bowl mash up bananas. Add in warm applesauce (premixed with baking powder), melted coconut oil, maple syrup, almond milk and vanilla and stir to combine.
Add wet ingredients to dry and stir until just combined.
Add in chocolate chips or nuts if desired.
Scoop batter into pan and bake for 55-60 mins.
Remove from oven and let cool for at least 30 mins before removing from pan and placing on a wire rack to cool completely.
Will keep in a sealed container on counter for up to 5 days.
Notes
Or replace brown rice flour, oat flour, tapioca flour and potato starch with 2 1/4 cups + 2 T of regular all-purpose or whole wheat flour.
*If using regular all-purpose or whole wheat omit xanthan gum
***Can also be made into 12 large muffins (bake for 25-30 mins or until top is brown and springs back)
Like this recipe? Check out some of my other baked goods!
Do you like experimenting with different types of foods or do you stick to what you know? What's your "best ever" recipe?
JOIN THE THM NEWSLETTER
Join 5000+ members of the THM Community to get access to exclusive recipes, healthy lifestyle tips and behind-the-scenes news from our team!