This Curried Thai Coconut Ramen with Shrimp is zesty and spicy with a protein boost from the shrimp and whole-grain, gluten-free noodles. A bone-warming soup recipe that comes together in 40 minutes.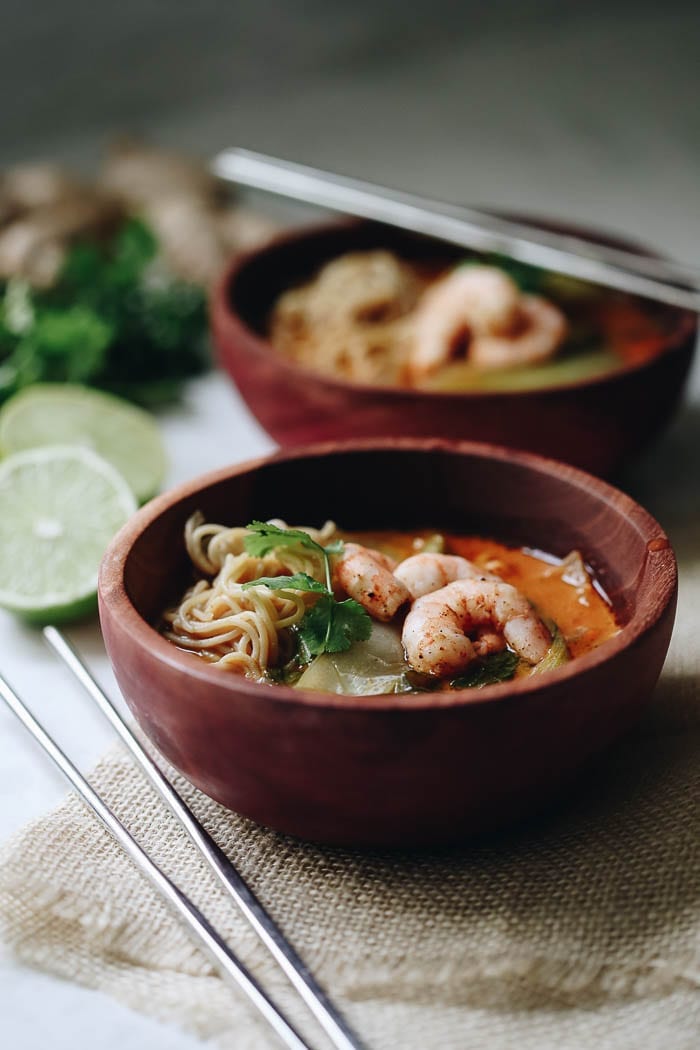 When I decided to bring back Souper Sunday, a part of me was worried that my new life in California wouldn't be as abundant in soup as it was when we were living in Toronto.
I'm a warm weather girl, through and through, but spent 27 years living on the East Coast before realizing that every year I deal with the worst seasonal depression from the cold winter weather. So in 2016 I vowed it would be our last and we took the plunge and moved to California.
What I didn't realize was that we had quite literally taken a plunge into the biggest rain puddle I could have possibly imagined. I mean California is in a drought, right? WRONG. California was in a drought…until we moved here.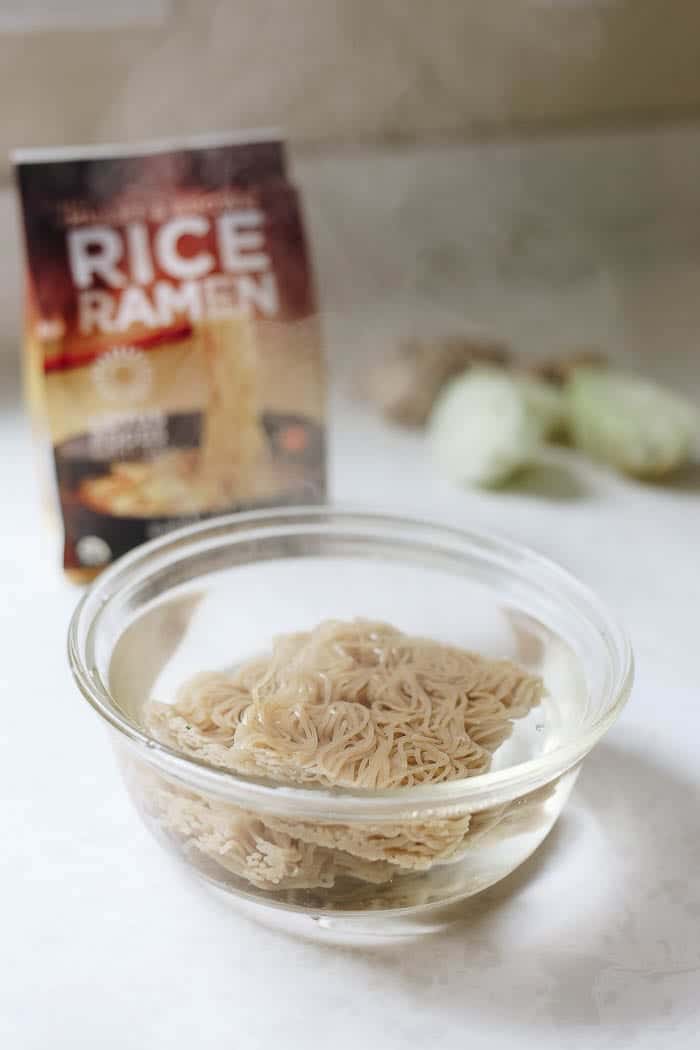 My absolute favorite ramen noodles!
Now don't get me wrong, I don't want anyone in California to suffer at my expense, but it has literally rained non-stop since we moved here. I mean almost every single day with at least one torrential downpour 1-2 days a week.
I was not adequately prepared for this.
The main things I've learned are that I absolutely hate rain, having a dog in the rain is way worse than a dog in the snow and soup is the ultimate healer of those damp and emo feelings you have on a rainy day.
Of course, all the rain has made the few days when it's not raining that much sweeter and it's been nice to cozy up with my boys and truly nest in our new home when it is down-pouring. It's also made my moody photography on point!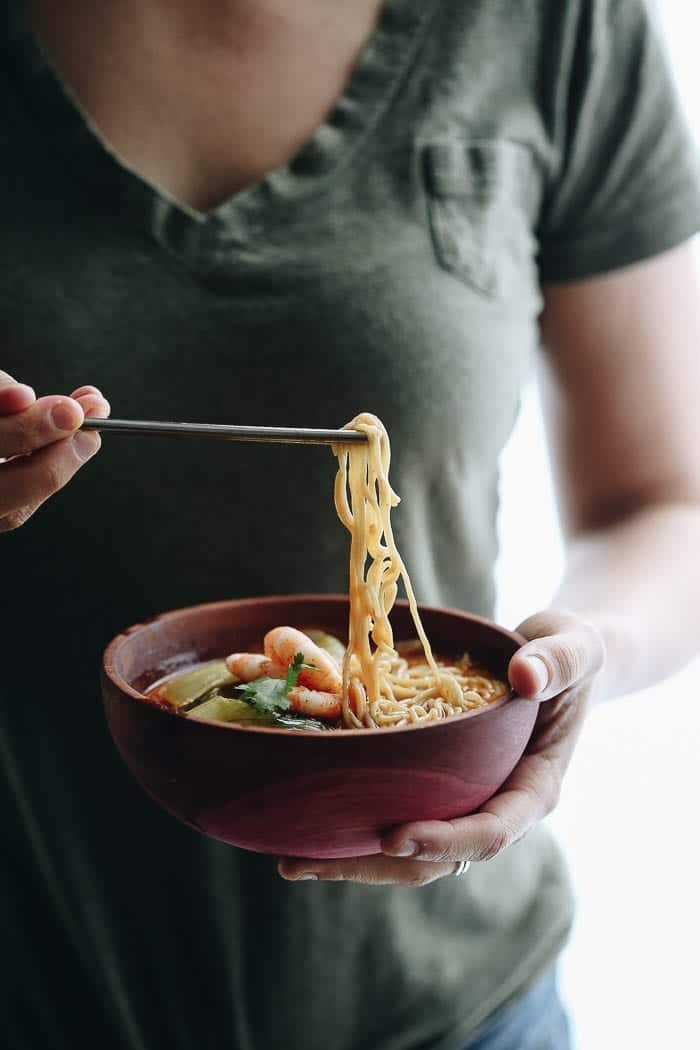 So all my fears about soup + California were completely unfounded. It feels silly to complain about it because I truly know what the depths of winter actually feels like, but if the California gods could give us a few days of sunshine in a row, I would be eternally grateful.
I'll feed you endless bowls of this Curried Thai Coconut Ramen…
Pretty please?
Ingredients
1

tbsp coconut oil

1

large yellow onion, chopped

3

garlic cloves, minced

1

inch knob of ginger, peeled and minced

2 13

oz cans full-fat coconut milk

2 1/2

tbsp red curry paste

4

cups stock (veggie or meat)

1

tbsp rice wine vinegar

2

tbsp tamari (or soy sauce)

1

tbsp coconut sugar

1

tsp sea salt

3

heads of bok choy, bottoms removed

1

lb cooked + deveined shrimp

1/2

lime

1/2

tsp chili powder

1

pack (4 sheets) of cooked ramen noodles*
toppings: cilantro, lime juice
Instructions
Place shrimp in a bowl and top with 1/2 lime and chili power. Allow to marinate while you make the soup.
Add coconut oil to a large stock pot over medium heat.
Add in onions and saute for around 3 mins or until translucent.
Add in garlic and ginger and cook for another 2 mins.
Top with coconut milk and stock, followed by curry paste, rice wine, tamari, coconut sugar and sea salt.
Bring soup to a boil and then lower to a simmer.
Once simmering, add in bok choy and cook on low for 20 mins.
Add ramen noodles to bowls and pour soup on top.
Stir in desired shrimp and top with cilantro and lime, if desired.
Will keep up to 3 days in the fridge.
Want to see what it took to create this recipe? Check out my latest YouTube Video highlighting a Week In My Life!
Are you experiencing this California rain? What's your least favorite type of weather?
JOIN THE THM NEWSLETTER
Join 5000+ members of the THM Community to get access to exclusive recipes, healthy lifestyle tips and behind-the-scenes news from our team!