A healthy vegetarian recipe for Curried Cauliflower and Lentil Soup, this dish will quickly become a lunch staple. Just whip up a pot at the beginning of the week and have healthy meals for days!
I am someone who whole-heartedly believes in Karma. I feel strongly that what you put out in the world comes back to you. Well I must have done something absolutely horrible because it appears the world has it out for me.
Namely: THERE IS A WORLDWIDE SHORTAGE OF MY TWO FAVORITE FOODS, cauliflower and avocados!
What in the world have I done to deserve this? Okay, I could think of a few situations in which I maybe didn't behave at my most optimal, but really, Guacapolypse and Cauliscarcity all in the same year? I'm living in my version of hell.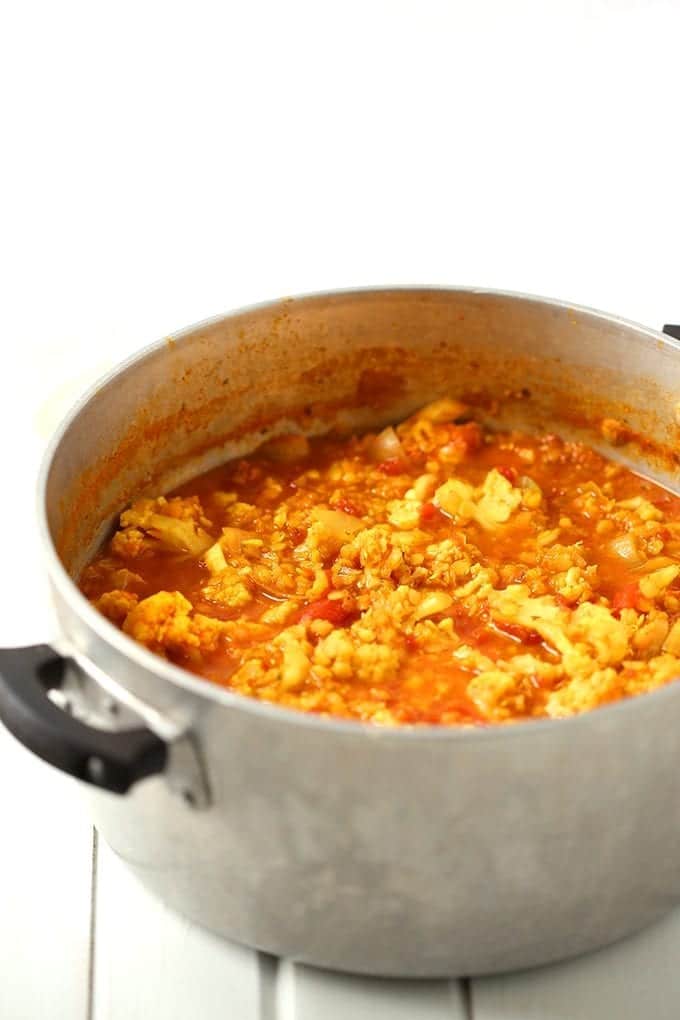 I honestly didn't notice that there was a cauliflower shortage until my friend DK pointed it out. I'm the type of person who will spend a lot of money on food. I'm all for a good deal, but the majority of my expendable income goes towards satiating my hunger. So even though I won't pay for a new piece of clothing for myself, I'll happily spend $9 on a head of organic cauliflower.
In hindsight, it did seem a little bit odd that cauliflower was so expensive, but when it's one of your favorite foods, you just don't think twice.
Apparently cold weather in areas that typically grow cauliflower is responsible for the shortage, but I'm convinced it's our current obsession with trying to replace carbs with cauliflower. I'm all for the trend, but I'd appreciate if you all refrained from buying cauliflower just so I don't have to fear that the grocery store will be out of my beloved vegetable.
Then again, I clearly have bad karma so I can pretty much guarantee I won't be finding cauliflower at the grocery store for the next year…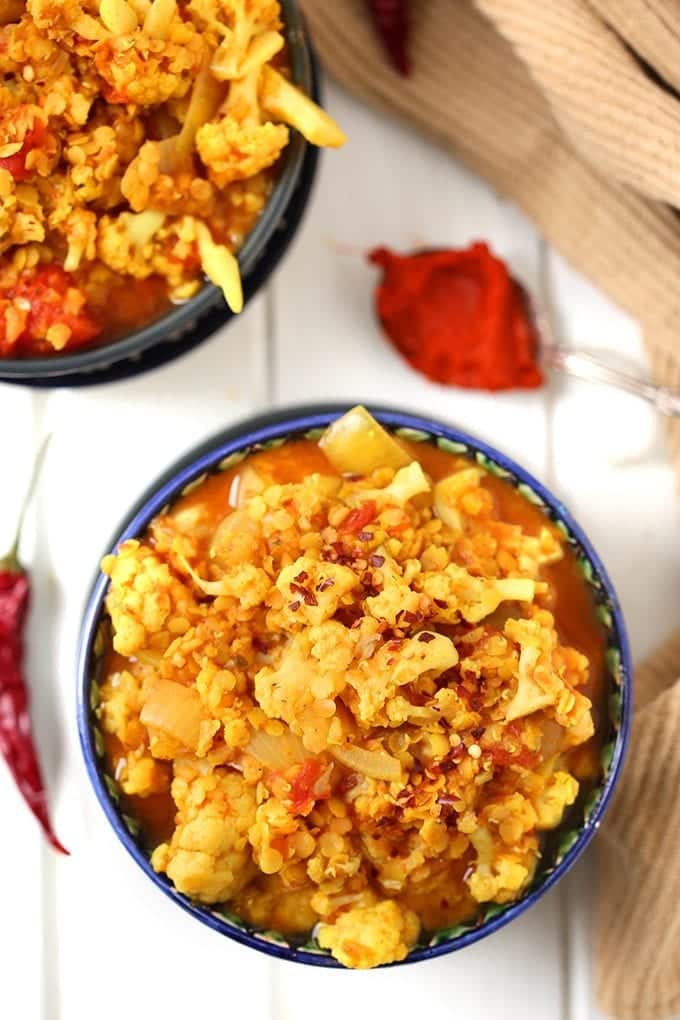 All joking aside, this may be my favorite soup so far from SOUPER SUNDAY (P.S. I have no idea why I insist on writing this in uppercase…). Being that it involves cauliflower, this is no surprise! But I've also loved hearing which soups you've been loving so far. Lots of love for the Mushroom and Wild Rice Soup and Quinoa Tortilla Soup.
I'm excited to bring you even more soups and have so many ideas that I cannot wait to share! I'd love to hear from you guys as to which soup recipes you'd like to see. So far I've been keeping the recipes vegetarian but am open to adding some meat into the mix if you're interested. Just let me know below.
Excuse me while I go repent my sins and get myself out of karma-jail.
Print
Curried Cauliflower and Lentil Soup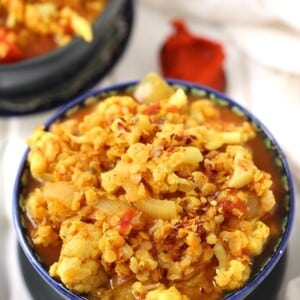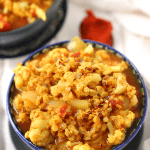 Prep Time:

10 minutes

Cook Time:

50 minutes

Total Time:

1 hour

Yield:

8 cup

s

1

x
Instructions
In a large pot add oil and bring to medium-high heat.
Saute onion for about 5 mins or until translucent.
Add in garlic and cook for another minute before adding the cauliflower.
Top cauliflower with lentils, vegetable stock, diced tomatoes, curry paste and spices.
Bring to a boil and then cover and let simmer for 20 mins.
Remove top and let simmer for additional 20 mins.
Serve warm.
Will keep in fridge for up to 1 week or months in the freezer.
Do you believe in karma? What soup recipes would you like to see?
JOIN THE THM NEWSLETTER
Join 10,000+ members of the THM Community to get access to exclusive recipes, healthy lifestyle tips and behind-the-scenes news from our team!