This healthy, low-carb cauliflower stuffing will convince your Thanksgiving guests to jump on board the cauliflower rice train, while secretly getting them to eat more veggies! Plus it's ready in under 20 minutes and can be prepared in advance.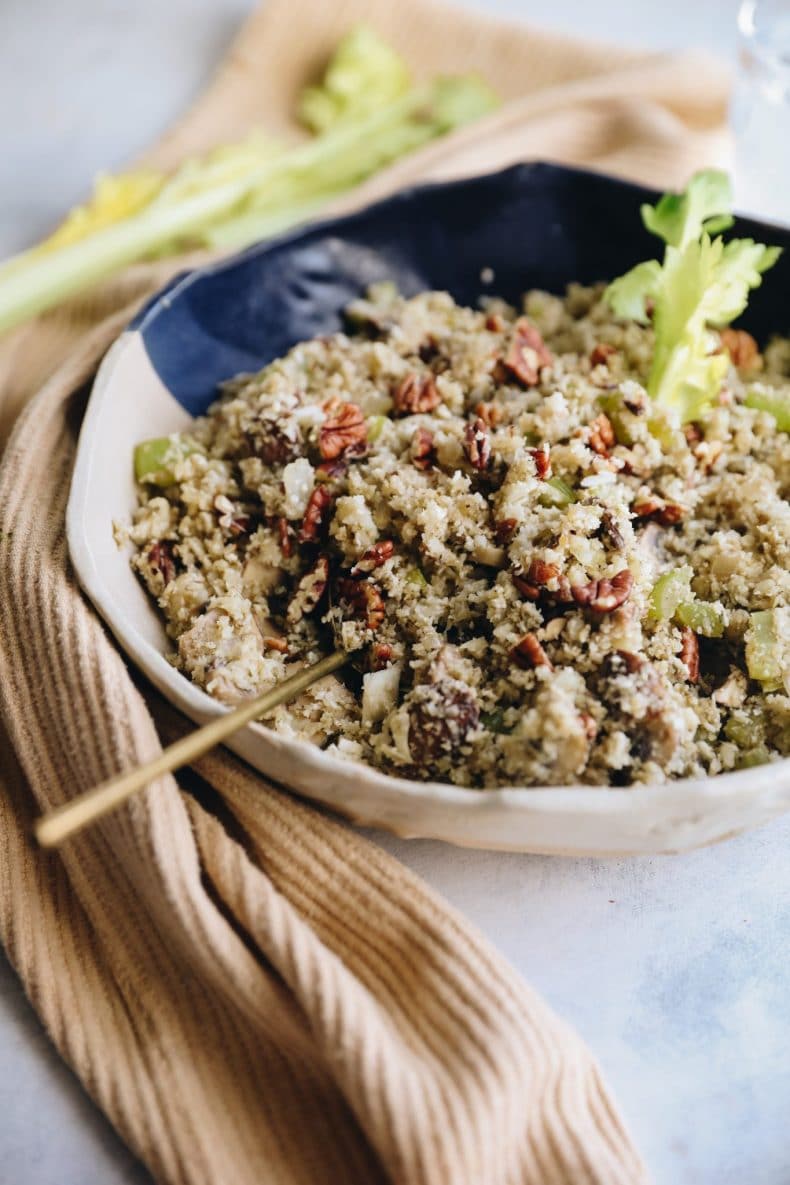 Confession: I'm definitely not low-carb…but I think you knew that already. When people ask me my favorite food I'm always quick to answer "BREAD". But seriously, bread is a food group in my life. But I also recognize that not everyone eats the same way I do (which is cool – you do you!) though I remain a fan of sneaking veggies into just about everything I cook.
These days, diets have basically become a religion and sometimes it scares me how divided we've become on the topic of food. I have my way of eating but I also acknowledge and respect that your way may look different. I think that's a big part of having a healthy relationship with food – not feeling the need to push your way of eating on anyone else. Plus – your way of eating may change and no one deserves to be scrutinized because they've changed. In fact, it's the most human thing about us.
Sitting here on a casual Tuesday eating my cauliflower stuffing feels kind of liberating. We all save stuffing for once (maybe twice) a year, since it's basically the opposite of nutritious. But hot damn is it delicious. It also feels good knowing that people who make a different choice than I do when it comes to their food decisions can also enjoy this cauliflower stuffing. And this is coming from a bread lover – so you know this stuffing is good!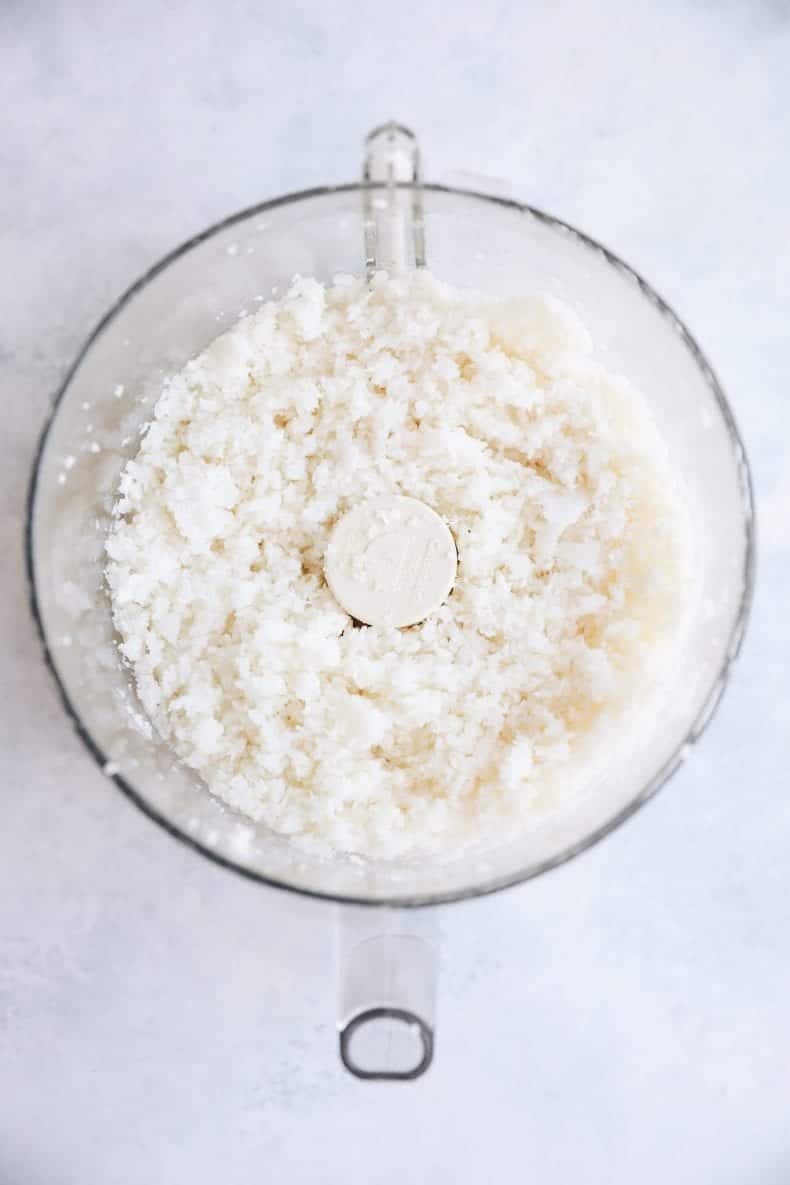 How to Make Cauliflower Rice
Have you guys ever tried cauliflower rice? It's gained a lot of popularity in the past few years and for good reason – it's delicious! Cauliflower rice is essentially as it sounds, "rice" made from cauliflower. Basically, cauliflower is cut into florets and places in a food processor to be processed into a grain-like consistency. It surprisingly has a pretty rice-like shape and is a great substitute for rice, grains or even bread like in this cauliflower stuffing. The process of making it is simple. All you need is:
A food processor (a blender can be used though I recommend blending it in smaller portions at a time or it will take a long time!)
A head of cauliflower
Cut the cauliflower into florets and place them in your food processor. Process until it has all broken down into a rice consistency. You may need to open up your food processor and mix things around to make sure you get an even mix. Just don't oven process or you'll end up with mashed cauliflower instead of riced cauliflower!
Note: many grocery stores actually sell pre-riced cauliflower so if you don't have a food processor this will be your best option.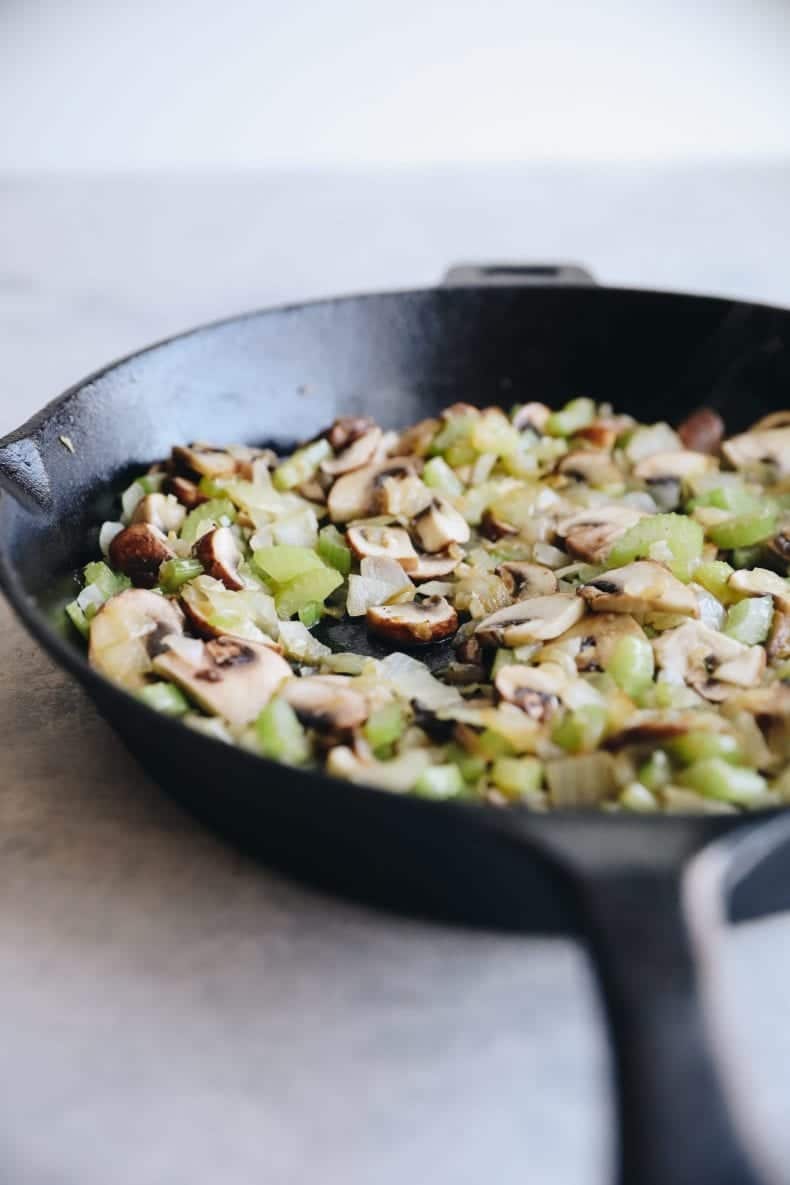 Cauliflower Stuffing | How-To
This cauliflower stuffing is jam-packed with veggies! Similar to traditional stuffing I've included the classics like cauliflower, onion, mushrooms and of course, sage. But making this recipe is actually easier than most stuffing and doesn't require any oven space! Here's how to make it:
STEP 1: Rice your cauliflower as shown above.
STEP 2: Cook your onions, celery and garlic in your pan. I prefer using cast-iron.
STEP 3: Add your mushrooms and cook for 5 more mins to allow them to "sweat" their moisture
STEP 4: Add the riced cauliflower for another 5 mins or until fully cooked.
STEP 5: Top with pecans, spices and red wine vinegar and cook for 1 more minute.
Can this cauliflower rice be made in advance?
Absolutely! Just be sure to heat it up on the stove top before serving.
*For full instructions scroll down to the recipe. Feel free to hit the "print" button so you can be extra prepared on Thanksgiving.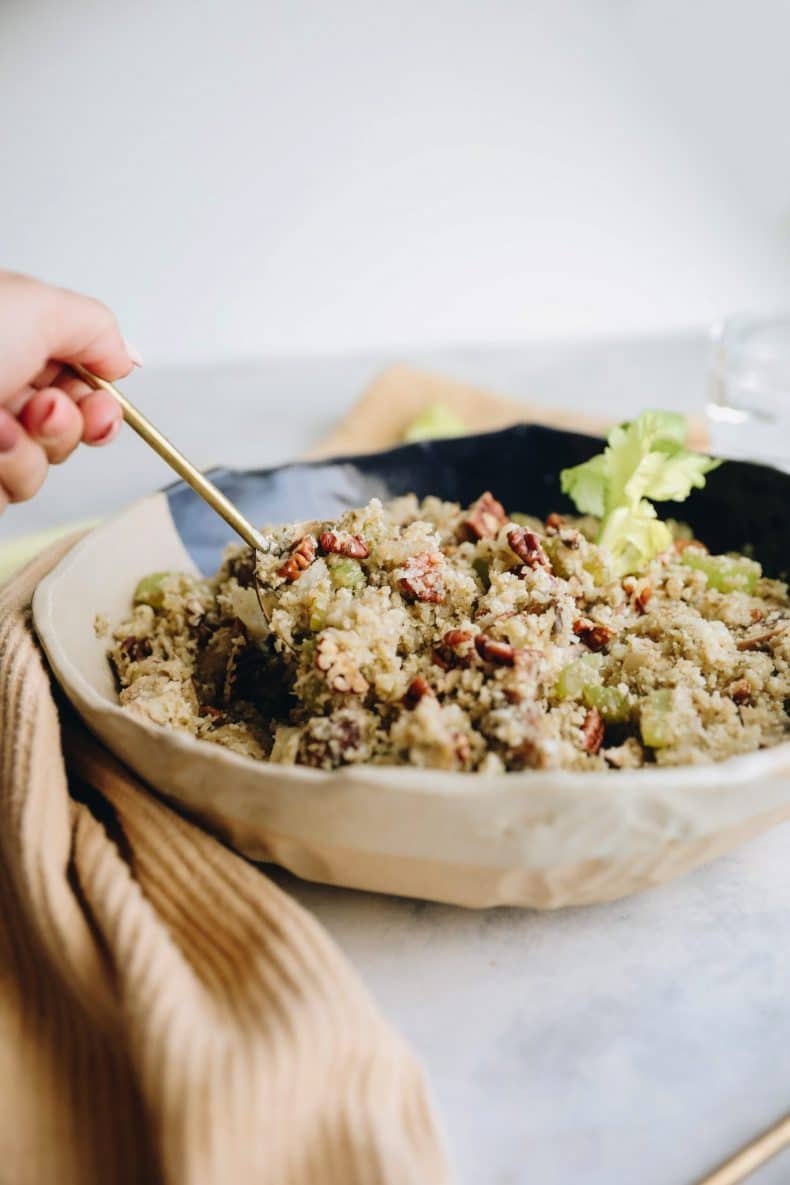 More Healthy Thanksgiving Swaps
Let's build out your Thanksgiving meal with some of these healthy Thanksgiving swaps:
Print
Cauliflower Stuffing
Author: Davida Lederle
Prep Time:

10 minutes

Cook Time:

20 minutes

Total Time:

30 minutes

Yield:

8

servings

1

x
2

medium heads of cauliflower (roughly the

6 cups

chopped)*

1 tbsp

olive oil or butter

1

large yellow onion, diced

1

garlic clove, minced

3

stalks of celery, sliced thinly

3 cups

of mushrooms, sliced

1/2 cup

pecans, roughly chopped

2 1/2 tsp

dried sage

1 tbsp

poultry seasoning

1 tsp

red wine vinegar

1 tsp

sea salt

1/4 tsp

black pepper
Instructions
Pulse cauliflower in a food processor until "rice" consistency is reached.
Add olive oil to a large skillet over medium-high heat.
Add onions, garlic and celery and sauté for 5 mins
Add mushrooms and continue cooking until they've begun to sweat (about another 5 mins)
Add in cauliflower and cook for about 5 minutes, or until fully cooked.
Top with pecans, spices and vinegar and cook for 1 min.
Serve warm or store in refrigerator for up to 5 days.
*if purchasing pre-"riced" cauliflower it comes out to roughly 4 cups
NOTE: This is not to be stuffed inside a turkey. Cook only on the stove top and serve alongside turkey.
Like this post? Here are a few other side dishes you might enjoy:
Pumpkin Cornbread Stuffing
Sweet Potato Cornbread
Acorn Squash Soup
JOIN THE THM NEWSLETTER
Join 20,000+ members of the THM Community to get access to exclusive recipes, healthy lifestyle tips and behind-the-scenes news from our team!