Have you ever tried an Iced Golden Milk Latte? Made with turmeric, ginger and cinnamon over iced, this golden beverage is a tasty and refreshing drink for summer!
Well, my friends, that fateful day has finally come. The day I swore would never happen. But alas, that day is here.
I, Davida of The Healthy Maven, have officially given up coffee.
INSERT 5457745 SHOCK FACE EMOJIS HERE.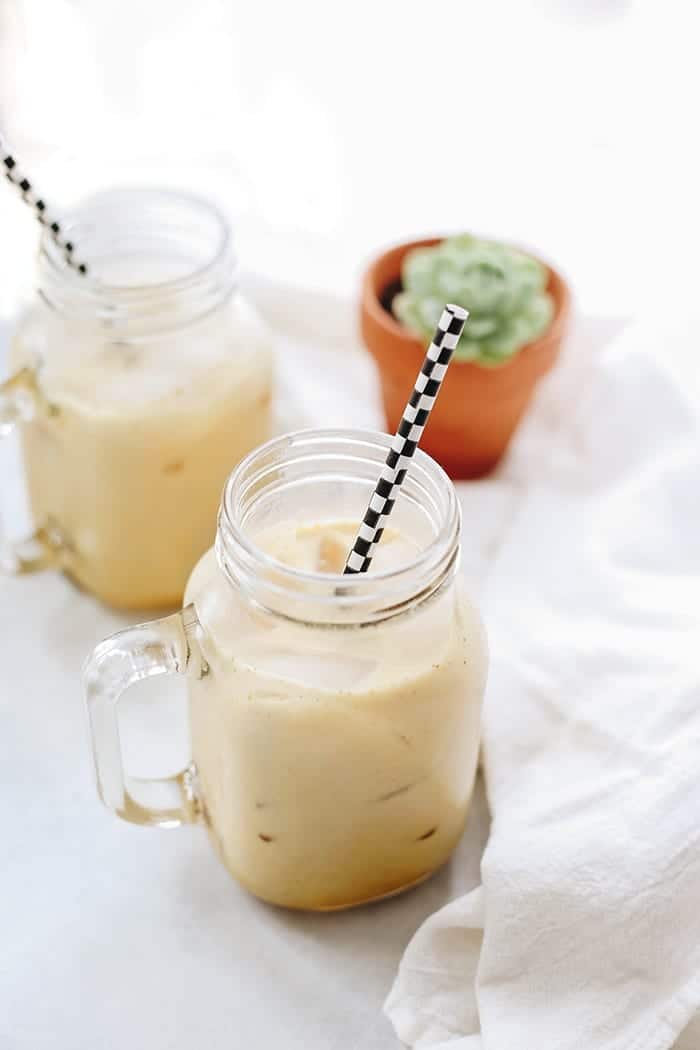 You guys know how I feel about coffee. I have many, many coffee recipes on the blog. From lattes, to cookies, to steak, there is very little I haven't tried mixing with coffee. I even include coffee in the bio I send out for interviews. It ends with "Davida is on her endless search for the perfect cup of coffee". To say that I love coffee would be an understatement.
Side note – my Dad is 100% a coffee addict and my Mom cannot stand the taste or even the smell of coffee! What can I say, I'm my father's daughter!
But as with all things in life, I'm slowly becoming my mother and ending my coffee habit is only just the beginning.
I guess I should probably explain why. We've been chatting a lot on the podcast about finding your own version of health and making choices that feel food for you. Well, lately I just haven't been feeling so great when it comes to coffee. From the physical standpoint, my digestion has been feeling totally whack (you know what I mean about post-coffee bathroom fun…) and I have this gut feeling that it may be one of the biggest culprits behind my skin issues.
On the mental side, I've been noticing that after the two hour caffeine boost subsides, I actually feel way more tired. The pros stopped outweighing the cons and I just knew it was time to make a change.
It's been two weeks now and I'm still 100% satisfied with my decision. You guys know I don't endorse taking any extreme measures with my diet, but I just don't have the ability to moderate with coffee. Possibly in the future, but for now I'm actually feeling better without it.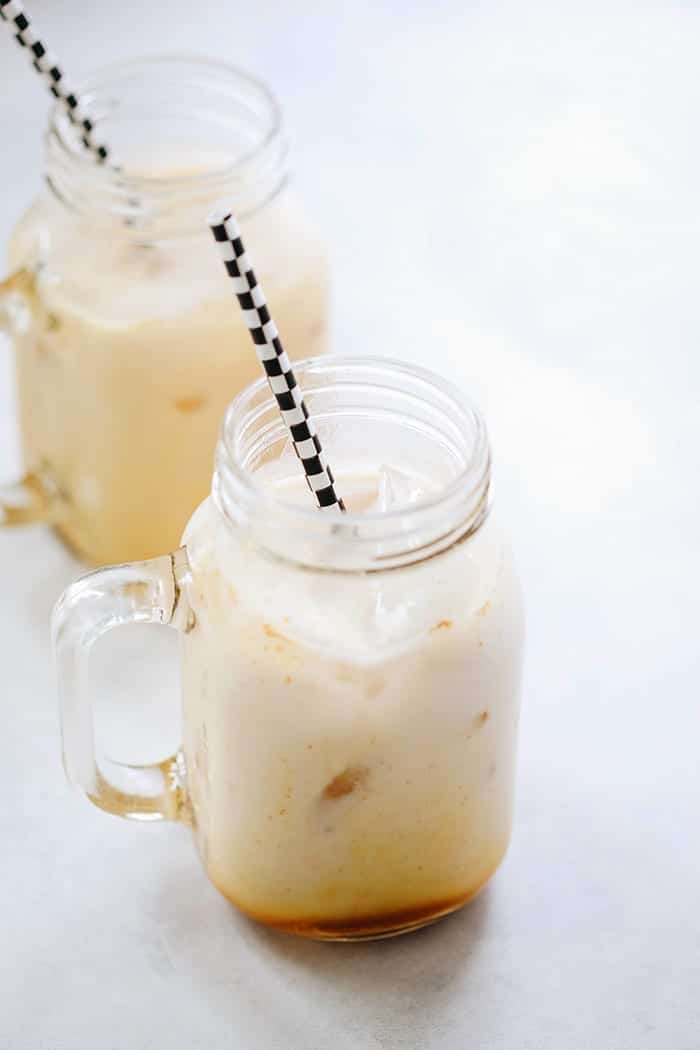 I will say that the hardest part of giving it up has been the ritual around coffee. I loved making my morning brew or going for weekend coffee with C. Replacing this habit with something else has been the key to persevering. Also, how great I feel without it has totally reinforced the behavior.
I've now replaced my morning coffee with a matcha latte, because I'm not quite ready to go totally caffeine-free and my afternoon cup with this Iced Golden Milk Latte.
Removing the acidity that I typically take in with coffee and replacing it with a less acidic option like matcha and then a dose of anti-inflammatories from the turmeric latte, has already started to show it's benefits.
First off, my digestion has already improved. I don't feel like I need to run to the bathroom like I do with coffee. And my skin has also shown benefits. I'm shocked at how quickly it's helped, but hey, I'll take it!
We'll see how long I keep this up (I'm not putting myself on a timeline or any kind of pressure), but so long as I feel like it's improving my life and not taking away from it, I think it's a habit I'll stick to. Plus it's led to delicious recipes like this golden milk latte so there are definitely worse things in the world!
Print
Iced Golden Milk Latte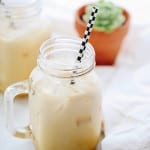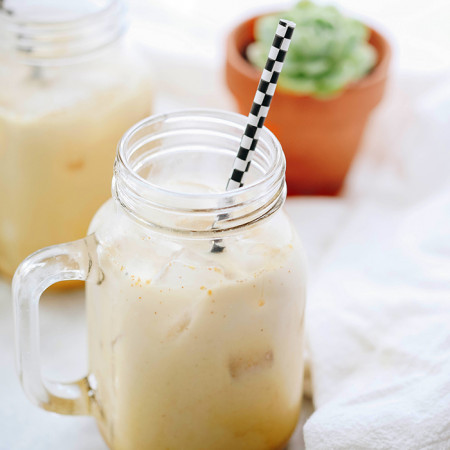 Prep Time:

5 mins

Total Time:

5 mins
Ingredients
1 tsp dried, ground turmeric*
1/4 tsp ground ginger
1/8 tsp ground cinnamon
1 tsp honey/maple syrup/preferred sweetener
pinch black pepper
1/4 cup hot water
2 cups ice
1-2 cups unsweetened non-dairy milk
Instructions
In a small cup combine spices and sweetener.
Top with hot water and whisk to combine.
Add mix to a large cup or mason jar and add in ice.
Top with desired non-dairy milk until cup is full.
Drink immediately.
Notes
*Note: I like mine strong but if you're new to turmeric I suggest decreasing to closer to a 1/2 tsp before working your way up.
Do you drink coffee? Have you ever given it up?
JOIN THE THM NEWSLETTER
Join 8000+ members of the THM Community to get access to exclusive recipes, healthy lifestyle tips and behind-the-scenes news from our team!