This Apricot Barbecue Chicken is a tangy and sweet chicken recipe for the grill that you'll find yourself eating all summer long. It's made from dried apricots rather than sugar-laden jam!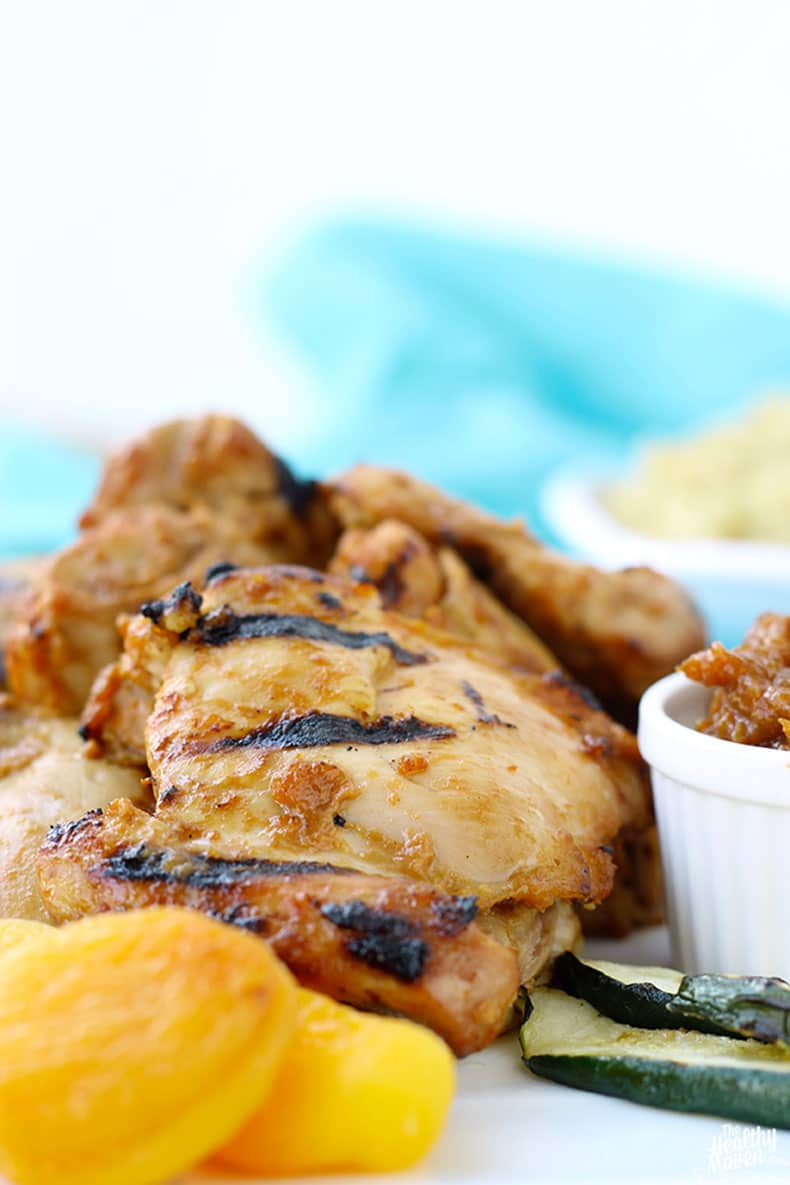 If you've never made your own barbecue sauce, promise me you'll give it a try soon! Don't get me wrong, I love store-bought BBQ sauce but there's something about making a recipe from start to finish. Plus you get to make fun flavor combinations that aren't available  in store… like this apricot barbecue chicken sauce.
The other day I was complaining to C that I was getting a little tired of my typical BBQ chicken breasts. We both agreed we needed to try something a little different. I had a bunch of dried apricots on hand and picked up some chicken thighs from the grocery store. I remembered that I developed this apricot barbecue sauce recipe 6 years ago so I decided to make it again. Sometimes I go back to old recipes and sometimes I forget about them. In this case I forgot, but I wish I hadn't!
This apricot barbecue chicken cured all of our boring chicken woes. I promise it will solve yours too!
Apricot BBQ Sauce Ingredients:
ketchup
apple cider vinegar
molasses
unsweetened, unsulfured apricots
water
dried ground mustard
onion powder
garlic powder
sea salt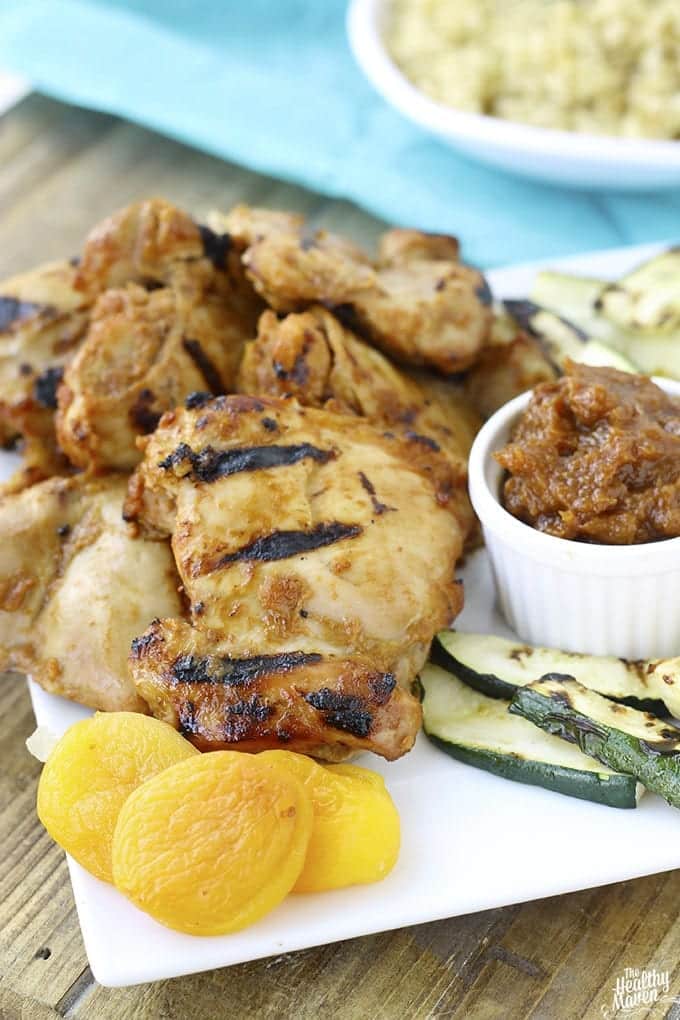 Marinating 101
In my experience, the longer you marinate, the better. Up to a certain point of course! I try to marinate overnight but if you forget to prep in advance, you can marinate for just an hour.
Place your chicken in the container you'll be using (you can use a large ziplock bag or a glass storage container) and pour the sauce over the chicken. I like to make sure every piece of protein is covered and has a little sauce massaged in. Then you just place the container in the fridge and let it sit until you're ready to cook.
I recommend removing the chicken from the fridge 10-20 minutes before grilling. Room temp chicken cooks more evenly.
Storing Marinade
You may not want to use all of the marinade for your chicken or maybe you're making the marinade in advance before cooking your chicken. If so, this marinade will last a few weeks if kept in an airtight container in the fridge. So if you want to just marinate and grill a little bit of meat at a time, you can!
A general rule of thumb is that once the marinade is on the raw meat, it has been used. Only store fresh barbecue sauce!
Print
Apricot Barbecue Chicken
1/2 cup

ketchup*

1 1/2

T apple cider vinegar

1 1/2 tsp

molasses

1/2 cup

unsweetened, unsulfured apricots**

1/4 cup

water

1 1/2 tsp

dried ground mustard

1 1/2 tsp

onion powder

1/2 teaspoon

garlic powder

1/4 teaspoon

sea salt

12

chicken thighs (or

6

chicken breasts)***
Instructions
Place apricots in a bowl and cover with water. Let soak for at least 1 hour.
Drain apricots and place in a blender or food processor and blend until a smooth paste is formed.
In a medium-sized pot add all ingredients including apricot paste.
Bring ingredients to a boil and then lower to a simmer. Simmer for 20 minutes.
Let cool slightly before marinating chicken for at least 1 hour in fridge (I left mine overnight).
Preheat grill to medium-high and lightly oil grates.
Using chicken thighs, mine cooked in about 6 minutes on each side (12 minutes total). Cook longer for larger chicken thighs or breasts.
*I like Nature's Hollow Sugar-Free Ketchup from Whole Foods.
**I buy these from Trader Joe's but any kind of dried apricots will work.
***Marinade keeps for a few weeks so no need to marinate a ton of chicken if you don't want to.
Like this post? Here are others you might enjoy:
JOIN THE THM NEWSLETTER
Join 20,000+ members of the THM Community to get access to exclusive recipes, healthy lifestyle tips and behind-the-scenes news from our team!