No, you haven't come to the wrong place I am indeed posting a recipe with bacon. I have seen the light! The light came while waiting for an early morning flight to Minneapolis. Yes, my first pieces of bacon were eaten airport-style. And it was amazing.
Let's back up a bit.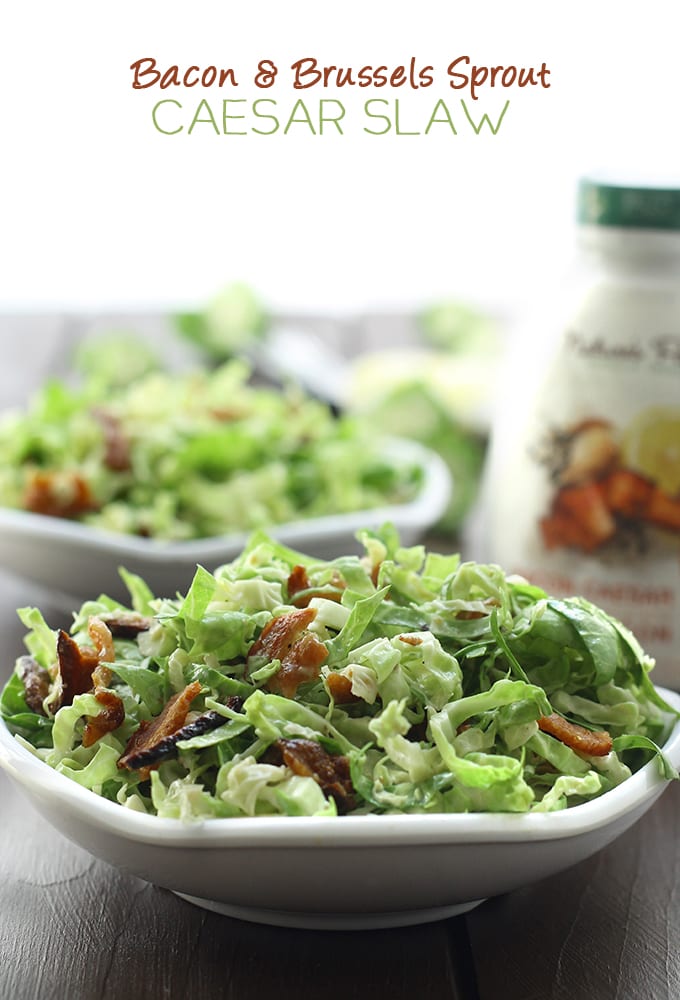 I knew this day would come. Bacon had snuck its way into some of my meals and to be honest, I didn't hate it. I quickly discovered that it wasn't the taste that I didn't like but it was the smell of cooking it. This revelation led to a week of extreme bacon consumption. I went from someone who had never ordered bacon in their life to ordering it 3 times in one week! Pandora's box had been opened…
Remember last month when I posted that Honey Mustard Veggie Frittata using Nature's Palate Honey Mustard Glaze? I am absolutely obsessed with their Honey Mustard Glaze, but they actually have two other products! One of them is a Paleo Bacon Caesar Dressing. At first I was a little anxious because of my bacon issues, but clearly this problem has been solved and I'm now drenching my salads in this dressing!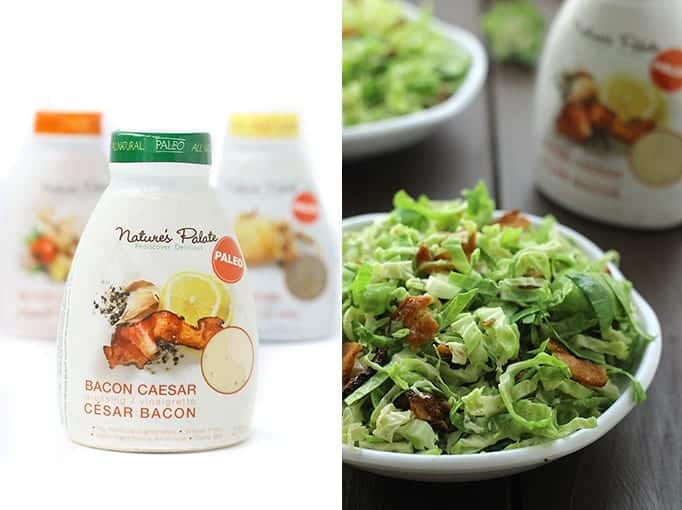 Just like their Honey Mustard Glaze, their Bacon Caesar Dressing is made from whole, REAL ingredients. No preservatives or artificial ingredients.
Olive Oil, Water, Pasteurized Egg Yolks, Red Wine Vinegar, Anchovy Fillets, Honey, Garlic, Pure Lemon Juice Concentrate, Bacon, Black pepper, Sea Salt, Dijon Mustard, Mustard Seeds, Cayenne.
Tell me you don't know every single one of these ingredients! Products like this make me smile 🙂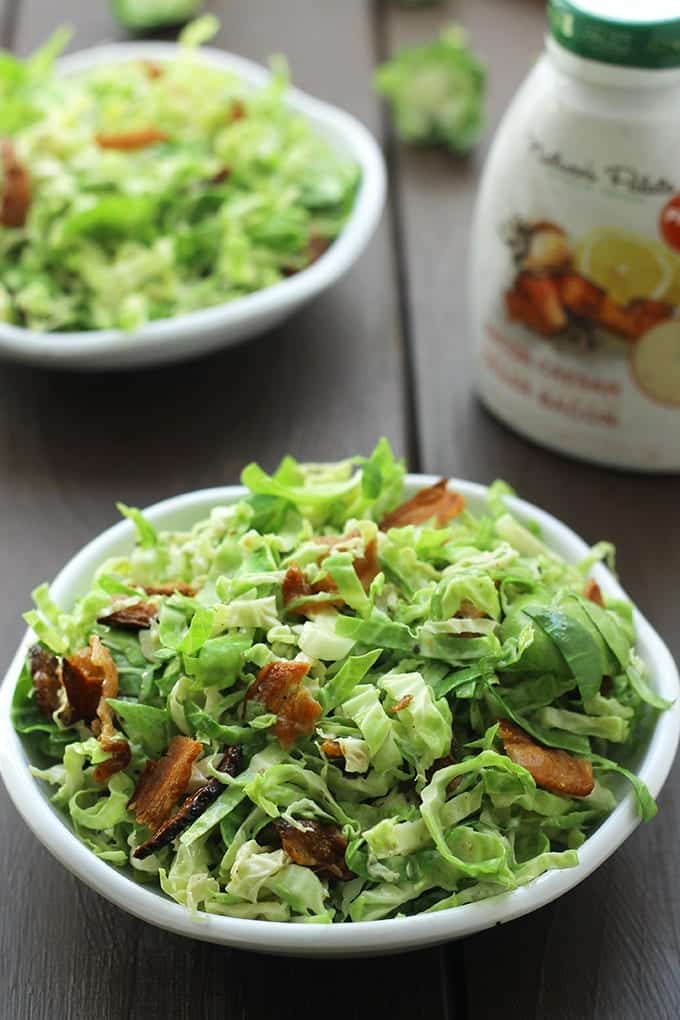 As part of my partnership with NP, I am creating recipes using their awesome glazes and dressings. The premise behind NP is to help people make quick meals from real ingredients. I decided to stick with this mentality when creating recipes for them. The Honey Mustard Veggie Frittata made a filling and delicious breakfast in under 30 minutes. I wanted to do the same for lunch, which is how this Bacon and Brussels Sprout Caesar Slaw was born.
I even sucked up my dislike of bacon grease smell for it! And despite smelling like a greasy diner for the next 3 days, it was absolutely worth it.
Print
Bacon and Brussels Sprouts Caesar Slaw
6

strips of thick cut bacon

1

lb brussels sprouts
Instructions
Cut off bottom of brussels sprouts and slice thinly from base to tip to create brussels sprout "slaw".
Cook bacon over medium heat for 3 minutes on each side. Remove from heat and place on a paper towel to soak up some of the grease.
Chop bacon into small pieces and add to a large bowl with brussels sprouts.
Top with dressing and mix until well-coated.
Serve immediately or will keep for several days in fridge.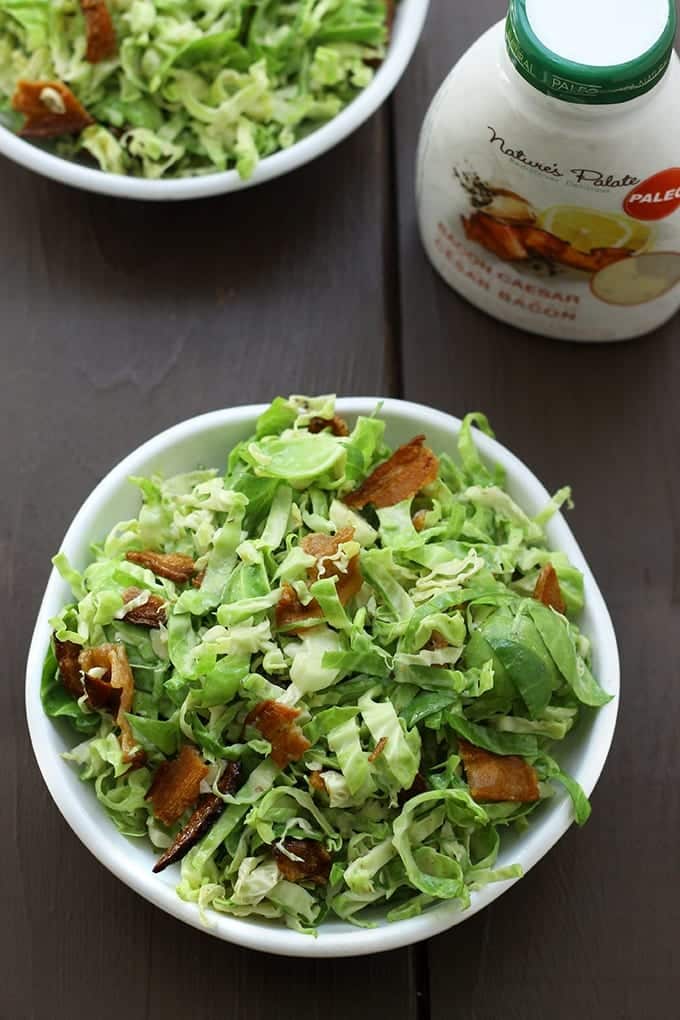 This is a sponsored post written on behalf of Nature's Palate. I was compensated but as always all opinions are my own. Thank you for supporting my dream of running THM as a business and allowing me to do what I love for a living. 
Is there a food that you used to hate that you now love? Have you tried Nature's Palate? If not, you NEED it in your life.
JOIN THE THM NEWSLETTER
Join 20,000+ members of the THM Community to get access to exclusive recipes, healthy lifestyle tips and behind-the-scenes news from our team!