Anyone remember build-a-bear? Pretty sure that and Limited Too basically sum up being a child of the 90s. You know what sums up my adulthood? Bowls. All.The.Bowls. Aka the lazy girl's dinner and really, the only true way to eat dinner. I'm sure 20 years from now I'll look back on my 20s and 30s and laugh at how many recipes I made in bowls, but hey, it works!
Now I have to be honest with you, there's no exact science to bowl recipes. That's the best part of them, there's room to experiment. I'm not gonna lie, on occasion I've created some really random bowl recipes (you know when you're so low on food you just find anything in your fridge and see what happens?!) but most of the time a quick mix of protein, carbs and veggies topped with a good dressing and some crunch ends up being delicious.
So for those of you who are feeling a little lost in the kitchen these days, I hope this bowl recipes post will help inspire you to get a little create. As a reminder, this is just a guide. There is SO much room for experimentation. But if you're just getting started this should give you some good ideas…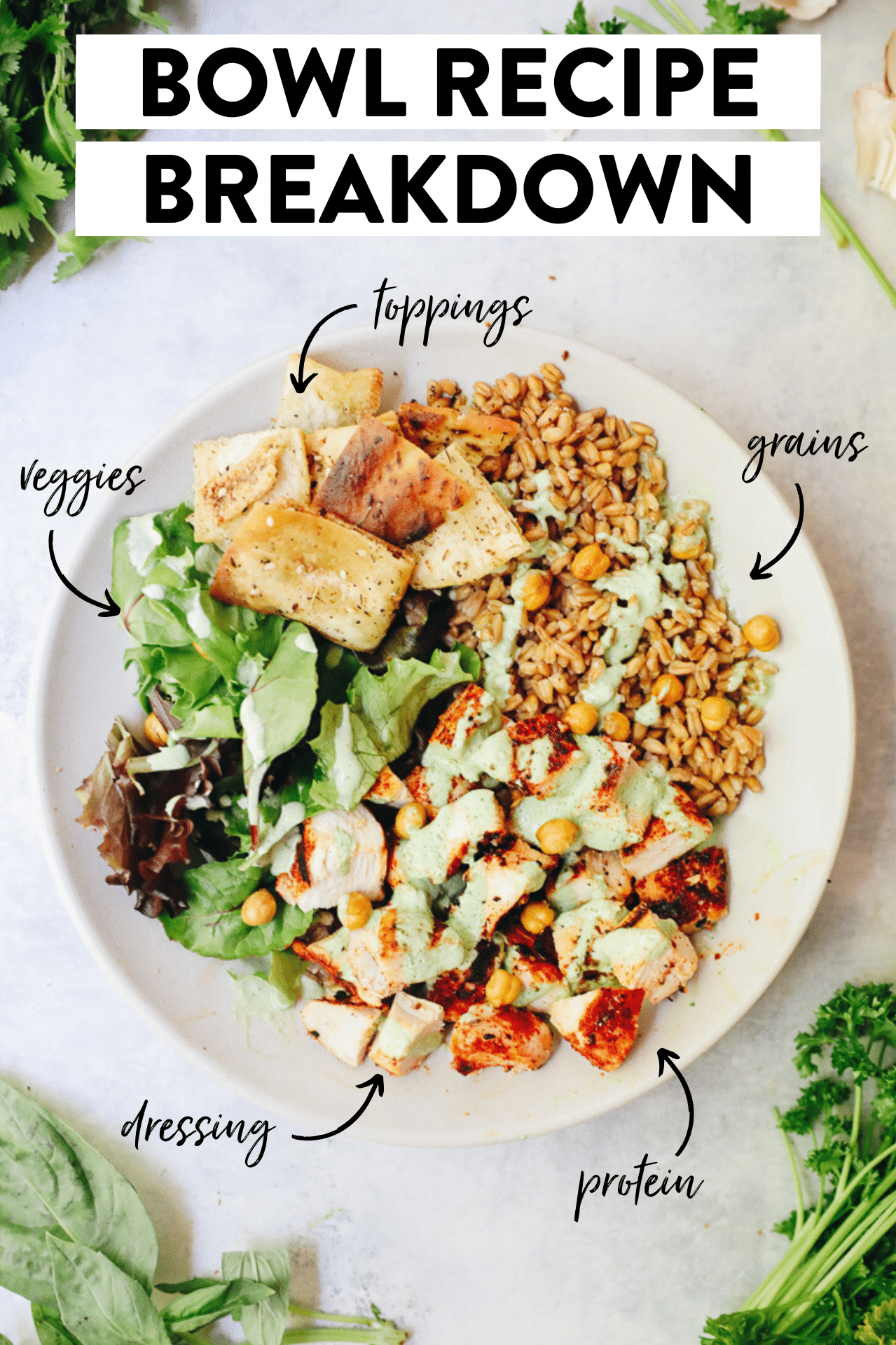 But What IS a Bowl Recipe?!
Okay, great question. Honestly, there's no real science to it but in the end it's basically a combination of a few different foods, topped with a delicious sauce or dressing and eaten (not surprisingly) from a bowl. If I were to break it down for you it's usually made up of a few different parts:
Grains – though not always, bowl recipes usually contain a base of some type of grain
Protein – this can be animal or plant-based protein
Veggies – sometimes raw and sometimes roasted, sky's the limit here!
Sauce/Dressing – THIS is where the magic happens. It isn't a bowl recipe without a delicious sauce.
Toppings – always optional but great add-on!
How to Build-A-Bowl
So now that we know the breakdown, let's chat about some options for each.
1. GRAINS
rice
quinoa
couscous
farro
orzo
bulgur wheat
freekeh
barley
legumes (also fall into protein category)
2. PROTEIN
chicken
tofu
fish/shellfish
eggs
sausage
steak
pork (bacon bits)
legumes + beans
dairy/cheese
3. VEGGIES
Any veggie will work here! Some ideas how to cook them:
raw
roasted
steamed
grilled
4. SAUCE/DRESSING
The most important part! There are infinite bowl sauces and dressings out there but I wanted to share a few bases you can work with. For more inspiration check out this post with full bowl recipe sauces and dressings.
avocado
yogurt
tahini
peanut butter
hummus
oil/vinaigrettes
miso
salsa
Note: sometimes it's a combination of dressings i.e. burrito bowls which have both guac and salsa
5. TOPPINGS
Sky's the limit here and it all really depends on the theme you're going for, but here are some suggestions:
herbs
spices (za'atar, everything bagel, chili flakes etc..)
crunch: chips, pita crumbles, crispy chickpeas, nuts, seeds
sauerkraut or kimchi
avocado or hummus (can also be used as sauce)
dried fruit for sweetness
A FULL BOWL BREAKDOWN
Of course, everyone's appetite and intake is different but I wanted to share a rough breakdown of what a bowl recipe looks like as a full meal:
1 cup cooked grains
1 cup protein
2 cups of veggies
1/4-1/2 cup of dressing depending on preference
1/4 -1/2 cup toppings
Combine all in a bowl and mix! That's it – see why I love bowls so much?!
Some Recipe Inspiration
Hopefully the above breakdown can help inspire some healthy bowl recipes, but just in case you're looking for more of a guide, here are a few to get you started: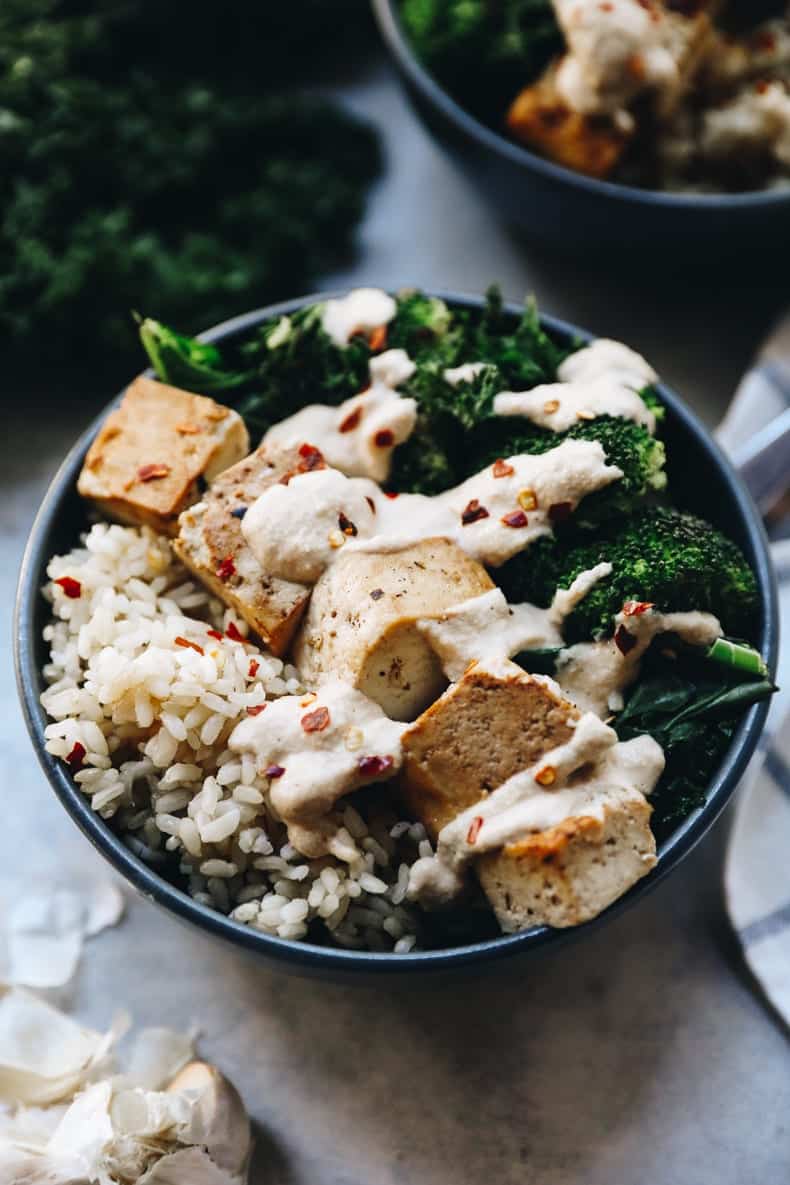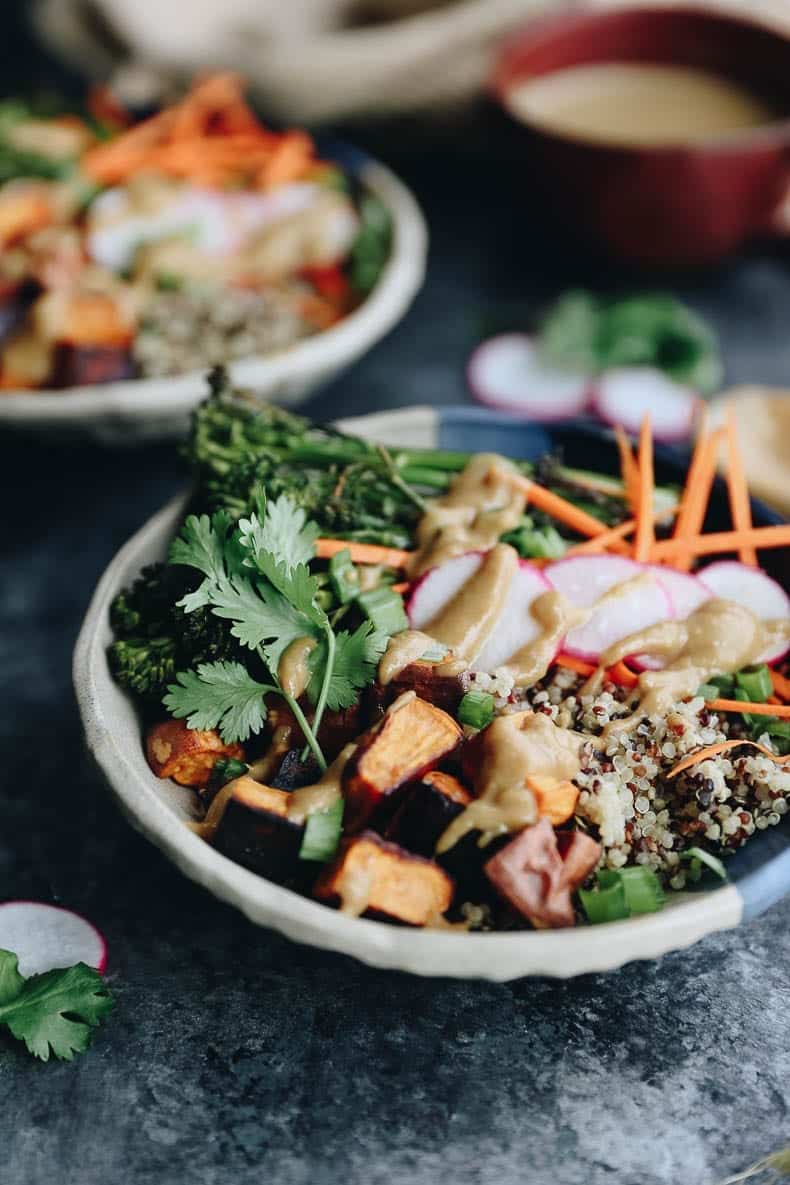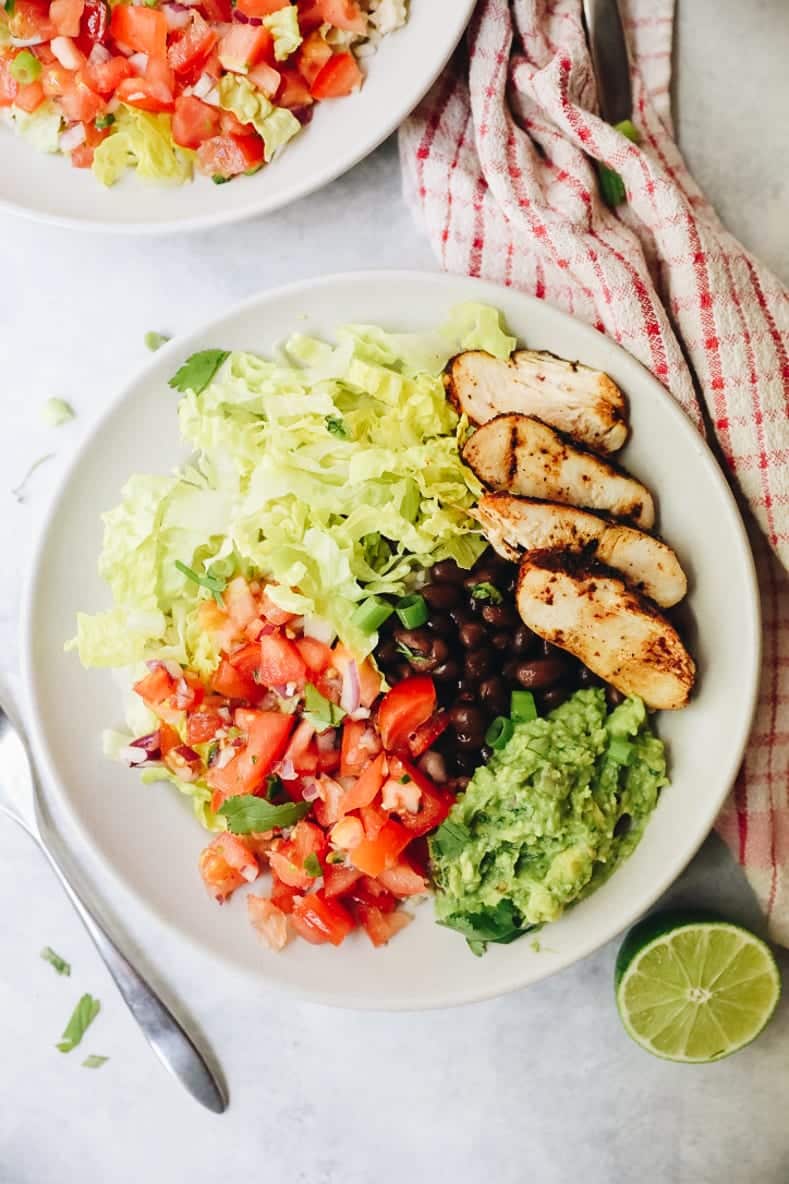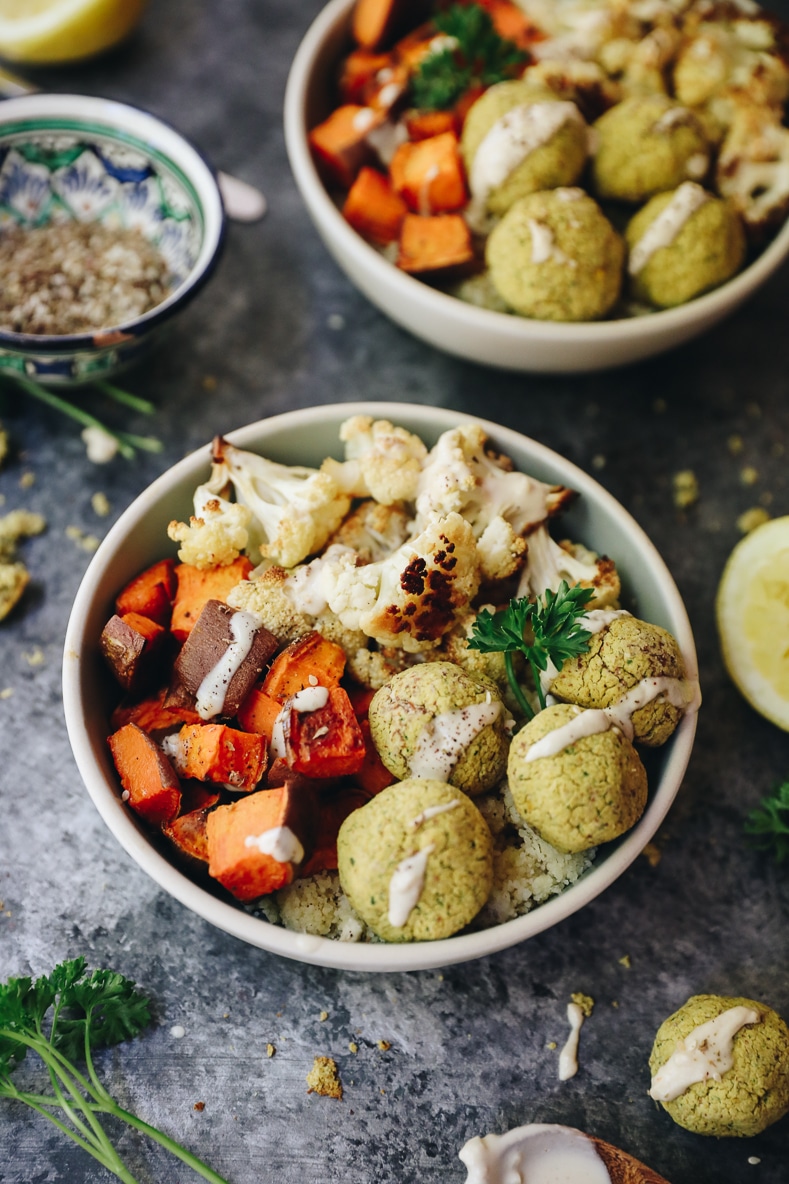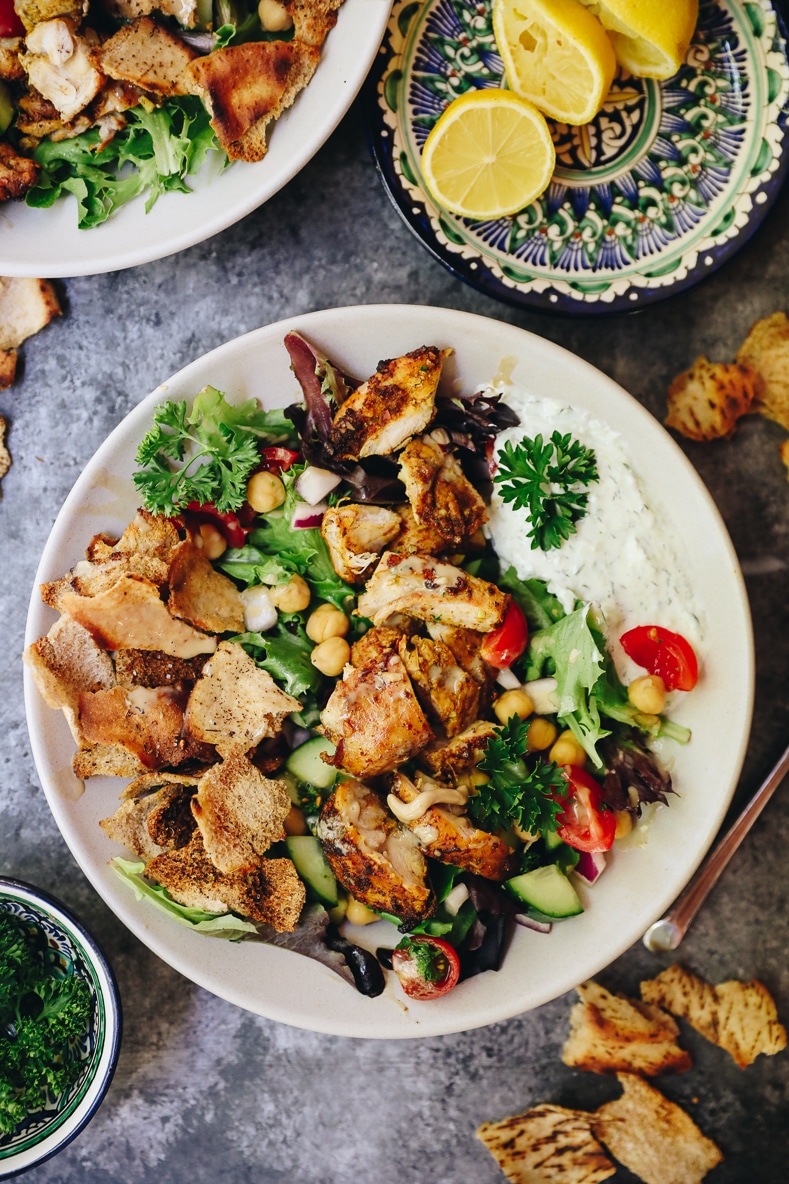 Hopefully this gets you inspired with some new bowl recipes or perhaps gets the creative juices flowing to create your own. As a reminder it all really comes down to the dressing so if you're feeling stuck in that domain, I created a post with 5 healthy bowl dressings so you can mix and match your fixings to each bowl. Enjoy!
JOIN THE THM NEWSLETTER
Join 20,000+ members of the THM Community to get access to exclusive recipes, healthy lifestyle tips and behind-the-scenes news from our team!