Spruce up your rice pilaf for fall with this Butternut Squash and Wild Rice Pilaf! A delicious whole-grain salad made with squash, almonds, cranberries and a simple balsamic vinaigrette for an easy dinner side dish or meal.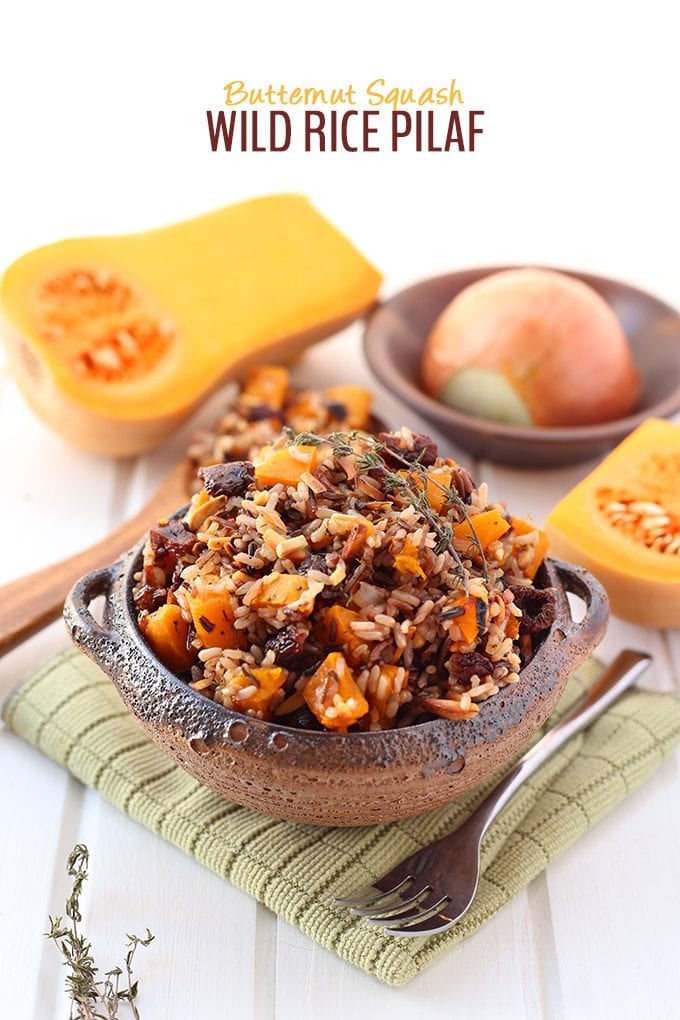 In going into this post my initial plan was to talk about how I'm trying to bring rice back as a trendy grain. This is in fact true but I currently have a dog snuggled up against me in bed proving just how difficult it is to get anything done when there's a puppy around.
As I mentioned in friday's post, C and I are fostering a dog. He's been a part of my life for several years but due to unforeseen circumstances he's living with us temporarily for the year. That being said, he's certainly made himself at home.
Meanwhile, C and I are wondering how we ever lived without a dog in the first place. Saying goodbye to him is going to be impossible.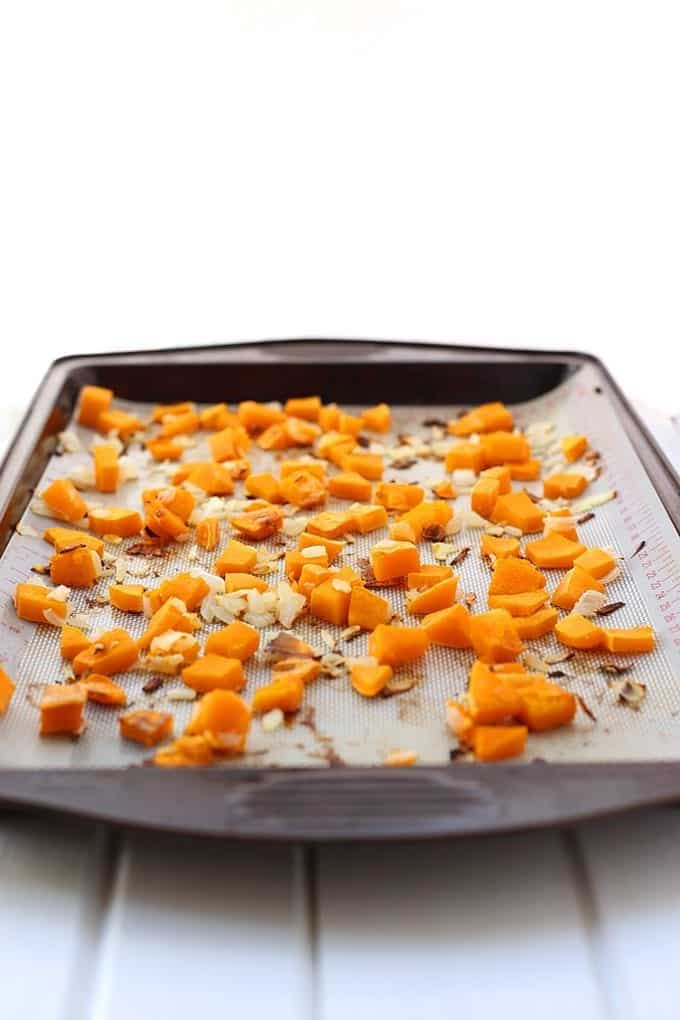 In the short time-span that we've had him, I've learned a surprising amount about myself. First of all, my voice is capable of reaching an octave I didn't even know was possible. Similarly, I have a never ending bank of nicknames from which I can pull the most surprising ideas. Bubbles, Bunny, Stinkypoo…his name is Rhett by the way.
C and I both grew up with dogs but had to share them with our families. It's a totally different idea when you are solely responsible for caring for another living thing and can't depend on your family to do it.
Exhibit a) we got home from San Diego to discover that Rhett had basically self-mutilated his paw. Off to the vet we went. From taking a dog on the subway to actually being the person who had to remember his medication regimen to standing on a street corner with a dog wearing a cone bigger than his body, I can say with certainty that being the only (I'm including C in only) caregiver for a dog is definitely a different experience.
That being said, the moment I had to figure out what to do with this injured dog wearing his Elizabethan cone I most definitely called my Mom…
Thanks Mom 😉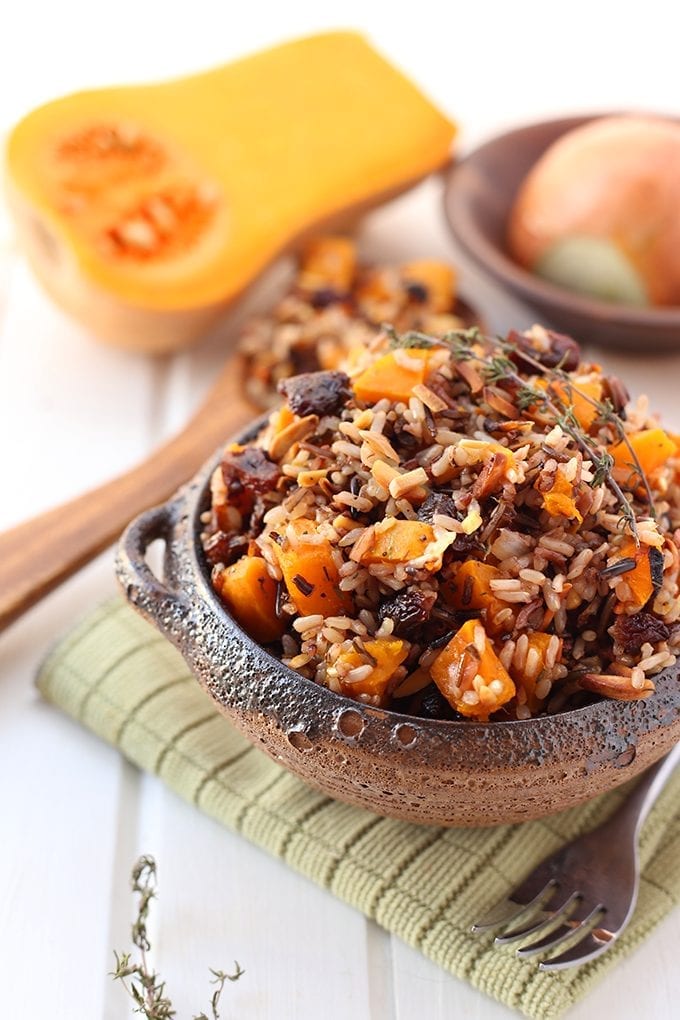 But besides the hiccups that come with owning a dog, I am completely and utterly in love with him. Suddenly everything that I seemed to think was important in life just no longer is. I'd rather cuddle with him than work and my days revolve around his walks.
I thought I would feel like I was letting go a piece of my independence gaining a dependent but I've quickly discovered that it's exactly what I need.
It may deter me from writing about this Butternut Squash and Wild Rice Pilaf, but my life is so full of unconditional love and puppy cuddles. God only knows what it'll be like once I have babies…BABIES!!!!
Print
Butternut Squash and Wild Rice Pilaf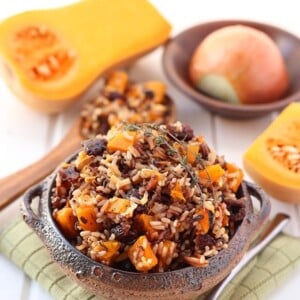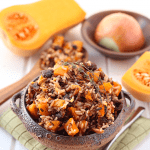 Prep Time:

20 minutes

Total Time:

1 hour

Yield:

4

servings

1

x
Scale
Ingredients
1 cup

uncooked wild rice (I like Lundberg's Wild Rice Blend)

2 cup

s Butternut squash, peeled and cubed

1/2

yellow onion, chopped

1/2 cup

slivered almonds (I like to toast mine on the stovetop until browned)

1/2 cup

dried cranberries

1

T balsamic vinegar

1 1/2 tsp

honey

1 1/2 tsp

dried thyme
salt and pepper, to taste
Instructions
Preheat oven to 400 degrees F.
Cook rice according to package instructions,
Cook onion and butternut squash in oven for 15 mins and then flip and cook for another 10 mins
Combine rice with butternut squash-onion mixture. Top with almonds, cranberries and vinegar, honey and spices.
Stir until well-combined.
Serve warm.
Are you a dog person? If you own a dog, how has your life changed?
JOIN THE THM NEWSLETTER
Join 10,000+ members of the THM Community to get access to exclusive recipes, healthy lifestyle tips and behind-the-scenes news from our team!