This homemade chocolate cherry granola recipe with dried cherries and dark chocolate makes a really tasty breakfast, while any leftovers can be enjoyed as a nutritious snack.
So apparently I don't know how to count. By apparently I mean this is not at all news to me. Despite my disorganized tendencies, I have been relatively organized throughout the ecookbook process. I have a word doc which lists all of the recipes I have made or plan to make and a tally indicating how many of these recipes I have actually made.
Before I left for Montreal the list was at 27 out of 40 recipes. Or so I thought…I decided to take the train ride to Montreal as an opportunity to edit pictures, which was when I discovered my list included 41 recipes! Odd numbers are a big no-no around here so I decided to pick one recipe to share with you guys.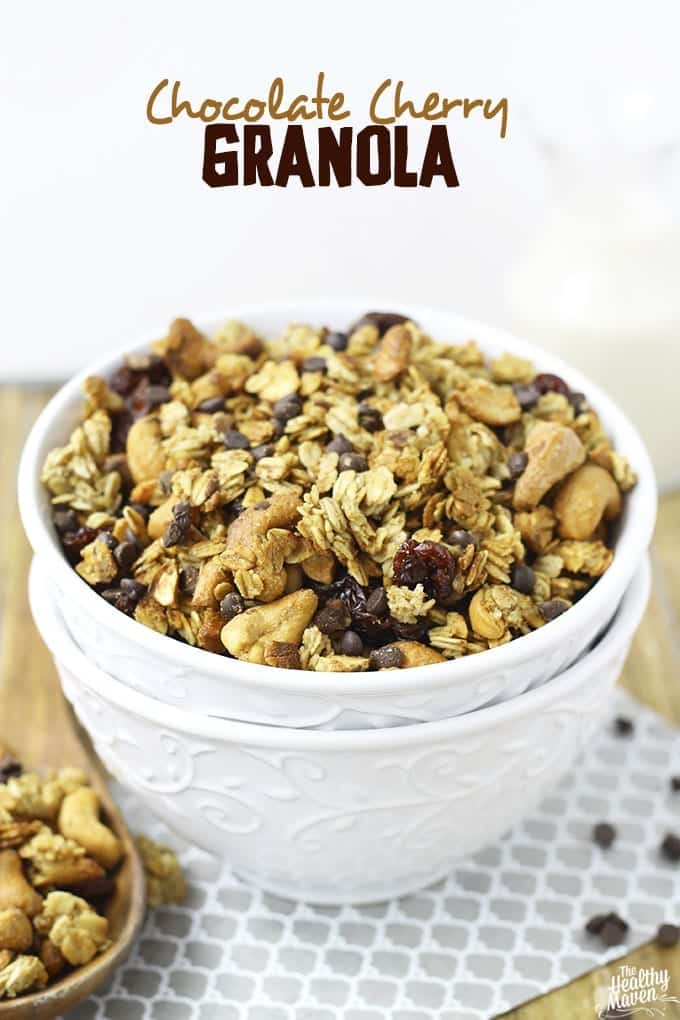 My math skills, or lack there of are somewhat notorious. I still count on my fingers and anything above that requires a calculator. I had a math tutor from 5th grade onward and I still managed to get 56% on my Calculus final in high school. Granted I also had a major case of senioritis and spent most of class surfing the web for a prom dress instead of learning about integers.
Numbers are not a language I speak. Although I do randomly speak quite a few languages. I avoided as many math classes as I could by fillng up my schedule with language courses. At one point I was taking English, French, Italian and German. Not surprisingly, this also coincided with my childhood dream to be a UN interpreter. And yes, the languages I chose to learn absolutely had to do with their cuisines…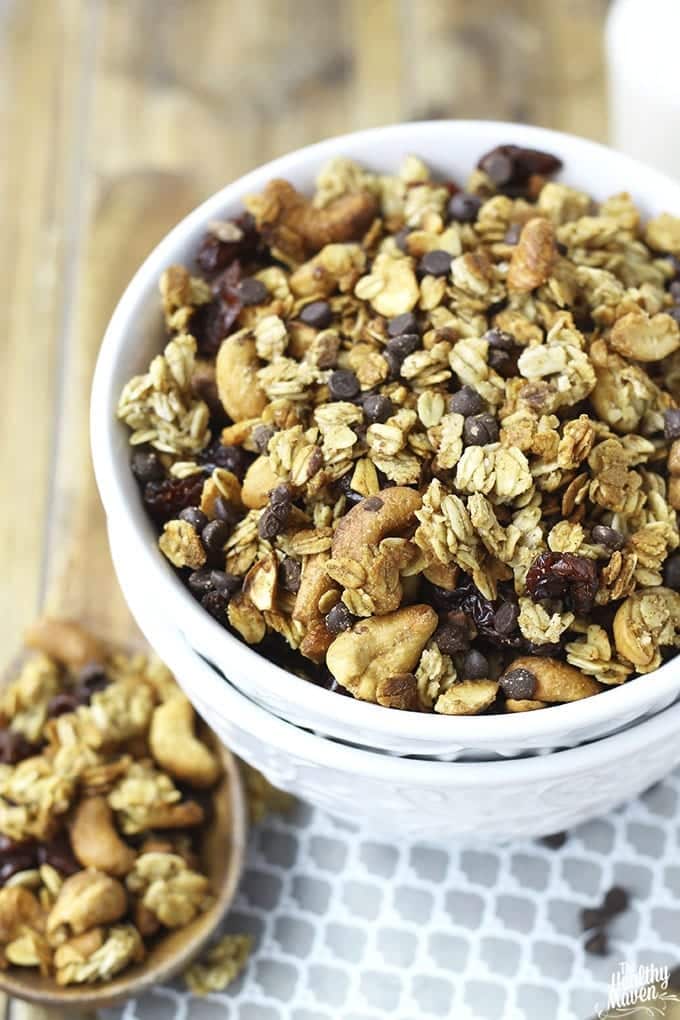 Unfortunately, all the time and energy invested in learning these languages was somewhat useless since I remember zero German, a miniscule amount of Italian and enough French for me to survive aka "moules et frites si vous plait!" I've always wondered, if I had taken more math classes might I be able to calculate the tip on my bill without pulling out my calculator?
Which brings up the whole nature vs. nurture concept. Maybe I would have turned out differently if I hadn't fought back so hard with my parent's desire for me to be an engineer. I find that highly unlikely considering it took me at least 5 minutes to count out the change to pay for the overpriced trail mix I bought on the train. But we can't discount the possibility that if baby me had been learning fractions instead of playing with dolls I might be a mathematician right now.
Lucky for you, my parents didn't have that kind of forethought so you get this Chocolate Cherry Granola recipe!
Print
Chocolate Cherry Granola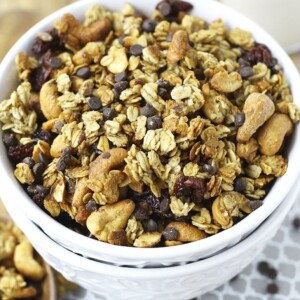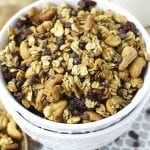 Scale
Ingredients
3 cup

s rolled oats*

2 cup

s raw cashews, chopped

1/4 cup

coconut oil, melted

1/2 cup

unsweetened applesauce

1/3 cup

honey

1 tsp

vanilla extract

1

egg white (optional)**

1 cup

dried cherries

1/2 cup

chocolate chips***
Instructions
Preheat oven to 350 degrees F.
In a large bowl combine rolled oats and cashews.
Top with coconut oil, applesauce, honey, vanilla extract and egg white. Stir until oats and cashews are well coated.
Line a large baking sheet with parchment or a silicone mat.
Spread out granola on baking sheet.
Bake for 15 mins.
Remove from oven and flip granola as well as you can.
Place back into oven and bake for another 12-15 mins.
Remove from oven and let cool completely.
Once cool add in cherries and chocolate chips.
Store in an airtight container for up to 2 weeks.
Notes
*gluten-free if necessary.
**egg white creates granola clusters but will yield a more muesli consistency if omitted.
***I use Enjoy Life dairy-free chocolate chips.
Are you good at math? Do you speak a second/third/fourth language?
JOIN THE THM NEWSLETTER
Join 10,000+ members of the THM Community to get access to exclusive recipes, healthy lifestyle tips and behind-the-scenes news from our team!