A seasonal energy ball recipe with the ultimate festive combo, these chocolate chip gingerbread energy balls, will please your tastebuds and provide you with plenty of energy!
You didn't think you were gonna get through the holiday season without an energy ball recipe, did you? You're probably expecting me to pump this whole post full of ball jokes too. But nooooo, today I'm channeling my mature 25 year old self. If you're looking for a super punny ball post, I'll refer you here.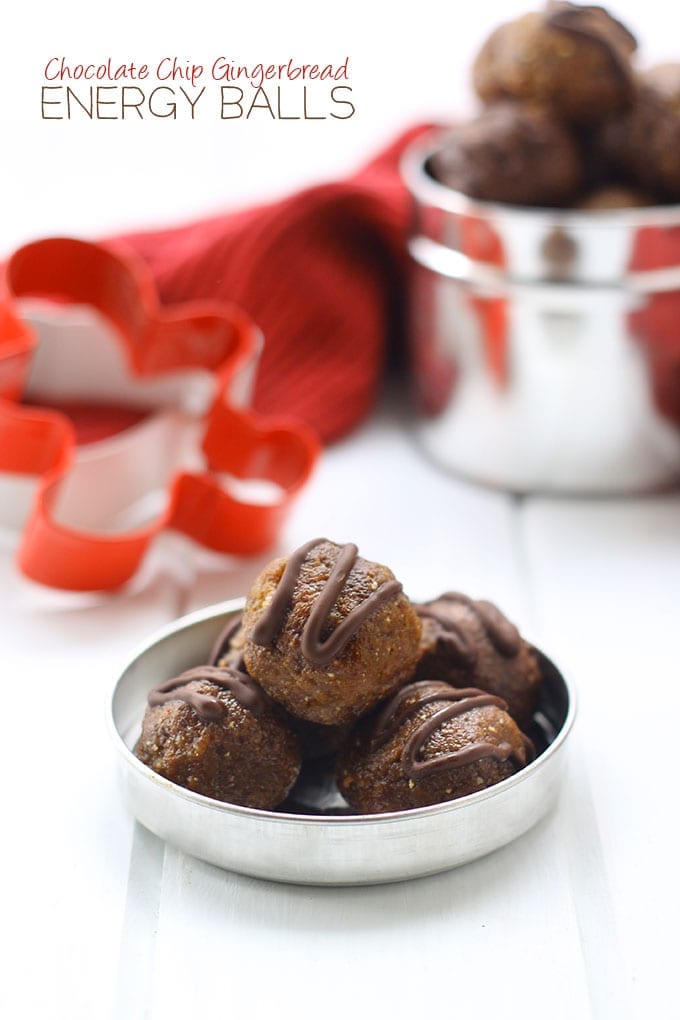 Adulting (yes I made it a verb) is seemingly more difficult than I thought. I'm right smack in the middle of my 20s and as a result life can sometimes be super confusing. A small part of me still wants to go out and make poor choices, while the other more experienced part of me knows better.
Some of my friends are getting wifed up, while others are experiencing the joys of tinder. Some of us have landed our dream job, while others are still on the hunt. It makes me wonder if we'll ever all be in the same life place or if this is just how life is?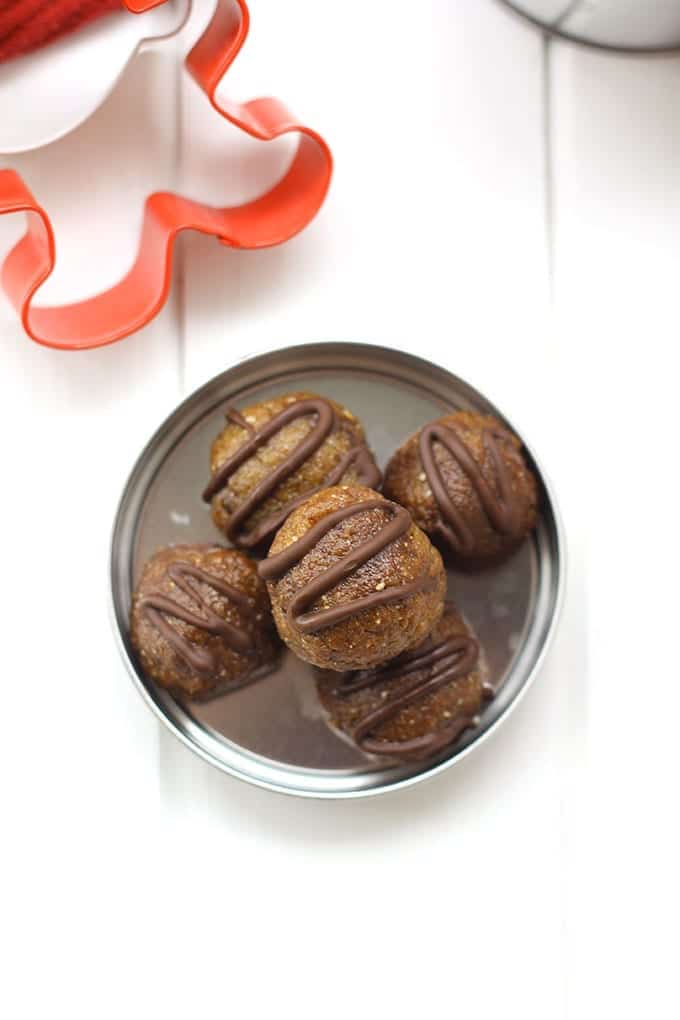 I bring this up because the other day my friend DK (no, this isn't an acronym to hide her name- we actually call her this despite the fact that I am the OG DK) was asking what she should serve at her housewarming party. 5 years ago this would have been called a pre-drink and there would be no food served unless chasers for booze count. And I suspect that 5 years from now, we would be appalled if nothing was served but won't have time to care since we have to run home to relieve our babysitters.
Are we posers if we serve cheese plates and cocktails? Should I bring a vodka watermelon? What in the world do people expect at 25? Don't answer that.
I know, I know, age is just a number. But turning 25 was the first time I felt old. I don't mean old in the conventional sense, but more in the "my number actually reflects the fact that I am a responsible, self-sufficient adult" kind of sense. Every year before 25 I found it a lot easier to rationalize being dumb and selfish. Now I can't get away with being a cheap tipper and using a student-status as an excuse, because I am SO not a student anymore.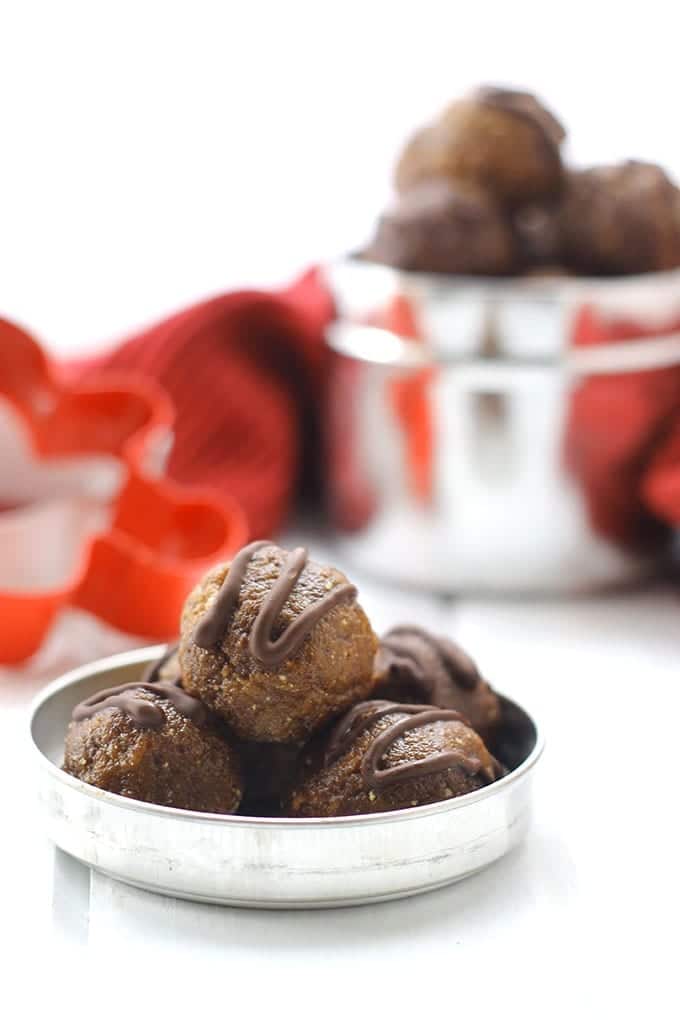 The problem is, I don't quite know how to be that responsible, self-sufficient adult I've conceived in my head. I get that these things take practice and that one day I will master the perfect cheese plate (or so I hope!), but I just kind of wish I had it all figured out now.
For now, I'll pop some of these Chocolate Chip Gingerbread Energy Balls in my mouth and pretend like I'm not giggling like a little girl at this statement
.
Print
Chocolate Chip Gingerbread Energy Balls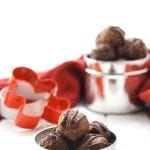 Prep Time:

5 minutes

Total Time:

20 minutes

Yield:

15 balls
Ingredients
1 cup raw cashews
1 cup medjool dates, pitted*
1 T blackstrap molasses
1 1/2 tsp dried ginger
1/4 tsp cinnamon
1/4 tsp nutmeg
1/4 tsp sea salt
3 T dairy-free chocolate chips (I use Enjoy Life)
Instructions
Add cashews and dates to a food processor or very high-powered blender and process on high.
Once broken up into pea-sized bits, add in molasses and spices but not the chocolate chips.
Process until everything is completely broken up and holds together when formed into a ball. This should take around 3-5 minutes.
Stir in chocolate chips (do not process them in).**
Roll into 15 small balls and place on a plate or in a container in the freezer for 15 minutes.
Remove from freezer and store in the fridge for several weeks.
Notes
*Make sure they are sticky. If not, soak in hot water for 20 minutes before using. **If you prefer to drizzle with chocolate rather than stir it in, melt chocolate in microwave for 30 seconds and then add to a small-tip piping bag or ziploc bag with a small hole cut in the corner. Drizzle over each ball and then place back into freezer for another 5 minutes to harden.
Do you feel your age? Should I just stick to making ball jokes?
JOIN THE THM NEWSLETTER
Join 8000+ members of the THM Community to get access to exclusive recipes, healthy lifestyle tips and behind-the-scenes news from our team!