With every post I try to include a story or an anectdote about my life that in some strange, twisted way connects to the recipe/workout of the day. A few weeks ago Tara mentioned that you're supposed to write your posts as though you're writing to your sister. Since I'm pretty sure neither one of my sisters reads my blog and my guess is that most of you scroll over my nonsense and get straight to the good stuff, I'm clearly doing that right. I don't blame you, my writing is not particularly thrilling.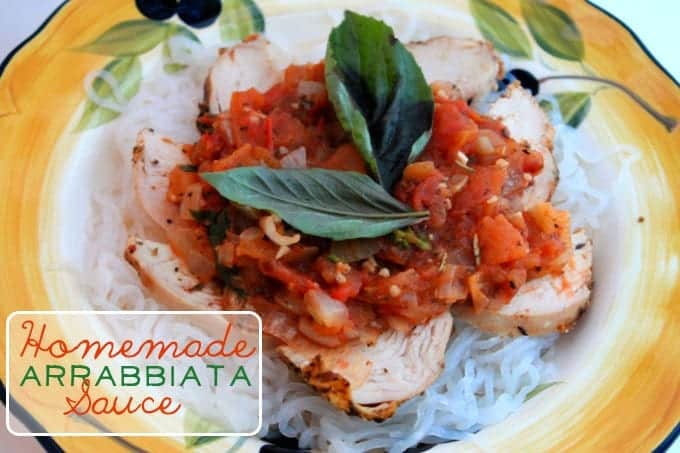 Some days I have a lot of my mind and I'm actually proud of my final product. Other days (like today) I'm just filling space between pictures. I just haven't had much to say lately. Well that's a lie. I always have a lot to say but nothing that wouldn't turn my blog into a straight venting session. I save that stuff for my coworkers.
Instead I'll just leave you with this recipe. Surprisingly, this is an easy recipe that can be on your table in under 30 minutes. I say surprisingly since we all know how complicated my recipes can be. I used to love my Prego for pasta dishes, but then I discovered how much sugar is in canned pasta sauce and realized I could probably make it better (and healthier!) myself. I topped this delicious sauce on a package of Shiratki Yam noodles which I would NOT recommend. They don't taste like anything and don't keep you full. Just make yourself a good ole' bowl of pasta and wolf this recipe down.
Homemade Arrabbiata Sauce
Prep Time: 10 mins
Cook Time: 20-30 mins
Keywords: cook entree gluten-free sugar-free vegan Italian
Ingredients (Yields: 4 servings)
1/2 tablespoon extra-virgin olive oil
1 large yellow onions
4 large garlic cloves, minced
5 large tomatoes, seeded and diced
1 T italian seasoning
1 tsp red pepper flakes (less if you don't want it so hot)
1/4 cup fresh basil leaves, minced (optional)
1/2 teaspoon sea salt, or more to taste
Freshly ground black pepper, to taste
Instructions
1. Add olive oil, onions and garlic to a medium sauce pan and cook on medium for 5 mins or until onions are translucent.
2. Add tomatoes and increase temperature to medium-high until mixture starts to boil.
3. Once boiling reduce heat to medium and let simmer, uncovered for 20 mins.
4. Add in italian seasoning, red pepper flakes, salt and pepper and basil if desired.
5. Continue simmering until preferred consistency is reached.
6. Top on your favourite pasta or pizza.
Since I don't have much to say, tell me what's been on your mind! What's your favourite base for tomato sauce? 
JOIN THE THM NEWSLETTER
Join 10,000+ members of the THM Community to get access to exclusive recipes, healthy lifestyle tips and behind-the-scenes news from our team!