Sweet cherries topped with a toasted oat crumble make this gluten-free cherry crumble the perfect summer dessert! Enjoy this healthy dessert all summer long.
Sometimes I get nervous to tell people I'm a blogger. It's not that I'm ashamed of it, trust me I am not, it's more that I find myself in situations that completely contradict the fact that I am a HEALTHY food blogger. Don't get me wrong, health is a priority of mine and I make a descent attempt at it, but I'm human and occasionally find myself eating cupcakes for dinner or drinking wine from the bottle #classy.
Now before you you get your panties in a bunch, these situations occur in a much lower ratio compared to the past. There's a reason I didn't start a healthy food blog in college. Unless oreo stuffed chocolate chip cookies count as health food…Thankfully you're now more likely to find me stuffing my face with a bowl of zoodles than KD. However, this past weekend, this was not the case.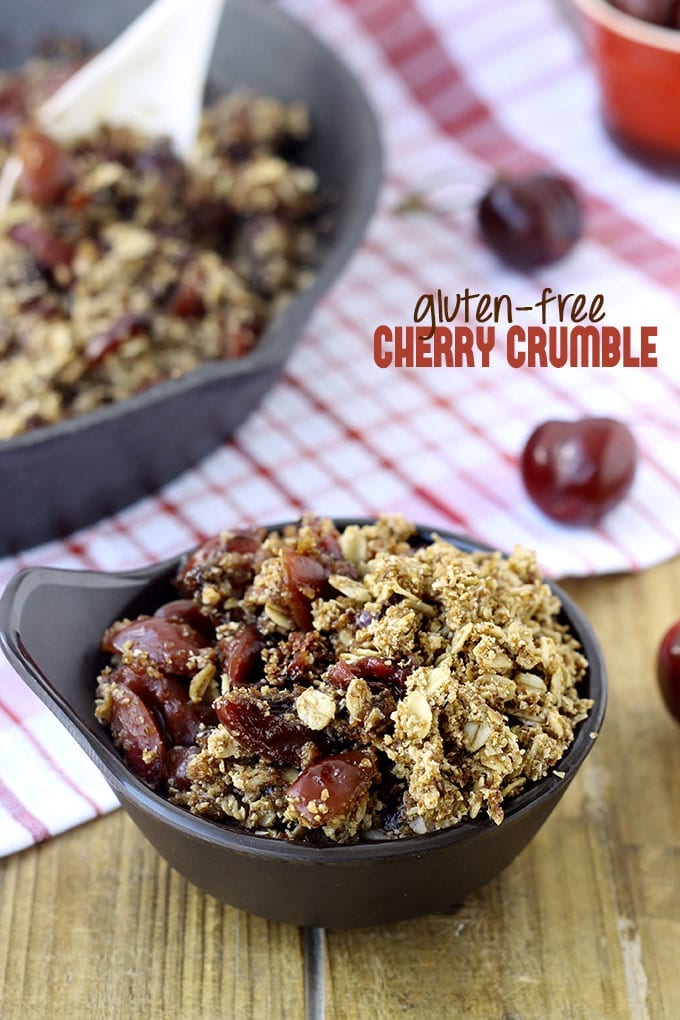 It started on Thursday after C and I opted to eat in the Eaton Centre Mall food court instead of eating the fresh trout, sweet potatoes and asparagus I had waiting at home. I just wasn't in the mood for cooking. Fast forward to Friday when we ordered a small tapas plate as appetizers at The Spoke Club and our entree was ice cream.
After feeling completely sloth-like, we opted to go hiking outside Toronto on Saturday, which then resulted in feeling worthy of burgers and fries at 4:00 PM. And since our eating schedule was entirely thrown off, the logical thing to do was to order 4 cupcakes, 1 brownie and 1 cookie from a bakery in Burlington to bring home for a late night dinner. Granted they were gluten-free and vegan so I suppose that makes them marginally healthy.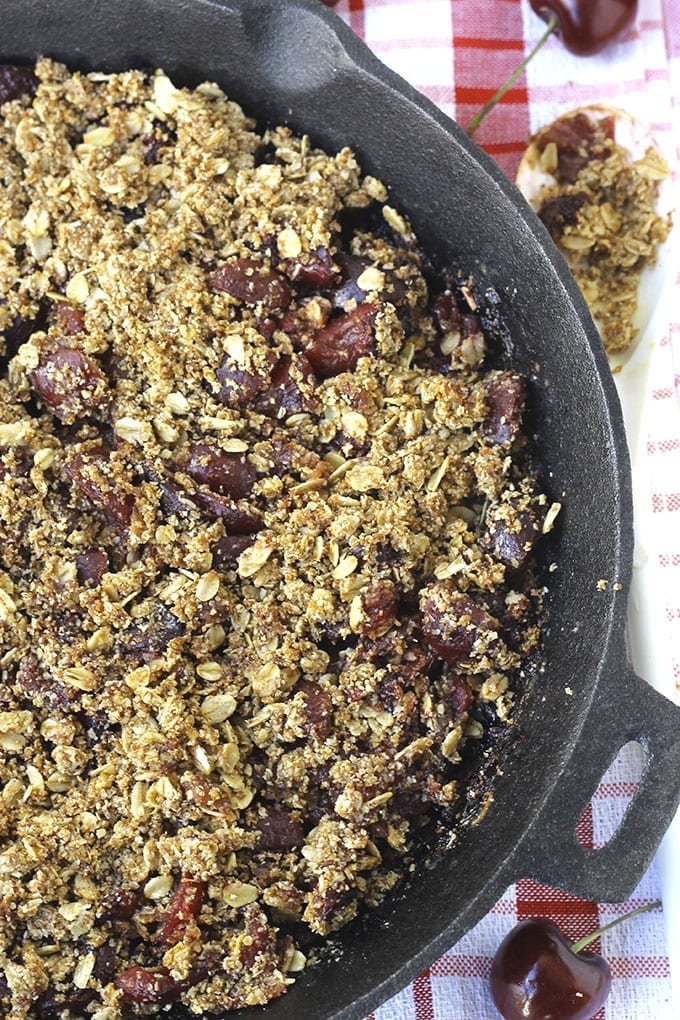 After sleeping in until 11:00 AM on Sunday I then woke up and made this Gluten-Free Cherry Crumble for breakfast/brunch. Thank goodness I didn't have ice cream in the house otherwise I'm 90% certain I would have been kicked out of the healthy food blogger club. In my delirious sugar-coma state I managed to convince myself that the time I spent pitting cherries was the equivalent of a workout and therefore counteracted all of the sweets.
So if someone had asked me what I did for a living on Sunday I might have had to make something up. In hindsight I probably could have swapped in some veggies or at least eaten a carrot or two but YOLO. I can't promise you that I didn't eat this crumble for breakfast on Monday but I did follow it up with a complete overhaul of the produce section at the grocery store so I'm feeling slightly less shameful now.
Print
Gluten-Free Cherry Crumble
Prep Time:

15 minutes

Cook Time:

45 minutes

Total Time:

1 hour
Ingredients
5 cups chopped, pitted cherries
1/4 cup coconut palm sugar*
2 T cornstarch
For Crumble Topping:
1 cup gluten-free oat flour**
1/2 cup gluten-free rolled oats
1/3 cup coconut palm sugar*
1/4 tsp cinnamon
pinch of sea salt
1/4 cup cold coconut oil***
Instructions
Preheat oven to 375 degrees F.
In a large bowl combine cherries, coconut palm sugar and cornstarch.
Add to a large baking dish (I used a 10 inch cast iron skillet)
In a separate bowl combine oat flour, rolled oats, coconut palm sugar, cinnamon and sea salt.
Add in coconut oil and using hands combine to form a crumbly "pea-like" consistency.
Sprinkle crumble on top of cherries, coating the entire top.
Bake for 45 mins or until top has browned slightly.
Serve warm. I highly suggest a la mode 😉
Notes
*Can use brown sugar in place of coconut palm sugar. **Make oat flour by grinding up rolled oats in a blender or food processor. ***I place mine in fridge for 5 mins to harden.

Bloggers, do you tell people that you're a blogger? How do you find balance between cupcakes and kale?
JOIN THE THM NEWSLETTER
Join 8000+ members of the THM Community to get access to exclusive recipes, healthy lifestyle tips and behind-the-scenes news from our team!