This creamy vegan pumpkin caramel tart gives pumpkin pie a serious run for its money. Made with a simple granola crust and a smooth cashew based pumpkin-filling this dessert recipe will quickly become a winter favorite!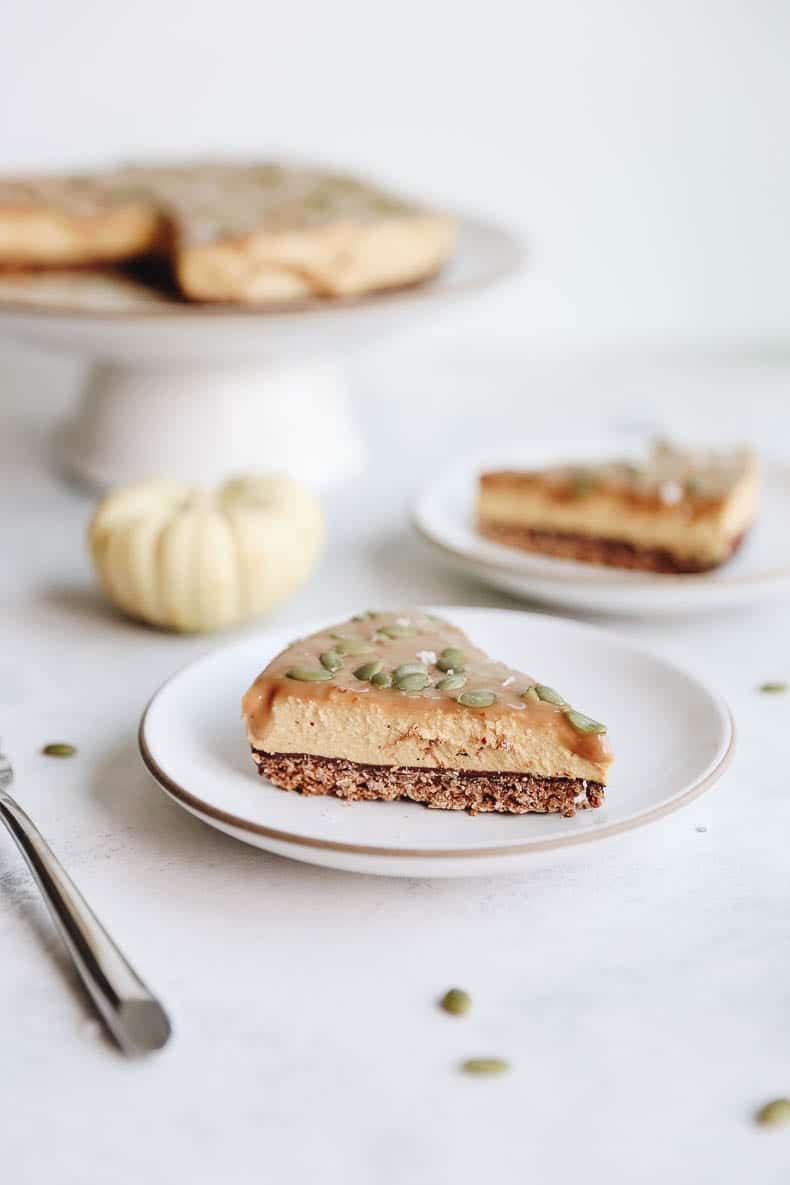 There was a time in my life when I judged people for how they ate. There, I said it. It's true. In fact, there was a long while where I focused WAY too much on other people's food choices. Not surprisingly, it was also a time in my life when I scrutinized my own.
I've come to learn that these two tend to go hand-in-hand. If you, or someone you know is hyper-focused on other people's diet choices, I can almost guarantee it comes from a place of insecurity in your own body and diet choices. I can say this because I've been there and I know exactly what it feels like. I used to question people who went vegan or tried a Whole30 or made whatever other food decisions that every single one of us is entitled to make. And quite honestly, it used to make me mad. Why? Because I was deeply insecure that my own decisions were being threatened.
Other people were 100% a mirror for my own insecurities. Isn't life fun like that?!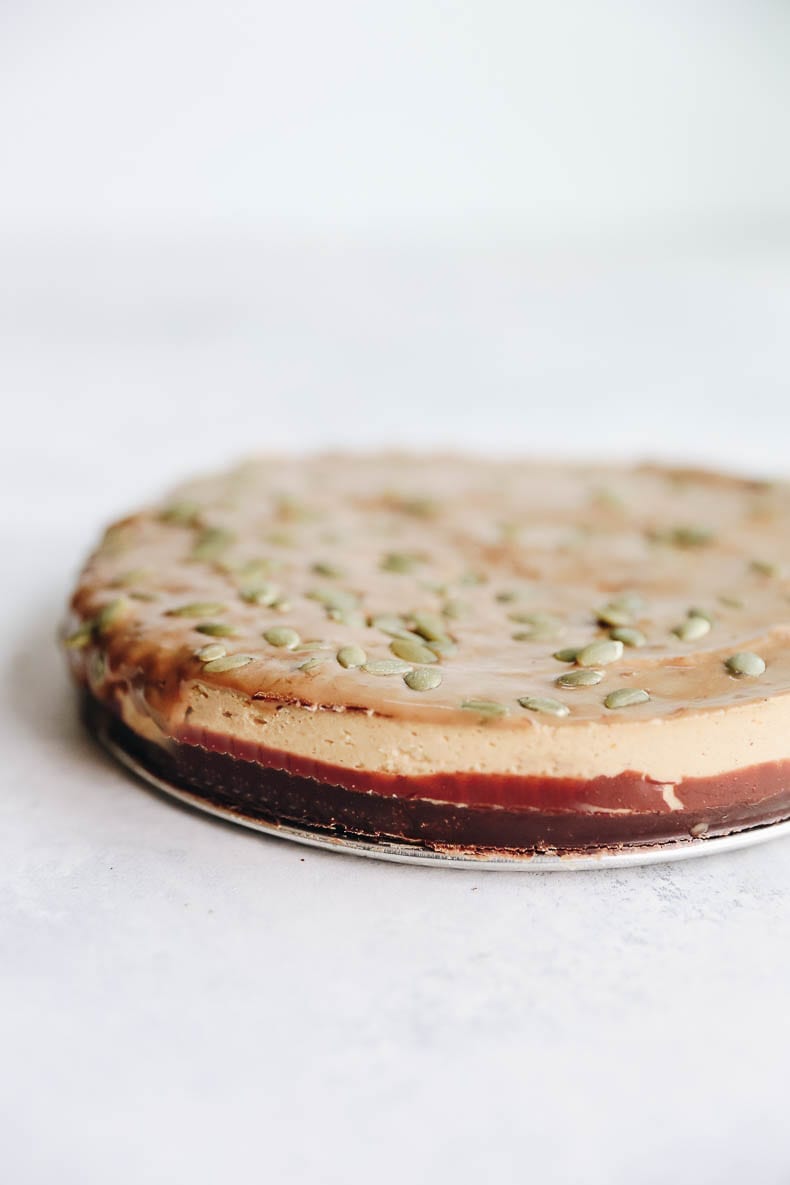 Here I am over 5 years out from an eating disorder and I can say with complete certainty that I do not feel threatened or quite frankly, care a whole lot about how other people choose to eat. I am confident in my choices and love being able to provide resources to others but I honestly don't give a rat's ass if they look different from my own. I love vegan food, gluten-free treats and paleo cookies. I'm also not vegan, gluten-free or paleo. I have friends who are and they love it! I think this is awesome.
I also have friends and family who eat McDonald's, won't touch organic food and don't eat any green vegetables. I can't say that any of this thrills me, but I really don't dwell on it. Everyone is entitled to their food choices and it is not my job to question them. It quite literally IS my job to provide helpful resources but I honestly believe that the best way to enact change is to lead by example.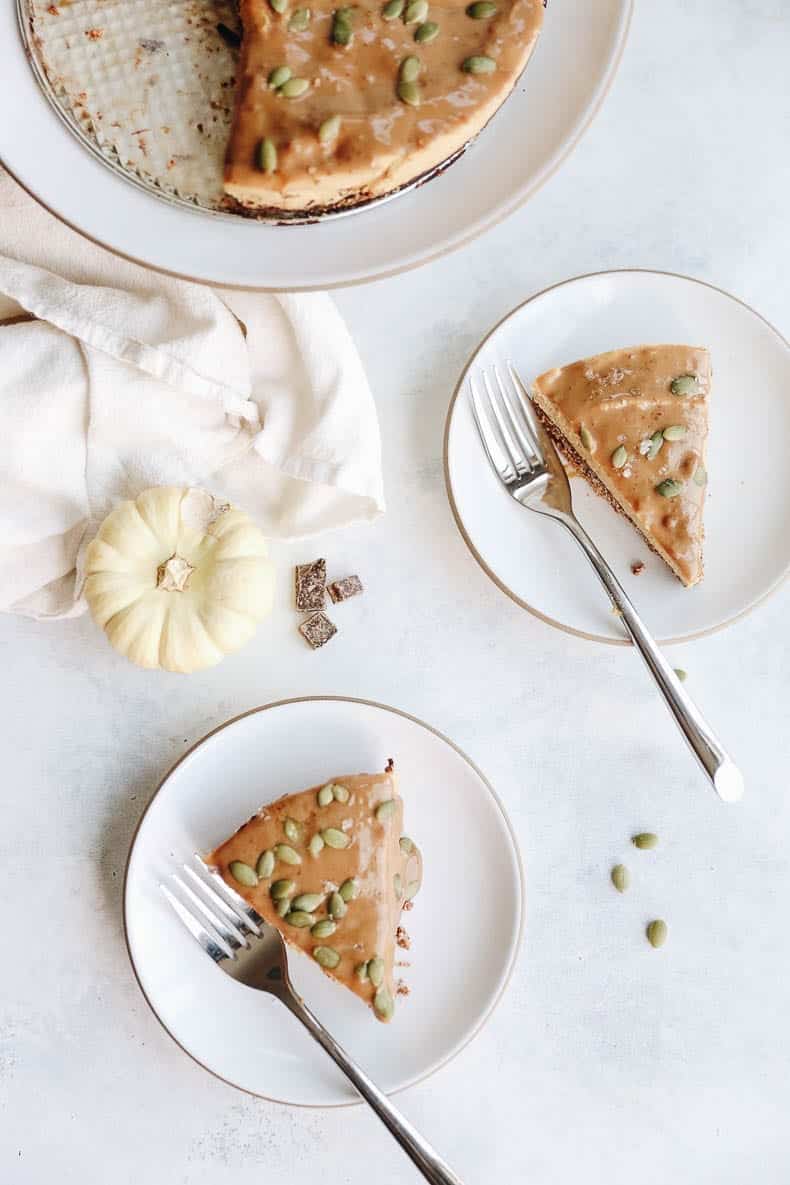 So here's the deal: This Vegan Pumpkin Caramel Tart is, well, vegan. It just happens to be vegan and a healthier option. Jess, who developed this recipe is dairy-free. This recipe is also delicious and Jess is also an incredible human.
Can you promise me something? This holiday season, let's all be a less judgemental about other people's diet choices. Even if it looks different from their choices last year or different from your own. And if that's really hard, I urge you to question why it is difficult for you to accept these differences in others. You may discover a thing or two about yourself that could help you get through to the other side.
And then eat this tart because it's damn good!
Print
Vegan Pumpkin Caramel Tart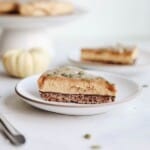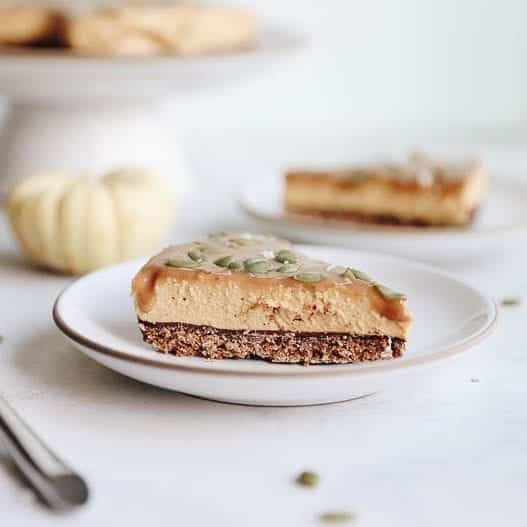 Scale
Ingredients
Crust
Chocolate Layer
3 oz

dark chocolate, about

1

bar (I used 85% but feel free to use something slightly lower if you're new to dark chocolate)
Pumpkin Filling
2 cups

raw cashews, soaked in water for

4

hours or overnight

½ cup

pumpkin puree (NOT pumpkin pie filling)

⅓ cup

maple syrup

¼ cup

coconut oil, melted and cooled

2 tbsp

unsweetened almond milk

A nub of ginger, peeled (about the size of your thumb will give you nice spicy flavor)

1 tsp

ground ginger

½ tsp

cinnamon

¼ tsp

nutmeg

¼ tsp

sea salt

Pinch of ground cloves
Caramel Layer
Tools
Instructions
Set the oven to 350F. Line the bottom of the springform pan with parchment paper and grease the sides with coconut oil.

Place the crust ingredients in a food processor and process until you have an even mixture with a texture like wet sand.

Press the granola into the pan tightly and bake for 20 minutes until the crust is golden. Let the crust cool completely.

Melt the chocolate and pour over the cooled crust. Place in the fridge and let it set for about 20 minutes. The chocolate layer doesn't need to be solid all the way through, just enough that the top is firm.

While the chocolate is setting in the fridge, make the pumpkin cashew filling. Place the filling ingredients in a high powered blender or food processor and blend until smooth, scraping down the sides as needed.

Pour the filling into the pan and use a rubber spatula to smooth the top as best you can.  Tap the pan a few times to release any air bubbles.

Place in the fridge or freezer to chill while you make the caramel.

To make the caramel, combine the ingredients in a small non stick pot and place over low heat for about 10-15 minutes, stirring about every few minutes. The sauce will be a light brown, golden color. The sauce will thicken as it cooks.

While the caramel cook, toast the pumpkin seeds in a dry skillet over low heat. Remove from the heat once they become fragrant and start to make a popping sound.

Once the caramel has cooked and thickened, remove from heat and let it cool.

Once it is cool, pour it over the pumpkin layer and top with the toasted pumpkin seeds and flaked sea salt.

Chill the whole tart in the fridge for at least 4 hours, but ideally overnight or several hours in the freexer. The pie will keep for about 5 days in the fridge. This dessert can also be frozen, allowing it to thaw for about 10 minutes before serving.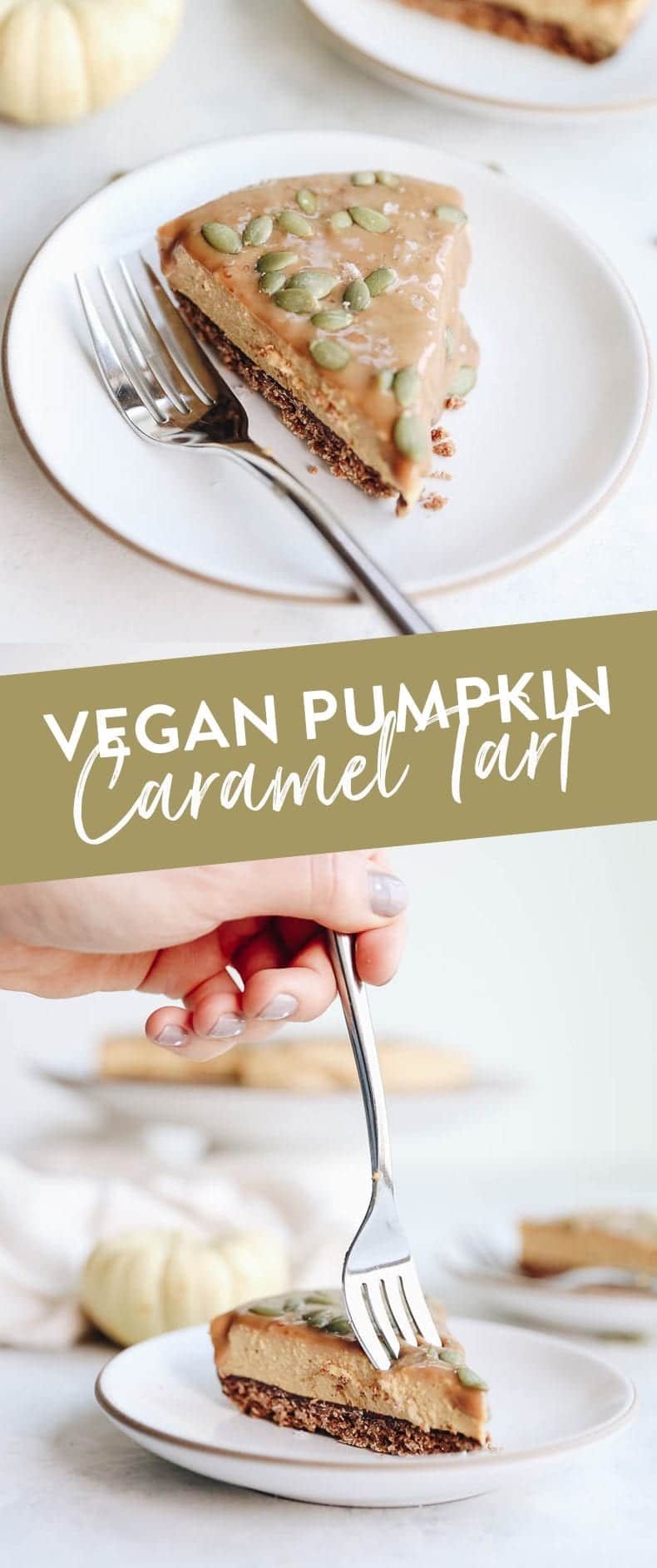 How do you feel about my stance on other people's diet choices? Do you find this challenging?
JOIN THE THM NEWSLETTER
Join 20,000+ members of the THM Community to get access to exclusive recipes, healthy lifestyle tips and behind-the-scenes news from our team!