Taste the best of fall with this pumpkin spice blondies recipe! The perfect seasonal dessert made with canned pumpkin (or fresh!), pumpkin pie spices and made entirely vegan with a gluten-free option. Vegan blondies have never tasted so good.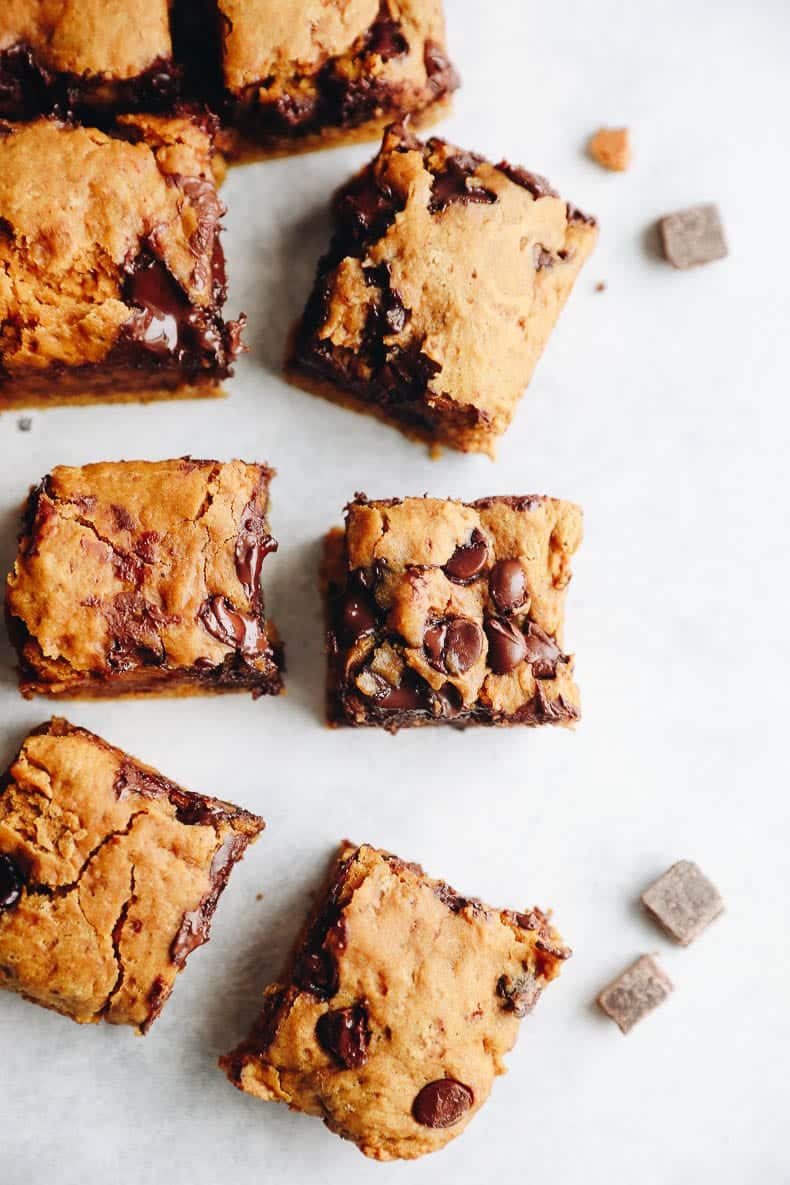 I have a complicated relationship with pumpkin spice. It has, without question, over the last 5-10 years gotten a tad overwhelming. It's hard to go anywhere in North America these days from late August to January without being reminded of pumpkin spice. I walked into Whole Foods the other day and they were selling pumpkin spice potato chips…WHAT?! Quite honestly, pumpkin spice is becoming a hard thing to love.
On the other hand, I also have to admit that I kind of, sort of, really, really love the flavor. I've always been a cinnamon girl (I used to add cinnamon to my trisket crackers as a kid – early adopter?!) and pumpkin spice is really just an amped up version of cinnamon. Let's be real though, a lot of the pumpkin spice foods out there aren't particularly nutritious. Many don't contain any pumpkin (I'm looking at you Pumpkin Spice Latte!) or use synthetic flavors without any spices. Not really my thing. These Pumpkin Spice Blondies on the other hand? We've got pumpkin. We've got pumpkin spice spices (cinnamon, nutmeg, ginger, allspice, cloves). We've got vegan. We've got DELICIOUS! You'll just have to try them for yourselves to see why.
What Are Blondies?
Blondies = blonde brownies. In my opinion, blondies are meant to have a similar texture to brownies except without the cocoa powder or chocolate added. I like a fudgier brownie so these pumpkin spice blondies are more on the fudgy side, BUT if you like more of a crispy almost cookie texture, omit the baking powder and you'll certainly achieve that.
Pumpkin is a great addition to blondies not only because it's an awesome source of nutrition, but also because it helps you achieve that fudgy blondie texture without having to add a ton of oil. In general, you can add pumpkin to your baked goods in recipes that call for a lot of oil to help decrease that amount.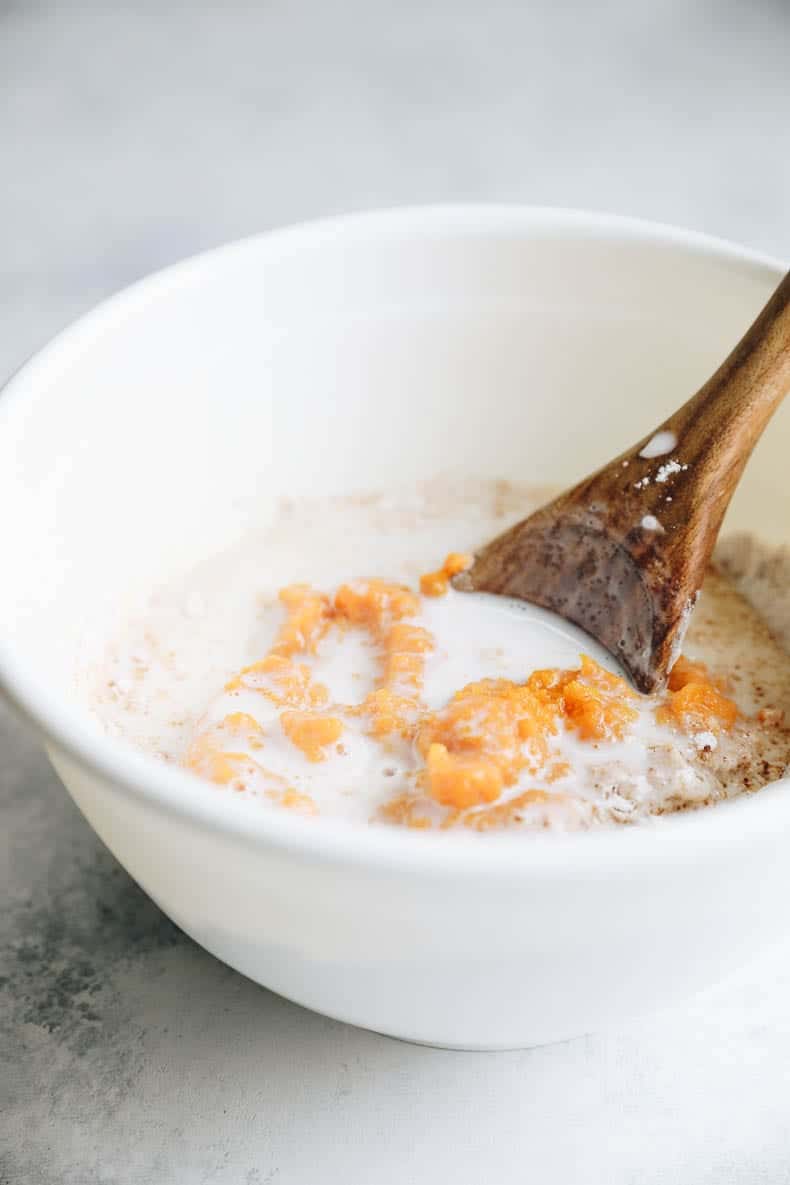 Can You Use Canned Pumpkin?
Absolutely! This is a perfect recipe for using up that canned pumpkin. Just be sure to grab pumpkin puree and not a can of pumpkin pie filling. You can also use fresh pumpkin or substitute with a different winter squash. All will work in this pumpkin spice blondies recipe.
Got leftover pumpkin? Here are a few recipes so you can use it up!
Baked Pumpkin Donut Holes
Vegan Caramel Pumpkin Tart
The Ultimate Pumpkin Spice Granola
Pumpkin Spice Latte Overnight Oats
Can These Pumpkin Spice Blondies Be Made Gluten-Free?
Yes! You can absolutely sub gluten-free flour for regular flour. I have tested the recipe both ways. You may need to decrease the amount of almond milk (or non-dairy) milk slightly as gluten-free flours tend to be less absorbent, but this depends on your flour blend. Start with 1/2 cup and add 1 tbsp at a time if batter needs more in order to come together. Note: batter should be very thick. This is important as these pumpkin spice blondies are vegan and don't have an egg holding them together!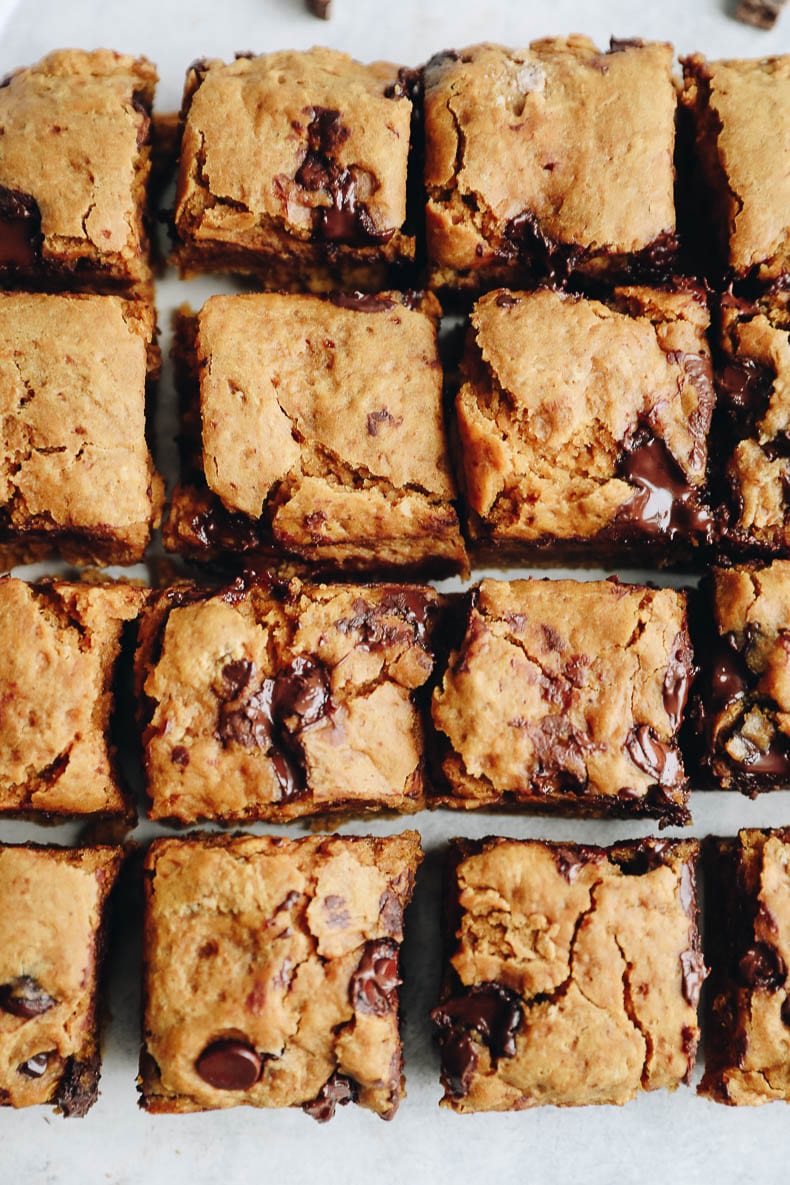 Are These Pumpkin Spice Blondies Healthy?
Yes! Pumpkin is a great addition to all baked goods. I've also used coconut palm sugar for a less refined sugar and reduced it to 1/2 a cup. In place of the typical butter you find in blondies, I've subbed coconut oil which adds a nice natural hint of sweetness.
Feel free to use whatever non-dairy milk you enjoy. I think coconut milk would taste delicious in this vegan blondies recipe. You can also sub whole wheat flour but you may need to reduce the amount slightly as it tends to be more absorbent. For non-dairy chocolate chips I like these ones but feel free to change it up and add in a 1/2 cup of your favorite add-ins.
Don't forget that the batter should be thick! If all the flour is not mixing in, add more non-dairy milk but it should remain thick and require a bit of elbow grease to get it to spread in the pan. Be sure to even out the top before baking. Most importantly: Enjoy! These pumpkin spice blondies truly taste like the best of fall and pair perfectly with a hot mug of tea or coffee while curled up with a blanket and a good book. Or in my case, a computer since I just couldn't help but share this recipe with you right now!
Print
Pumpkin Spice Blondies
Taste the best of fall with this pumpkin spice blondies recipe! The perfect seasonal dessert made with canned pumpkin (or fresh!), pumpkin pie spices and made entirely vegan with a gluten-free option. Vegan blondies have never tasted so good.
Author: Davida Lederle
Prep Time:

10 minutes

Cook Time:

25 minutes

Total Time:

35 minutes

Yield:

16

blondies

1

x
2 cups

regular white flour (can sub gluten-free flour blend, if desired)*

1/2 tsp

baking soda

1/2 tsp

baking powder

1/2 tsp

sea salt

1 tsp

pumpkin spice (get my DIY version here!)

1/2 cup

coconut palm sugar (or brown sugar)

1/4 cup

coconut oil, melted

3/4 cup

unsweetened almond milk*

3/4 cup

pumpkin puree (not pumpkin pie filling)

1 tsp

vanilla extract

1/2 cup

dairy-free chocolate chips
*If using gluten-free flour you may need to reduce the amount of almond milk to 1/2 cup
Instructions
Preheat oven to 350 degrees F.
Grease a 9 x 9 inch baking pan with coconut oil or non-stick spray.
In a large bowl combine flour, baking soda, baking powder, sea salt and pumpkin spice.
Add in coconut palm sugar.
In a separate bowl combine coconut oil, almond milk, pumpkin puree and vanilla extract.
Add wet ingredients to dry and stir until well-combined.
Stir in chocolate chips. Batter will be thick.
Add batter to baking pan and spread out using a spatula, making sure top is even.
Bake for 20-25 mins.
Let cool for at least 20 minutes before cutting into 12 blondies and removing from pan to cool completely.
Will keep in an airtight container on counter for 2-3 days or freeze for longer.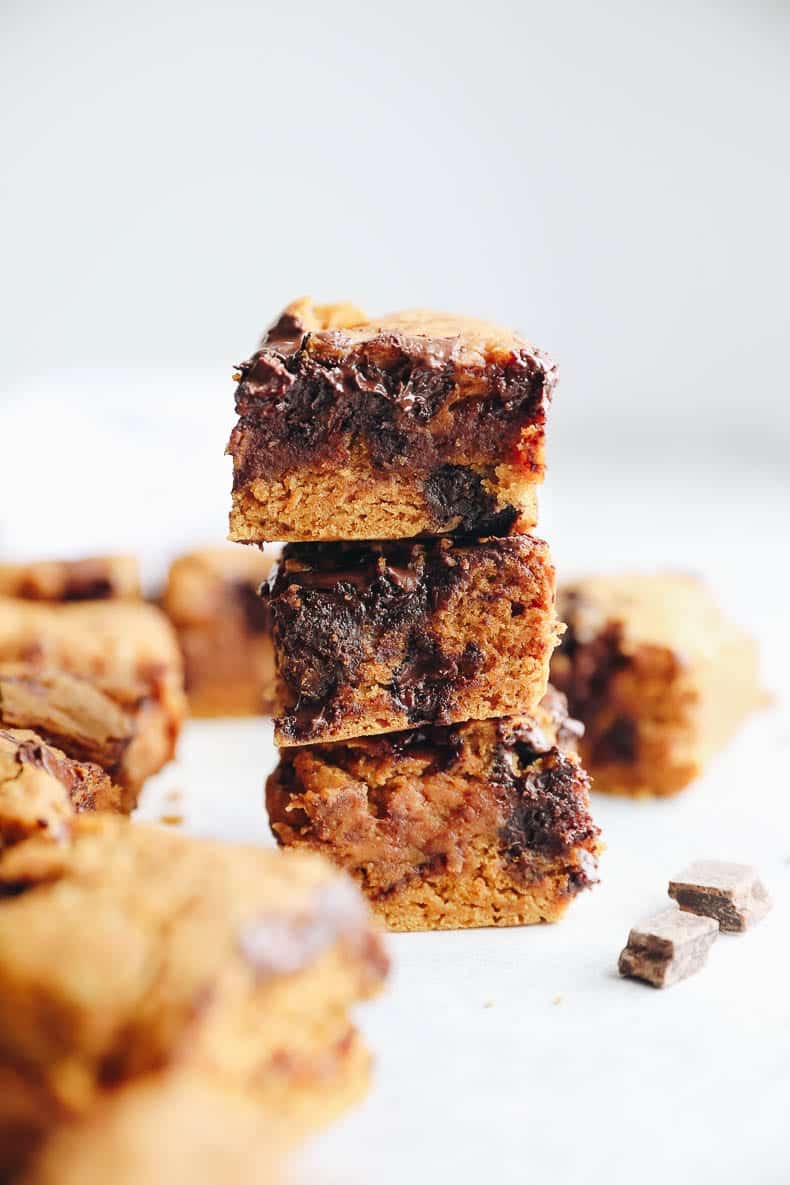 Like this recipe? Here are a few other vegan desserts you might enjoy:
Pumpkin Spice Freezer Fudge
Peach and Apple Crisp
Raw Nutella Bars
JOIN THE THM NEWSLETTER
Join 20,000+ members of the THM Community to get access to exclusive recipes, healthy lifestyle tips and behind-the-scenes news from our team!