A delicious and summery Grilled Kale Salad with Lemon Vinaigrette! Topped with peaches, shallots and toasted hazelnuts, you will fall head over heels for this fun new recipe to get in your veggies!
Plus today you're getting 6 Healthy Grill Recipes from top healthy food bloggers to help you get your grill on all summer long!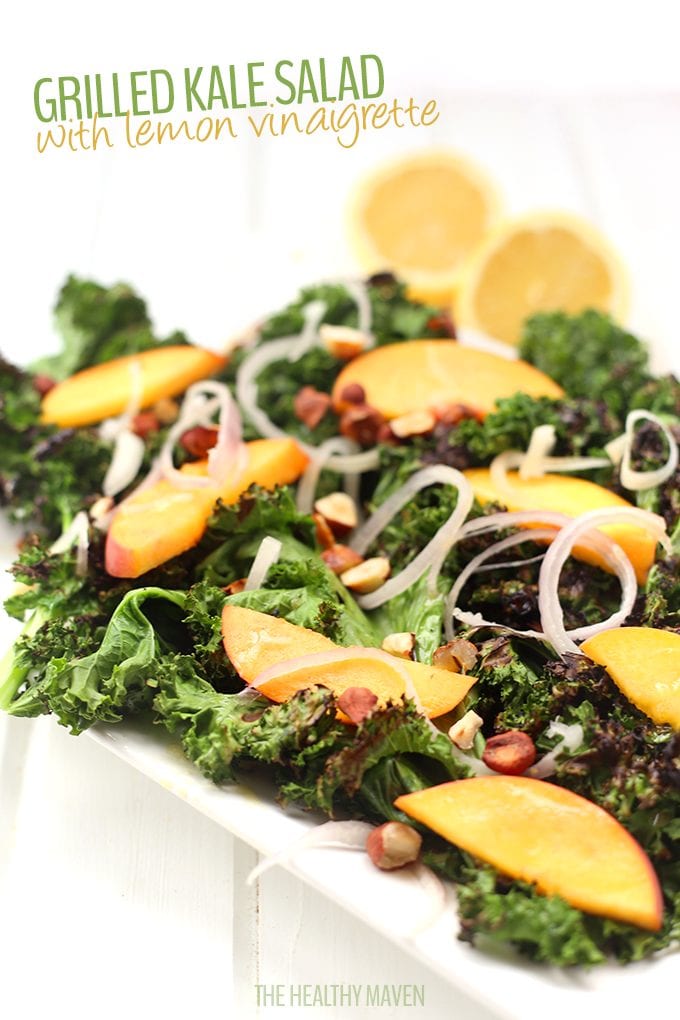 Grilling and I have a love-hate relationship. Love, because grilling anything makes it taste infinitely better, and hate because the communal grills in my building have it out for me. More accurately, management has it out for me by ensuring that anytime I'm prepared to fire up our grills, they are either out of propane, the burners aren't working or for absolutely no reason whatsoever, they just won't work.
Karma's a B.
Because the BBQs have a life of their own, I've turned to my handy-dandy grill pan, which crushes the BBQ and likely drives management crazy because the excessive amount of smoke sets off my fire alarm every 2 minutes. Joke's on them.
Fortunately, my blogging besties completely agree on the awesomeness of the grill, so this month we're bringing you 6 healthy and creative ways to incorporate your grill all summer long! From this grilled kale salad, to short-ribs to a grilled cherry crisp, we've got you covered for all of your grilling needs!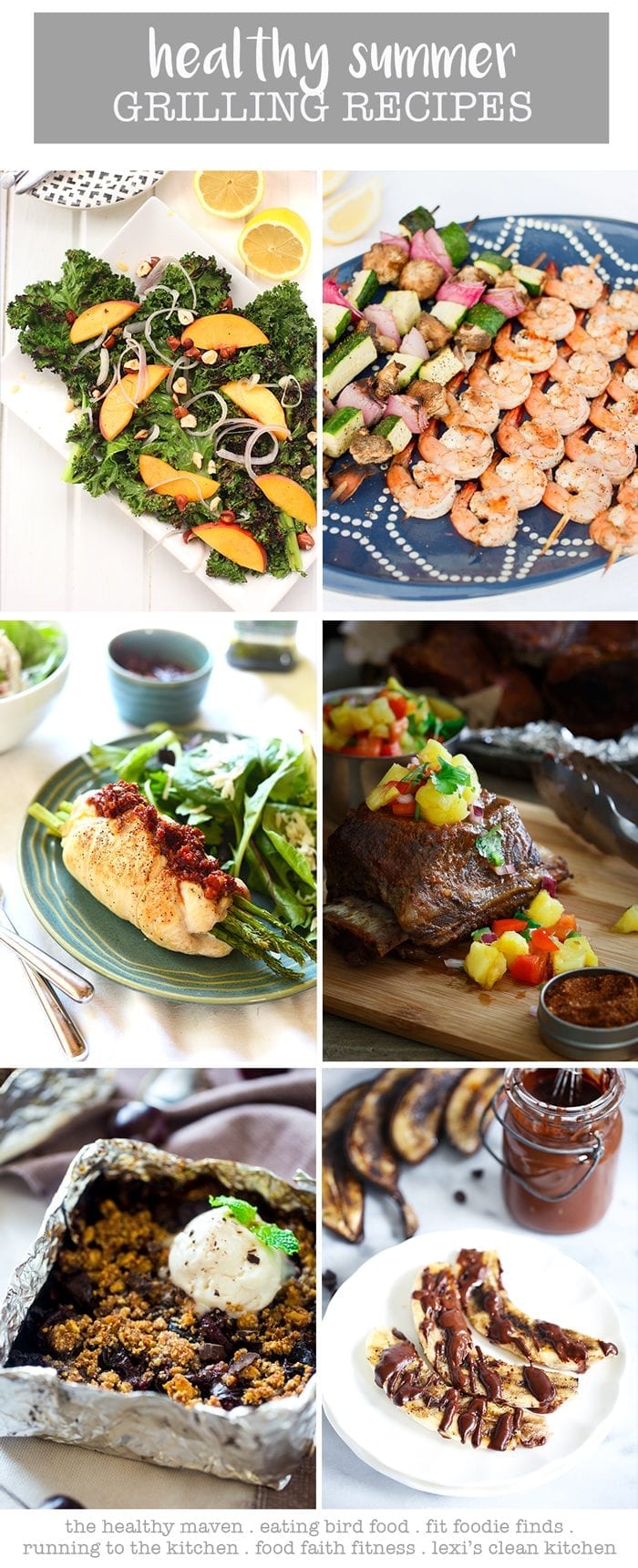 Brittany from Eating Bird Food created these zesty, light and quick to cook, grilled shrimp skewers that are quick to become a grilling favorite. Pair them with grilled veggies or serve over a fresh salad for a crowd-pleasing summertime meal
Get the recipe –> HERE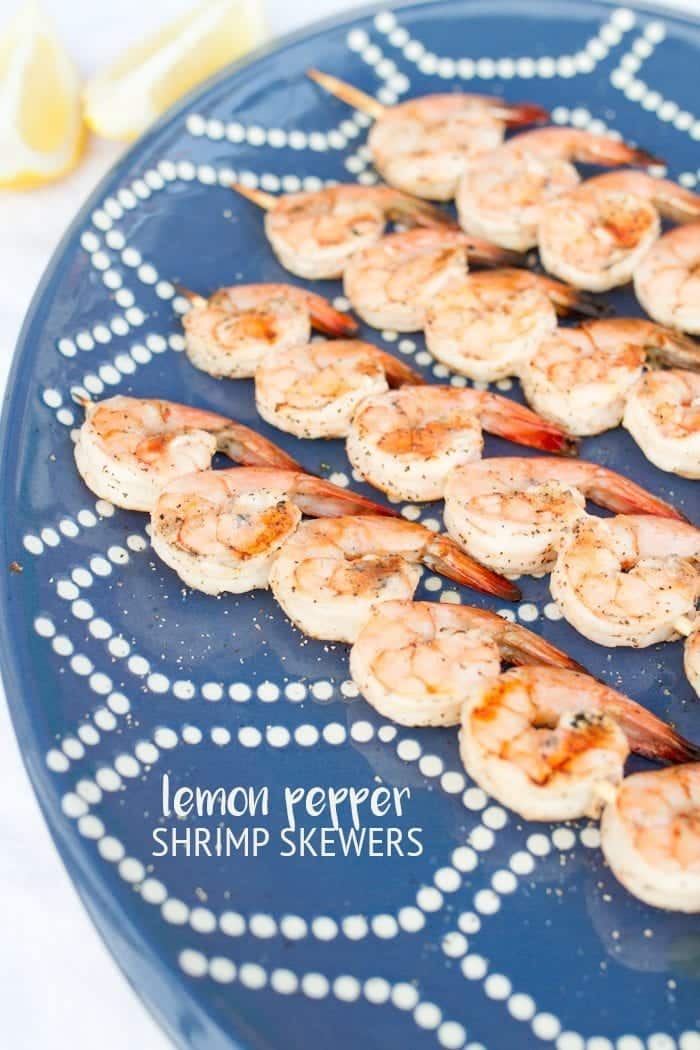 Lee from Fit Foodie Finds is sharing a delectable recipe for prosciutto and asparagus stuffed chicken breast. Have your meat and veggies too! Make this stuffed chicken breast recipe on the grill for a yummy summer recipe.
Get the recipe –> HERE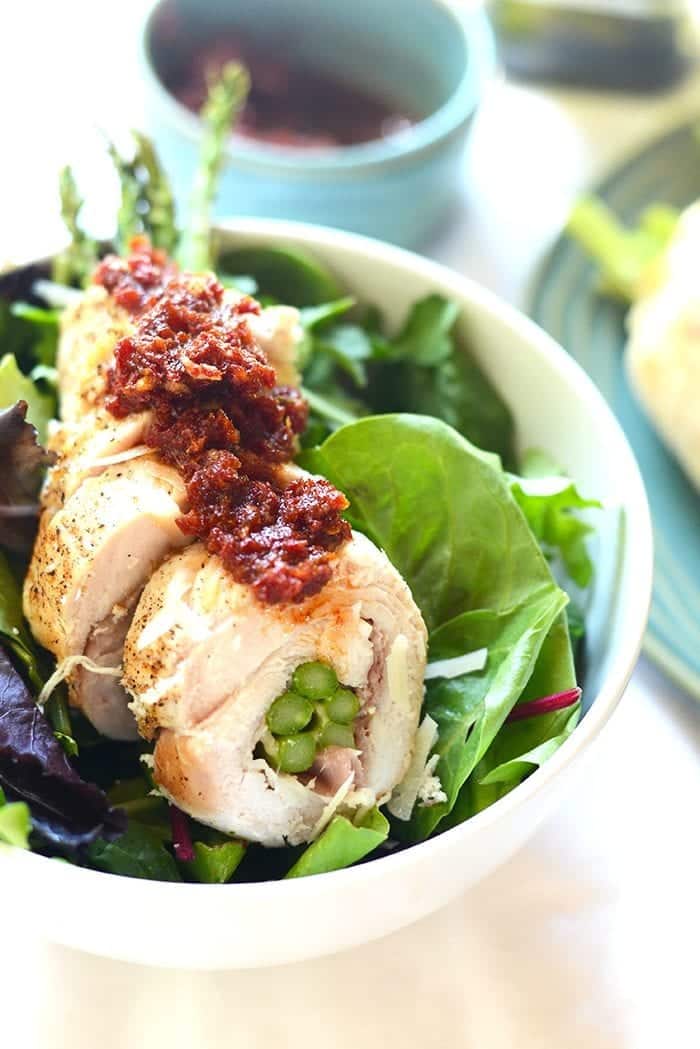 Gina from Running to the Kitchen grilled BBQ short ribs that are covered in a smokey dry rub with an optional BBQ sauce slathered on at the end. They're cooked low and slow on the grill for a tender meaty summer dinner and served with a fresh grilled pineapple salsa.
Get the recipe –> HERE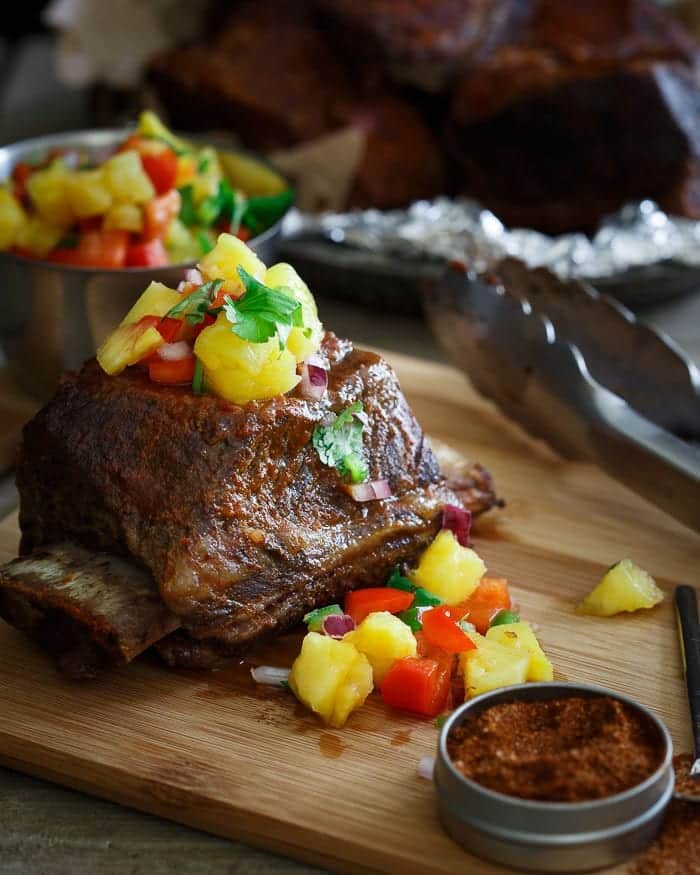 Lexi from Lexi's Clean Kitchen made the perfect healthier summer dessert! If you've never grilled bananas, you need to start with these! Lightly sweetened and topped with a flavorful chocolate sauce for the perfect grilled treat.!
Get the recipe –> HERE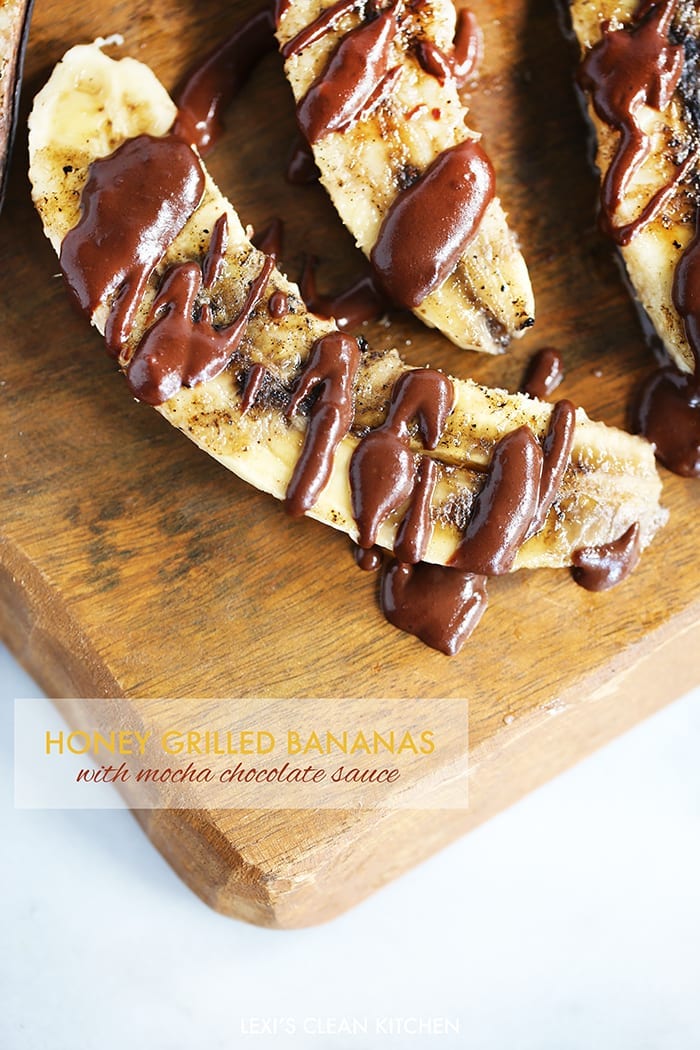 Taylor from Food Faith Fitness whipped up a grilled chocolate cherry almond crisp. This isn't your traditional cherry crisp! It's easy, paleo-friendly and made on the grill! A fun, smokey-sweet dessert for summer that's made a little healthier!
Get the recipe –> HERE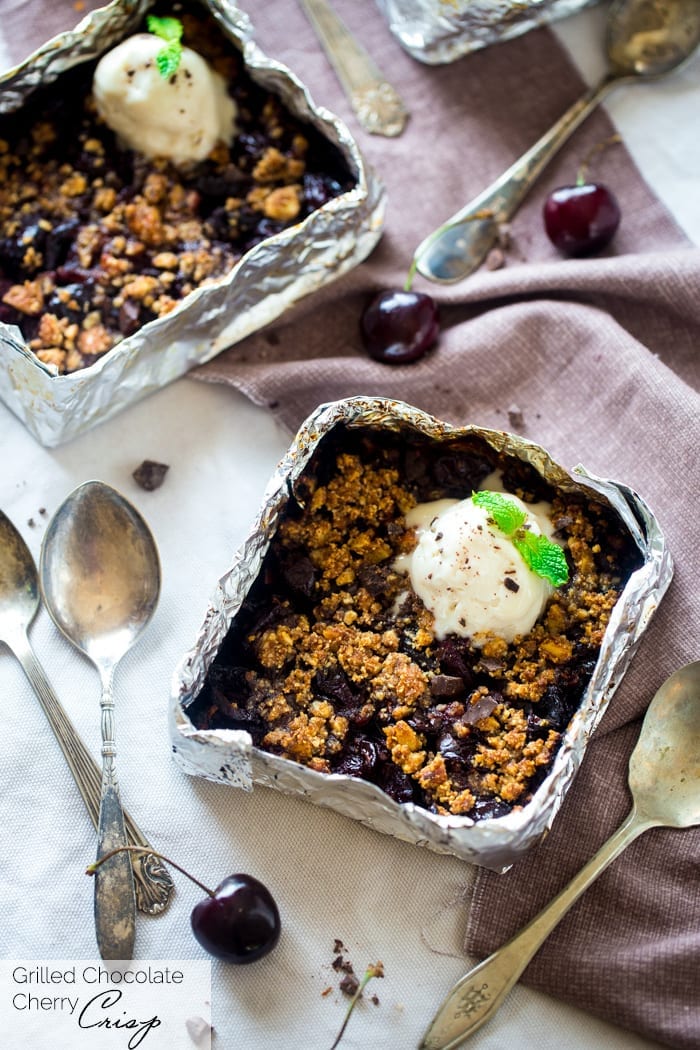 Now onto the real star of the show…Just kidding! For as much as I love kale, I don't think it's ever been considered a culinary star. I'm all for #teamkale but it's one of those foods that I don't really blame people if they can't get on board with it.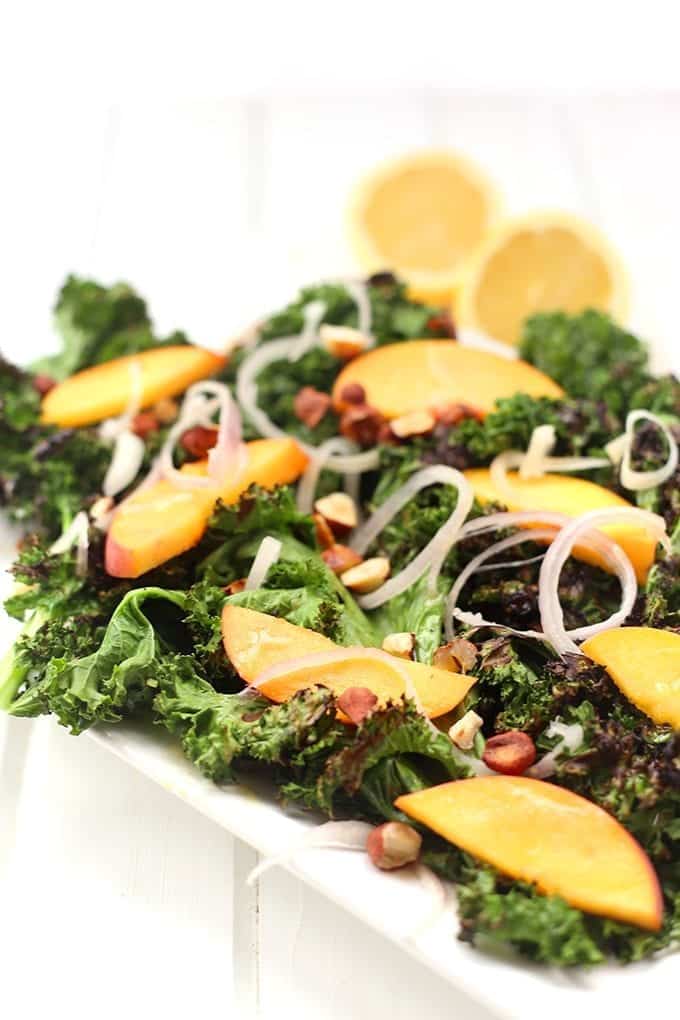 Here's the thing about kale though, it only tastes as good as you cook it. You cannot use kale as easily as you use spinach or romaine. It's like a baby. It requires deep massaging and care. But unlike a baby, there's always the option of grilling. I think that may have been one of the worst lines I have ever written on the blog…
Grilling kale is stupidly easy, fast and makes a guaranteed badass kale salad. Then when you top it with fresh peaches, shallots and toasted hazelnuts, you will literally go weak at the knees for kale. The lemon vinaigrette is almost too much to handle.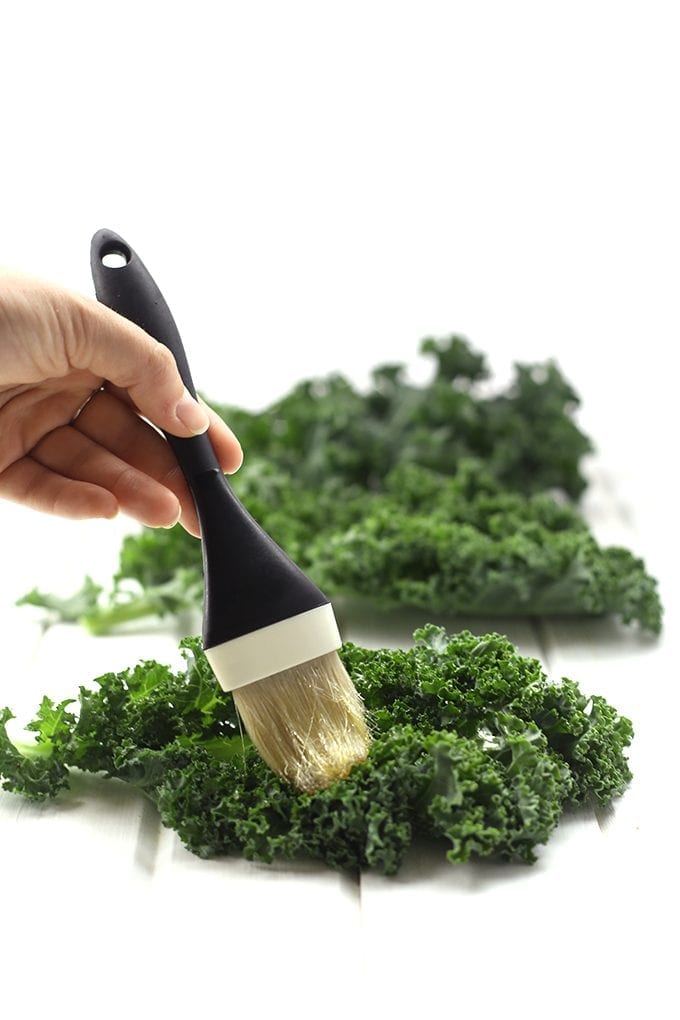 If you're new to the world of kale, I highly recommend grilling it! It's turned kale haters into kale lovers. I wonder what else it could do? The possibilities are endless!
Print
Grilled Kale Salad with Lemon Vinaigrette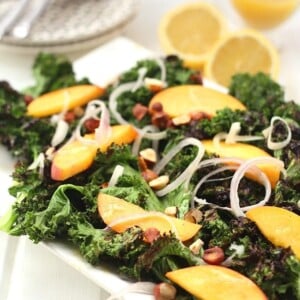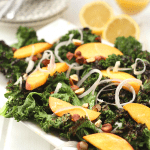 Prep Time:

10 minutes

Cook Time:

10 minutes

Total Time:

20 minutes
Scale
Ingredients
For the kale salad:
1

head of kale, stems removed

2

T olive oil, for brushing kale

1

shallot, sliced thinly

2

medium peaches, sliced

1/4 cup

toasted hazelnuts*
For the Lemon Vinaigrette:
1/4 cup

olive oil
Juice of

1

lemon

1/4 cup

apple cider vinegar

2

T maple syrup

1

T dijon mustard
Instructions
Combine all vinaigrette ingredients and set aside.
Heat up your grill or grill pan to medium heat. Spray with non-stick spray.
Spread out kale pieces and brush lightly with olive oil on both sides.
Place kale directly on the grill and cook for 1 1/2-2 minutes on one side before flipping and cooking for 1 minute on the other. Kale should wilt and char slightly. Watch closely to ensure it doesn't burn.
Repeat until all kale has been grilled.
Top whole kale pieces with peaches, shallot slices and hazelnuts.
Drizzle with desired dressing**
Serve with forks and knives to cut kale into bite-size pieces as eating.
Notes
*I toast mine in the oven at 350 for 5-7 minutes.
**Recipe makes extra dressing so don't feel as though you need to use it all. The dressing keeps well in the fridge.
Favorite food to grill? Are you a kale lover or kale hater?
JOIN THE THM NEWSLETTER
Join 10,000+ members of the THM Community to get access to exclusive recipes, healthy lifestyle tips and behind-the-scenes news from our team!