Looking to become a greener cook? Here are several tips to build a more sustainable kitchen, support your body and the planet and how to get started on this journey today.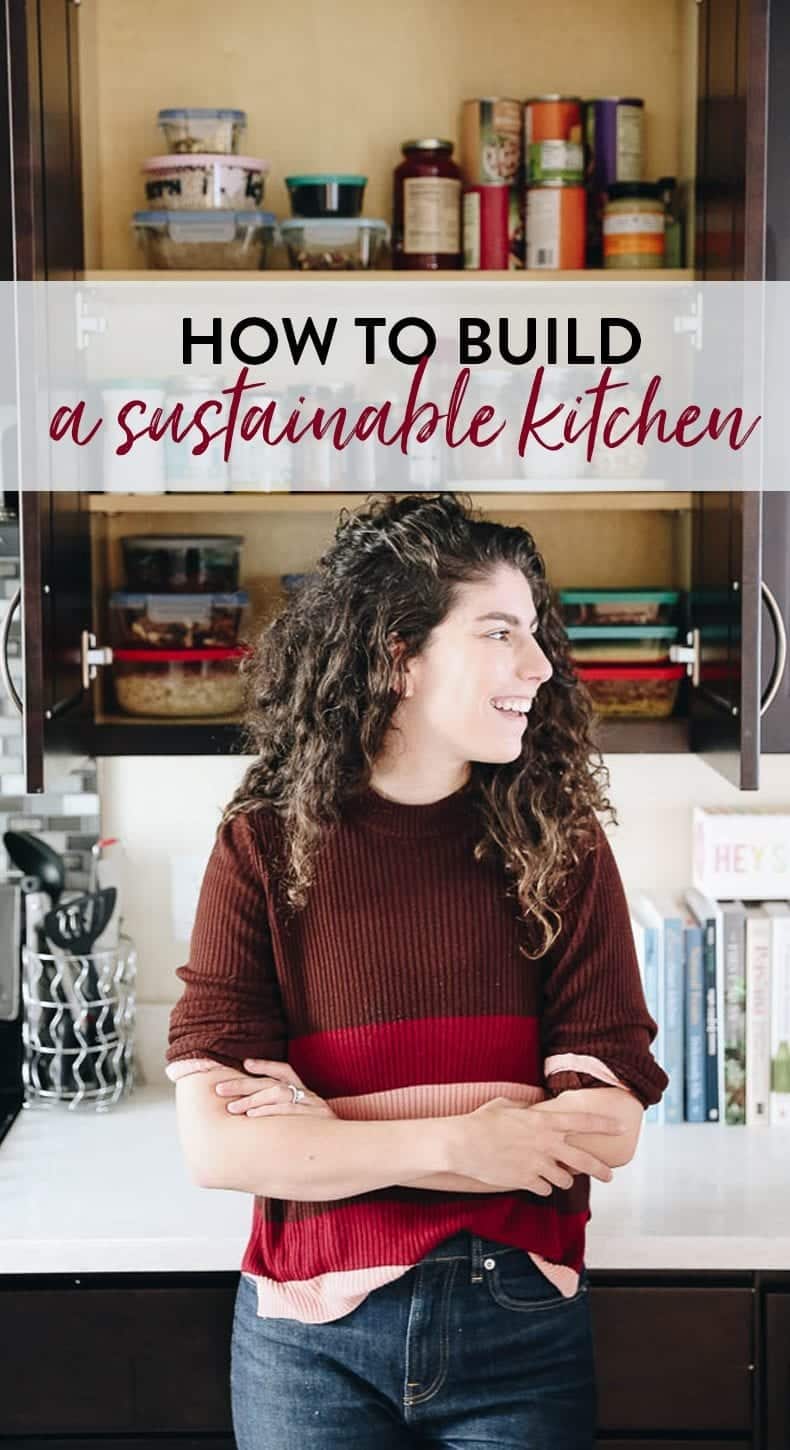 1. Reduce Food Waste
Food waste is a larger issue than most of us realize. New research suggests that half of all US produce goes to waste in this country. This is partially due to poor distribution, our preference for "perfect" looking produce and of course, the food that goes bad in our own kitchens. Of all the tips on this list, this is the one I follow most religiously. I do this by not overbuying food but also by making sure I preserve my food for longer.
How many times have you reached into your produce drawer only to find a head of wilted lettuce or moldy strawberries? How about that rice that tastes rancid or those nuts you're not sure how long ago you bought? Been there, done that. What I've found is that making sure my food is properly sealed in air-tight containers is the only way to preserve your food for longer so it doesn't go to waste. I love using Pyrex because pure glass containers are non-porous meaning they keep stored food fresh, tasty and nutritious for longer.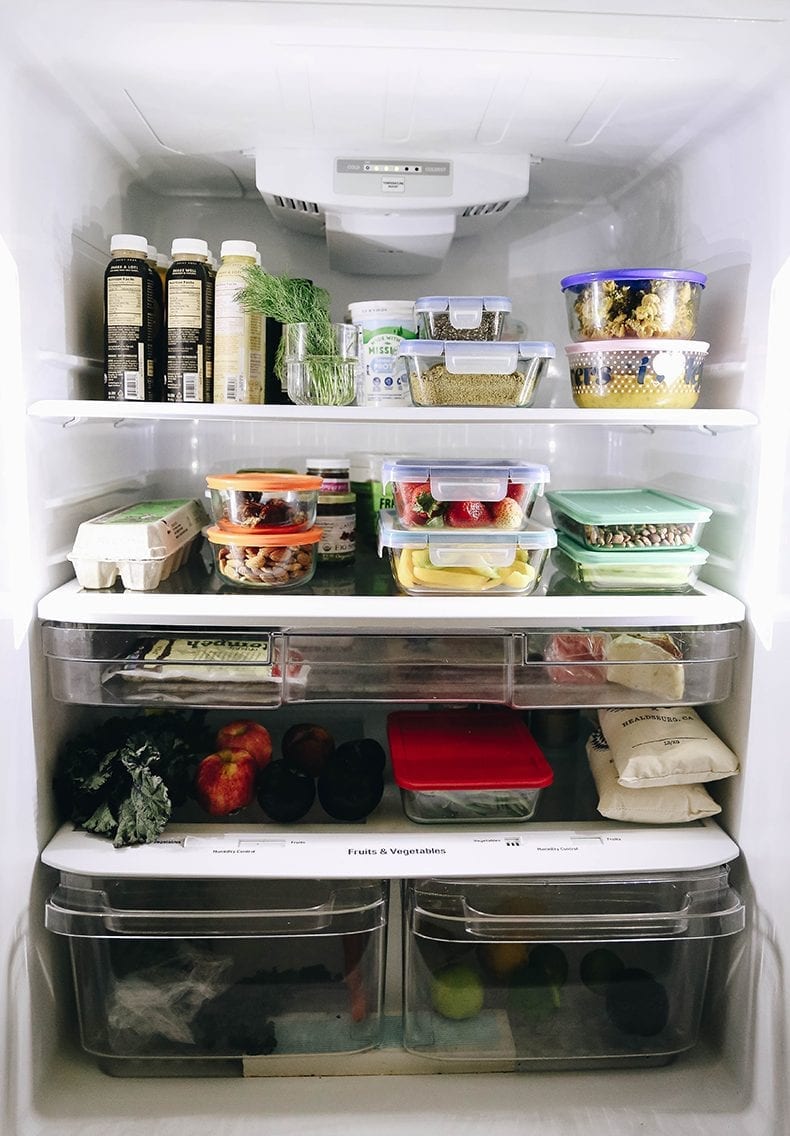 2. Use the Whole Plant
Have you ever wondered why we chop off the top of celery or the greens from beets? Here's a secret: DON'T! It is possible to either consume or reuse the whole plant when it comes to cooking or even DIYs around the house. When you can't use the whole plant, you should definitely consider composting but if you can, I recommend making a point of using it all. One of my favorite ways to reuse produce is to save my veggie scraps to make veggie stock. I even have a tutorial for it here! I used to put the scraps in plastic bags but found the veggies got freezer burn and I'd end up having to compost them. I haven't had that problem since switching to Pyrex glassware for freezer storage. Not only are they reusable (hello sustainable!) but they're also super versatile in that they can be used in the freezer.
Other ways to reuse produce:
-save coffee grinds for body scrub
-use citrus peels for naturally scented candles
-make pesto with leafy greens from beets/carrots
-roast squash seeds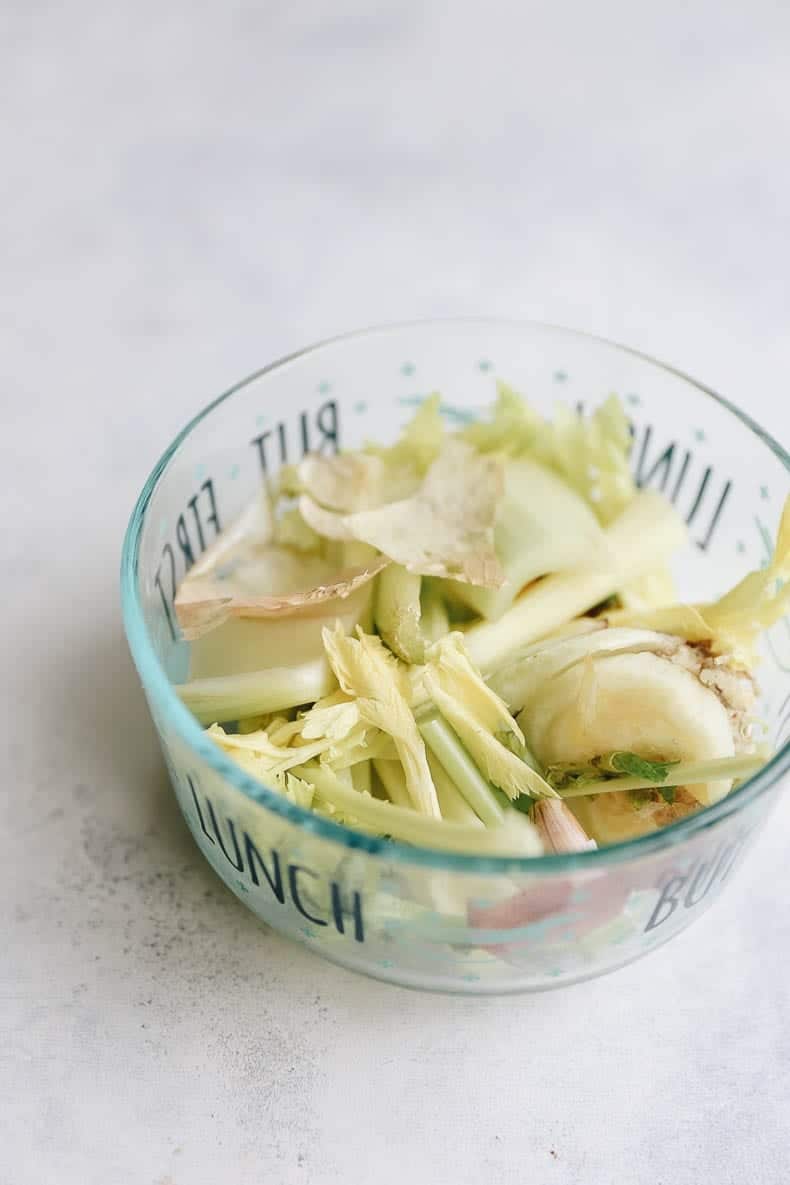 3. Buy Organic
You knew this was coming, didn't you? I am very vocal about my choice to purchase organic, when possible. It is a choice I make to eat more sustainably, support sustainable agriculture and better conditions for farmers. You can learn more about organic and why I choose to eat organic HERE. I'm certainly not perfect and you simply can't always get organic but when I can, I do. While I recommend you do the same, I also understand that organics aren't always accessible or affordable so do what you can with what you have!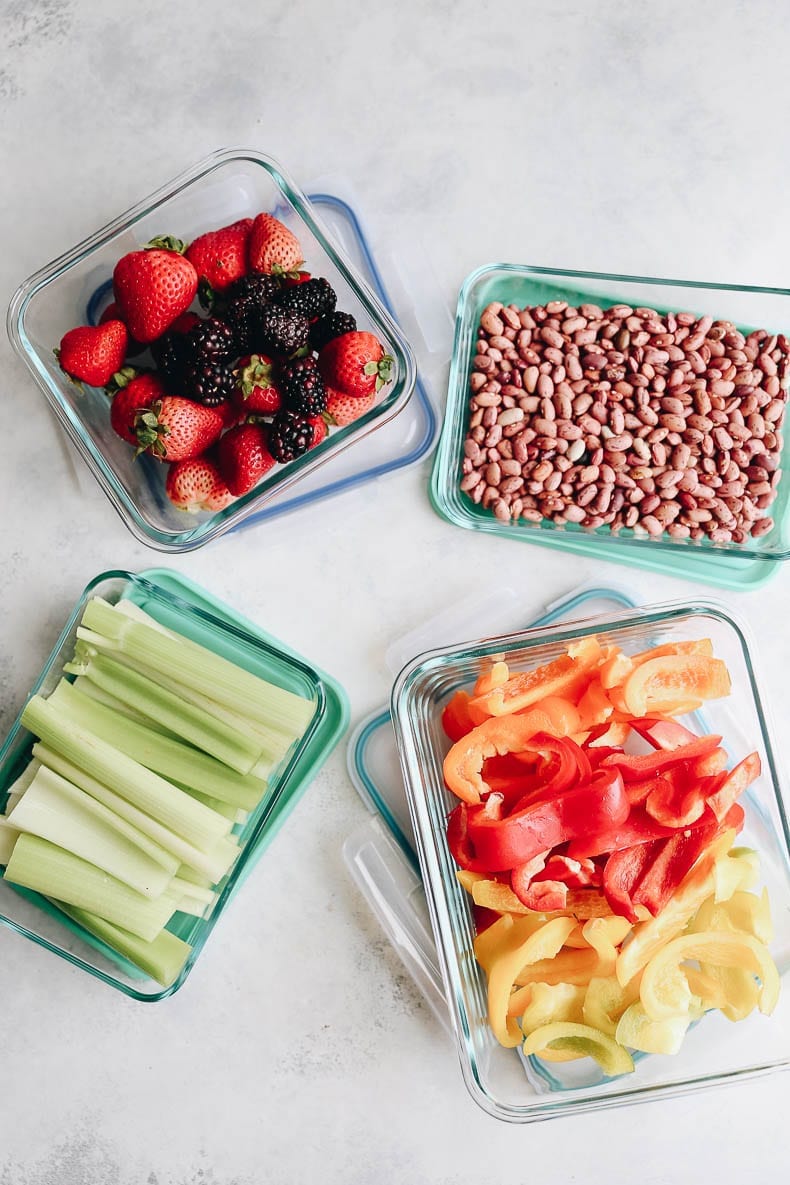 4. Use Natural Cleaning Products
This tip is a pretty easy swap for most people. Not only are conventional cleaning products full of toxic chemicals that are bad for your health, they're also bad for the environment. Conventional cleaning products, and anti-bacterial cleaning products in general disrupt the microbiome of your kitchen as well as the health of the planet. Using products with ingredients like ammonia and chlorine negatively impact our ecosystem and have not shown to decrease health risk in the long-term. Let me know if you want to see a post on this.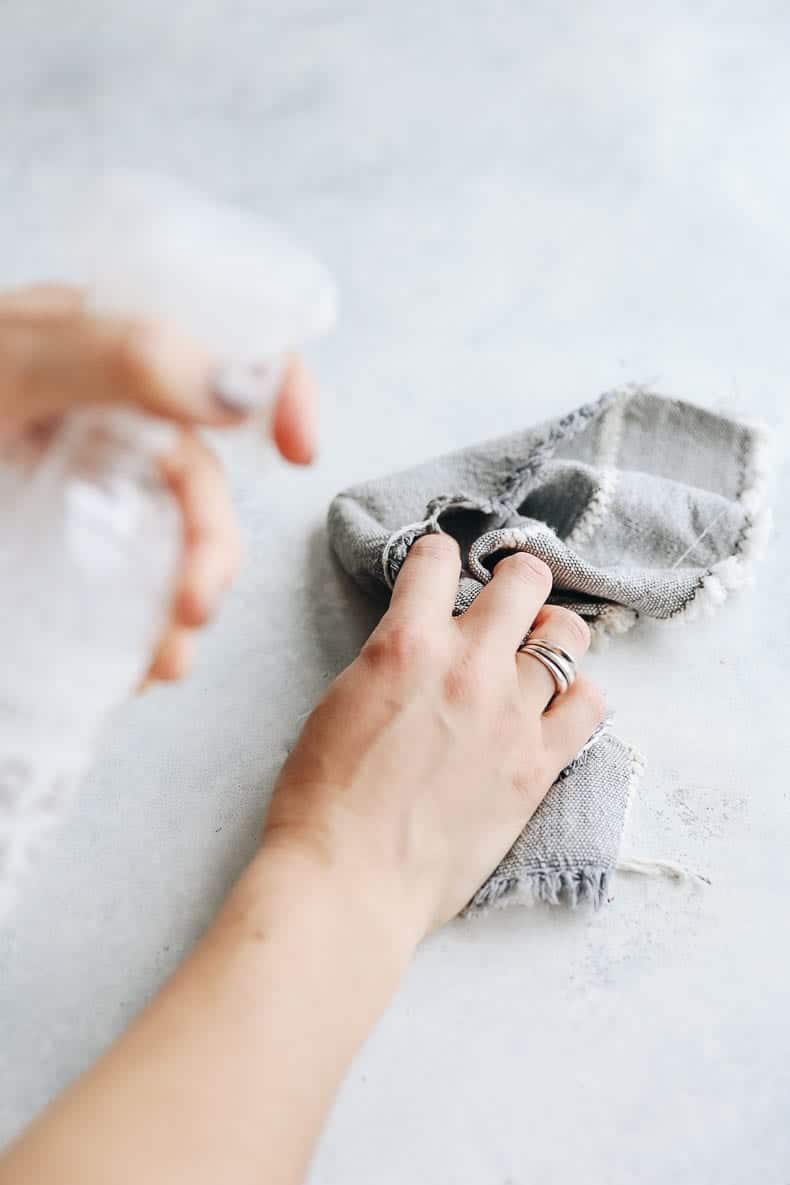 5. Use Reusable Dish Towels
I'll be honest, this is my least favorite tip on the list. Mostly because I hate doing laundry! But with a job that requires me to be in the kitchen, in addition to loving to cook, I spend a lot of time cleaning up my kitchen — and well, it would not be sustainable to use paper towels every time I cleaned it. Rather than using paper towels or cleaning wipes, consider switching to reusable dish towels to reduce your footprint. Same with napkins. We only use reusable napkins, and while it's a pain in the butt to wash them, so is not having a planet anymore so I'll choose the former TYVM!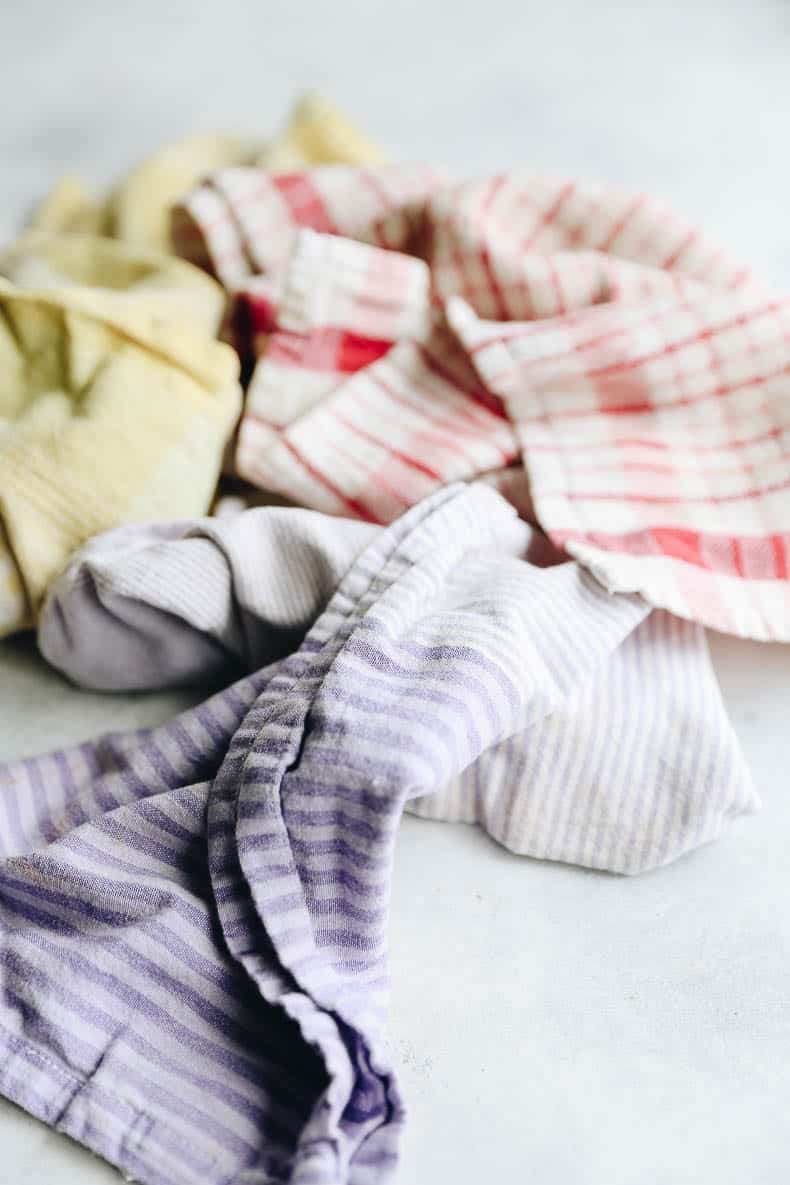 6. Use Reusable Grocery Bags
This is a pretty obvious tip and many states have actually helped to encourage this by charging for plastic bags. I always bring my reusable bags with me when I go to the farmer's market or grocery store. In addition, I don't use the small bags that hold produce either. You don't need them! You're going to be washing your produce anyway so why waste all these bags just to hold each individual type of produce. If you're really gung-ho on using them, try remembering to repack them in your reusable grocery bags so you can just use the same ones rather than grabbing new ones each time.
* * * * *
I know the transition to a more sustainable kitchen seems like a daunting one. Yes, it may require a bit more budget and time at first, but the initial investment is 100% worthwhile in the end. These small steps have great returns and if we can all encourage each other to build a sustainable kitchen then we will begin to reap these rewards, namely in having a planet our kids and our kids' kids can call home.
I want to take a quick second to thank Pyrex for sponsoring this post. I have been using Pyrex in my kitchen for as long as I can remember. Their casserole dishes are my go-to and I'm pretty sure they're hand-me-downs from my Mom – which makes them at least 45 years old and still kicking (don't worry Mom, we all know you're 35!). They make kitchenware that lasts, but they also make storage solutions that you can count on. We made the switch to glass storage a few years ago and have never looked back. It's a game-changer and once you know about it, you wonder how you ever used anything else.
To learn more about Pyrex check out their website. I also high recommend the Pyrex Simply Store 18 piece set if you're wondering where to start.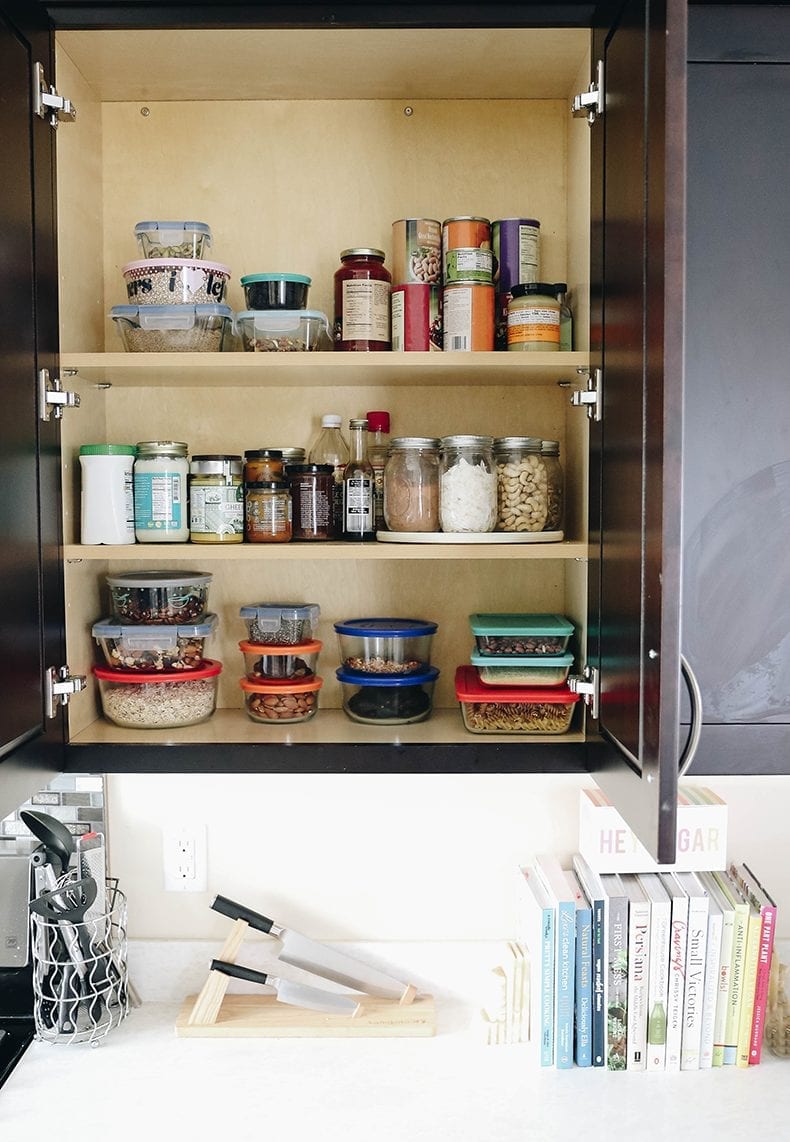 Am I missing any tips? How do you support a sustainable kitchen?
WANT MORE HEALTHY LIVING TIPS? Join the THM Community!
Join 10,000+ members of the THM Community to get access to exclusive info about healthy living, products I'm loving and tips and tricks on making a healthy lifestyle easier and sustainable.