With rising food prices, it's getting harder to grocery shop without breaking the bank. Here are a list of tips on how to grocery shop on a budget so your stomach and wallet will thank you.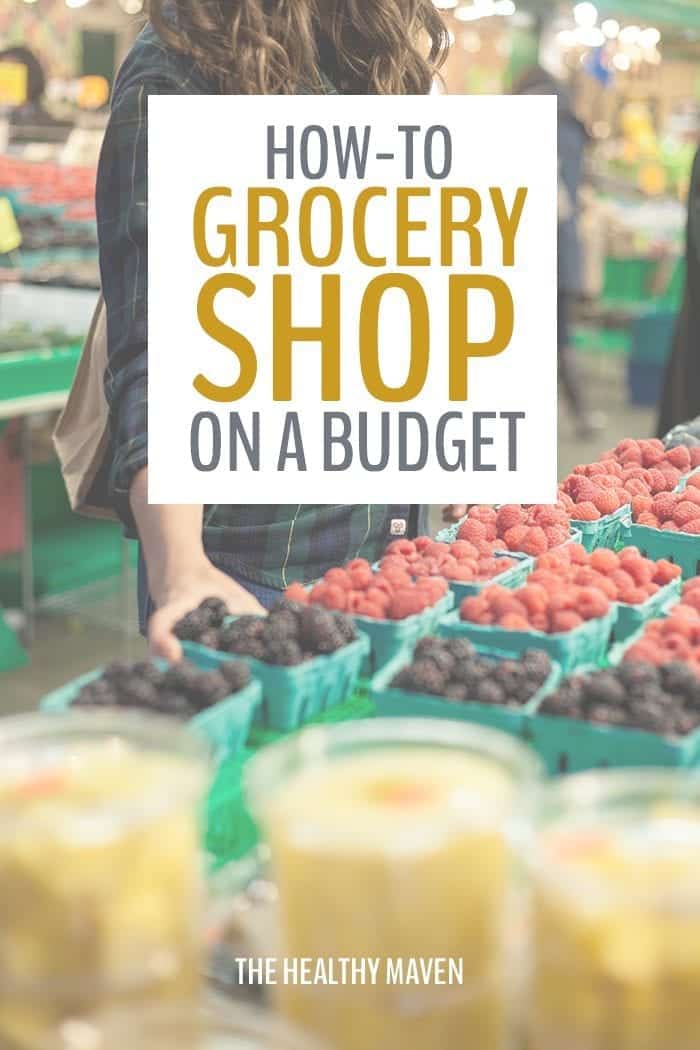 Due to the challenging weather caused by El Nino and the not-so-great Canadian dollar, food prices in Canada have been fluctuating like crazy. My grocery bill for the week is usually around $80-90 CDN for two, but over the last few months I've been noticing that our bill has been as high as $150! For a young couple who is trying to budget (aka save for our travel fund), seeing the prices skyrocket at the grocery store makes us rather eat out then deal with the burden of food shopping and cooking.
While I'm not one to cook every single one of our meals, eating-in gives us a certain level of control over the types of food we consume and ensuring we stick to a relatively clean and healthy diet. And even with rising food costs, eating out actually doesn't end up being any cheaper.
What I fear is that as food prices continue to rise, people will turn to cheaper and less healthy alternatives. I've found us falling into that trap so in 2016 I set out to get our grocery bill down. Besides indulging in the occasional cauliflower, I've actually been able to decrease our grocery bill substantially and am hoping that the tips and tricks I've implemented can be helpful to some of you. Here are my recommendations for how to grocery shop on a budget and still keep up with a nutritious diet:
10 Tips for Grocery Shopping on a Budget
1. Meal Plan + Create a List
I always go back-and-forth on meal planning (mainly because I can get lazy) but there's no denying how effective it is for food shopping. On Sundays I usually sit down with C and we chat about what we want to eat that week. I also have a look at my content calendar to get a sense of what I'll be testing or shooting in the kitchen that week. From there, I create a list of groceries I'll need for these recipes and other staples we keep in the kitchen.
I use my Wunderlist app to create the list so that I can easily access it on my phone, in the store and check it off once I have it. Without a list it's game over at the grocery store and without a meal plan, you've got no chance at making your list.
2. Be flexible
So you're at the store and you notice that broccoli is $5 cheaper than cauliflower. Don't be afraid to change it up! Knowing your ingredients is good, but sales happen and it's okay to swap one ingredient for the other. Unless it's the star of the show, be flexible with your shopping and deviate from the list to give your wallet a break.
3. Shop local
This is easier said than done in certain places, but a good rule of thumb is that if it's local, it's likely cheaper. With less travel and exchange rate issues, your butternut squash is almost guaranteed to be cheaper than those $8 raspberries. It also helps support your local farmers, and who doesn't feel good about that?
4. Substitute with Frozen
But sometimes you're craving those $8 raspberries…frozen to the rescue! I actually have nothing against frozen fruits and veggies. As always, quality comes first but there's some fantastic quality organic frozen fruits and veggies on the market that are frozen at their most optimal times to seal in nutrients. In the winter I almost exclusively get my berries frozen since there's no way in hell I'm paying such an exorbitant amount for fresh berries that have been shipped from halfway across the world.
This doesn't give you permission to eat exclusively frozen foods, but when fresh is not an option, go frozen.
5. Know the Clean 15 +Dirty Dozen 
The clean 15 and dirty dozen are a list of vegetables indicating which ones to buy organic and which ones are okay to eat conventional. Organic veggies are more expensive so knowing which ones to actually splurge on is worthwhile. Download this picture to your phone so next time you're at the grocery store you can turn to it when choosing whether or not to buy organic. As a rule of thumb- if it has a thick skin (think avocados, bananas etc..) it's usually pretty impenetrable so conventional is fine, but if the inner part is exposed, go organic!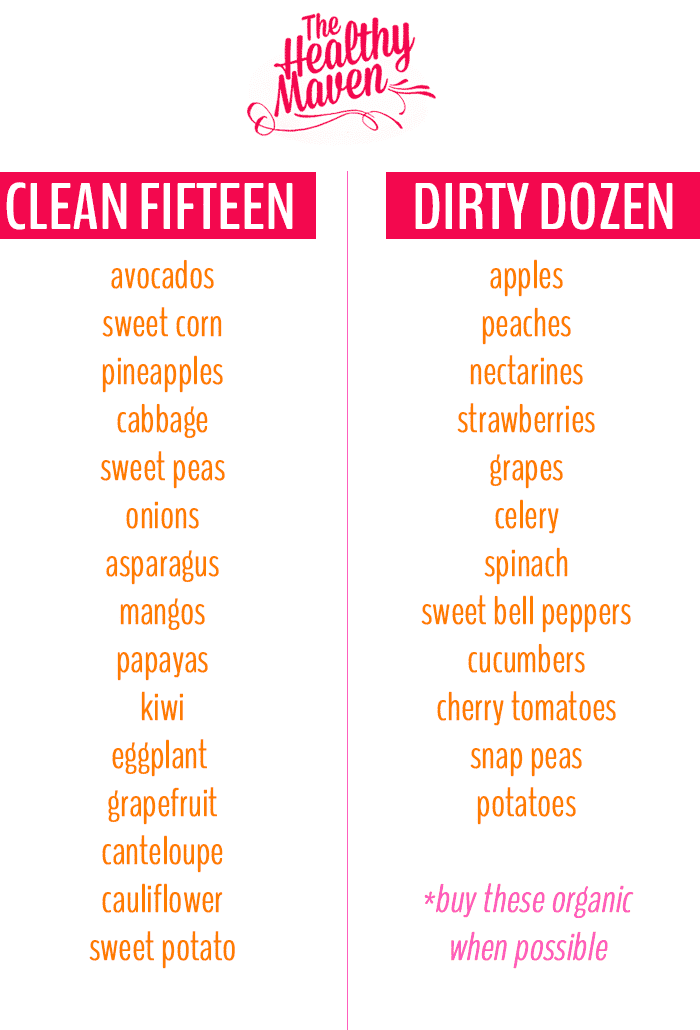 6. Eat Less Meat
Meat, and especially good quality meat is hella expensive. And guess what? You don't need as much of it as you think. About 6 months ago C and I set out to decrease our meat consumption and we feel pretty good about our choice. We've saved a ton of money, done our part for the environment and I've learned a ton about plant-based cooking. This year is the International Year of Pulses, and for good reason. Pulses (i.e. legumes) are an amazing source of plant-based protein and nutrition. They're also infinitely cheaper than meat and especially when you buy dried beans and cook them yourself. I challenge you to start eating at least one meatless meal a week and take it from there. P.S. Here are some of my faves:
Butternut Squash Mac + Cheese
Thai Quinoa Casserole
Quinoa Tortilla Soup
Roasted Butternut Squash with Pesto + Spicy Chickpeas
7. Shop in Bulk
Certain ingredients like nuts and grains are often substantially cheaper in bulk than having to buy 6 boxes of quinoa. Not only do you produce less waste, but with fewer packaging materials your bulk food will almost always be cheaper. I usually do a big trip to the bulk store one-a-month and fill up my pre-labelled jars. I'll keep nuts in the fridge and dried fruit and grains in the cupboard. When my stock gets low I know it's time for another visit.
8. Spot the Deals
I am OBSESSED with rewards programs. To me, it makes absolutely no sense to not sign-up for them (man am I my mother's daughter…). Most larger grocery stores offer some kind of rewards program and certain stores have demographic-specific days for students or seniors (unfortunately none for those of us in limbo between the two!), so start making use of them!
Loblaws, the grocery store closest to me as an amazing rewards program called "PC Plus", which gives you points based on the food you buy most often. There's incentive for you to buy more, but also rewards you for food you'd buy anyway. Last year I earned over $270 in free groceries. Have I convinced you yet?
9. Store Hop
This tip isn't for everyone, but if you're really committed to decreasing your grocery bill, it's time to do your research. I'm a price inspector and make note of prices at various stores. I know where to buy the chepeast hummus, where produce is best and where to get my bulk quinoa. It's not the fastest shopping method but if you've got some time, keep a list of where foods are cheapest and store hop to save on your bill.
10. Use The Freezer
Food waste aka the bane of my existence is a huge money sucker. I live with a growing boy who eats a lot but if I'm making a meal that makes a ton of quantities and I don't think we'll eat it all, into the freezer it will go! I individually store each meal so that all that is required is popping it out the night before to defrost. It prevents you from having to throw out food (and then go and spend $$$ on more) and also ensures there's healthy, homemade food around the house. You can also plan for this by buying ingredients to make large and easily freezable meals. Perfect for SOUPER SUNDAY…just sayin'.
* * * * *
So there you have it, 10 Useful Tips to help you grocery shop on a budget. I'm always trying to decrease my bill (mostly so I can spend more money on unnecessary ingredients like artisnal mustard and pickled lemongrass or travel the world to eat some more) so I will keep you posted as I discover more tips and tricks. In the meantime, I'd love to hear what you've done to keep your grocery bill down!
WANT MORE HEALTHY LIVING TIPS? Join the THM Community!
Join 10,000+ members of the THM Community to get access to exclusive info about healthy living, products I'm loving and tips and tricks on making a healthy lifestyle easier and sustainable.