Revisiting an old THM classic with a tutorial on how to make the perfect roasted potatoes. With two variations for when you're in a rush or have more time! They're crispy on the outside and soft on the inside with a delicious spicy coating.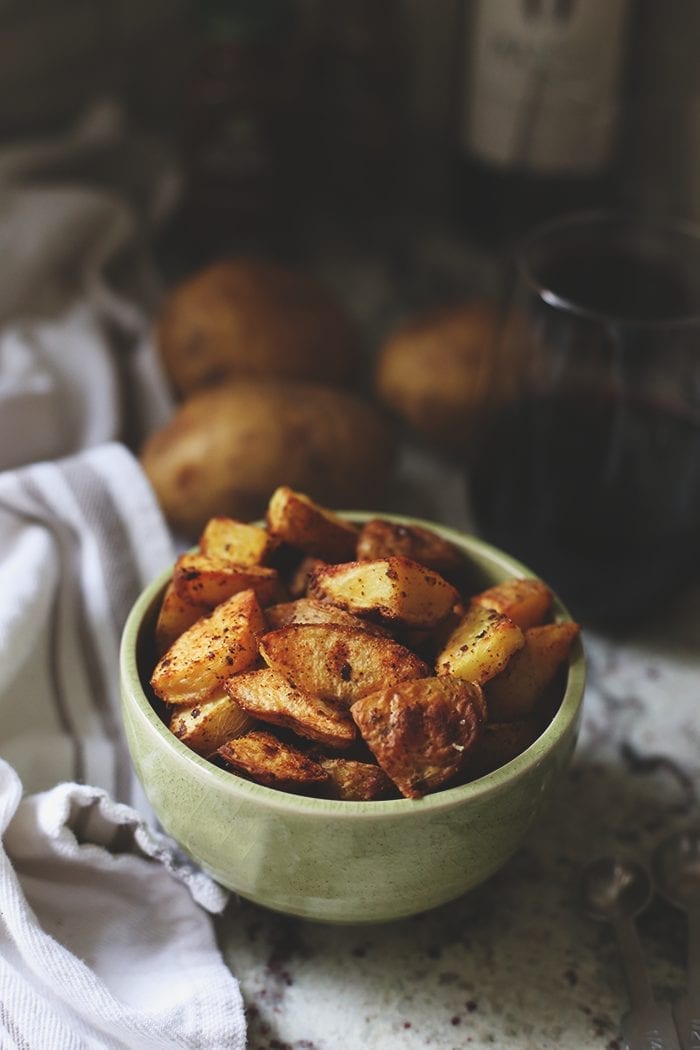 "Never say never". The most precious lesson Justin Bieber has taught me.
Note: If you have anything against my deep deep love for Justin Bieber, I welcome you to leave now (or just scroll down to the BEST EVER perfect roasted potatoes recipe). I'll understand!
But before we get into a Bieber brawl, allow me to explain.
I have a habit of making outrageous claims like "I would NEVER do that!", only to regret it 6 months later when the pendulum that is my opinions swings immediately opposite.
The perfect example would be my somewhat extreme opinion or reshooting or editing old blog posts. For the longest time I was very anti-reshooting. I love that this place reflects my journey and want it to be a representation that nothing starts out perfectly. My writing was little forced, the pictures SUCKED and even though the recipes were always delicious, I didn't account for the fact that some people may not want to spend 2 hours making roasted potatoes.
But I'm also the first person to tell you that people eat with their eyes and have witnessed first-hand how beautiful pictures can influence your audience. It may not be the reason someone makes a recipe, but it certainly helps your cause by getting people's attention.
So here I am almost 4 years later, feeling ready to tackle some of my older content, even if I said I never would. But instead of erasing the journey, I'm letting you guys come along with me for it! So I hope you take this as a lesson in permission to grow. It's okay to improve, to change, to revisit and expand. The journey wouldn't be nearly as fun if your starting point was also your destination.
Oh and in the great words of Justin Bieber, "Never say never."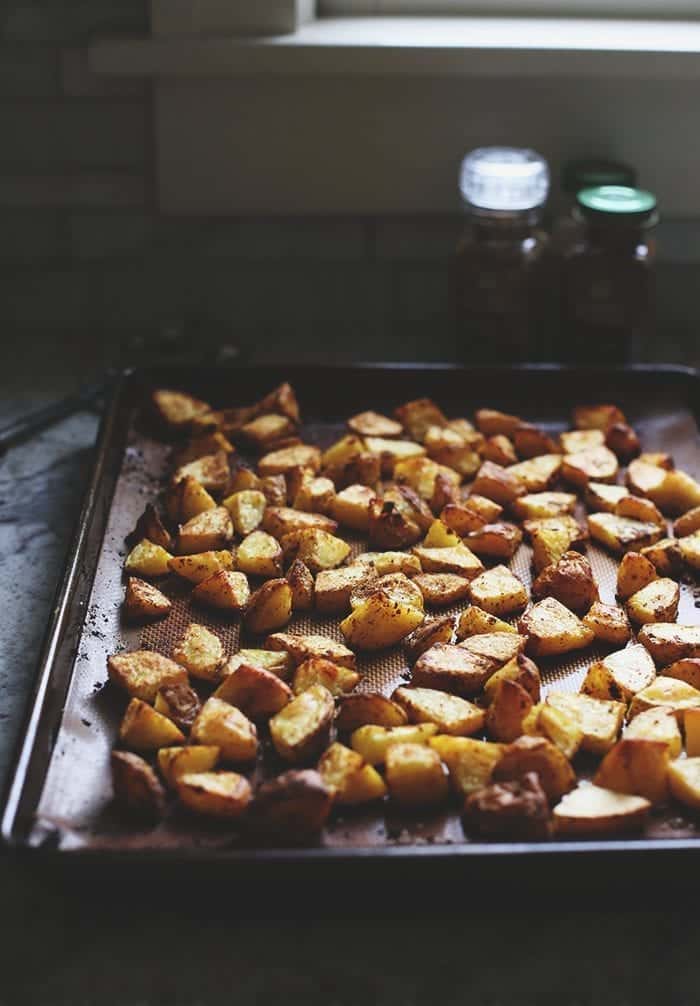 Print
How To Make The Perfect Roasted Potatoes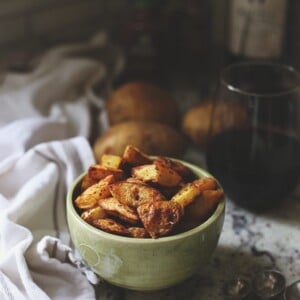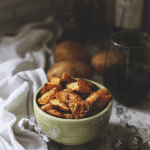 Prep Time:

10 minutes

Cook Time:

50 minutes

Total Time:

1 hour

Yield:

4

servings

1

x
Instructions
Regular version:
Chop potatoes into bite-sized pieces.
Preheat oven to 425 degrees F.
Bring a large pot of water to a boil and add 1/4 tsp of salt.
Once boiling add vinegar and then potatoes.
Cook on high for 10 minutes.
Strain potatoes into a colander and then spread out on a parchment or silicone lined baking sheet.
Lightly pat at potatoes with a paper towel to dry.
In a small bowl combine spices (mustard,garlic, chili, salt and pepper).
Drizzle potatoes with oil and then sprinkle with spices until well-coated.
Bake on bottom rack for 20 minutes.
After 20 mins, move potatoes to top rack and bake for another 20 minutes.
Serve warm.
Quick version:
Poke holes in potatoes with a fork and place in a large microwave-safe bowl.
Microwave on high for 4-5 minutes.
Potatoes will be hot so carefully slice into bite-size pieces.
Combine spices in a small bowl.
Heat up a cast-iron skillet over medium-high heat and add avocado oil.
Add potatoes and top with spices. Stir so potatoes are well-coated.
Cook on stovetop for about 10 minutes or until potatoes have reached desired level of crispiness.
Serve warm.
Notes
*Use an all-purpose potato like yukon gold or kennebec for best results. Equivalent to about 7 medium potatoes.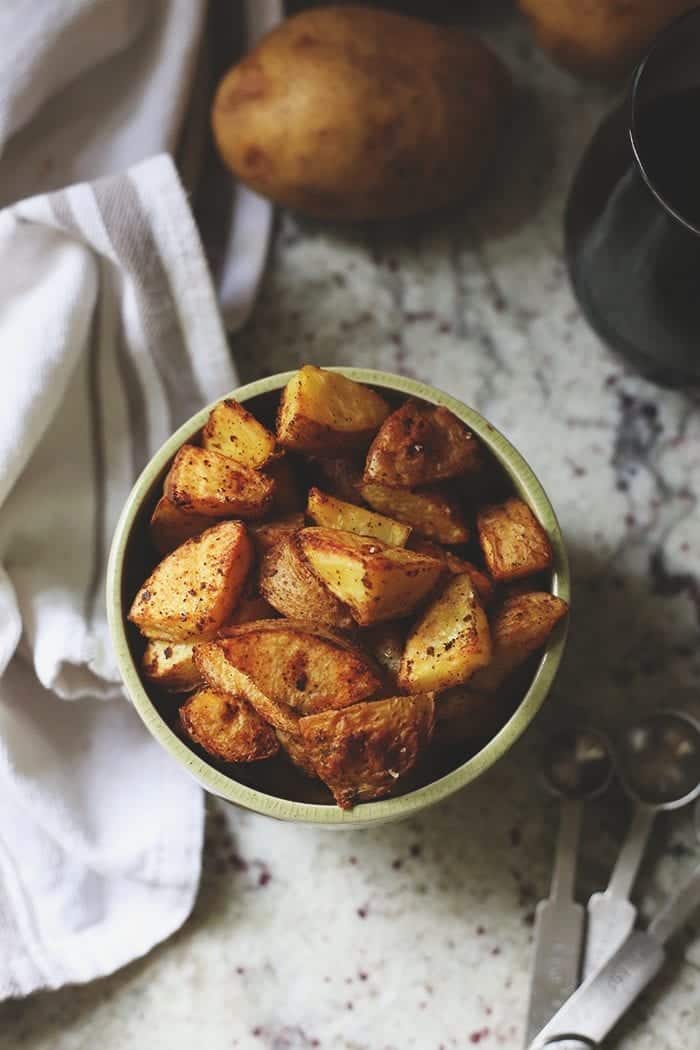 Have you ever said "never" and regretted it? Thoughts on reposting old recipes and pictures?
JOIN THE THM NEWSLETTER
Join 10,000+ members of the THM Community to get access to exclusive recipes, healthy lifestyle tips and behind-the-scenes news from our team!