Bring together tart lemon with sweet coconut in these nutrition-packed Lemon Coconut Chia Energy Balls. These portable snacks help you curb your hunger when you need that 3:00 PM pick-me-up!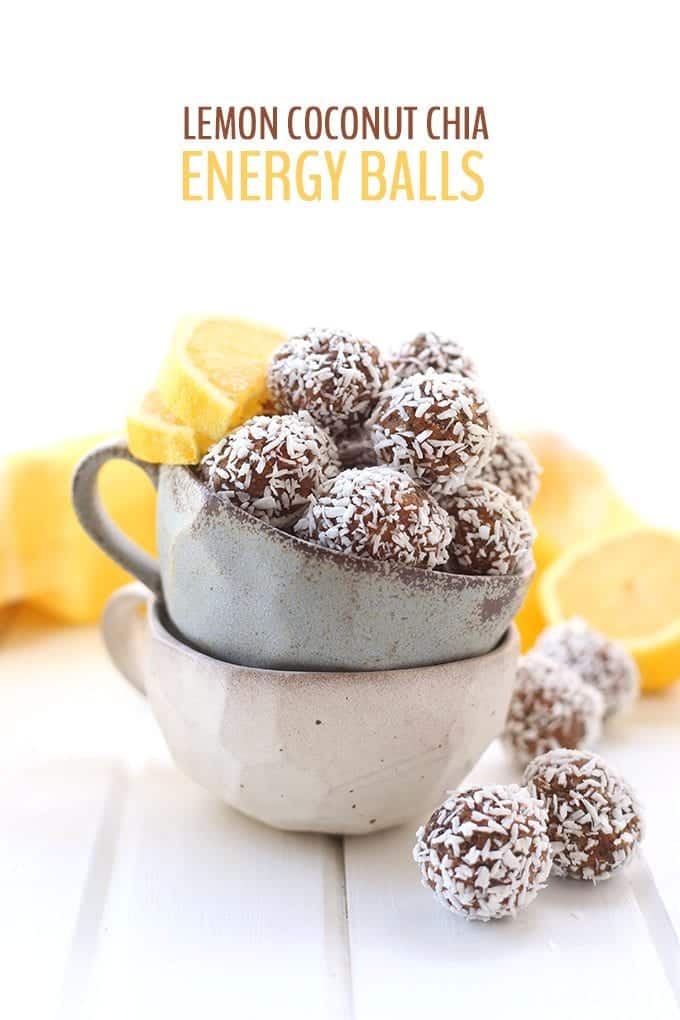 Welcome to day numero dos of Energy Ball Week! I hope you guys liked the pie ball recipes you got yesterday. Although the real treat was really the unveiling of my true stalkerish tendencies and weakness for ball jokes. That post was quite enlightening for me…
Onto today's post! Truthfully, I have no idea what I should be talking about. These Lemon Coconut Chia Energy Balls are amazing (as are all energy balls coming your way this week) and I'm currently enjoying them with a juice at a cafe in San Diego, but I honestly don't think that that will make for an interesting post.
I was a little bit afraid going into the week about what exactly I would write about for 7 days in a row. Coming up with a list of energy ball recipes? Easy. Executing them, testing and photographing them? A walk in the park. But 7 days of writing? I'm moderately terrified.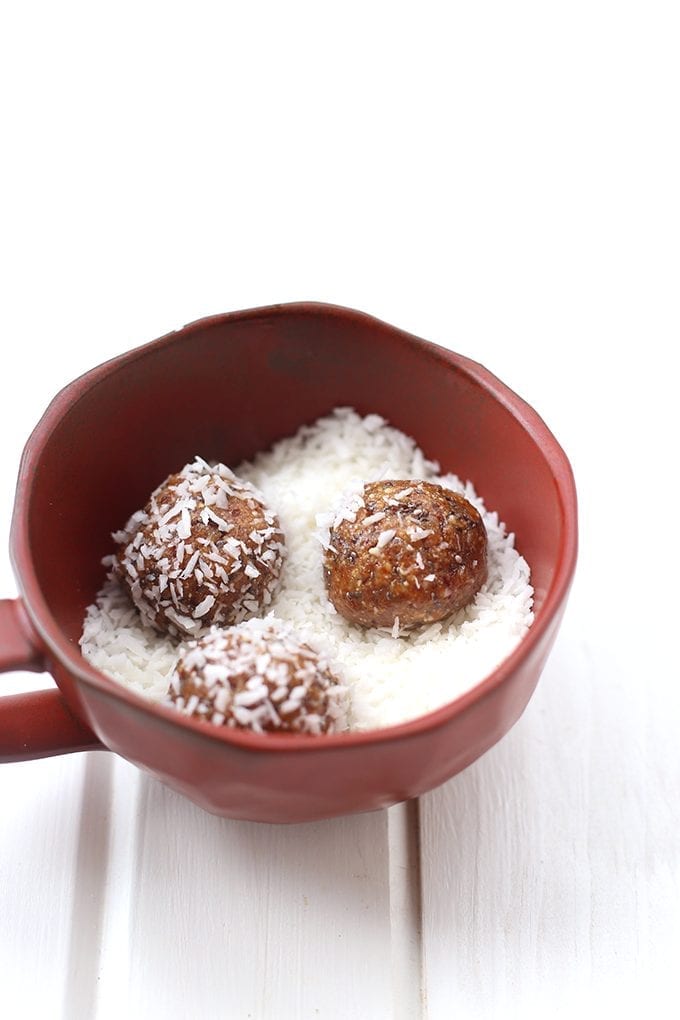 Writing has never been something that scares me, but it's definitely something I've avoided in the past. In university I majored in psychology because it meant that 90% of my exams would be multiple choice and not require me to have to write anything. I even hate writing recipes down on paper, which kind of shocked Lee. I either bank on my memory (which is impressive) or I'm all digital baaaaaybay.
I think it's the fact that I put a lot of pressure on myself when it comes to writing that really takes away from the experience of it for me. It's especially true when it comes to the blog. I want to really care about everything that I write and share on this space. I know a lot of bloggers focus on getting their keywords in (did I mention Lemon Coconut Chia Energy Balls? SEO homie!) or really don't care that much about their writing, but for whatever reason I take it very seriously.
If my bounce rate is indication, I should probably stop caring so much since it's clear most of you skim over to the recipe.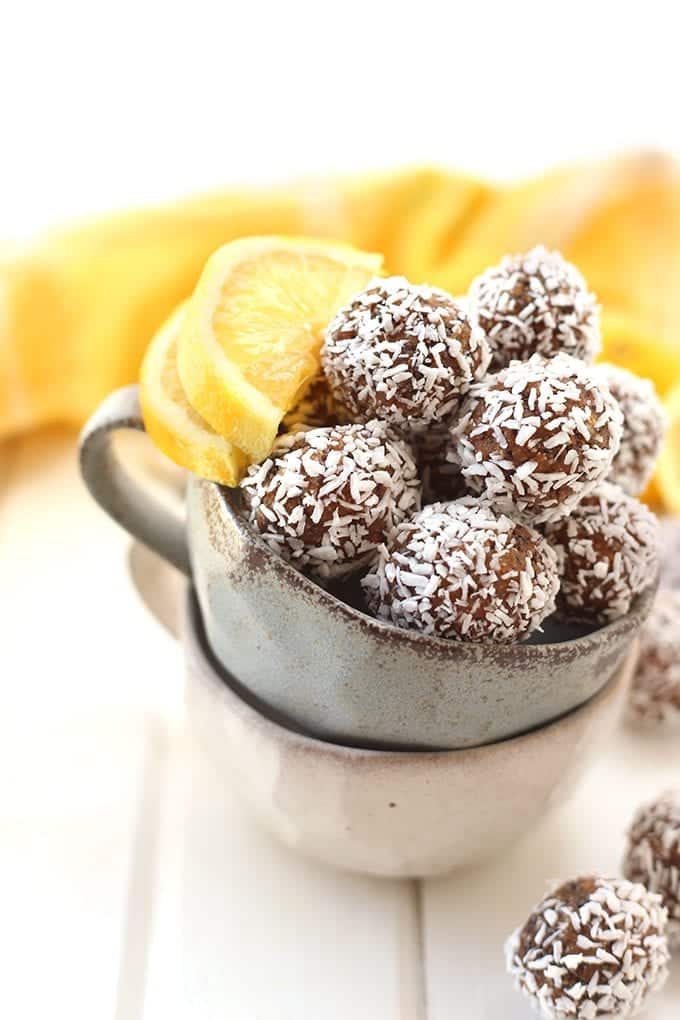 But sometimes you just can't let the numbers dictate all.
So it's looking like energy ball week will be a long week of writing for me. But instead of stressing about it, I'm viewing it as a challenge. I've been really wanting to work on my writing skills and find a way to be authentic and real without feeling so much pressure to express this in my writing.
I'm hopeful that I'll succeed at it, but worse-comes-to-worse none of you a reading anyway haha. God only knows what will end up on the blog tomorrow…this should be interesting.
Print
Lemon Coconut Chia Energy Balls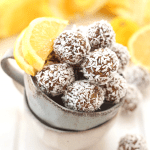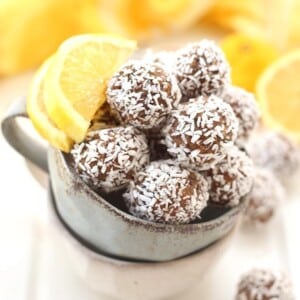 Author: Davida Lederle
Prep Time:

10 minutes

Cook Time:

0 minutes

Total Time:

10 minutes

Yield:

18

Balls

1

x
Category:

Snack

Method:

Blend

Diet:

Vegan
Instructions
Add dates to food process and process until broken up into pea-sized bits.
Add cashews, 1/2 cup of coconut and chia seeds and process until well combined.
Add lemon zest, juice and sea salt and process for 1 more minute until dough comes together into a large ball.
Roll into 18 balls and then roll balls in remaining 1/2 cup of coconut.
Place in freezer for 15 minutes and then store in fridge for up to 1 month.
*Make sure your dates are sticky. If not, soak them in hot water for 15 minutes to soften and then drain.
How do you feel about writing? Is it something you enjoy doing or does it feel like a chore? What should I talk about tomorrow? Prompts welcome 😉
JOIN THE THM NEWSLETTER
Join 20,000+ members of the THM Community to get access to exclusive recipes, healthy lifestyle tips and behind-the-scenes news from our team!