The ultimate fall salad is this maple roasted acorn squash salad tossed with a deliciously decadent pomegranate vinaigrette. The perfect way to get in your seasonal veggies!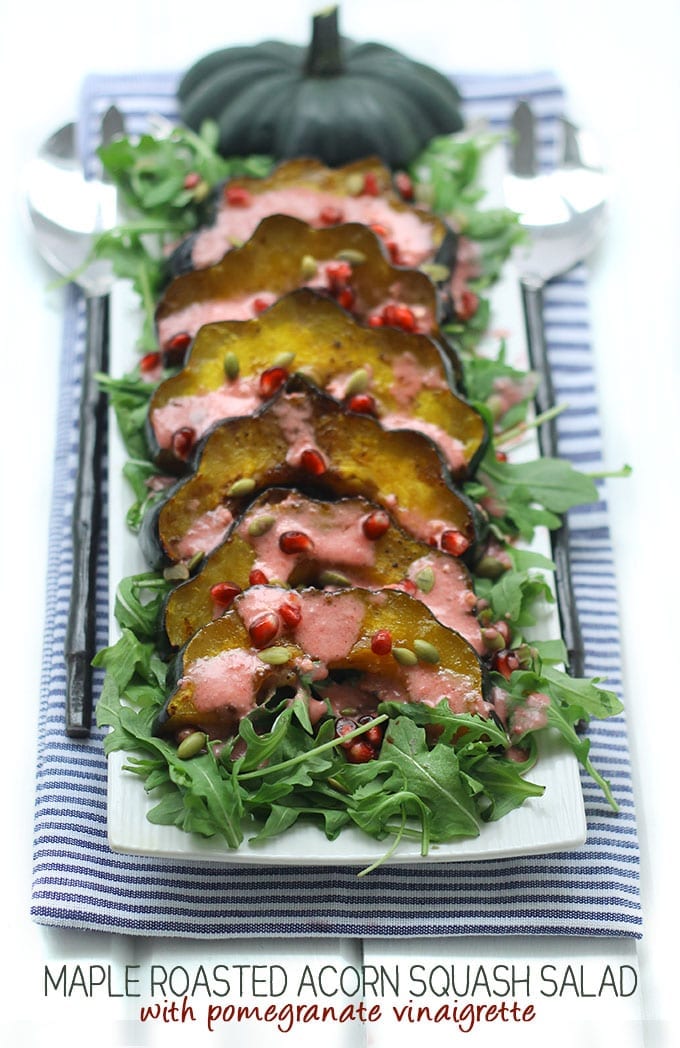 (warning, long rant ahead…scroll down for the recipe)
I had a whole post written for today that I suddenly deleted after letting a few voices get into my head. The post was funny, or at least I thought it was funny but thanks to an event I attended last night I started to question whether my voice was coming off as "authentic".
The event was titled, "data and technology, when does it get in the way of emotionally relevant storytelling?" and it was held at The Spoke Club where we had the opportunity to meet, discuss and challenge other creative minds on this topic. For obvious reasons, I was particularly invested in this topic.
I write a food blog. I share stories about my life, which I infuse between pictures of food. I use technology as a platform to share my story and without it I have wondered whether I would have had the opportunity to share my story at all.
Despite being in a room full of marketers and advertisers, I was getting that sense that the majority of the room felt strongly that data and technology does get in the way of emotionally relevant storytelling. I found myself in the minority.
Not only do I feel as though technology has given me a platform to share my story, but I also really value the data I am acquiring behind the scenes.
It's true, running The Healthy Maven is my job so getting a better understanding of what content you gravitate to most (from the numbers side) is key in helping me run a successful business. But part of what I love most about my job is being able to create content that is emotionally relevant to you, whether it be making you laugh at my stalkerish tendencies (what this post was supposed to be about), giving you healthy recipes that allow you to create stories in your own life or inspiring you to make one small change for you health today.
I take into account what you like to see, but I don't in any way feel as though it has changed my voice or made me any less authentic.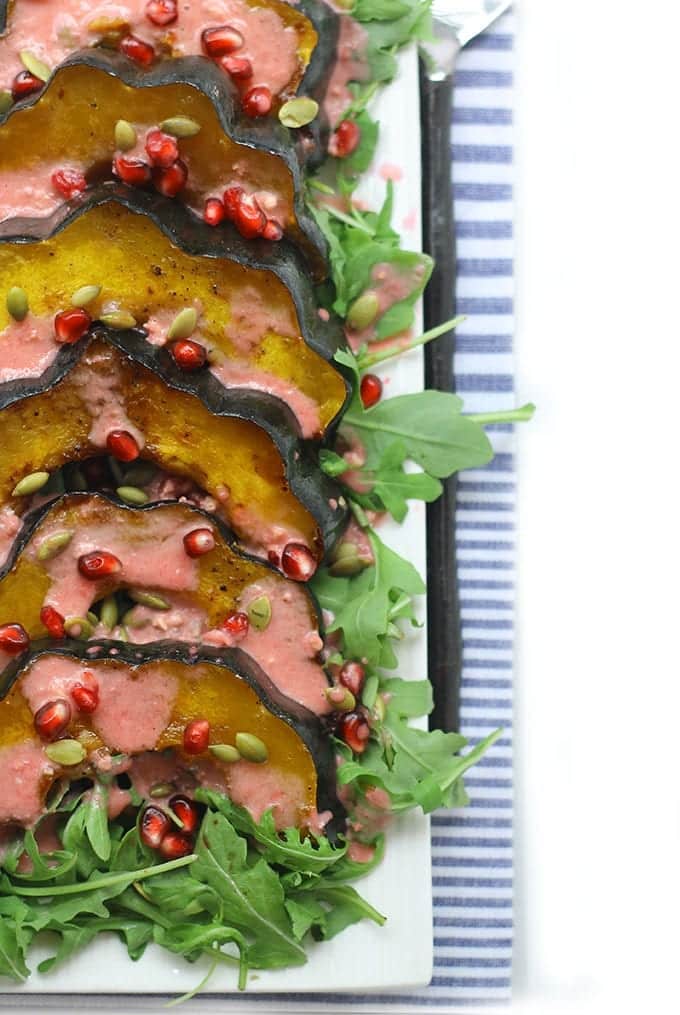 And then comes the question of advertisements and sponsored posts and whether that dilutes my story. I personally feel as though that is a line that each blogger (or whatever your job is) must draw for themselves. I have advertisements on the blog, they don't bother me, they help me to stay afloat and if they bother you then you are free to leave.
Same goes for sponsored posts. I have a criteria they must meet (they must be relevant to my readers, something I would use in my own life and no more than 3 a month) and this helps me to keep my voice intact. It's what I am comfortable with but also allows me to do what I love for a living.
I think it was easy for some people in the room to say that making money off advertisements and using data to direct your content makes you less authentic because many have reached a level of success where they don't have to worry about these things. But I do, and you know what? I am okay with it.
I like that part of my job involves giving you what you want to see and I like that I struggle with the questions that come with staying true to your message as you grow it as a business. I enjoy learning how to "do me" in a world that happens to be driven by data and technology. And I don't feel the need to "damn the man" and do away with the things many of us are required to do to run our own business, even if some people think it is "selling out".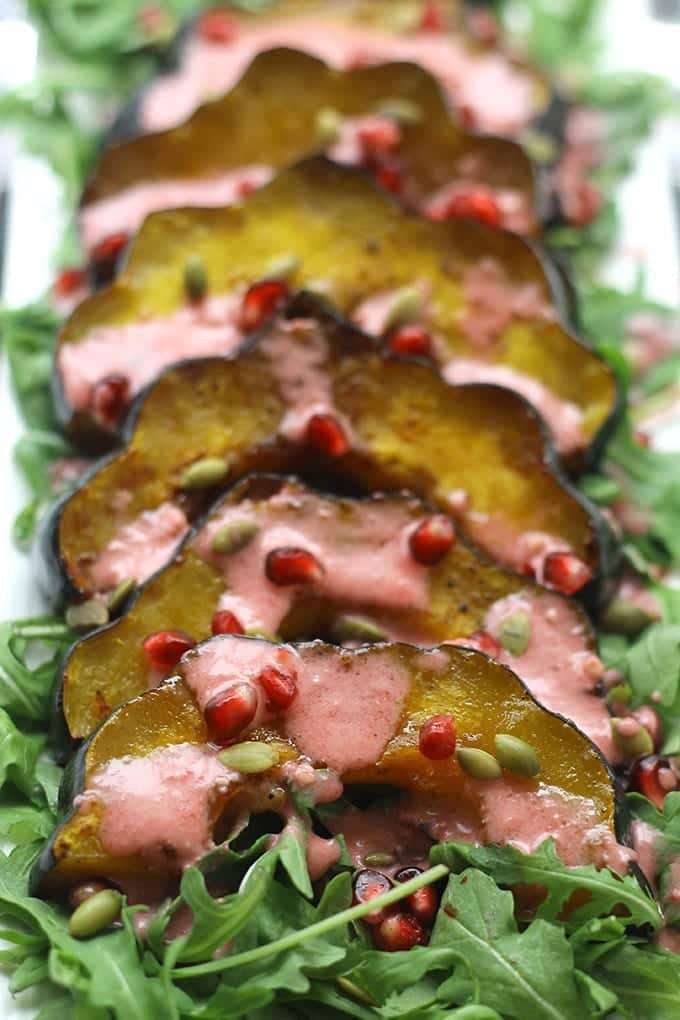 Mostly, I love that no matter how much The Healthy Maven evolves or changes, I still have the power to control its message. That I am afforded the opportunity to delete everything that's been written and start a whole new story from scratch is pretty damn cool. So no, I don't think that data and technology get in the way of emotionally relevant storytelling. In fact, I think it enhances it.
P.S. You should make this Maple Roasted Acorn Squash Salad. Do it.
Print
Maple Roasted Acorn Squash Salad with Pomegranate Vinaigrette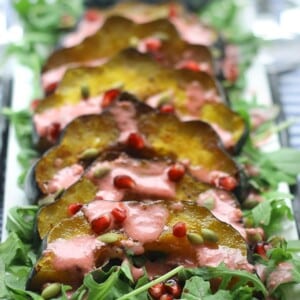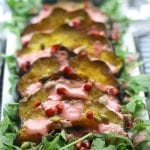 Scale
Ingredients
For the Maple Roasted Acorn Squash:
1

acorn squash (

2

lbs)

3

T maple syrup

1

T olive oil

1/2 tsp

sea salt
freshly ground pepper
For the salad:
6

large handfuls of baby arugula (or green of choice)

1/4 cup

pomegranate seeds

1/4 cup

pumpkin seeds (pepitas)
For the dressing:
3

T red wine vinegar

2

T olive oil

1/4 cup

pomegranate juice

1 tsp

maple syrup
Instructions
For the Maple Roasted Acorn Squash:
Preheat oven to 425.
Cut off top and bottom of squash, then cut in half (lengthwise) and scoop out seeds. *
Lay each side down and cut width-wise into strips.
In a large bowl combine maple syrup and olive oil.
Dip each piece into the mixture to coat both sides and then lay on a parchment or silicone-lined baking sheet.
Sprinkle with salt and pepper.
Roast them for 15 mins on side one, flip and roast for another 10 mins on the other side.**
For the salad:
Combine all salad ingredients and then top with squash.
For the dressing:
Mix all ingredients in a small bowl.
Top onto salad just before serving.
Notes
*If squash is hard to cut, place in microwave for 3-4 minutes before cutting with a sharp knife. **If you do not like to eat the skin, let squash cool and peel off the skin before adding to salad.
So now I ask you, "do data and technology get in the way of emotionally relevant storytelling?"
JOIN THE THM NEWSLETTER
Join 10,000+ members of the THM Community to get access to exclusive recipes, healthy lifestyle tips and behind-the-scenes news from our team!