This Mocha Hazelnut Butter is an easy DIY nut butter recipe made with toasted hazelnuts, chocolate and coffee for a caffeine twist on nutella! If you've never tried hazelnut butter before, you are definitely missing out!
I'm baaaack! Did you miss me? Probably not. It's only been 10 days but those 10 days have felt like a lifetime for me. Granted I did cover 4 states, climbed at least 6 mountains, almost die mountain biking and eat A LOT of amazing meals in that time, but I'm guessing you barely noticed I was gone.
I had actually planned to continue blogging while I was away and had enough content (i.e. cooked and photographed recipes before I left) to last me through the two weeks but the second I got out West and saw those beautiful mountains, I lost all motivation. It hit me then how badly I needed a vacation. So I completely disconnected and I have no regrets.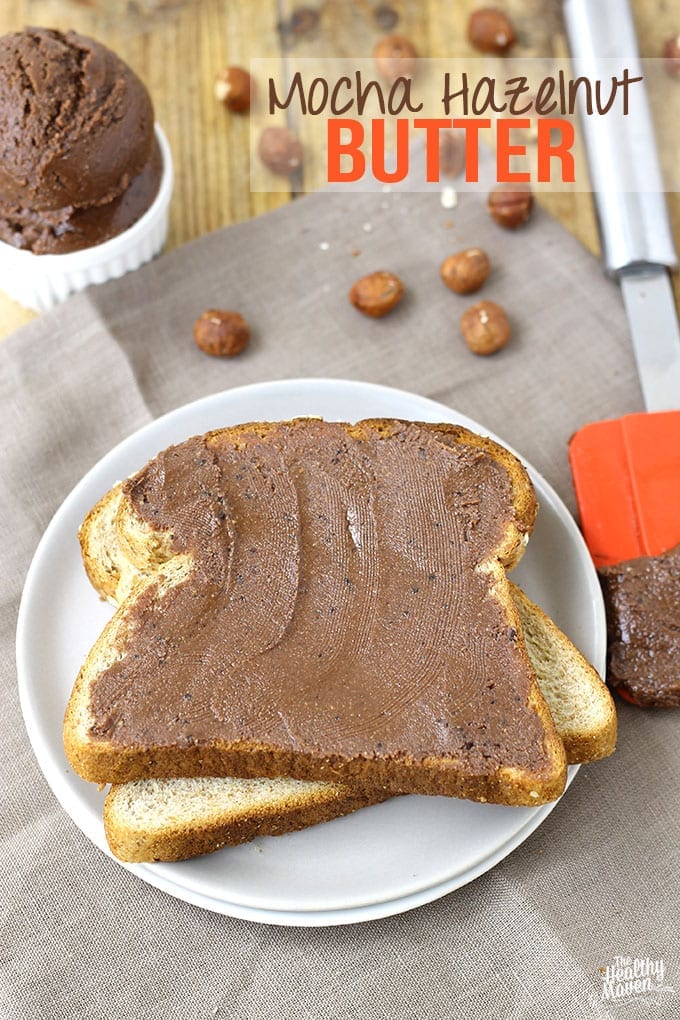 Regardless, I missed you. My vacation was an absolute blast and I am definitely looking forward to recapping my trip with you, but I really did miss this space of mine. I've actually discovered that I miss quite a few things on vacation. Don't get me wrong, it's nice to change things up and experience the world but being away makes you really appreciate the comforts of home.
I missed my bed, my roomie, high-speed internet and my kitchen. By my 10th peanut butter and banana sammie, I started to miss vegetables too. You should have seen my face when we got to Jackson, WY and I ordered a HUGE veggie soup from the most amazing organic cafe. I think our waiter thought  I had been starved because I demolished that thing. It was heaven.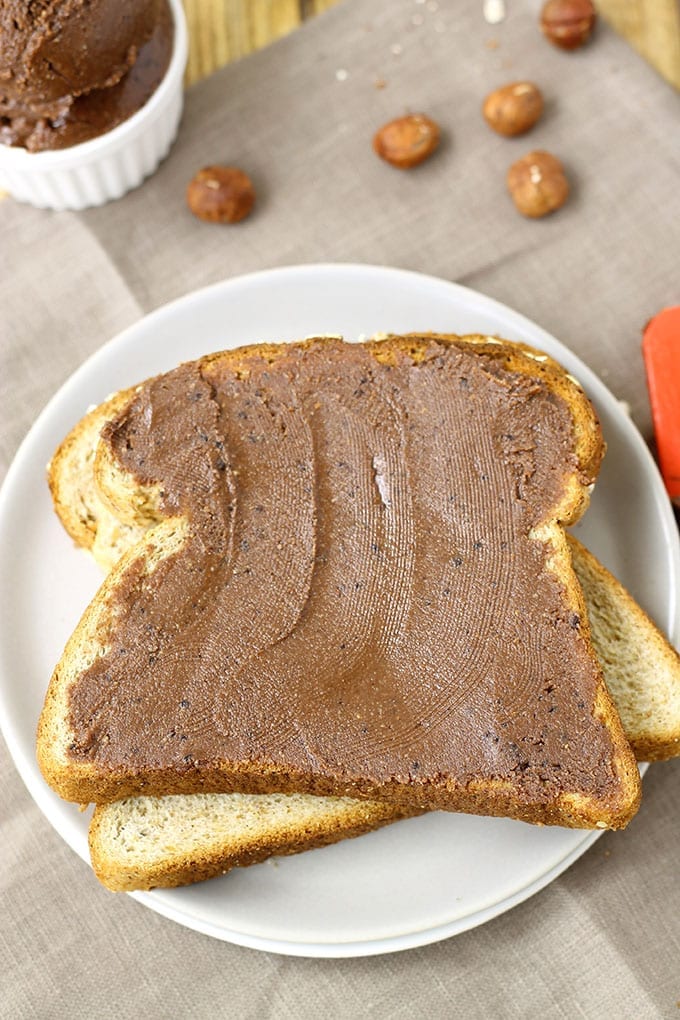 Don't get me wrong, I love me some peanut butter, but apparently there is such thing as overkill. By the time we reached Yellowstone, meals were slim-pickins. Breakfast was often instant oats (why do they make them SO sweet?!) with peanut butter, followed by a peanut butter sammie for lunch, post-hike treat of peanut m&ms and dinner aka my one peanut-less meal of the day.
By the last day of our trip I couldn't even look at peanut butter. It made me realize how much I love having some nut butter variety. I suspect I am one of the few people who goes on vacation and misses their nut butter collection. You know you're a foodie when…
And yes I did come home and dip a big ole spoon in a jar of this Mocha Hazelnut Butter and I swear it got better with time. Nut butter is like a fine wine…okay maybe that's pushing it 😉
Print
Mocha Hazelnut Butter
Total Time:

25 minutes

Yield:

1 cup

1

x
2 cups

hazelnuts

1

T cocoa powder

2 tsp

coffee grinds

1 tsp

sea salt

1

T maple syrup
Instructions
Preheat oven to 350 degrees F.
Spread hazelnuts on a baking sheet and roast for 8 minutes.
Remove from oven and let cool.
Once cool remove skins from hazelnuts.
Add hazelnuts to a food processor or high-quality blender and process until smooth, scraping down sides as needed. Mine took 10 minutes.
Add in cocoa powder, coffee grinds, sea salt and maple syrup.
Continue processing until well combined.
Store in a jar in cupboard for up to 1 month or longer in refrigerator (will harden in fridge)
What do you miss most on vacation? Anyone else have nut butter withdrawal?
JOIN THE THM NEWSLETTER
Join 20,000+ members of the THM Community to get access to exclusive recipes, healthy lifestyle tips and behind-the-scenes news from our team!