These Paleo Lemon Poppyseed Muffins are packed-full of flavor and nutrition but are completely grain and oil free. They will quickly become your new favorite Spring treat for healthy snacking on the go.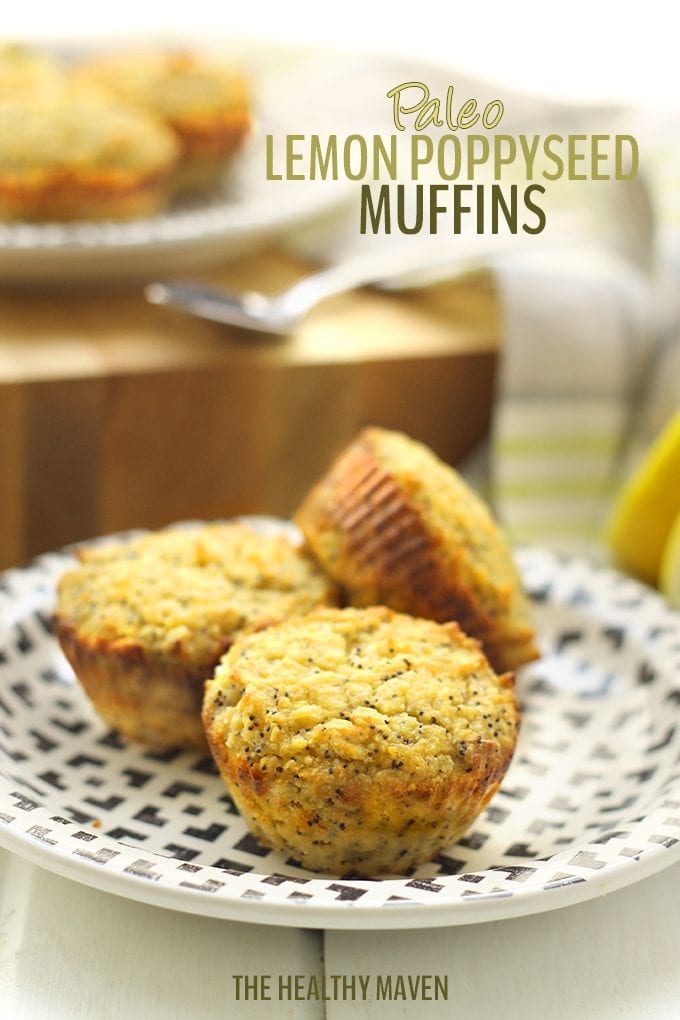 Guys, I'm off my game.
Before I left for Dublin I was so on point. I was working 2 weeks out (unheard of for me!) and successfully scheduled everything so I could fully detach while I was away. Detaching felt amazing at the time but it's like I completely forgot how to blog while I was gone.
Turns out blogging is nothing like riding a bike…unless we're equating it to my near-death experience mountain biking in Utah.
I realize that 90% of you don't realize the work that goes into blogging, but as it turns out neither do I. I've mentioned my work-hard, play-hard mentality so I guess when I'm working hard I don't even realize how much work it really is.
RELATED: Paleo Banana Nut Muffins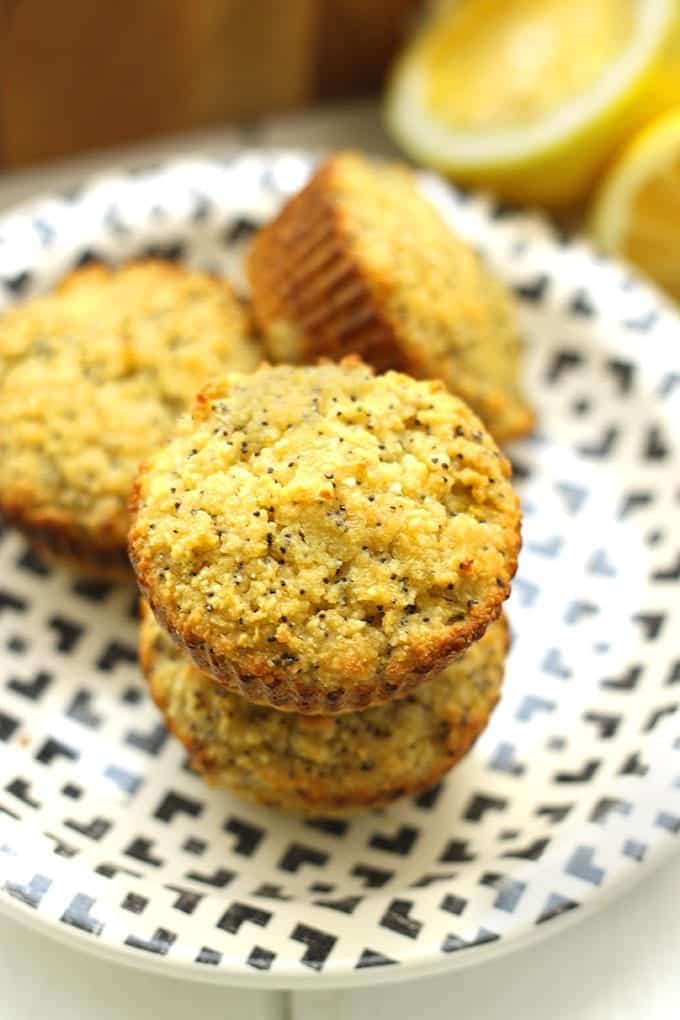 Take this recipe.
First there was the grocery shopping, which after returning from vacation meant that lugging my bundle buggy home was basically a crossfit workout.
Then there was the recipe development. Luckily I've gotten my paleo muffins down so I kind of cheated and adapted an older recipe to make the lemon poppyseed flavour I was going for. Hey, all food bloggers do it and they're lying if they say they don't. There I said it.
I got them on the first try, but I still wanted to make a second batch a) because I couldn't stop eating them and b) because I like making them with mountain biking in Utah to test how well they work. It was at this point that I completely forgot about round-2 (no shame…I was totally watching the finale of The Challenge) and burnt them slightly.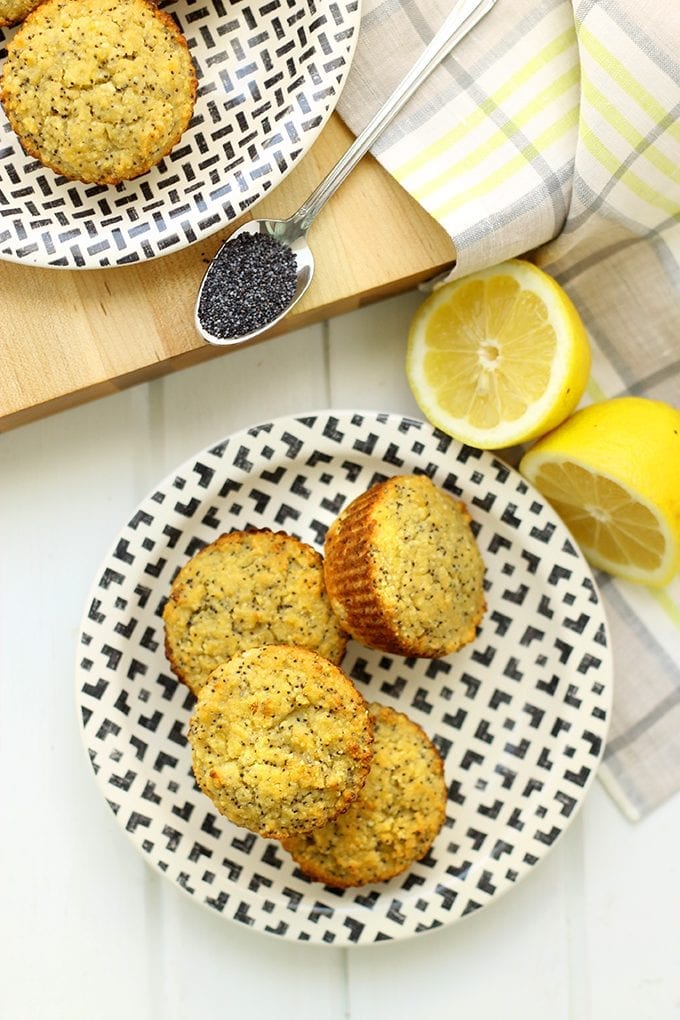 I then proceeded to do the entire shoot without the white balance set and using the wrong lens wehhhhh and then spilled poppyseeds all over my shag rug (not fun).
This was followed by a photoshop session where I drastically overexposed the photos because I didn't realize my brightness was all the way down.
And now here I am writing to all of you about first world blogging problems. After nearly forgetting to write the intro blurb, fill-out the SEO plugin and set the featured image,  I'm gonna put my money on that I'm forgetting something else and I'll hear about it from you in the comments. Maybe if I eat 10 of these Paleo Lemon Poppyseed Muffins I'll remember how to blog again.
Unlikely.
Print
Paleo Lemon Poppyseed Muffins
Author: Davida Lederle
Prep Time:

10 minutes

Cook Time:

25 minutes

Total Time:

35 minutes

Yield:

12

muffins

1

x
2 cups

almond flour*

1/4 cup

coconut flour*

1/2 tsp

baking soda

1 tsp

baking powder (paleo-friendly)

1/2 tsp

sea salt

1/2 cup

unsweetened applesauce
juice, 2 lemons (about 1/2 cup)
zest, 1 lemon

3

large eggs

1/4 cup

raw honey

1 tsp

vanilla extract

2 tbsp

poppy seeds
Instructions
Preheat oven to 350 degrees F.
In a large bowl combine almond flour, coconut flour, baking soda, baking powder and sea salt.
In a separate bowl combine applesauce, lemon juice, lemon zest, eggs, honey and vanilla extract.
Add wet ingredients to dry and stir to combine.
Stir in poppy seeds.
Line a muffin tray with paper liners or silicone liners or grease well and divide batter evenly among wells.
Bake for 23-25 minutes, watching carefully to not burn (unlike I did…).
Remove from oven and let cool in tray for 10 minutes.
Remove from tray and allow to cool on a wire rack.
Will keep for several days in an airtight container on the counter.
*Almond Flour = blanched and ground almonds. Almond meal may work but I haven't tried it.
**If your batter is too dry it is due to the type of coconut flour you are using. Add additional liquid in the form of non-dairy milk.
Do you find you're forgetful after vacation? Do you think bloggers work hard? Probing question…
JOIN THE THM NEWSLETTER
Join 20,000+ members of the THM Community to get access to exclusive recipes, healthy lifestyle tips and behind-the-scenes news from our team!