Add some spice to your regular ole' breakfasts with these Pumpkin Chocolate Chip Pancakes. They're entirely gluten-free, made from oat flour and sweetened with just a touch of maple syrup. You will fall head over heels for these fluffy and spicy and pancakes!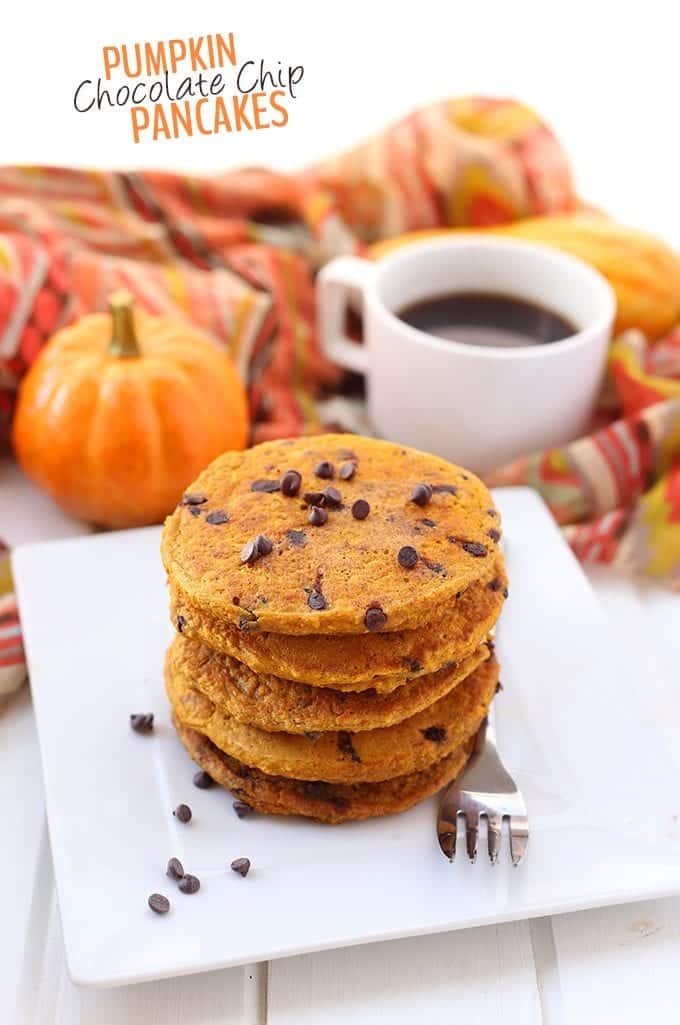 As I get older, my mind is continuously blown by the kindness and generosity of humanity. Meanwhile, I am perpetually astounded by people's lack of empathy when it comes to other people's feelings. We are capable of so much good, yet a small majority would rather be a year-round grinch than make somebody's day.
Of course, this stems from an incident which just occurred and unlucky for you, I have a blog that I plan to use to vent.
As some of you know, C and I are fostering a dog for the year. If you know Rhett, you know how sweet, kind and cuddly he is. He's a walking teddy bear. Unfortunately the pooch isn't feeling so hot but we went out for a walk anyway.
As we were meandering around the park, he walked by another dog who looked to be friendly. I mean this is what dog's do, make friends with other dogs (or sniff their butts- but you get the point). As he approached, the dog's owner starts yelling "get your dog away from mine" and yanks her dog away from Rhett and I. We walk in the other direction, having done nothing but walk through a public park but somehow we managed to ruin her day.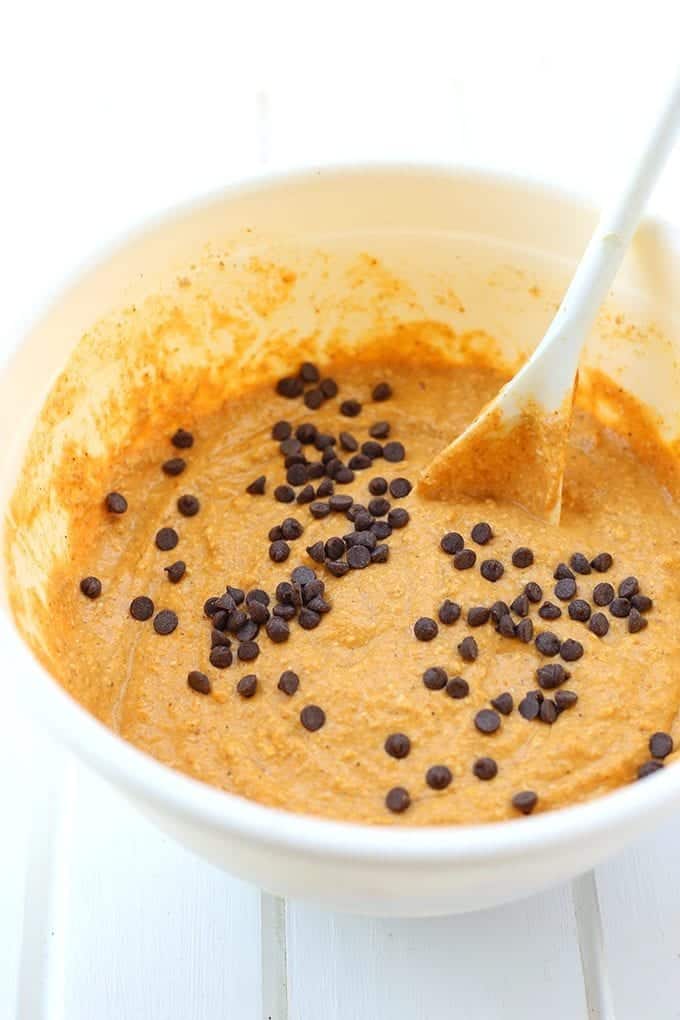 The funny thing is that while we seemingly are terrible creatures for having walked around a public park, she made the choice to attempt to ruin our day. Fortunately we're tougher than that 😉
One thing I've learned is that you really can't know or understand other people's circumstances. I have no idea if something terrible happened to her dog that morning or if she was feeling under the weather. What I do know is that I had a sick puppy on hand but regardless, we planned to make the most of our day.
As I become slightly wiser I realize how much power we have to influence other people. A simple smile or acknowledgment can quite simply make somebody's day.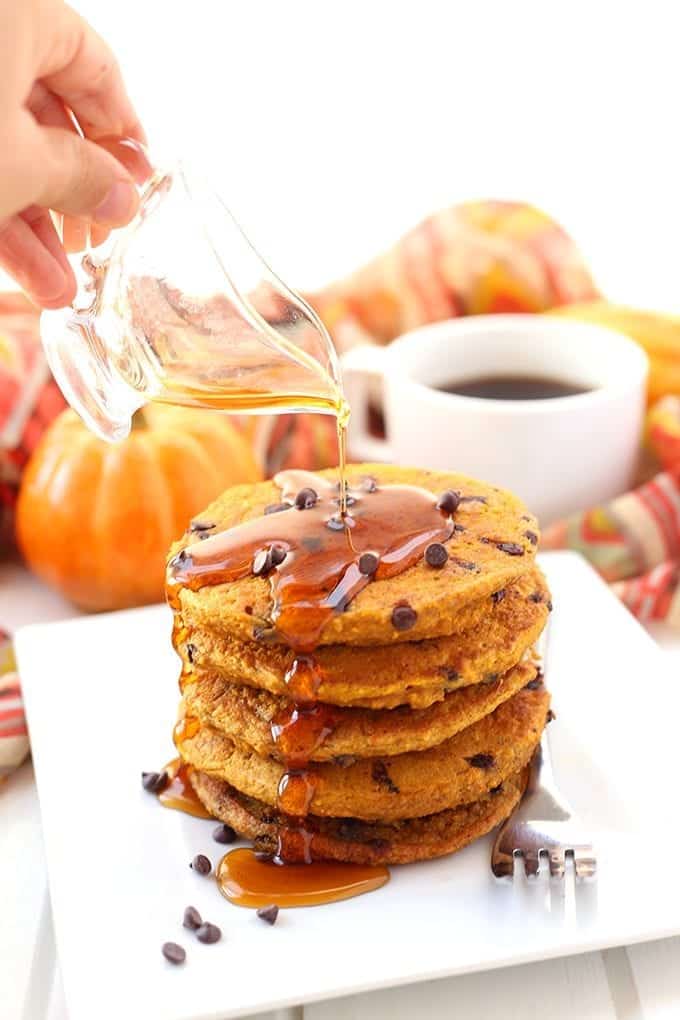 To me, it's such an obvious choice. If you can choose good, choose good. But if you're just not up for it, don't drag down everybody else around you.
One of the main pieces of good that you guys bring to my life is when you comment saying that you loved or enjoyed a recipe. I know it can be intimidating to comment publicly, but even an email or a message actually has the ability to turn my mood around in an instant.
I especially love how much you guys like my fluffy oatmeal chocolate chip pancakes, because they really are a staple breakfast recipe in my home. Knowing that you and your friends and family might be enjoying them on a Saturday morning too brings more light to my life than you can imagine.
So today I'm hoping this pumpkin chocolate chip version does the same for you. The originals are bomb, and the seasonal pumpkin version might possibly be even better. All I ask is that if you enjoy them, you pass it on. Buy someone's coffee, give someone a compliment, even a smile! But for god's sake, don't yell at a dog 😉
Print
Pumpkin Chocolate Chip Pancakes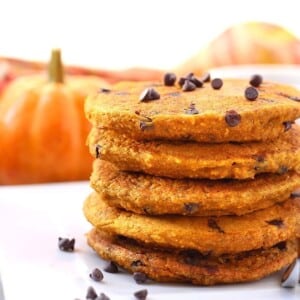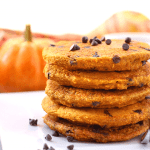 Total Time:

30 minutes

Yield:

8

pancakes

1

x
Scale
Ingredients
2 cup

s oat flour (ground up oats)

2 tsp

baking powder

1/4 tsp

sea salt

1 1/2 tsp

pumpkin spice

3/4 cup

pumpkin puree

1 cup

unsweetened almond milk

1

egg

1 tsp

vanilla extract

1

T maple syrup + more for topping, if desired

1/3 cup

mini chocolate chips (I use Enjoy Life dairy-free chocolate chips)
coconut oil for pan
Instructions
In a large bowl combine oat flour, baking powder, sea salt and pumpkin spice
In a separate bowl combine pumpkin, almond milk, egg, vanilla extract and 1 T maple syrup.
Add wet ingredients to dry and stir to combine.
Stir in chocolate chips.
If batter is too thick add in a bit more almond milk.
Spray or melt coconut oil in a large pan over medium heat.
Add a 1/3 cup of batter to form pancakes.
Cook until all bubbles have popped (about 3 mins) & flip over for 1 min. Repeat until all batter is used.
Serve warm with maple syrup, nut butter or preserves.
Tell me a happy/nice story! I'm in need of a little more faith in humanity 😉
JOIN THE THM NEWSLETTER
Join 10,000+ members of the THM Community to get access to exclusive recipes, healthy lifestyle tips and behind-the-scenes news from our team!