Looking for a delicious plant-based meal that's filling and satisfying? Look no further than these Roasted Cabbage Steaks with Chickpeas and Creamy Herb Sauce. You'll wonder what took you so long to try roasted cabbage steaks and will quickly start pouring this creamy herb sauce on everything!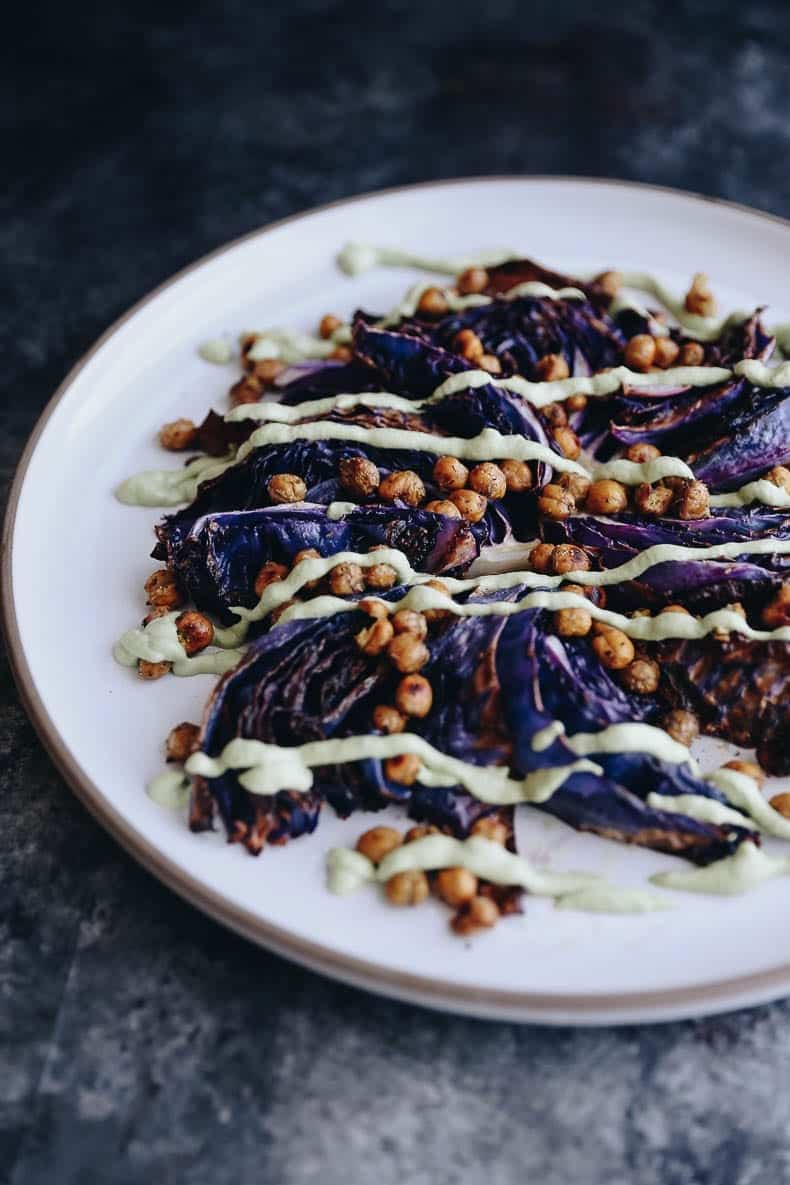 I've been sitting on this recipe for months. I'm not entirely sure why…maybe because I wanted to keep these dreamy roasted cabbage steaks all to myself? Or possibly because this creamy herb sauce may blow your mind and I wanted you to be prepared. Really, it's hard to say. Either way, it's here and I'm so excited to share!
This recipe was developed for somewhat selfish reasons. I was complaining to Jess one day that C isn't a fan of chickpeas. The man will eat hummus for days but for some reason he's just not a big fan of chickpeas. So of course, being the loving wife I am I decided to convince him he liked chickpeas…rather than just omit them. I know – it must be so fun being married to me!
We sneakily tested this recipe while C was travelling and once it was nailed down I put it to the test. Even my meat-loving, chickpea-hating husband loved these roasted cabbage steaks with chickpeas and creamy herb sauce. So for your picky eaters, fear not! This recipe is truly a winner.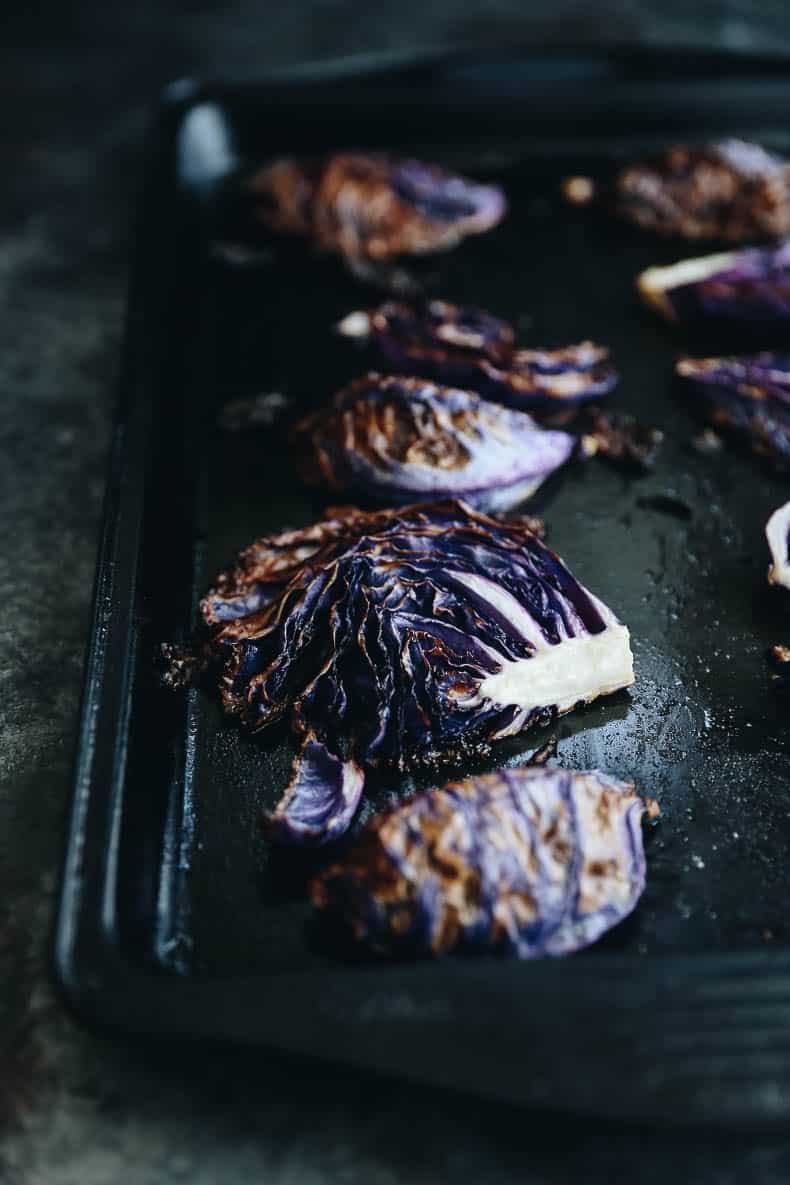 HOW TO MAKE CABBAGE STEAKS
You may have heard of cauliflower steaks before but if you're new to "veggie steaks", welcome! They are no where near similar to meat (let's be realistic!) but rather a great way to enjoy a veggie, a great base for a vegetarian dish or just a tasty food!
The important part of making cabbage steaks is cutting them correctly. First, remove the outer cabbage leaves that are dirty. Cut the cabbage in half from top to bottom (where the root is). From here, you can either cut the halves into 1″ slices (but TBH that scares me a little and I didn't want to risk any fingers for this recipe) or you can slice the halves into wedges. Both ways will result in deliciousness! Make sure you keep the slices or wedges together as best as you can.
Spread the wedges on a sheet pan and drizzle with olive oil and then season with salt. Roast at 425 degrees for about 40-45 minutes. Your cabbage should be cooked through and crispy on the edges. Mmm!
RELATED: Mushroom Teriyaki Tacos with Pineapple Salsa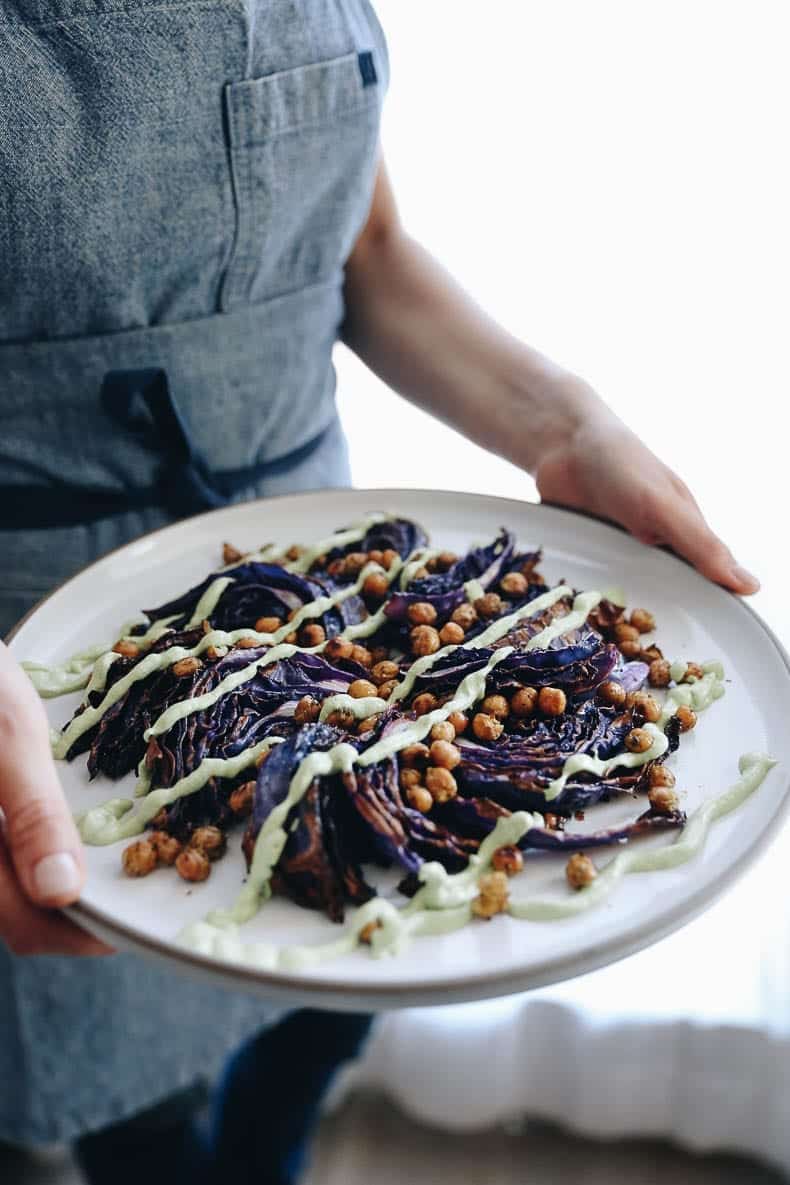 If you haven't had roasted chickpeas, you're in for a treat. They are incredibly crunchy and if seasoned right, SO tasty. I could snack on them for days. These chickpeas are seasoned with olive oil, za'atar, salt and pepper. Easy peasy. Keep an eye on them while they're baking so they don't burn. Stir them occasionally if needed and cook them until they're at your desired crunch level. (Very official cooking term).
Lastly, everything is topped with a creamy herb sauce that also happens to be dairy free. I am a total sauce girl and this one is incredible. I may or may not be topping all of my savory meals with it…
Print
Roasted Cabbage Steaks with Chickpeas and Creamy Herb Sauce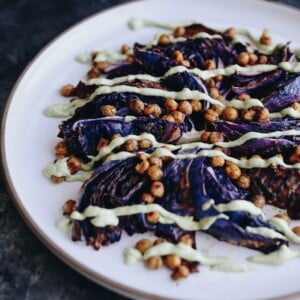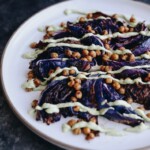 Scale
Ingredients
Creamy Herb Sauce:
1 cup

raw cashews, soaked for at least 4 hours

1/2 cup

water

1/4 cup

loosely packed chives

1/4 cup

tightly packed mint

Zest and juice of 1 lime

1

clove garlic, peeled

1/2 tsp

salt

Fresh ground pepper
For Cabbage & Chickpeas:
1

small-medium head of red cabbage

1

can drained, rinsed chickpeas (or

1 1/2 cups

pre-cooked chickpeas)

3 tbsp

olive oil

2 tsp

za'atar

Salt and pepper, to taste
Instructions
Creamy Herb Sauce:
Place all ingredients in a blender* and blend until smooth and creamy and pourable. This sauce can be made in advance, but it will thicken as it sits in the fridge. If this happens, simply mix in a little more water until you get your desired consistency.
For Cabbage & Chickpeas:
Preheat the oven to 425 F.

Remove the outer leaves of the cabbage. Cut the cabbage in half through the stem and then cut each half into wedges, being careful to keep the wedges together as best as you can.

Lay the wedges flat on a sheet pan and lightly coat with 2 tbsp of the olive oil. Season with salt.

Next, pat the chickpeas dry as best as you can.

Lay them on a second sheet pan and toss with the remaining 1 tbsp of olive oil, za'atar, salt and pepper.

Roast both sheet pans in the oven for 40-45 min. Depending on how dry the chickpeas are they can sometimes take only 25ish minutes, so keep an eye on them.

To serve, put the chickpeas over the cabbage and serve with the creamy herby cashew sauce and a good sprinkle of flakey salt.
*I found that a smaller blender like a NutriBullet worked best here, as the quantity of cashews is a bit too small for a big blender like a Vitamix to properly blend together, but work with what you have!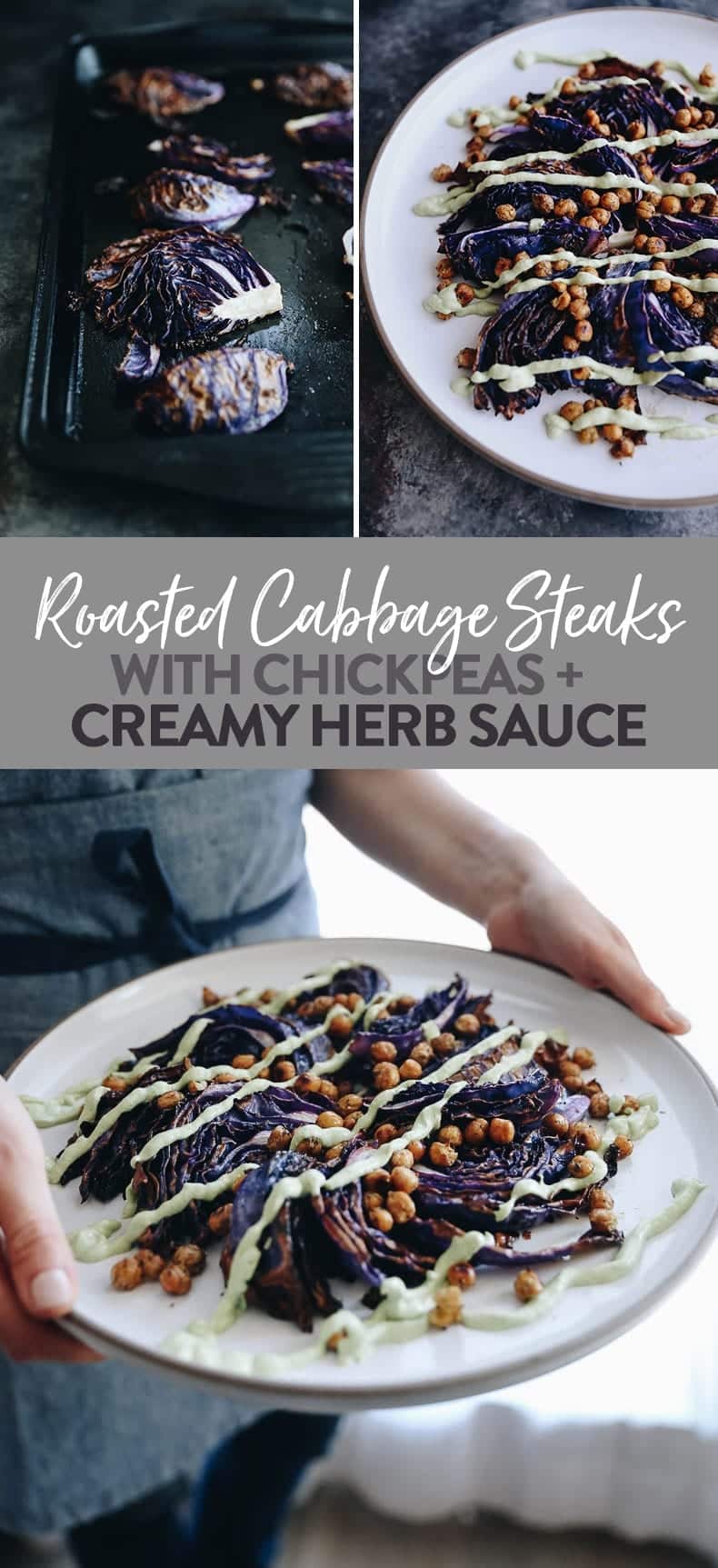 JOIN THE THM NEWSLETTER
Join 20,000+ members of the THM Community to get access to exclusive recipes, healthy lifestyle tips and behind-the-scenes news from our team!