Simple Vanilla Bean Chia Pudding made with fresh vanilla beans and topped with your toppings of choice! This basic recipe makes for the perfect customizable breakfast or snack recipe and only takes minutes to pull together!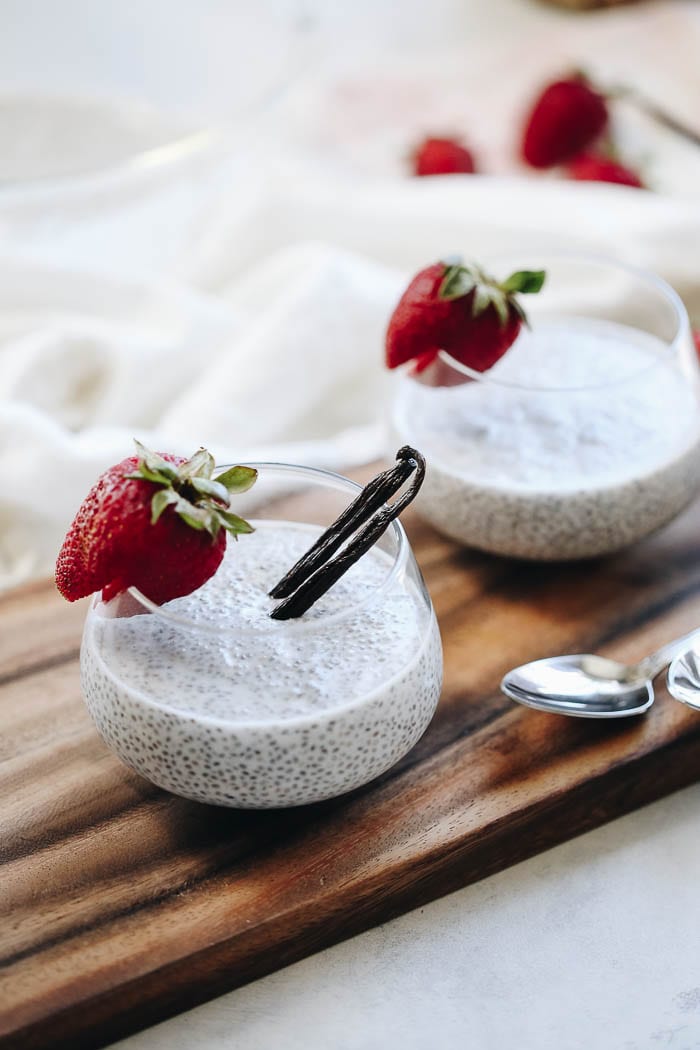 If I'm being totally honest, sometimes I post about food, but I'm not really interested in talking about it. I'm always impressed by food bloggers who can dedicate 100% of their posts to discussing a recipe. This vanilla bean chia pudding is delicious and all, but I'm not sure how I could spend this whole post discussing it? I'll try to sum it up in one line: It's sweet, simple and easily customizable…also it helps me poop.
Yup, I just said it. Chia seeds are god's answer to constipation. Try it next time you're feeling a little clogged up.
Okay…moving on.
As you guys know, I love food, but food is not the be-all and end-all of my universe. So today I thought I'd dedicate this post to other passions of mine that I thought you guys might like to know about!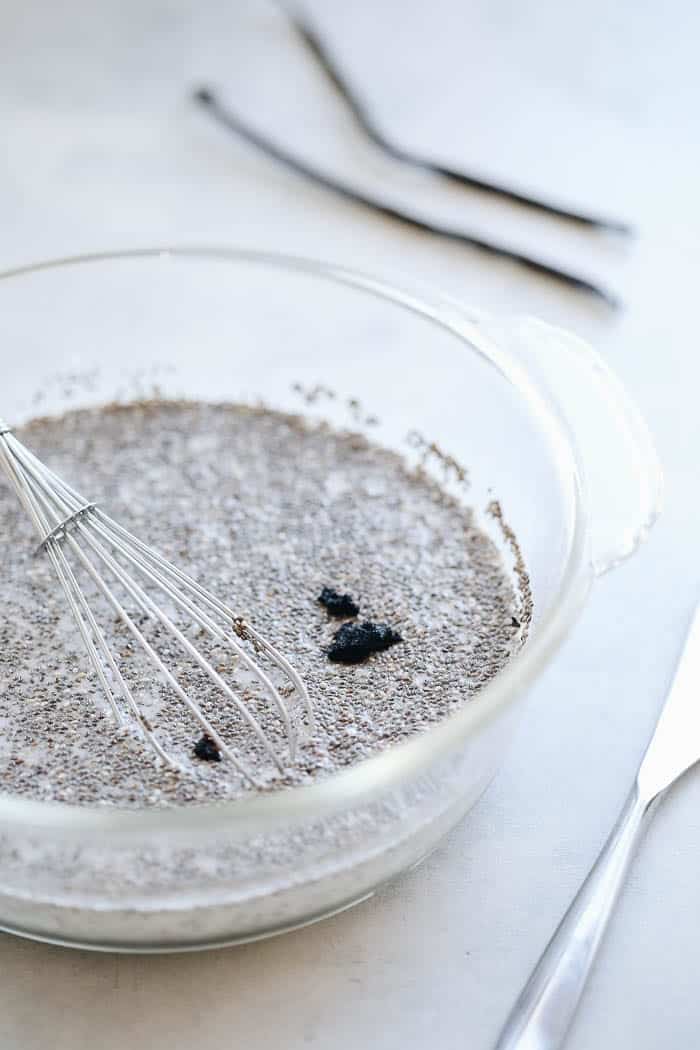 Besides the blog, my biggest preoccupation at the moment has been decorating our new apartment in San Francisco. I generally am not a huge interior design junkie. Our last apartment in Toronto was designed solely on its functionality. I cared very little about what it looked like. But now we're older and I have a better sense of how important it is to cultivate a home that you love. So we've been slowly decorating it to be the home that I truly want to live in AND look at. It's taken us 4 months and we still aren't quite done, but I'm so so happy with it so far. Stay tuned for an apartment tour!
I've also been brushing up on my French using Duolingo. I did French immersion in grade school and at one point was fluent. I've since lost a lot of it, but because I learned it so young, it's coming back quickly. This was all inspired because we have a trip planned to France this summer to hang with our friend Nick!
I'm becoming deeply obsessed with plants and horticulture. We still don't have a yard, but I've made it my mission to bring the outdoors inside. We have over 10 plants so far and I am slowly becoming a crazy plant lady. I'm okay with it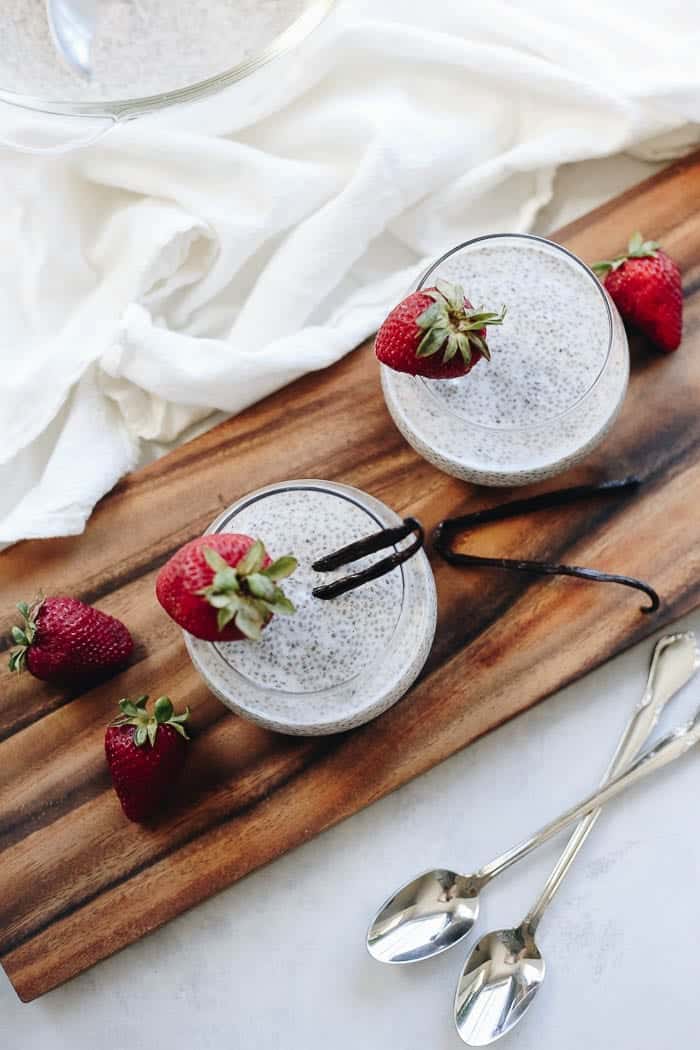 I'm also a little scared to admit this, but I've become that weird girl who watches random stranger's lives on YouTube. It all started with Casey Neistat and expanded from there. I've totally stopped watching all reality TV and now keep up to date on random people living all over the world who are daily vlogging on YT. Also I'm kind of obsessed with unboxing videos. Who AM I?
I'm completely in love with all things astrology. Susan Miller is my idol and my dream guest on the podcast. I read her monthly recaps religiously and also pay for her daily horoscope. And I've now gotten to the point of asking strangers when their birthdays are to get a better sense of their personality based on their sign.
And lastly (though the list could certainly go on), C recently started working with me on THM. It's not a full-time thing and we don't know if it will be permanent, but we're testing the waters and seeing how it works. It's so nice to have him behind-the-scenes taking on things that I HATE. Aka anything to do with numbers of money. I'm literally numbers illiterate!
I'm pretty much an open book, but it would be impossible for me to share everything. But sometimes I wish people didn't always associate me with food…okay and maybe not my creepy YouTube stalking tendencies either!
Print
Vanilla Bean Chia Pudding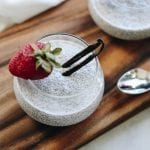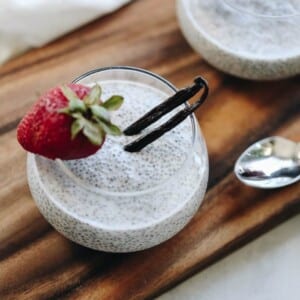 Prep Time:

5 minutes

Total Time:

5 minutes

Yield:

4

servings

1

x
Scale
Ingredients
2 cups

non-dairy milk (I prefer almond or coconut)

1/2 cup

chia seeds

1

vanilla bean, scraped

1

–

2

tbsp maple syrup (if desired)
Instructions
Combine all ingredients in a large bowl and stir well.
Cover bowl or place in an airtight container or mason jar and store overnight in the fridge or for at least 8 hours.
Divide into 4 cups and top with ingredients of choice.

Tell me something I don't already know about you! I love learning more about you guys!
JOIN THE THM NEWSLETTER
Join 20,000+ members of the THM Community to get access to exclusive recipes, healthy lifestyle tips and behind-the-scenes news from our team!