I feel like I've been waiting 10 years to publish this post. Okay, it's been more like a year but I'm still beyond excited to be sharing this new journey with you.
I obviously chat a lot about healthy food and fitness around here so it only makes sense that I should care about what I'm putting on my body, but this thought didn't click with me until about a year ago.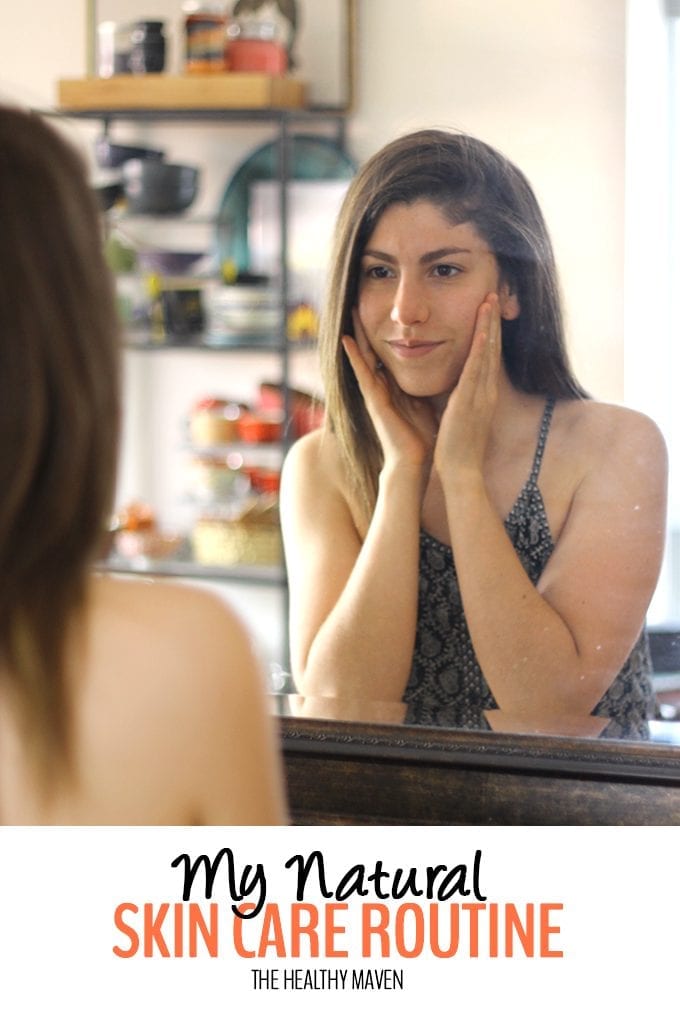 I know, I know, how could I be all preachy about what I put in my body but not care what I put on it? Honestly, it was guilt that got the best of me, but in making the transition to a natural skin care routine I have learned so much about what's in conventional skincare products that I am just grateful I made the switch when I did.
Why I Switched To A Natural Skin Care Routine
I know what you're thinking, "oh she's gone off the deep end" or "thank you for the hippie talk". I get it, I've been there, and I've judged people for thinking that their moisturizer was going to kill them. While I don't know that the correlation is that direct, I do know that if I ate McDonalds for the rest of my life, I'm pretty sure I would die of heart disease. So if I'm putting chemicals all over my body each and every day, there must be some health implications to that.
I NEVER ever thought I would be the type of person who used natural beauty and skincare products, but now here I am telling you why I switched to a Natural Skin Care Routine.
I challenge you to take a second to read the labels on some of your beauty products. When I did I was shocked to discover there was no actual oil in my argan oil and my facewash's first ingredient was Sodium Lauryl Sulfate, a carcinogenic chemical found in most conventional beauty products. This is the reason I switched. If there was no way I was eating Blue #6, then why does it need to be in my beauty products?
It was really quite simple, ignorance was no longer bliss.
My Favorite Natural Skin Care Products
When I finally decided to make the switch, a product line that came highly recommended to me was Skin Essence Organics. Little did I know that it was love at first sight. I'm pretty lucky to have found a brand of natural skin care products that my skin both loves and is local. I'm even luckier to be teaming up with them to bring you some awesome products today.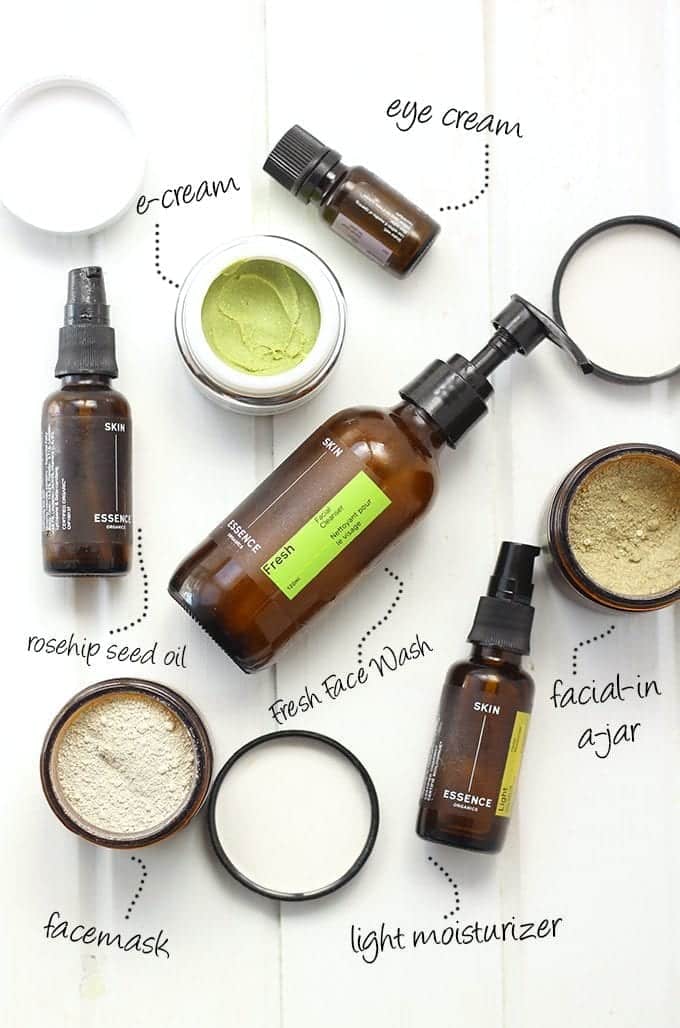 Funny story how this little partnership came about. I was at the Green Living Show and saw that Skin Essence had a booth. I've been obsessed with their products for about a year now and impulsively ran over to tell them how much I love their stuff. Turns out someone had run over just before me and had done the exact same thing. The people checking out the products at the booth thought they had hired us because two people in a row declared their rave reviews. This is when you know it's a good product.
What I also love about this company is how awesome they are about educating their customers. Each time I speak with them I learn something new! Here are some useful tips…
What to Avoid In Your Skin Care Products
-If you can't pronounce it, don't use it. I have the same attitude when it comes to food. With the exception of quinoa…
-Stay away from parabens. The most common are butylparaben, methylparaben, and propylparaben. Parabens are considered xenoestrogens―agents that mimic estrogen in the body. "Estrogen disruption" has been linked to breast cancer and reproductive issues.
-Avoid products in plastic bottles. The good stuff needs to be protected in dark amber bottles and should have an expiry date. If it doesn't, it's likely full of preservatives.
-If the first ingredient is water, it's no bueno. It's a cheap filler used as a diluent. Just don't buy it.
Why I love Skin Essence Organics
Their products are so clean, you can straight up eat it. In fact I have and they're delicious (please don't judge me…). They're also completely organic and fair-trade.
They have a whole line of products for every skin type and all of their ingredients you've most likely heard of. The only ones that were unfamiliar to me were some of the oils because they're from plants in faraway lands that contain magical properties. Clearly I'm simplifying and it's more scientific than that!
They have a ton of different skin care products which you can CHECK OUT HERE but I wanted to highlight some of my favorites with you today.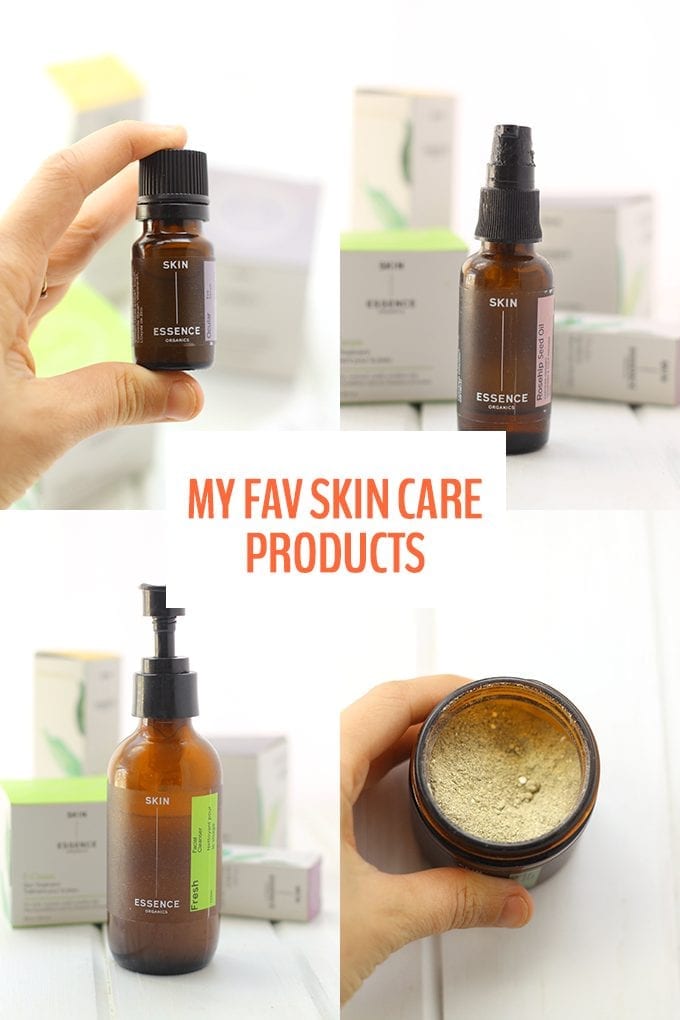 Ocular Eye Serum – helps to improve dark circles, reduce puffiness and smooth fine lines.
Facial Oils – The two that I love are the rose hip seed oil and light oil. both are cold-pressed and certified organic.
Fresh Face Cleanser – a mixture of vegetable glycerin (from coconut) and essential oils to clean off excess oils and dirt.
Facial In a Jar – I use this as an exfoliant to remove dead skin cells that clog pores and form blackheads.
While I do use every single one of these products, I also have a couple others in my repetoir. I use a homemade facial toner (stay tuned for the recipe on SHEuncovered) as well as a vegan and organic hyaluronic serum. And of course you know my love for FACEMASK FRIDAYS over on Snapchat where I make a homemade face mask from kitchen staples! When I'm in a crunch, I also use Skin Essence's Facemask mix (made with oat powder, clay, stevia leaf and chamomile flowers).
If you're curious what my typical skin care routine looks like, here it is:
1. I wash off the daily grind with the Fresh Face Cleanser. About 3 times a week I exfoliate with the facial in a jar after cleansing.
2. I use a cotton pad to apply my homemade face toner
3. I wet my face slightly and use the hyaluronic serum
4. Followed by the light oil in the morning or the rose hip seed oil at night
5. I also use the ocular cream in the morning and evening (or when I remember!) 
I know it seems odd to be moisturizing my skin with oil, but it's not the heavy oils found in coconut or olive oil. It's much lighter and in fact your skin needs oil in order to look healthy and plump and function as it should. It might take some time to find the best oil for your skin, but once you find it you just know!
I figured I probably shouldn't get through this whole post without sharing with you guys what my skin actually looks like. I asked C to take a pic of me last weekend when we were hanging out with some friends in Trinity Bellwoods. I do not have a stitch of makeup on my face! I actually hate wearing makeup so this is what I look like most of the time. I'm so grateful to have found awesome products that allow me to pull this off.
Your skin is the largest organ in your body.
When you think about it this way, it seems crazy to cover it with all of the chemicals found in conventional beauty and skin care products. Everything you put on your skin is absorbed into your blood stream. It's not like food that passes through your liver and kidneys.
That being said, I recommend you start small. You don't need to go replace everything in your bathroom but week by week start replacing your conventional skin care products with a more natural variety like Skin Essence Organics. Replacing it all at once might lead to your skin freaking out so try doing it one product at a time. And don't give up if at first your skin isn't so happy. Sometimes it takes trial and error to figure out what products do and don't work for your skin.
Lucky for you, Skin Essence Organics has offered THM readers and awesome GIVEAWAY!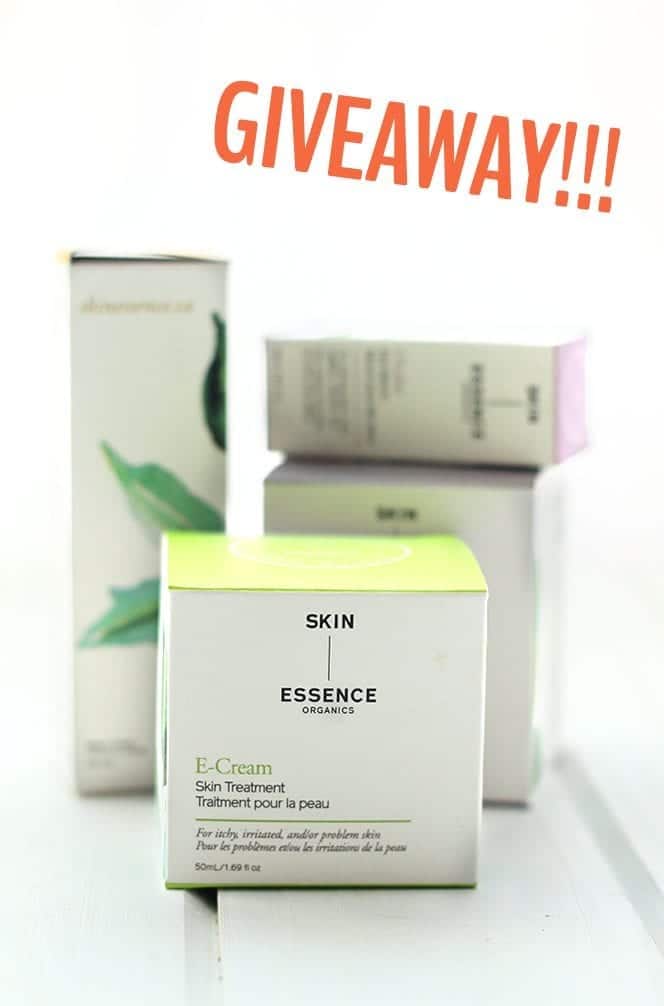 One lucky reader will win a prize pack that includes:
Facial Cleanser of your choice

Facial Moisturizer of your choice

Exfoliant & Skin Softening Mineral Mask (Facial In A Jar)

Ocular Eye Serum
That's a $132.21 VALUE
The giveaway is open to North American readers and will run until Monday May 11th at 11:59 PM. 
In addition, Skin Essence Organics is giving a 15% off discount when you enter the code "Healthymaven" during checkout AND will offer free shipping to any order over $50 in North America. That's an unreal deal!
Make sure you enter the giveaway using the rafflecopter below:
Disclaimer: While I was given some free product from Skin Essence Organics, I was not asked to write this post. I am genuinely a huge fan of their products and wanted to share this with you.
Are you a supporter of natural skin care and beauty products? Have you tried Skin Essence Organics?
LOVE THESE NATURAL BEAUTY TIPS? Join the THM Community!
Join 10,000+ members of the THM Community to get access to exclusive info about natural beauty, products I'm loving and how to transition to a more natural lifestyle.